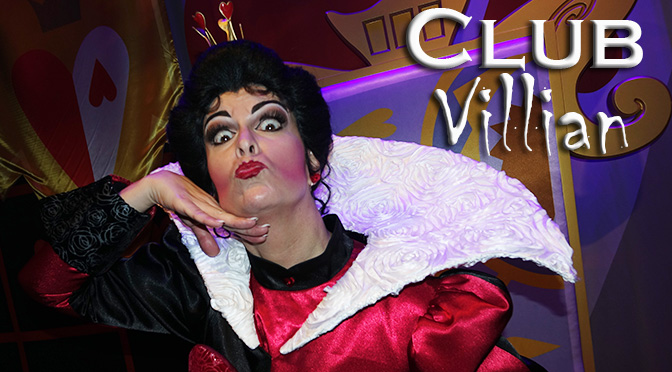 My daughter and I visited Club Villain recently and I figured I'd write a post explaining the full experience with details, photos and videos to help you decide if it's for you.
Note:  Club Villain closed in early 2017
Let's answer some common questions before we jump into the full review:
 Is this event acceptable for children?  I'd say yes!  My 12 year old had a blast.  While we only saw a dozen or so children, likely due to all the blogs saying it's an adult event, each seemed to be enjoying themselves.
Is it all you care to eat?  Yes, you may visit the buffet as many times as you like.
Is it all you care to drink?  Yes, you may visit the bar often, but they will stop serving you if you appear impaired.  I didn't observe a wild party going on, just adults partaking in themed drinks and meet and greets.
Is Photopass included?  Yes, Photopass photographers are each meet and greet station ready to take your photo.  Downloads are complimentary from disneyphotopass.com website after the event.  You can even use the Disney app from your phone.  You do not need Memory Maker for this experience, but it's added to your same Photopass account.
Do the characters offer meet and greets or only dancing?  Each female villain offers an actual meet and greet.  Getting a photo with Dr. Facilier can be more tricky as he comes and goes constantly.  Many have had success by waiting until most guests have left.
How long will this be offered?  Disney hasn't provided any closing dates, but as of the time of writing this Club Villain is offered through March 2016
What does it cost?  As of the moment it costs $129 per person
Do the characters sign autographs?  Yes
Club Villain is a special dining experience that is currently offering at the Sunset Showcase in Disney's Hollywood Studios.  Currently the special event costs $129 per person and requires advanced registration.  Children and adults are welcomed.  You'll find the location through these gates next to Rock n Roller Coaster.
A small sign on the right of the gate points you to the gate, or is it the roller coaster?
Sunset Showcase was created as a multiple purpose building and briefly held a daytime dance party known as Club Disney with Mickey, Minnie and the gang.  It isn't being offered at this time.
You will stop by this small check in stand.  Ladies will find your name on the list and present you with your special invitation.
Heres's  a copy of the invitation outside by our villainous model.
Inside of the card has pre-printed autographs and a full menu which features a sauteed station, a carving station and a cast iron station.  You can click the photo for a full look at the menu.
Cast Members wear this cool shirt.  Disney should sell these inside and make a few more bucks ;)
Devilish Decor
Inside the building has been totally transformed into a villains lair or club for villains to hang out and run elbows with us common folk.  I must say, it appears that Disney didn't spare any expense making the place look amazing.
Only thing we disliked about the decor was the small tables.  We were paired up with a nice couple here for the runDisney event and it was quite cramped with just 4 little plates and a drink each.
Each villain has a specific, well-themed meet and greet area.  If you arrive early or visit them between villain sets, you can have your photo taken with them.  Each theme was very detailed and my daughter loved them.
Poopies!
Her inner villain.  She loves her puppy, but couldn't ever turn it into a coat.
Maleficent's set was really awesome too.  It looked like a giant bat throne and made for great, low-light photos.  Photos with most cameras would come out better with the flash turned on.
Queen of Hearts has a special Wonderland themed throne area.
Snow Queen / Queen Grimhilde / Evil Queen / the Queen has a very detailed set with the mirror, heart box and peacock throne.
Look at how much detail is in just the top of the throne alone.
Heart chest looks great too.
Future Queen upon her throne.  She said all the CM's were calling her Princess as she entered, but she is a villain.  I told her she can't become a Queen, unless she is a Princess.
Magic Mirror on the Wall appears and disappears, but doesn't speak.  Still a cool feature.
Love the apple that is the disco ball for the theater.
DJ has a sweet set up.
Artsy
Devious delights
Club Villain offers a buffet of New Orleans inspired dishes.  Pig wings and dirty rice are delicious and the food isn't as spicy as you'd expect Creole food to be.  You may enjoy as much as your heart delights, but trying to work in the 4 meet and greets, dance time and food in 2 hours can be a bit rushed.

Desserts are each themed to the different villain they represent.  Each is quite tasty and really adorable in theming.  You almost wish you could frame the little desserts and take them home.
Some of the buffet foods.
Desserts.  See the Cruella theme in the 2 nearest you?
Queen Grimhilde and Queen of Hearts themed desserts.
A full bar is available for those who wish to imbibe.
A variety of themed drinks is available.

Soda, water and lemonade is available for children or those who don't partake in alcohol.Eerie Entertainment
Club Villain offers a host/singer, Dr. Facilier, a DJ and a couple of dancers.   I loved the host's jacket!

Must be a dream job for a DJ to have a booth with a villain theme.
Host introduces Dr. Facilier and dancers.  Unfortunately, we couldn't hear any of Dr. Faciler's entrance due to technical issues.  Just before he introduced the lady villains, they brought him a handheld microphone.
Maleficent joins the party.
Now, that's an entrance!
Apple anyone?
Joined by Queen of Hearts and Cruella, the other ladies prance about in their formal presentation.
Hey, can you put that poison apple away please?
Queen of Hearts was the star of the night for us.  She was very in character and got to show a really fun side.
Dancers were sweet enough to pose for a photo with my daughter, but it was blurry due to all the haze in the room.  You'll notice in the videos below that the intro has a similar vibe to the old Villains mix and mingle at Mickey's Not So Scary Halloween Party.
Villains reappear a couple of times in entertainment.  Once is a type of line dance and the other is the New Orleans style parade around the room.  You'll even receive some beads!

Villains
Each villain has an actual meet and greet station.  You are given an assigned time to meet them on back of your invitation given you at check-in.  Some CMs checked it religiously and others didn't seem to care much.  Each villain offers 2 sets of meet and greets, that's why they give assigned times.
Maleficent
How awesome is that throne?  I think I'll build one for my living room.  I did the first couple of photos with no flash to demonstrate the feeling you have in the area.

Guests joining us at the table were there primarily to meet Maleficent because she is so difficult to find at Walt Disney World for meet and greets.  Soon, she'll be removed from the Castle show as well, meaning you'll only see her at the Boo to You Parade.
Debbie forgot to lift her cape :)
Cruella de Vil
Cruella was a lot of fun.  She always has a whacky side and loves to talk about dogs, especially her addiction to dogs.  
Dreaming of more doggies
Queen Grimhilde
Queen with many names never smiles.  It causes wrinkles and she needs the mirror to tell her that she is the "fairest of them all" one day.  Seems a little self obsessed to me.
I love this photo, as it shows her in her true form and you can catch some of the amazing detail in her peacock throne.
Queen of Hearts
Queen of Hearts was awesome.  She was very into her character and loved making crazy poses.  
She said this photo would be very savable.  She could click the photo and find it on my Flickr account :)
After Debbie had her photo I asked to join, as I usually do and she sent Debbie away so we could have our special moment.  I told her I'm a big fan of croquet and she said I'd never defeat her.  Game on Queenie!
We finished off the meet and greets with a big smile.
We had a terrific time.  Food was good and plentiful.  Other than the sound snafu, the entertainment was good.  Debbie enjoyed doing the "Whip and Nae Nae" or whatever it's called with the DJ and host and a hundred strangers.
Don't forget to share, so others can enjoy!