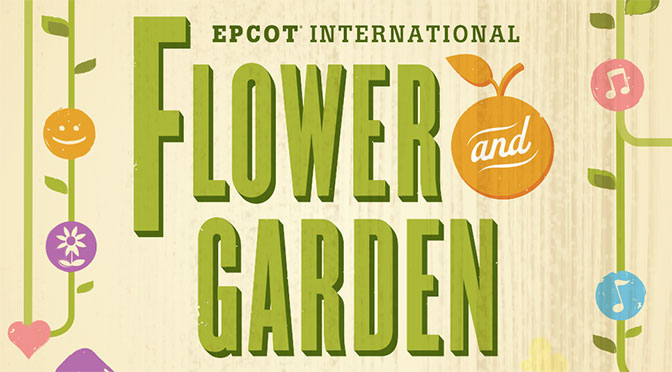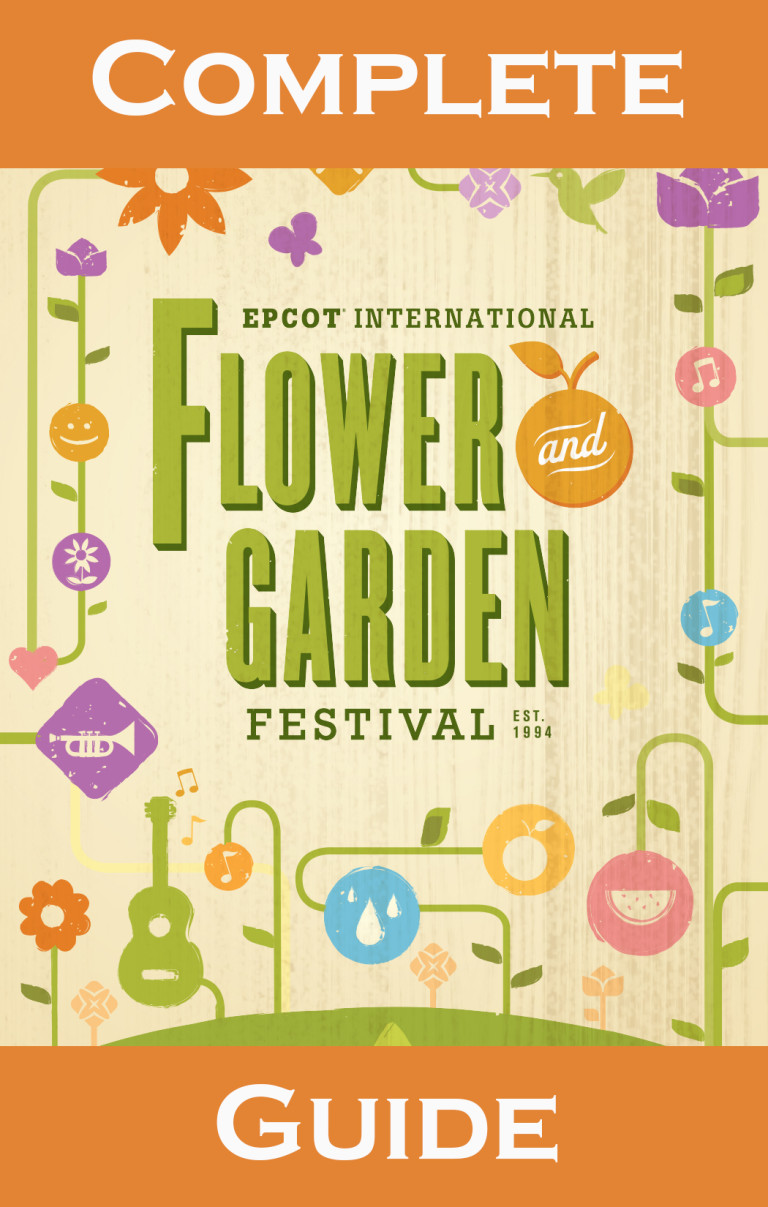 Epcot's Flower and Garden Festival is a yearly celebration of the beauty of nature and the delicacies that Disney World chefs design for a global palate.  It takes place from March 2 through May 30, 2016 and many activities are free for guests with valid admission.  Here's a complete overview including the Flower & Garden Festival menus.  Don't miss the beautiful topiaries and the fun Butterfly Garden!  Sample a wide variety of small dish samplers and drinks at each of the "Outdoor Kitchens."
Disney topiaries
Don't miss any of the amazing living sculptures created by our world-class horticulturists. These plants have real character!
NEW! Fresh Food, Fun & Flowers Main Entrance See Donald, Daisy, Huey, Dewey and Louie as they help get ready for Fresh Epcot®!
NEW! Ranger Mickey & Friends Presented by National Parks Foundation Future World East
Disney Pixar's Buzz Lightyear Future World East Fantasia Future World West
Phineas and Ferb Future World East Minnie Mouse and Pluto Showcase Plaza
Anna and Elsa Norway Bromeliad Dragon China Simba and Friends Outpost
Snow White and the Seven Dwarfs Germany Lady and the Tramp Italy
Disney Pixar's Woody The American Adventure
Beauty and the Beast France
Cinderella and Prince Charming France
Winnie the Pooh and Friends United Kingdom Peter Pan,
Captain Hook and Tick-Tock Croc United Kingdom
Bambi and Friends Canada
FESTIVAL CENTER
FRIDAYS, SATURDAYS & SUNDAYS 10:00 a m –5:00 p m
Every weekend at Epcot is a new adventure where you can attend complimentary gardening presentations and meet a variety of gardening, horticulture and outdoor specialists for tips that will help you create your very own unique outdoor experience!
GARDEN INFORMATION DESK Connect with Master Gardeners from the University of Florida's Institute of Food and Agricultural Sciences 10:00am–5:00pm
GARDEN THEATER See the "making" of the Epcot International Flower & Garden Festival 10:00am–5:00pm
HORTICULTURE HERITAGE Heritage of Disney's Horticulture See how horticulture has played a key role in creating Walt's vision 10:00am–5:00pm
GREENHOUSE STAGE For Guest Speakers, visit FreshEpcot.com/FunFreshWeekends 11:00am and 2:00pm
FRESH EPCOT STAGE For Guest Speakers, visit FreshEpcot.com/FunFreshWeekends 12:00pm and 3:00pm
SPOTLIGHT STAGE Planting Pointers with the University of Florida's Institute of Food and Agriculture Sciences 1:00pm and 4:00pm
FESTIVAL STAGE See a variety of Disney's horticulture topics 10:00am–5:00pm
FUN FRESH WEEKENDS
LOCATED THROUGHOUT EPCOT SELECT FRIDAYS, SATURDAYS & SUNDAYS
APRIL 1–3 Art in the Garden Weekend
See nature through the eyes of "Plein Air" artists and one-of-a-kind Disney works of art.
World Showcase, 11:00am–7:00pm
APRIL 8–10 NEW! Outdoor Family Fun Weekend!
Experience the benefits of being outdoors in nature while sharing time together with friends and family at select Festival gardens. Disney's Animal Kingdom® Theme Park Specialists Bugs are cool! See beneficial insects and other creatures that play important roles in nature.
Festival Center, 10:00am–5:00pm
APRIL 22–24 Earth Day Weekend
Celebrate the place we all call home with special activities and more located at select Festival gardens. The Seas with Nemo & Friends® Discover more about conservation efforts to protect coral reefs, sea turtles, sharks and the many other amazing creatures that call our oceans home.
The Seas with Nemo & Friends Pavilion
APRIL 29–MAY 1 Florida Fresh Weekend
Discover the bounty of our state from Apalachicola to Zellwood!
Festival Center, 10:00am–5:00pm
MAY 6–8 Florida Federation of Garden Clubs
See amazing floral designs that defy  description.
Festival Center, 10:00am–5:00pm
ESPECIALLY FOR KIDS
The Disney Conservation Fund is protecting nature and increasing the time kids and families spend outdoors through grants to nonprofit organizations featured throughout the 2016 Epcot International Flower & Garden Festival. Look for gardens marked with the Disney Conservation Fund logo and discover new ways to explore nature with your family!
PLAY AREAS
Cactus Road Rally Test Track®, closes at dusk
NEW! Music Garden Melodies Walkway near Imagination!,
Illuminated after dark GARDENS
Purple Martins
Presented by Audubon Florida Discover purple martins, small migratory songbirds that have traveled an incredible 3,000 miles from the Brazilian Amazon to raise their families at Walt Disney World® Resort.
Butterflies on the Go Presented by GoGo squeeZ®
Club Cool, closes at dusk
NEW! Ranger Mickey & Friends Presented by National Park Foundation
Where is your closest national park? Take a family photo with Topiary Ranger Mickey and Find Your Park with the National Park Foundation and the National Park Service. Future World East
Backyard Habitat Presented by National Wildlife Federation
Get inspired to build wildlife-friendly spaces in your backyard.
Nature Works Everywhere Presented by The Nature Conservancy
Explore how kids can create gardens that help their school yards filter water, provide wildlife habitats, and improve the soil.
GARDEN ROCKS CONCERT SERIES
AMERICA GARDENS THEATRE FRIDAYS, SATURDAYS & SUNDAYS
5:30pm, 6:45pm & 8:00pm
March 4-6 – The Orchestra starring former members of ELO "Evil Woman"
March 11-13 – Starship starring Mickey Thomas "We Built This City"
March 18-20 – Little River Band "Reminiscing"
March 25-27 – Village People "Y.M.C.A."
April 1-3 – Herman's Hermits starring Peter Noone "I'm Henry the VIII, I Am"
April 8-10 – The Guess Who "American Woman"
April 15-17 – NEW! Blood, Sweat & Tears featuring Bo Bice "Spinning Wheel"
April 22-24 – NEW! BRIAN HOWE, former lead singer of Bad Company "Can't Get Enough"
April 29-May 1 – NEW! Georgia Satellites "Keep Your Hands to Yourself"
May 6-8 – Gin Blossoms "Hey Jealousy"
May 13-15 – NEW! Darlene Love "Wait 'Til My Bobby Gets Home"
May 20-22 – Night Ranger "Sister Christian"
May 27-30 (Monday) – The Spinners "Working My Way Back to You"
OUTDOOR KITCHENS
Urban Farm Eats Walkway – near Imagination!

Watermelon Salad with Pickled Onions
B&W Gourmet Farms Baby Arugula
Feta and Balsamic Reduction Vegetable and White Bean "Naanwich" with Arugula Pesto and Oven-dried Tomatoes featuring Seeds of Change® Quinoa
Brown & Red Rice Seared Pork Tenderloin with Mushroom Ragoût, Spring Vegetables and Marble Potatoes
Avivé Natural Peach Sparkling Wine
France King Estate Acrobat Pinot Noir
Oregon Sierra Nevada Otra Vez Chico, CA
Urban Mary

Pineapple Promenade – World Showcase Promenade

Spicy Hot Dog with Pineapple Chutney and Taro Chips
Pineapple Soft-serve
Sparkling Pineapple Wine
Florida Orange Groves Winery St. Petersburg, FL
Ocean Tropical Pineapple Hard Cider, Florida Beer Company Cape Canaveral, FL
Pineapple Soft-serve with Parrot Bay Coconut Rum
Frozen Desert Violet Lemonade (Non-Alcoholic)

NEW! La Isla Fresca – World Showcase Promenade

Jerk-spice Grouper or Chicken with Mango Salsa, Chayote and Green Papaya Slaw with Lime-Cilantro Vinaigrette
Jamaican-braised Beef with Pigeon Pea Rice and Micro Cilantro
Tres Leches with Guava Purée
Red Stripe Jamaican Style Lager
Frozen Simply Tropical™ Juice Drink with Cruzan Mango Rum
Frozen Simply Tropical™ Juice Drink (Non-Alcoholic)

Jardin de Fiestas – Mexico

Tacos de Camarón Tempura Shrimp served with Hibiscus Flower, Caramelized Onions and Habanero Sauce
Corn Tortilla Quesadilla served with Roasted Mushrooms and Zucchini Blossom topped with Green Tomatillo Sauce
Flan de Rosas served with Hibiscus Reduction
Tecate Light Beer
Rose Margarita
Elderflower Watermelon Sangria

Lotus House – China

Gaoli Beef Bun
Beijing-style Candied Strawberries
Vegetable Spring Roll with Orange Sauce
Oolong Peach Bubble Tea
Kung Fu Punch Vodka, Triple Sec, Mango and Orange Juice
Plum Wine
Honey Mango Wine Cooler
Dragon Pearl Beer, Honey, Cream and Tapioca Pearls
Tsingtao Beer

Bauernmarkt:

Farmer's Market – Germany

Chicken Fricassee with Green Asparagus and Peas served with Uncle Ben's® Rice Pilaf
Currywurst with Paprika Chips Roasted Bratwurst with Curry Ketchup and Paprika-spiced Chips
"Armer Ritter" Egg Battered Toast with Cherry Compote and Powdered Sugar
Hugo-Charles de Fere "Organic" Brut with Elderflower and Mint
Paulaner Original Munich Lager
Schöfferhofer Hefeweizen
Warsteiner Dunkel
Köstritzer Schwarzbier Black Lager

Primavera Kitchen – Italy

Pollo alla Parmigiana Breaded Breast of Chicken, Tomato, Parmesan and Mozzarella Cheese
Mezze Lune Primavera Egg Pasta stuffed with Ricotta and Spinach in a Creamy Sauce with Spring Vegetables and Pecorino Cheese
Cremoso al Pistacchio Pistacchio Cream, Strawberries and Mascarpone Cream
Pinot Grigio
Chianti
Prosecco
Corbinello
Moscato
Bellini Sparkling wine and Peach purée
Rossini Sparkling wine and marinated Strawberries
Frozen Italian Primavera Assorted fruit slushy, Limoncello and Vodka
Moretti Lager
Moretti La Rossa
Italian Seasonal Selection

THE SMOKEHOUSE: Barbecue and Brews – The American Adventure

Pulled Pig Slider with Crispy Onions and Coleslaw
Smoked Pork Ribs with Roasted Corn Salad
Beef Brisket Burnt Ends Hash with White Cheddar Fondue and Pickled Jalapeños
Warm Chocolate Cake with Bourbon-Salted Caramel Sauce and Spiced Pecans
The Great American Wine Company Red Blend Sonoma, CA
Funky Buddha Floridian Hefeweizen Oakland Park, FL
Orlando Brewing Company Uncle Matt's Organic Grapefruit Pale Ale Orlando, FL
3 Daughters Rod Bender Red Ale St. Petersburg, FL
Shipyard Maple Bacon Stout Clearwater, FL
Frozen Lemonade with Firefly Blackberry Moonshine
Frozen Lemonade (Non-Alcoholic)
Sweet Tea (Non-Alcoholic)

Hanami – Japan

Frushi Fresh Pineapple, Strawberry and Melon Rolled with Raspberry Coconut Rice, sprinkled with Toasted Coconut and Whipped Cream on the side
Chicken Edamame Bun Steamed Bun filled with Chicken and Edamame and topped with Curry Sauce
Beef Teriyaki Udon Thin-sliced Beef, Onions and Noodles tossed on the grill with Soy and Ginger
Sapporo Draft Beer
Yuzu Plum Wine Slushy Sweet refreshing taste infused with the tangy flavor of Citrus
Suigei Sake Bold flavor with a crisp, clean finish

Taste of Marrakesh – Morocco

Harissa Chicken Kebab with Sweet Couscous Salad
Falafel Pocket with Cucumber-Tomato Salad and Tahini Sauce
Baklava
Desert Rose Sparkling Wine topped with Pomegranate Liqueur
White Sangria
Guerrouane Red Wine
Casa Beer

Florida Fresh – Between Morocco and France

Kale Salad with Dried Cherries, Almonds, Goat Cheese and White Balsamic Vinaigrette
Shrimp and Stone-ground Grits with Andouille Sausage, Sweet Corn, Tomatoes and Cilantro
Florida Larder Board Orlando-made Ricotta Cheese, Cahaba Farms Micro Onions, Extra Virgin Olive Oil and Balsamic, Country Pâté and House-made Pickles
Key Lime Sparkling Wine, Florida Orange Groves Winery St. Petersburg, FL
Sea Dog Acai Berry Hefeweizen Clearwater, FL
Feast of Flowers Farmhouse Ale, Florida Beer Company Cape Canaveral, FL
Watermelon Cucumber Slush with Hendrick's Gin
Watermelon Cucumber Slush (Non-Alcoholic)
Fresh-squeezed Watermelon Juice (Non-Alcoholic)

Fleur de Lys – France

Tarte à l'Onion Alsacienne Alsatian Onion Tart with Sautéed Onions, Fresh Thyme and Rosemary on a Flaky Puff Pastry Crust
Cassoulet au Confit de Canard Pulled Duck Confit with Braised Flageolet Beans Macaron Chocolat Framboise Large Raspberry
Macaron with Chocolate Fudge and Raspberry Jam
Ice Pop Grand Marnier Peach Cocktail Grand Marnier Peach Raspberry, Vodka, Iced Tea
La Vie en Rose Frozen Slush Grey Goose Vodka Orange, St. Germain Liquor, White and Red Cranberry Juice
Merlot Bordeaux Château La Gravière, 2013
Kir Imperial Sparkling Wine with Chambord Black Raspberry Liquor
Kronenbourg Blanc 1664 Fruity White Beer with Citrus Notes

NEW! Cider House – United Kingdom

Land-harvested Field Greens with Apples, Dried Blueberries, Stilton Cheese and Apple Cider Vinaigrette
Pear Cider-brined Shredded Corned Beef with Braised Cabbage and Pears and Branston Dressing
House-made Potato and Cheddar Cheese Biscuit with Smoked Salmon Tartare
Freshly Baked Lemon Scone with Crème Fraîche and Mixed Berries
Sonoma "The Pitchfork" Organic Pear Hard Cider Healdsburg, CA
McKenzie's Black Cherry Hard Cider West Seneca, NY
Keel & Curley Mad Man Blueberry Hard Cider Plant City, FL
Cigar City Brewing Tampa-style Lager Tampa, FL
Snakebite Cigar City Tampa-style Lager mixed with McKenzie's Black Cherry Hard Cider
Martinelli's Sparkling Cider California (Non-Alcoholic)
GARDEN DESTINATIONS
Water Wise Garden Presented by Rain Bird Corporation
Prehistoric Plants
Purple Martins* Presented by Audubon Florida
Cactus Road Rally
Festival Blooms
Pollinator Paradise
Butterflies on the Go Presented by GoGo squeeZ®
Health & Healing Garden Backyard Habitat* Presented by National Wildlife Federation
Music Garden Melodies
Nature Works Everywhere* Presented by The Nature Conservancy
Fire Garden Extraordinary Orchids
Tuscan Cucina Garden
Japanese Mini Garden Bonsai Collection
Urban Spice English Tea Garden Presented by Twinings of London®
Shakespeare Garden
FESTIVAL MERCHANDISE
GARDEN GIFTS Specialty merchandise available in the Festival Center Open Fridays-Sundays 10:00am–5:00pm
GARDEN EMPORIUM Handmade soaps and body products from Rinse Bath & Body Inc. and reflective wind-spinners from EyeCatchers Be sure to visit throughout the Festival to discover new merchandise.

March 2–23 Jortra Boutique, featuring jewelry made from cantaloupe seeds, coffee beans and orange peels
March 24–April 13 and May 5–15 Boiled Books, featuring stationery items stained with real plants and flowers
April 14–May 4 Growmanji, featuring soil free growing systems
May 16–30 Petal Pushers, featuring giftable plants

GARDEN OASIS Festival merchandise and plumeria cuttings from Just Plumerias
GARDEN BOUTIQUE Ornamental plants from Elemental Nursery and garden flags from Swaying in the Breeze March 2–April 10 Live demonstrations by Master Glass Artist Reinhard Herzog
GARDEN TREASURES Festival merchandise and floral artwork from HAF2Paint
TOURS
THROUGHOUT EPCOT
ENGLISH TEA GARDEN TOUR Presented by Twinings of London® United Kingdom Discover the history & art of tea blending as you are guided through a complimentary 20 minute tour of this elegant English Tea Garden featuring some of Twinings finest tea blends. Guided, same-day tour sign-up is located in The Tea Caddy. Daily. Self-guided tours are also available.
EPCOT® GARDENS OF THE WORLD TOUR Guided tours designed especially for garden enthusiasts! A Disney Horticulturist will be your host on a three-hour tour of special displays and award-winning international gardens. Visit Guest Relations or call 407-WDW-TOUR for availability and pricing. Advanced reservations are strongly recommended. 9:00am–12:00pm Mon, Tue, Thu & Fri.
BEHIND THE SEEDS TOUR The Land Interact with amazing plants, insects and fish—and even see alligators—on this fun yet educational one hour walking tour in The Land. Guided tours offered daily from 10:30am–4:30pm. Visit the Tour Desk on the lower level of The Land for same-day reservations and pricing
EXCLUSIVE PASSHOLDER GIF T
MARCH 2-31 Donald Duck
APRIL 1-30 Goofy
MAY 1-30 Mickey Mouse
Each month during the 2016 Epcot International Flower & Garden Festival, collect one of three special edition prints drawn by legendary artist Don "Ducky" Williams. Pick up the relevant print per month just behind Club Cool during the Festival. Don't forget to bring your Photo ID and Annual Pass or MagicBand.
You can print the complete Flower and Garden Festival Passport from home or pick one up for free at Epcot while you're there.