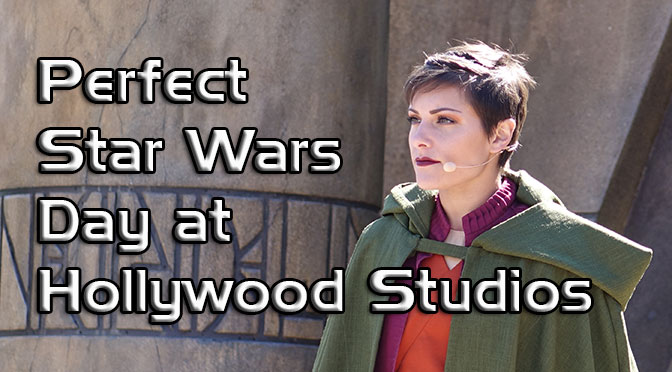 Young Jedis around the world are clamoring to have a great Jedi experience on their Disney trip, so I thought I'd create the perfect outline for a great Star Wars day at Disney's Hollywood Studios.
Note:  I'll update this information regularly as Star Wars features come and go.  I'll post an update date when that is done.

Before we begin with the actual plan, you might think about having your child 12 or under dress in his or her favorite character costume for their day or choose their favorite Star Wars shirt.  the family could join in the fun by creating some special t-shirts that celebrate the youngling's graduation to Jedi Master.  Not all celebrations in Disney World need to be Princess or Pirate based, right?
If you plan to have your youngling between the ages of 4 and 12 participate in Jedi training: trials of the temple, you'll need to arrive 45 minutes before park opening and sign them up for the experience.  One adult can chaperone all the children in your group who wish to participate.  Your padawan will be given the opportunity to test their powers of the Force against Darth Vader or the Seventh Sister.  Choose any show, except the first of the day and move it in the outline below based upon your time.
Information on where to go and how to sign up is located here:
How to sign up for Jedi Training Academy: Trials of the Temple at Disney's Hollywood Studios
Star tours: the Adventures Continue
Save your Fastpasses at Hollywood Studios for Rock n Roller Coaster or toy Story Midway Mania and tower of terror and Indiana Jones.  We'll be able to walk on the ride early in the morning and usually ride multiple times before any reasonable crowd appear.  Everyone else will head to the headliners or Launch Bay first.
Star Wars: Path of the Jedi
Just across from the Star tours attraction, you'll find the Star Wars: Path of the Jedi film.  It's a group of clips from Star Wars films that gives a broad overview of the film series.   It's kind of a hype video for young padawans and could fill them in on any plot lines they may have missed, if they didn't watch them all.
Jedi Training: Trials of the Temple
You can move this element around in your schedule based upon which show you choose to partcipate in.  If you padawan is too young or too old to participate, just check the show schedule for a time you prefer.  I'll warn you not to choose a time between 12pm and 5pm from May through September because it's Hot and in the full sun.
Currently, this show offers Darth Vader and Seventh Sister for battles and Darth Maul appears at the end, but doesn't battle children.
Watto's Grotto – closes April 2
Watto's Grotto is a shopping area in the backlot area that is filled with Star Wars merchandise of all kinds.  It will close on April 2nd, so you can visit, if you tour before then.  Perhaps your padawan wants a special light saber or Star Wars figure, they could pick those up here or a more limited range of merchandise is available in Launch Bay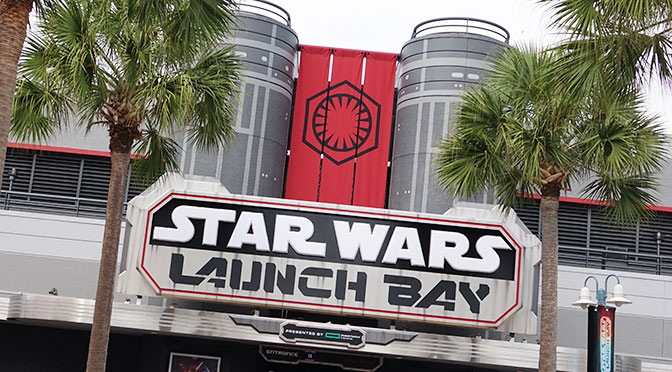 We'll visit Launch Bay in order to see all the great movie style props, meet Jawas, play some video games and you can also do your shopping as you exit.  Be sure to enter the right hand line that would lead to the characters.  Left hand line leads to the Directors take film that we'll circle back for in a bit.  You could watch the film first if there is little or no line.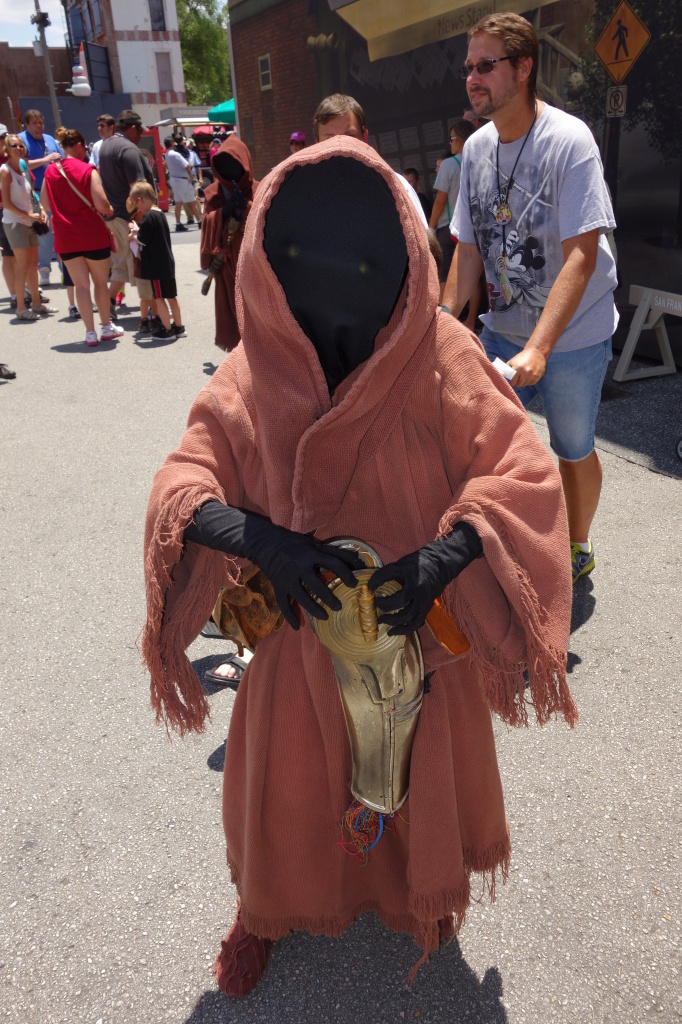 I've seen Jawas offering opportunities to trade items inside the Launch Bay Cantina area, but don't usually see them as much outside the 10am-5pm range daily.  Jawas are willing to trade for all kinds of things, but you cannot offer them money or anything with considerable monetary value.  Also, they won't accept anything offensive, so don't try to be humorous.  Jawas are willing to pose for photos, but don't sign autographs.
Star Wars – Directors take
this  is a short film, about 10 minutes, that allows you to hear from various directors and actors who participated in creating the Star Wars universe.  I like the Path of the Jedi film better, but your padawan will likely want every Star Wars experience they can get.
Star Wars food and snacks
Around this time, you might be hungry for some food or snacks.  You could visit the Backlot Express and order some unique Star Wars food items and cupcakes
Royal Guard Burger
1/3 lb Angus Beef Burger, Barbecued Brisket, Monterey Jack, Lettuce, Tomato, and a Pickle on a Pumpernickel Bun served with fries.
$12.49
Dark Side Chicken and Waffles (Adult)
Chicken and Vader Waffles with Barbecue Sauce and Maple Syrup
$10.99
Dark Side Chicken and Waffles (Kids)
Chicken and Vader Waffles with Barbecue Sauce and Maple Syrup served with Applesauce, Carrot Sticks, and choice of small Lowfat Milk or small Dasani Water
$7.99
Corellian Spice Fries
Parmesan, Garlic, and Parsley-seasoned Fries Tossed-to-Order
$4.99
Cupcakes currently include:
BB8 Cupcake
A lemon cupcake with vanilla buttercream frosting and topped with an edible BB8
$5.99
Chewbacca Cupcake
German chocolate coconut cupcake topped with edible Chewbacca
$5.99
Darth Vader Cupcake
Chocolate and peanut butter cupcake topped with edible Darth Vader
$5.99
If you just want some popcorn, you could order it in a special Star Wars themed popcorn bucket.  You could enjoy a cold drink from your BB8 sipper cup.
Enjoy other park attractions through the afternoon…
Let's head back to the Launch Bay about an 1 1/2 hours before the nightly fireworks (or go after, if the park closes later) and visit Chewbacca first.  He's located to the left with some very clear signage pointing toward him.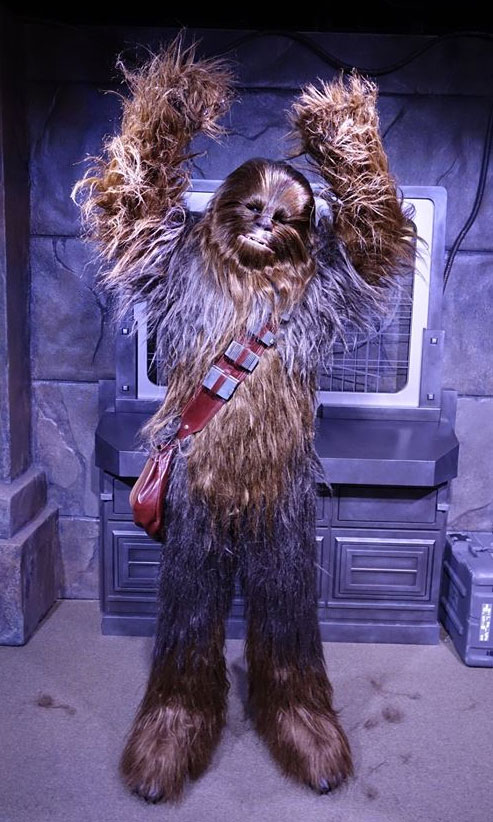 Currently Kylo Ren is meeting in the regular dark side meet and greet and the Disney Visa meet and greet for those with the Chase Disney Visa card.     If you have the Disney Visa, you could choose to meet the dark side character at that location while you visit the Launch Bay the first time.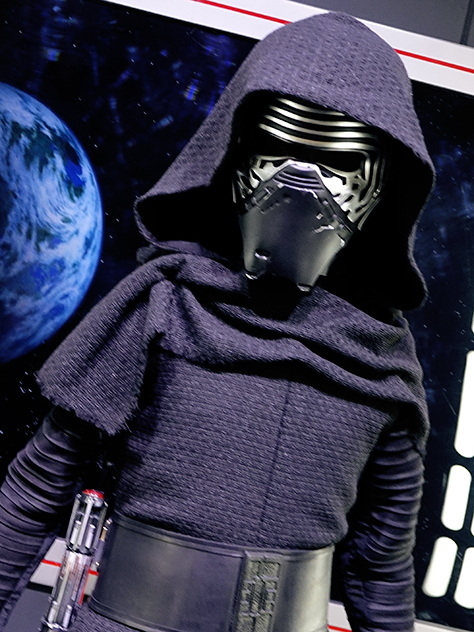 Finish your day with my new favorite fireworks show.  It's 8 minutes packed with Star Wars music, sounds and tons of pyrotechics.  Fireworks are shot closer to guests than they are at the Magic Kingdom, so you can really feel the booms of the large blasts!  I've never had a problem finding a nice spot between Center Stage and the final store on Hollywood Boulevard.  You could also watch near Min and Bill's or outside of 50's Prime time Cafe.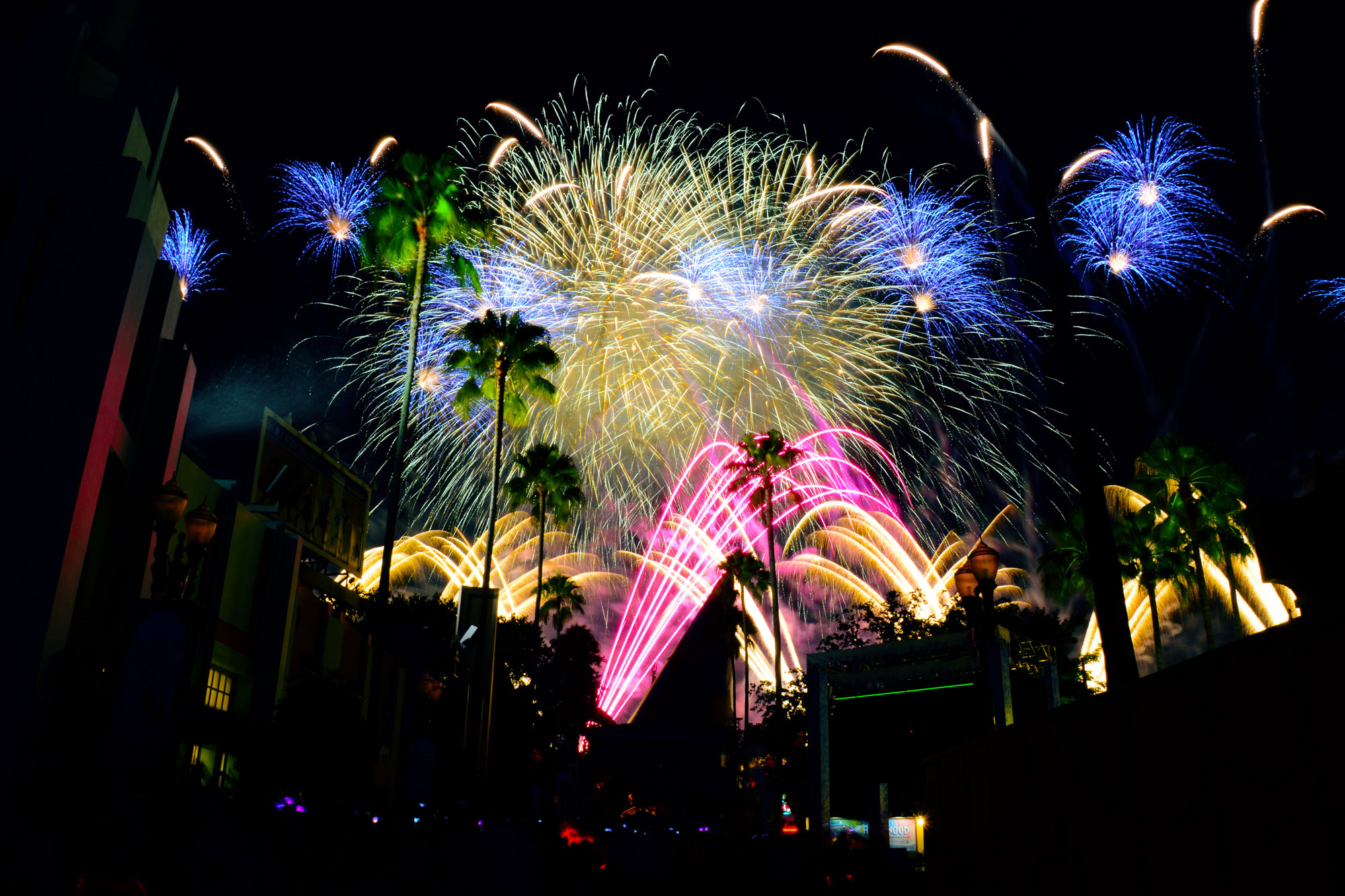 I've also added this plan to Character Locator for subscribers to make it easier to remember!
Be sure to share this post to help your friends!