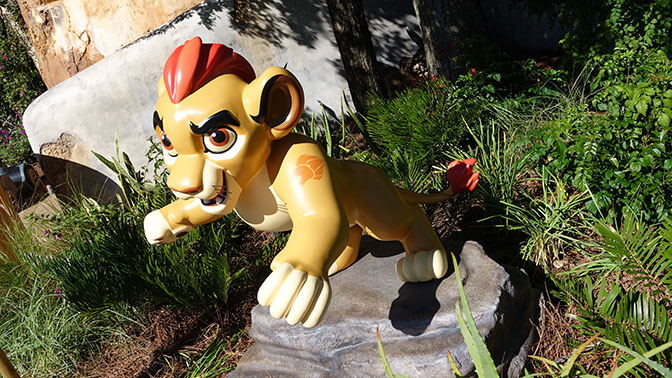 Review of Lion Guard Adventure at Disney's Animal Kingdom
My kids set out to take in the new Lion Guard Adventure at Disney's Animal Kingdom yesterday.  As we entered the park we found no signage explaining the new feature, so we grabbed a park map and times guide.  It wasn't on the park map, but there was a brief description on the times guide.
So you can pick up a map at a few locations.  Easiest one to find when you are entering is Island Mercantile on the left.  Behind those hats in the photo below was a little non-descript table with some maps.  A Cast Member stopped by shortly after we found it to briefly explain the new experience.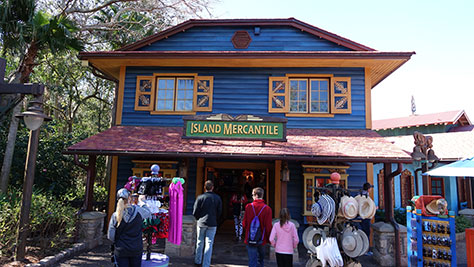 Idea behind the Adventure is to find 5 small figures that are hidden around the park.  One is in front of Island Mercantile, one is in the back of Asia near the exit for Kali River Rapids, one is near the Festival of the Lion King and two are near the entrance to Rafiki's Planet Watch.  You are supposed to conclude your adventure at Rafiki's Planet Watch, but we'll discuss that later.  Lion Guard Adventure is supposed to be a series of photo ops where you emulate the character's strongest trait in a selfie style photo.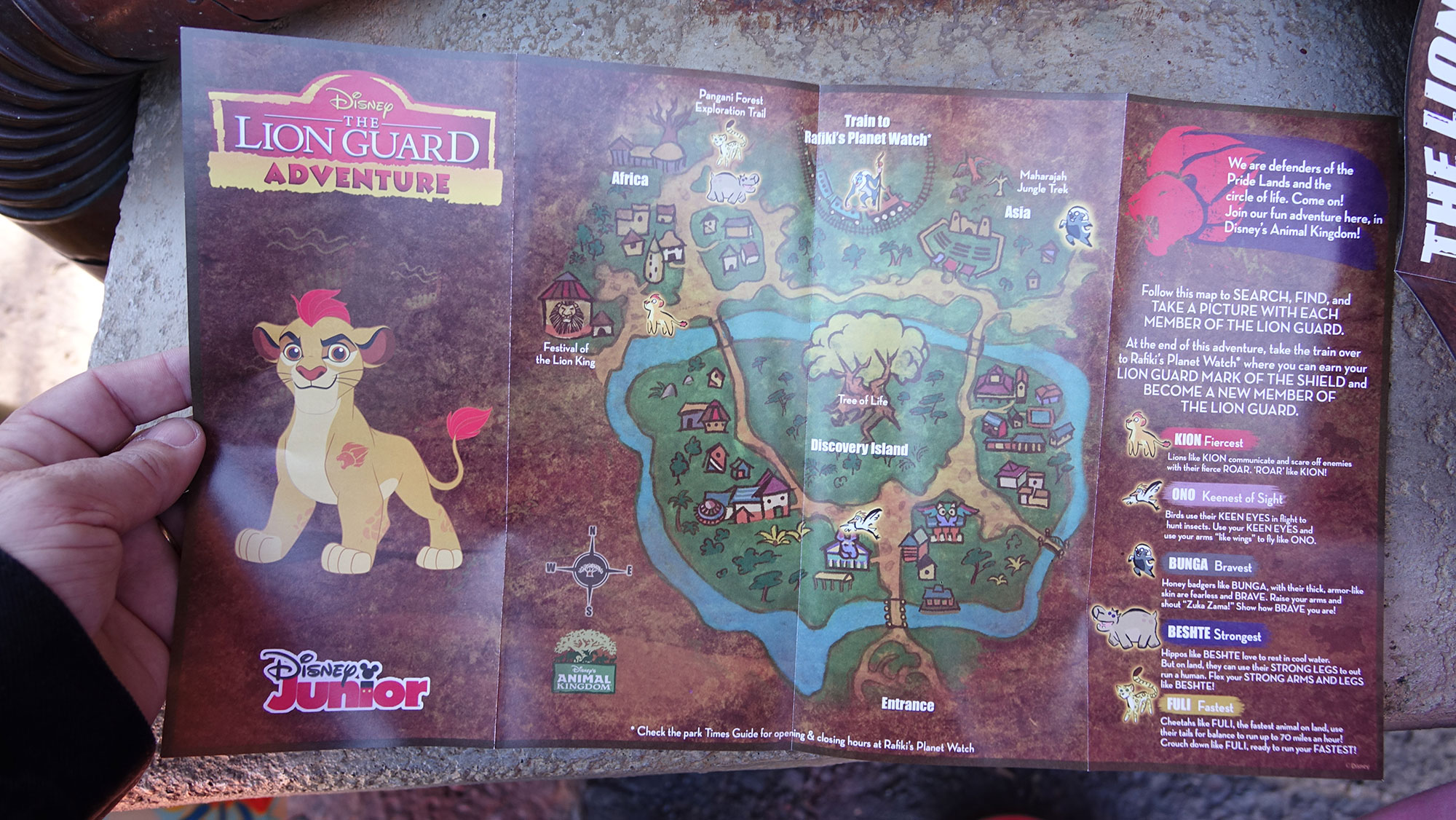 Back of the map has another description of each character from the Diney Jr show and the Lion Guard Pledge.  A space is provided for your photo if you choose to scrapbook this later.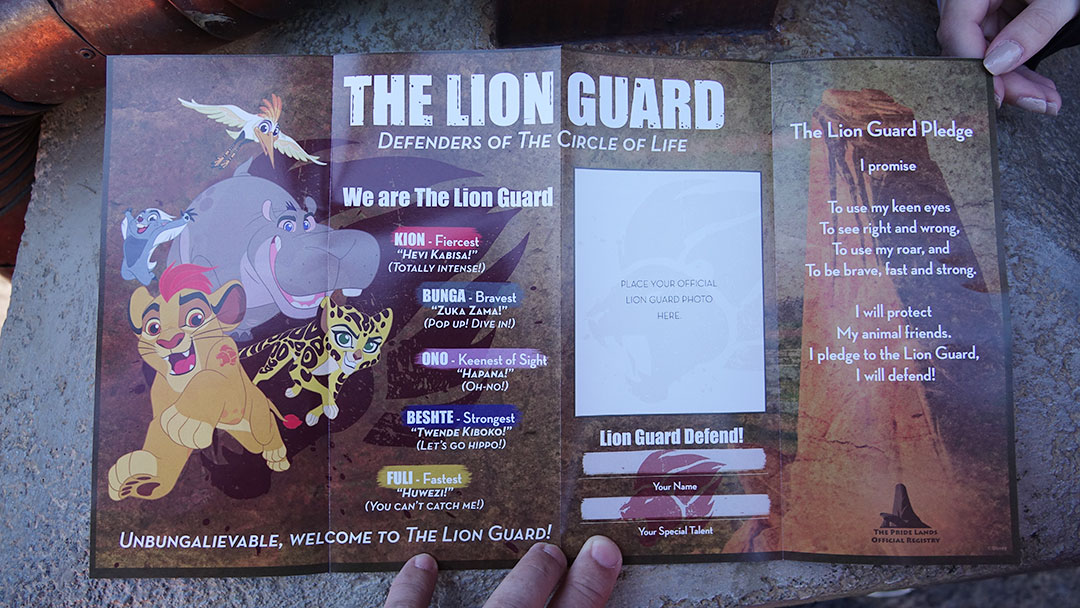 We began with Ono in front of Island Mercantile.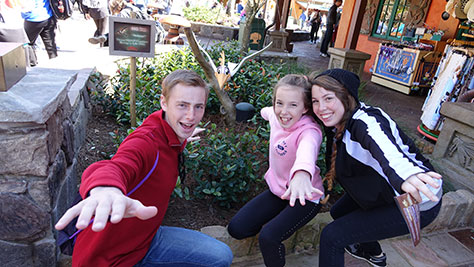 We then moved to Bunga which is behind Kali River Rapids.  Don't bother taking the Maharajah Jungle trek, it's not on there.  You're supposed to show how brave you are, but my son thought it was more about product placement.  Future businessman.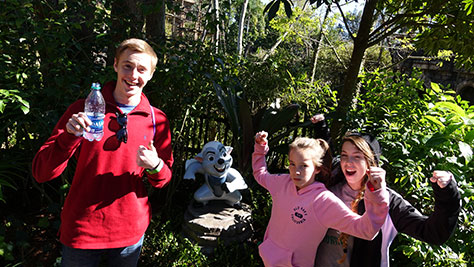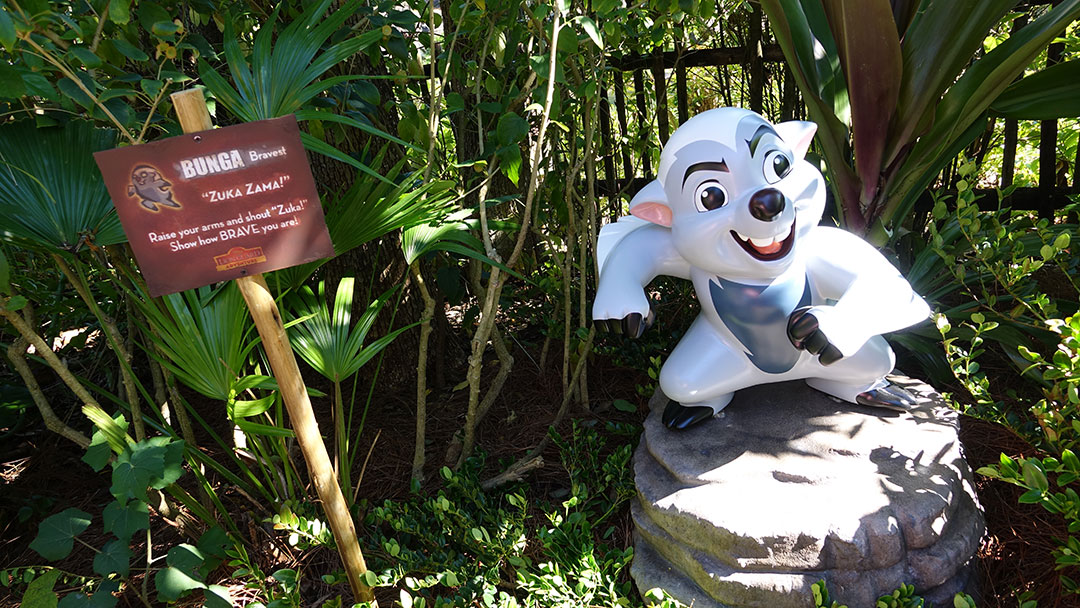 After lunch we headed over to Africa to find the other characters and found Kion near the Festival of the Lion King.  A kid was trying to ride the tiny statue while is parents cheered and laughed.  We just can't have nice things for the way people behave these days!  Cast Member saw this and told him to get down.  My little girl said they need signs to stay off.  I said they need parents who teach children not to do dumb things.  Statues are cute, let's not touch them or climb on them.  Head to the Boneyard if you need to do that.
You're supposed to show your roar here.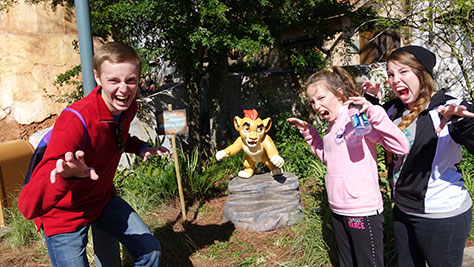 Roar!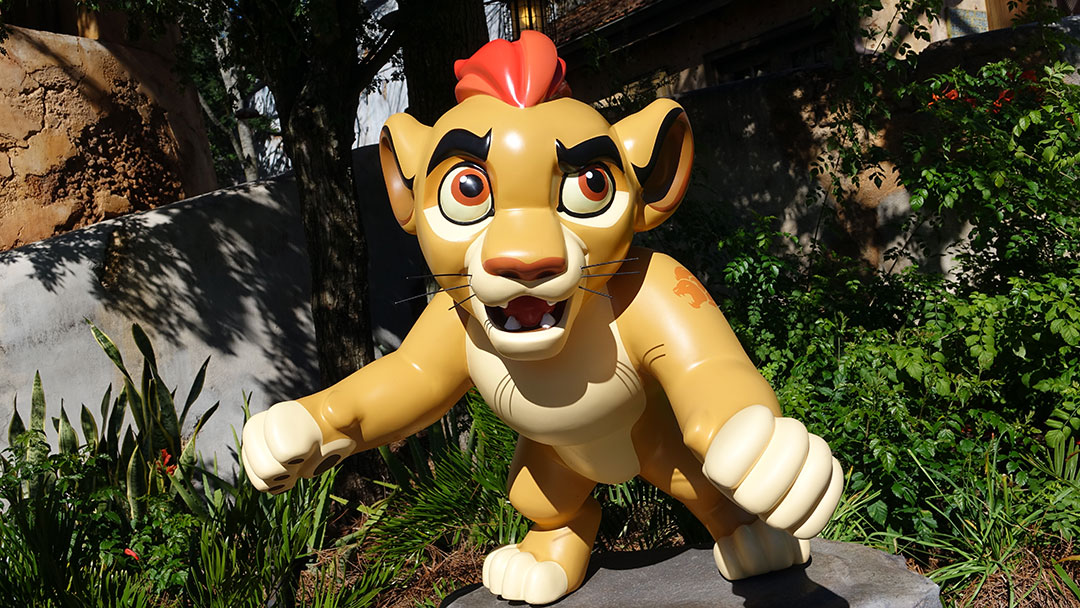 Beshte is located near the entrance to Rafiki's Planet Watch.  You're supposed to show your strength here.  Our pose looks a lot like brave, huh?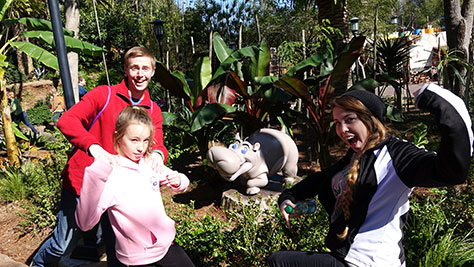 "I like you because you chunky!"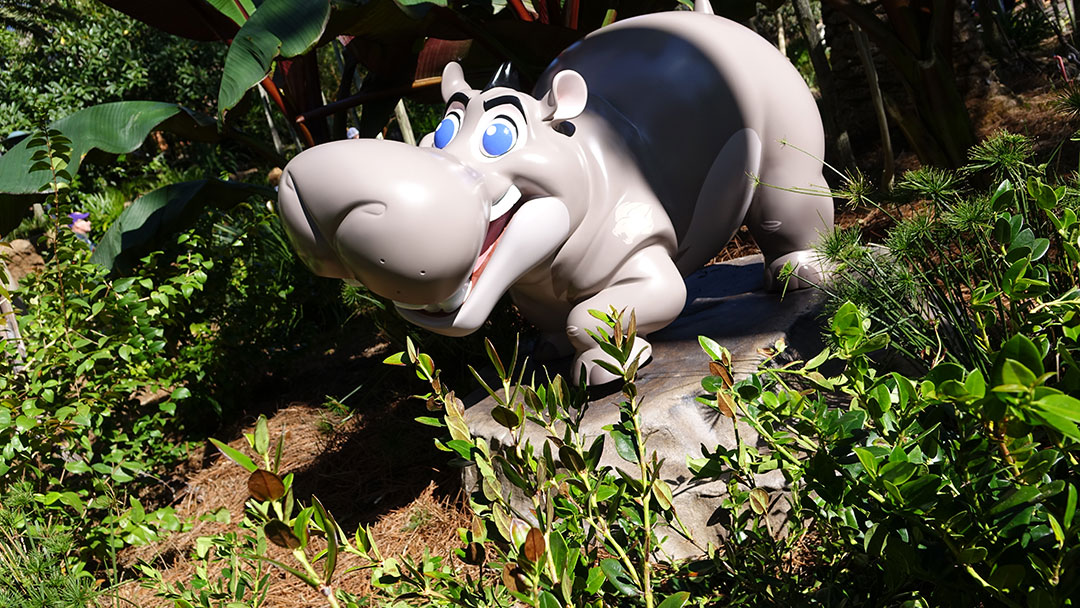 Kenny, how in the world will we find these little statues?  We found them by looking for these banners in the various areas.  It really wasn't difficult.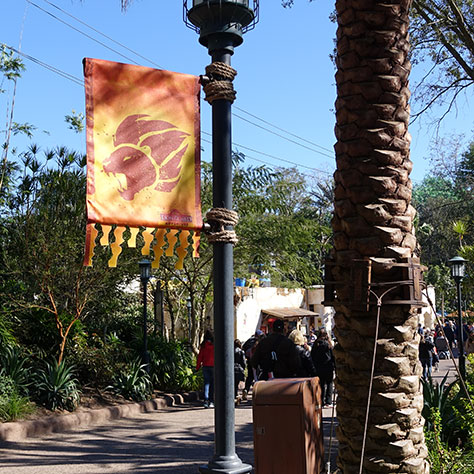 We concluded with Fuli by showing how fast we are.  Accidental product placement this time around.
In order to get your button, you are SUPPOSED to find each character, then go to Rafiki's Planet Watch for the free button.  But you could just as easily take the train to Planet Watch and head to the Conservation Station for your button.  Some people just walked up and snagged a button.  We wanted the full experience.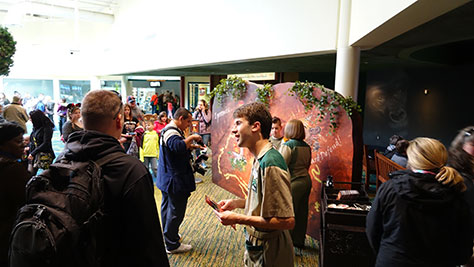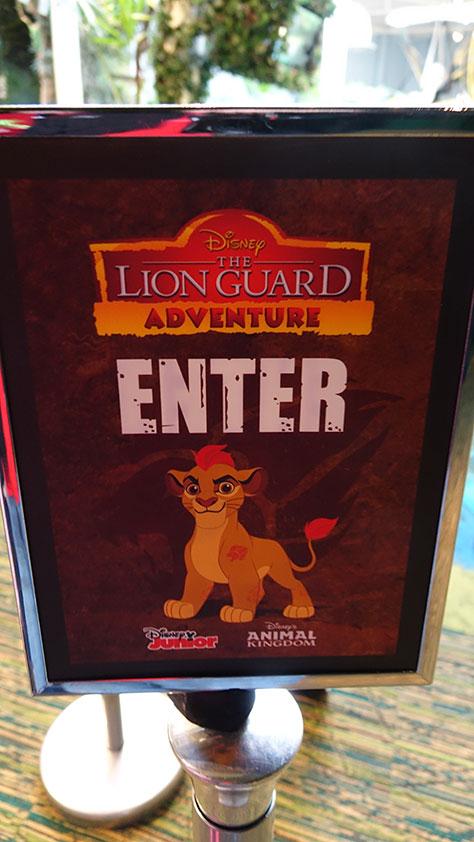 I think Disney World should have pledges all over.  We have the pirate pledge, the Caw Caw Roar thing, the Flag Retreat.  Maybe a test track pledge to restore it to an interesting ride or a pledge to remove Stitch's Great Annoyance?

After taking your pledge, you are presented with your free button.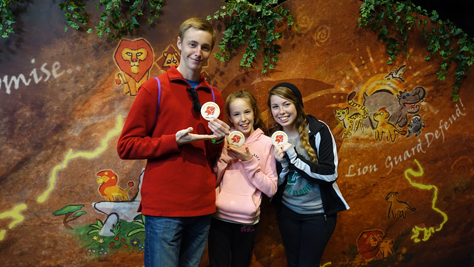 A little more of a close up of the button from our beautiful model and a wise old owl.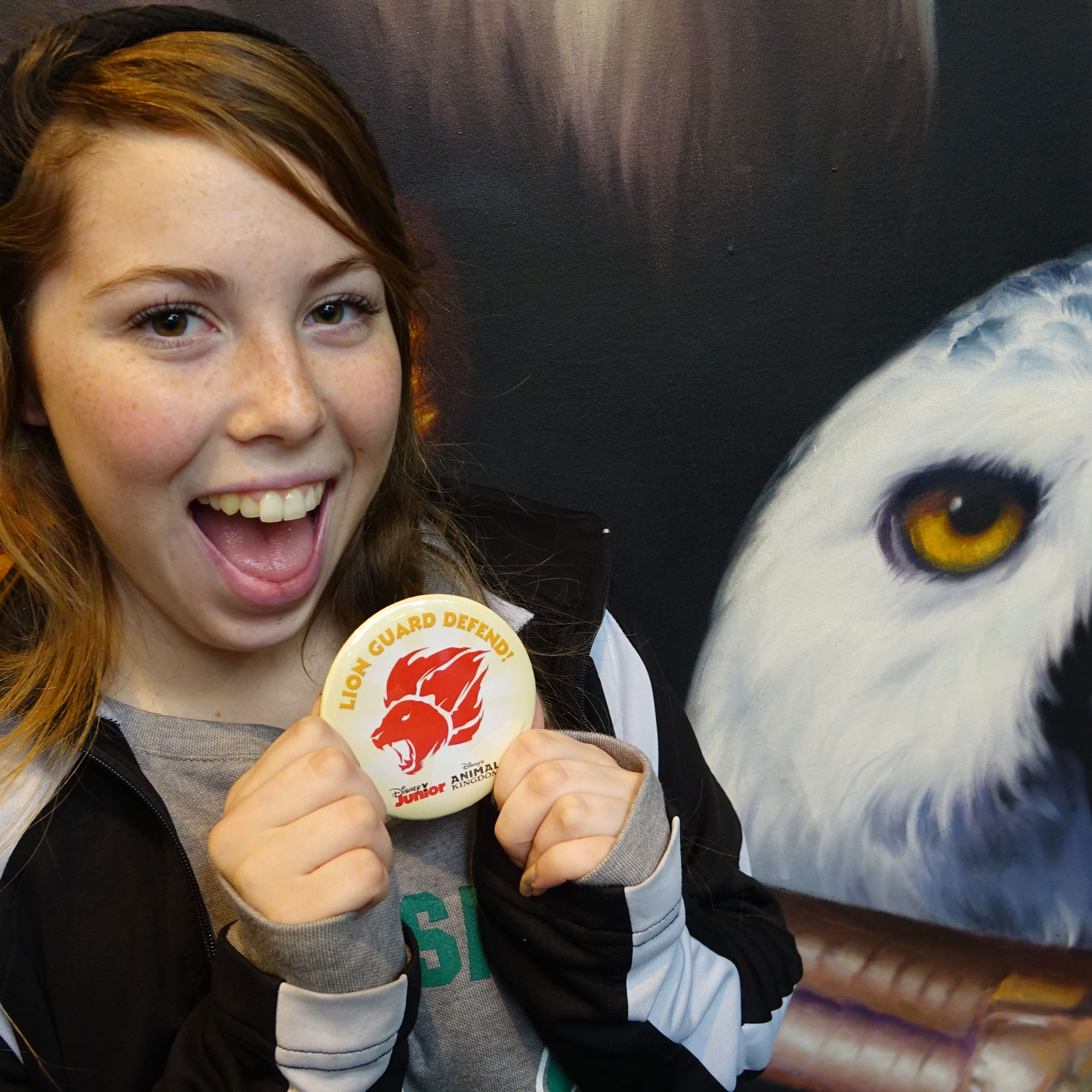 What does it cost?
It is free for those with valid admission.  Buttons are free as well.
Is it permanent?
If you've read my blog or followed my Facebook page posts, you'll know I always say, "Nothing in Disney World is permanent."  It is supposed to remain at least until early April.
Can I get a button without going to Rafiki's Planet Watch?
Nope!
Is there anything more to this than some statues, a map, a pledge and a button?
Nope
Any other questions?