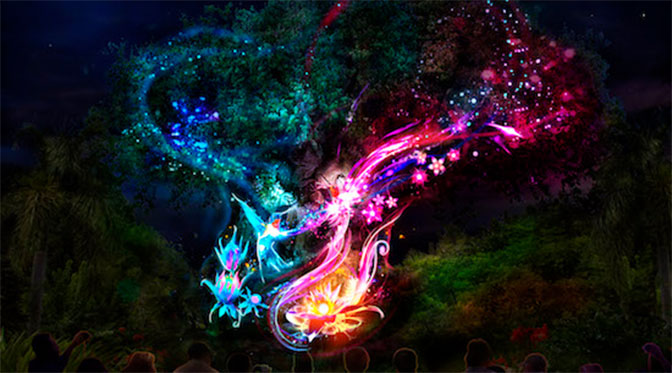 Disney's Animal Kingdom will soon be offering a number of upgrades, both big and small.
1.  Flights of Wonder to receive Fastpass+
Beginning November 25, 2015 Animal Kingdom guests will be able to choose Flights of Wonder as a Fastpass+ option.    I guess they are doing this to add a same-day option for in-park guests who feel like they have no options outside of It's tough to be a Bug.  Don't bother wasting your Fastpass+ on this, just arrive a few minutes early.
2. Tiffin's – a new table service restaurant
Disney released information about this upcoming Signature (expensive) restaurant that stated, "tiffins will celebrate the art of traveling, featuring a diverse menu drawing from places that inspired the creation of Disney's Animal Kingdom."  It will be open for lunch and dinner and offer another table service option and one that will be close to the future expansion of the Land of Avatar as it will be located in the rear of Pizzafari.  It will open at some point in 2016.
3. Thirsty River Bar
The former Expedition Everest Fastpass booth is becoming a bar.  Yup, what else would an elite climber do before setting off to climb the world's tallest mountain and face a raging Yeti, but swig a few alcoholic beverages.  It will be an open air small bar.
4.  Riverside Depot Store
The new Riverside Depot store will open to Animal Kingdom guests on December 8, 2015.  Riverside Depot will be connected to Disney Outfitters near the tree of life.  It will offer Disney character gifts and souvenirs.  Disney Outfitters will close in early 2016 to receive a refurbishment.
5.  Rivers of Light update
In "Rivers of Light," a pair of mystical hosts come to the river bearing gifts of light. During the show, the hosts set out from the shore on elaborate lantern vessels for a dramatic dance of water and light to summon animal spirits. With the storytellers as your guides, the wonders of "Rivers of Light" builds to a stunning crescendo.  In addition to the show, you'll also notice the park's iconic Tree of Life will undergo an amazing awakening as the animal spirits of the tree are brought to "light" by magical fireflies, revealing moments of wonder and enchantment.