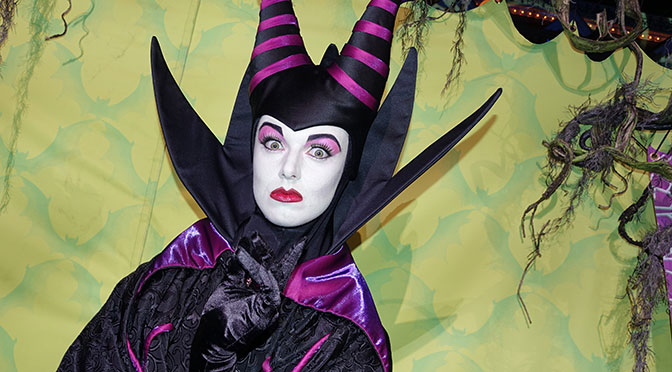 Disneyland Mickey's Halloween party review
I had the opportunity to visit the first Mickey's Halloween Party at Disneyland on Friday and thought you might like to hear about the experience.  I looked at picking up my party wristband in Frontierland, but there was an insanely long line that didn't appear to be moving much, so I left the park to return through the main gates.  Lines seemed long here, but they moved very quickly.  They scan your ticket and place a wristband on your wrist, then you can pick up a candy bag and map.  You can enter Disneyland up to 3 hours early only using your party ticket.
Signs give you some info about the party.  Mickey's Toontown closes early for the pre-party.  It will close 2 hours before regular closing and re-open 1 hour before the party begins.  If your party begins at 6pm, the pre-party is 5pm to 7pm.  If your party begins at 7pm, the pre-party is from 6pm to 8pm.
Festive balloons are added within the park to set the stage for the fun and to help guests find candy trail stops.

Oh!  Candy!
I arrived at the toontown entrance at 5:30 and found a big cluster of people just standing around.  I walked closer to the entry point in front of it's a small world because few people seemed to know what was going on.  I was able to meet Donald and Daisy in front of City Hall with a short wait.  
I then popped over to meet Goofy in his Candy Company outfit.  I should have jumped right back in the Donald and Daisy line in order to see Mickey and Minnie, but hey, I didn't know.
Chip was dressed as a Cop and Dale was a robber.  You get these two and chaos is sure to happen.  I think Chip was a bit aggressive with Dale. I hope Dale doesn't file charges against him.
I had to wait until Mickey and Minnie's second set would begin at 7:30pm before I was able to meet them, but it was worth it for these great costumes.  Zorro Mickey and Candy Corn Daisy.  Mickey and Minnie had a REALLY long line.
Meeting Villains was really high on my list, especially Maleficent and Hades.  I hustled down to town square expecting an insane line.  Characters weren't signing autographs, so the line actually moved pretty fast and no CMs were screaming or anything.  It was a very calm and pleasant wait.  You get to meet 3 villains with one wait line in front of the Railroad.  One set is Queen Grimhilde, Cruella and Maleficent with the Queen of Hearts roaming and the other is Gov. Ratcliffe, Jafar and Hades with Tremaine Family roaming.
I also found the Queen meeting guests during the day near the Alice in Wonderland restrooms.
Each of the ladies was spot on for the evening.
I also found Cruella wandering Town Square during the daylight hours.
I think Maleficent enjoys her job a bit too much.
Maleficent does not meet guests during the day, so this is your only opportunity.
Queen of Hearts also meets during the day and often with the Mad Hatter and or Alice.
Once the line was closed to prepare for the Paint the Night parade, I went wandering to see who else was out.  I found Prince Ali and Genie in Adventureland.  Wait for these guys was very short, but it's a matter of timing their schedule.  Genie meets during the day but Aladdin takes Prince Ali's place.
Spooky Rivers of America.  
Frontierland boat dock was transformed into Pirate Wharf.  
Pirate Wharf offers Capt Hook, Peter Pan & Wendy or Jack Sparrow depending upon your timing.
I collected a little candy and went back to get in line for the male villains.  I was told they would return at 9:40, so I returned about 9:30.  Well, the female villains had the 9:40 slot, so I fell to the back of the line and found the men at around 10:20pm.  Again I waited a longer time, but I wanted to meet Hades.  I caught the higher fireworks and music from my location. Gov. Ratcliffe does not visit guests during the day.
During Halloween Time, Jafar rotates with Genie/Aladdin/Jasmine at Aladdin's Oasis in Adventureland.  I asked what happened to Iago and he said he flew away.  
A really rare villain to meet these days.  Especially if you are a Disney World guest where your chances are ZERO percent.
I met a new friend at the party and we waited to meet Chip n Dale and ended up with Donald.  He cut out after and I stuck it out at Pirate Palooza in Rancho Del Zocalo to meet Chip n Dale.
Got the bonus of meeting Pluto as well.
Some crazy pirate entertainers were out along with the multistop treat trail.
Mickey and Minnie were out at Big Thunder Ranch in a different Halloween costume than they wore during the day. Woody, Jessie and Bullseye weren't far away, but I didn't get to meet them.
More decor in Frontierland
Characters you might meet include:
Adventureland
Genie and Prince Ali – usually 15 minutes or less
Critter Country
Rabbit
Tigger
Winnie the Pooh
Fantasy Faire
Princesses – including Mulan – usually short waits
Frontierland
Big Thunder Ranch
Bullseye, & Woody or Jessie  – 10 to 15 minutes was normal
Mickey and Minnie – 30 to 45 minutes
Pirate Wharf
Capt. Hook, Peter Pan, Wendy – 30 minutes
Jack Sparrow – 30 minutes
Racho Del Zocalo – Pirate Palooza
Chip n Dale – 15 minutes but rotate quickly
Donald Duck
Pluto
it's a small world
Merida – 20 to 30 minutes (day as well)
New Orleans Square
Jack Skellington and Sally (day as well)  They do have a special backdrop during the party.
Tomorrowland
Captain America (day as well)
Town Square:
Cruella De Vil, Maleficent, Queen Grimhilde – 40-45 minutes
Gov. Ratcliffe, Hades Jafar – 40-45 minutes
Entertainment
Cadaver Dans – 8:00, 9:00, 10:00, 10:45 (6pm parties), 11:00pm 7pm parties
Halloween Screams – 9:30pm
Monsters U Dance Party – 7:45, 8:45, 9:45, 10:45pm
Paint the Night Parade – 8:50pm (View on any other night)
Summary
I really enjoyed my time at Mickey's Halloween Party.  Character meet lines usually moved pretty quickly so more guests could get a photo with their favorite characters.
Positives:
Great fireworks show
Great character rotation and costumes
Pre-party gives you extra time and unique costumes.
Character lines usually move quickly
Lots of candy because the trails all have multiple stations.  Go later in party
Extra small entertainment like talking scarecrows and crazy pirates.
Negatives:
No themed parade.  Paint the Night is the best parade I've seen, but I saw it on another night to take advantage of lower character lines.  Boo-to-You in Disney World is really something special in Halloween season.
No special Halloween show.  Disney World offers a special show (Sanderson Sisters) multiple times per night, but Disneyland does not.
My Mickey's Halloween Party tips
Arrive early!  You can use an hour or hour and a half just to ride or enjoy a dinner.
Don't waste time waiting for characters you can meet during the day like Jack and Sally or most Princesses!
Wait until the last hour to gather candy.  Lines are really long early and non-existent late.  You can fill your bag pretty quickly in final hour.
Arrive way early for Toontown pre-party and head right behind the gazebo in the main square to meet Donald and Daisy.  Immediately get back in same line to meet Mickey and Minnie, then meet Goofy / Chip n Dale.  Pluto has no line.
Don't bother doing rides.  You can do those all day with little or no wait.  Disneyland opened at 8am and I walked around an uncrowded park for over 2 hours riding all I wanted.  Haunted Mansion Holiday was walk on for 2 hours and Space Mountain Ghost Galaxy rarely topped 30 minutes.  Each offers Fastpass as well.
Don't spend party time watching Paint the Night.  It's amazing, but watch it ANY other night!
You can have a great, uncrowded view of Halloween Screams half way down Main Street.  Everyone stuffs themselves into the hub area.
Annual Passholders get a FREE gift!  You'll receive a black Disneyland 60th draw string bag and special treat by visiting the Opera house.  Also, there's Mickey cartoons showing in Great Moments with Mr. Lincoln if you need a little A/C break.
There is no such thing as a "best party."  Every party will sell out!  As of September 27, only October 27 and 29 remain!
Dress up and have fun!
As a Character Locator, I give my vote for favorite US Disney Halloween Party to Disneyland!  With only 2 parties that aren't sold out already, I think others cast similar votes.  I had such a nice time in Disneyland and at the party that I've actually considered flying back out with my little girl.
Be sure to share with friends on Facebook, Pinterest and such below!