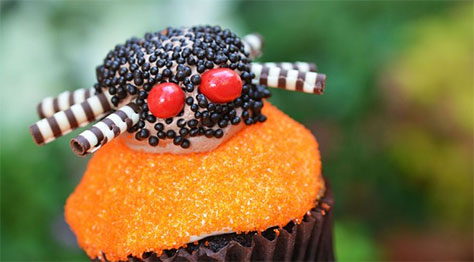 Disney released photos of a sneak peek at some of the "creepy confections" that will be available at Disney World's Mickey's Not So Scary Halloween Party for 2015.  There's still no word on the Pumpkin Spice waffle!
Monster Cupcake, Main Street Bakery
Don't worry, this vanilla treat won't give you nightmares. He's actually quite sweet.
Mickey's Not So Scary Halloween Party 2015 will feature a variety of sweet treats including a Monster Cupcake, a spider cupcake, a Halloween cookie and cookie ice cream sandwich, Candy Corn soft serve a ghost cupcake and candy corn cotton candy! These concoctions will only be available to party guests during the 7pm to midnight time frame.
Spider Cupcake, Main Street Bakery
Give this creepy, chocolate cupcake a try before it crawls away.
Halloween Cookie, Main Street Bakery
Freshly-baked and festively decorated, you'll want to sink your teeth into this sugar cookie.
Halloween Cookie Ice Cream Sandwich, Plaza Ice Cream Parlor
Do you scream for Ice Cream? Sandwich your favorite flavor of ice cream between two cookies for a cool treat.
Candy Corn Soft Serve Ice Cream, Storybook Treats
This isn't a trick, the cone is filled with candy corn!
Ghost Cupcake, Gaston's Tavern
This chocolate cupcake is topped with buttercream icing, chocolate sandwich cookie crumbs, and a marshmallow ghost – spooky sweet!
Candy Corn Cotton Candy, outdoor vending throughout the park
Orange, pina colada and original sugar-flavored cotton candy will satisfy your sweet tooth.
All photos and information are copyright Disney.
Which treat are you looking forward to trying at this year's Halloween Party?