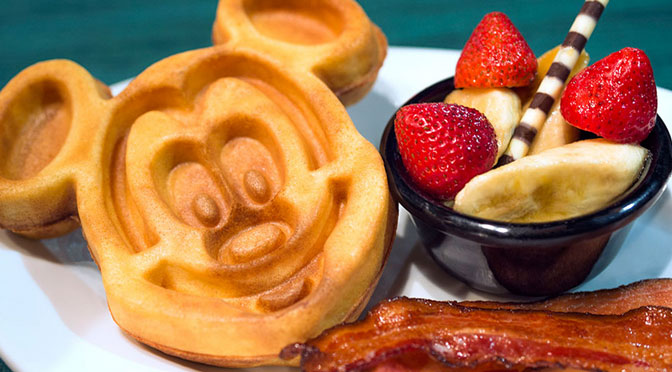 The Sci-Fi Dine-In Theater Restaurant is now offering breakfast in addition to lunch and diner!
Breakfast will be available from 8:00am to 10:15am and includes pastries, appetizer, entree and a non-alcoholic beverage.  The cost is $23.99 per adult and $12.99 for children 3 to 9.  The restaurant does accept the Disney Dining Plans.
Reservations are currently available from November 1, 2015 through January 23, 2016.
Start your day in one of those cool retro cars under a sky of twinkling stars with a yogurt parfait or fresh fruit, then order something fancy such as puff pastry filled with scrambled eggs, crab, asparagus and Gruyère cheese with roasted tomatoes and avocado. Or grilled beef tenderloin on baby spinach with bacon and Cheddar custard on a roasted tomato with cheesy horseradish potatoes. There's a simple scrambled eggs, bacon, sausage and breakfast potatoes platter. Or go Southern with pan-seared shrimp and cheesy grits.
The chefs make healthful delicious with an egg-white omelet with shiitake mushrooms and caramelized onions and roasted garlic fingerling potatoes. But if you prefer a sweet beginning to the day, rev up with a decadent macadamia-crusted brioche French toast with mascarpone and fresh berries. Or the famous Mickey waffle with a side of bacon or sausage. Little ones can order scrambled eggs with sausage, bacon and potatoes; French toast or a mini-Mickey waffle.
Sci-Fi Dine-In Theater BREAKFAST MENU
Sci-Fi Fresh Baked Pastries:
Cinnamon Roll, Double Chocolate Muffin, and Croissants
Starters (Choice of One):
Greek Yogurt Parfait with House-made Granola
Seasonal Fresh Fruit
Entrées:
Stuffed Puff Pastry filled with Scrambled Eggs, Crab, Asparagus, and Gruyère Cheese with Roasted Tomatoes
Grilled Beef Tenderloin on Baby Spinach with Bacon and Cheddar Custard on a Roasted Tomato and Horseradish Potatoes
Traditional Breakfast WITH Scrambled Eggs, crispy Bacon, Sausage Links, and Breakfast Potatoes
Macadamia-crusted Brioche French Toast with Mascarpone and fresh Berries
Mickey Waffle with Maple Syrup and choice of Bacon or Sausage
Pan-seared Smoked Paprika-dusted Shrimp and Cheesy Grits
Egg White Omelet with Shiitake Mushrooms, Caramelized Onions, Garlic Roasted Fingerling Potatoes, and Greek Yogurt with Berries
Kids' Meals:
Scrambled Eggs with Bacon, Sausage, and Breakfast Potatoes
Mickey Waffle with Maple Syrup and choice of Bacon or Sausage
Puffed French Toast Sticks tossed in Cinnamon Sugar with Chocolate Dipping Sauce
Specialty Drinks (not included in the prix-fixe price):
Sci-Fi Blue Milk Cocktail (Blue Curaçao, Cruzan Mango Rum, Orange Juice, and Milk) – $11.25
Mimosa (Orange Juice and Prosecco) – $8.50
KtP's thoughts:
Option 1:  If you wish enjoy this meal try booking an 8:00am breakfast on a non Extra Magic Hour day, then you can enter the park before it opens to most guests and it places you in decent proximity to have one parent escort any Jedi Training kids to the sign up when the park actually opens.
Option 2:  Book breakfast in the 10:00am range so you can visit Buzz and Woody, get in that Toy Story Mania ride and see a few Disney Junior characters before eating breakfast.
I cannot say this meal is of any great value, as there is no characters appearing.  It's a fun restaurant, but you could order 1 of 7 items on the lunch and dinner menu for a lower cost.