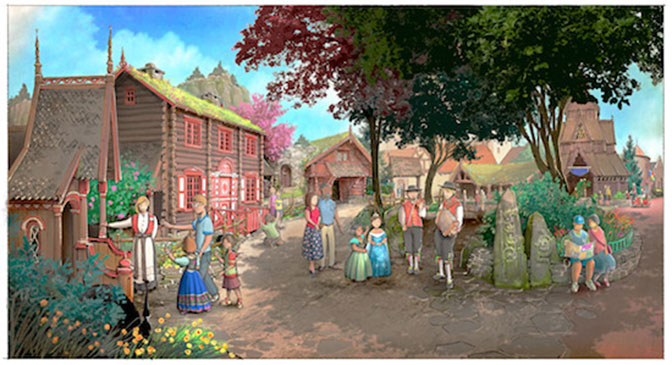 The D23 Expo provided us with many great news items including the all new Star Wars Land and Toy Story Land.  Additionally, the imagineers released a new piece of concept art and details for the new Frozen Ever After attraction and Royal Summerhus that are under construction at Epcot
"The Frozen Ever After attraction will transport guests to Arendelle just in time for the "Winter in Summer" celebration. According to Portfolio Creative Executive Kathy Mangum, the attraction's project team is currently partnering with many of the talented individuals at Walt Disney Animation who helped bring the original "Frozen" film to life, as well as award-winning composers Bobby and Kristen-Anderson Lopez."
KtP – The new ride is said to be Fastpass+ equipped.
"We're also expanding the Norway pavilion with the addition of the Royal Summerhus – a charming cabin where guests will be able to meet Anna and Elsa," Kathy said. "This cabin is based on an actual historic log cabin in Norway. In fact, in order to make sure we get the character and detailing right, we just sent our project team to Norway on a research trip to study the country and its cultural arts and crafts in person, just as the film team did.
KtP – The new meet and greet is said to offer Fastpass+ once it's open, and how do I get this job of travelling the world???
"We're confident that this attraction will bring more guests to the Norway pavilion and increase their interest and knowledge of Scandinavian culture, just as the World Showcase was intended to do."
KtP – A while back I mentioned a rumor that Anna and Elsa would begin meeting for a special character meal.  According to multiple sources that idea appears to have been approved for the new Epcot area.  We should have more information in coming months.  No booking dates are provided at this time, but I'm sure it will become the most popular dining experience in Walt Disney World, bar none.