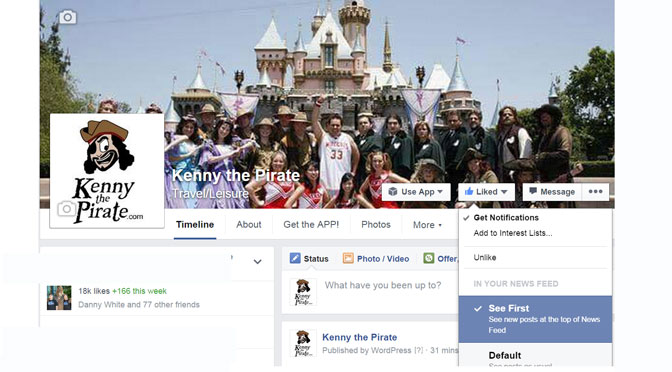 Over the last several months, Facebook users complained to Facebook that they weren't able to see their favorite fan page information in their timeline.  Facebook had installed a really complicated algorithm that would only allow you to see a fan page if you interacted with the page via likes and comments.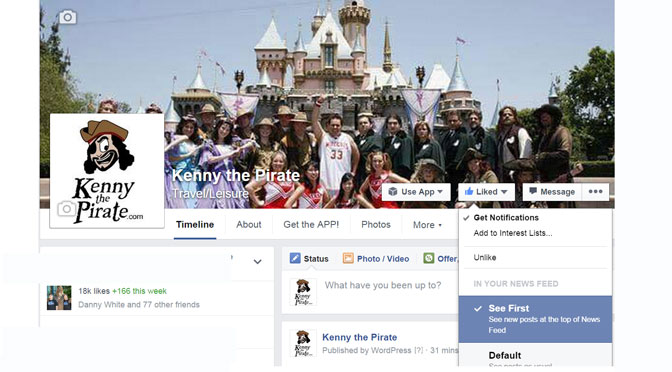 Recently Facebook began to give back some of the control to the user by allowing users to choose a new feature called "See First."  The new feature pins pages that are important to you, to the top of your News Feed, so you won't miss them.  You can still view the remainder of your news feed by scrolling, but the new feature allows you to see the information you love the most at the top so you can see the things you actually care about.
These tips only work on the latest version of each application!
iOS users:
Step 1: Launch your Facebook app and press the MORE button located in the bottom right corner.  Then scroll to the bottom and select NEWS FEED PREFERENCES at the bottom.
Step 2: Now press PRIORITIZE WHO TO SEE FIRST at the top of the page you don't want to miss like KennythePirate for example and press DONE in the upper left corner.
Android Users
Step 1:  Launch your Facebook app and search for your favorite fan page
Step 2:  Click on the drop down beside FAVORITES
Step 3:  Click SEE FIRST
Computer Users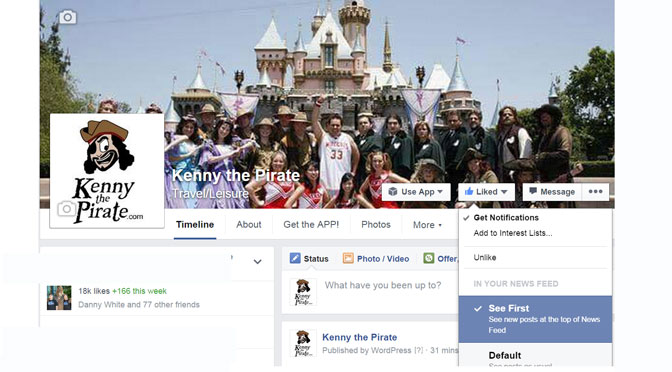 Step 1:  Visit your favorite fan page
Step 2:  Click the drop down arrow beside the LIKED button
Step 3:  Click on SEE FIRST
Take back your Facebook and don't forget to SEE FIRST your favorite Pirate page.