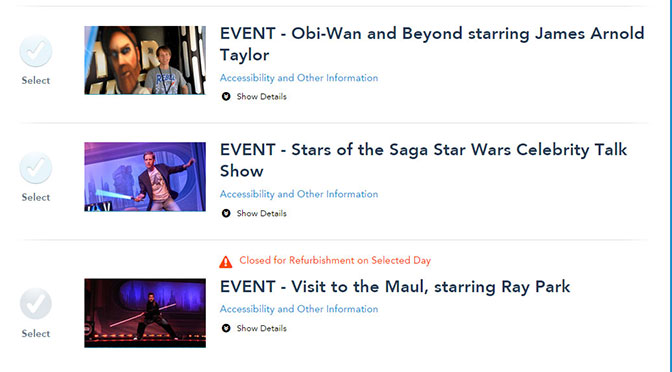 Yesterday I discussed the Upcoming Star Wars Weekends Celebrity appearances.  Some of those celebrities will NOT sign autographs and I'd like to present you with most of the Star Wars Weekends entertainment for 2015.
Ian McDiarmid will NOT sign autographs and will only appear in the Star Wars Celebrity Motorcade and the Stars of the Saga show.  Frank Oz will NOT sign autographs and will only appear in the Motorcade, Stars of the Saga and A Conversation with Frank Oz.
The following Star Wars Weekends shows will offer Fastpass+:  Star Wars Rebels, Stars fo the Saga, An Ewok's Tale, A Visit to the Maul, A Conversation with Frank Oz and Obi Wan and Beyond.  Weekends 1 through 3 began offering Fastpass+ to onsite guests last night.  I mentioned that to my Facebook friends then.
Each Star Wars Weekends show is a Tier 1 Fastpass+, which means you wouldn't be able to reserve FP+ for Toy Story Midway Mania or Rock n Roller Coaster.  Guests are only seeing the shows visible on a computer, not the Disney app.
All Star Wars Weekends Shows are being presented at the Theater of the Stars (Beauty and the Beast Theater) which means that Beauty and the Beast is only offering 3 shows daily.  I haven't seen any Fastpass availability for Beauty and the Beast, so it's likely that it will be stand-by only.
Here's the Show Schedules that I could piece together.  The Padawan Mind Challenge will return and they should offer another fun closing show this year as well, after cancelling it last year.  I just don't have those schedules yet.