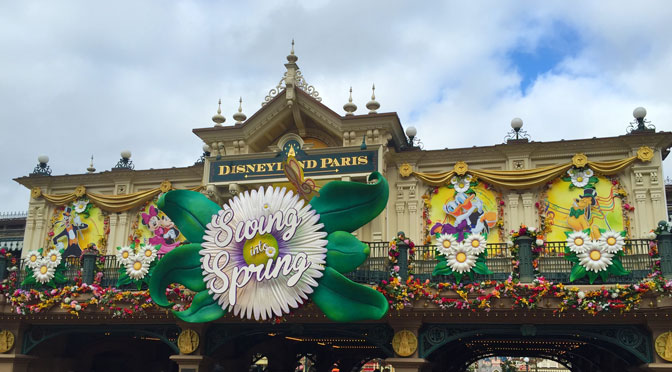 Swing Into Spring is in its second season at Disneyland Paris, and guests were promised a bigger and better version this year; building on its successful debut in 2014. This is not a hard ticket event, but rather, a theme that has shows, decorations and characters fitting to Spring during March, April and May, that is included in the price of your regular ticket.
Details had been leaking for a few weeks before the official start of the season, and expectations were high (rightly so – last year the season was acclaimed by guests). The major changes that were announced were the rebrand of the Spring Promenade to "Goofy's Garden Party", and the "Welcome to Spring" show would be relocated to the castle stage and would feature characters from Mary Poppins. Other notable announcements included meet and greets with Thumper and Miss Bunny (first time ever in Paris), and a short party train called "Minnie's Spring Train Express" which would travel down Main Street USA daily with Minnie and other Disney friends.
The season had a dry run a day before the official start of March 1st, and social media activity was very high from the local regular guests. It made my travel down to Paris very exciting; lots of pictures to see (and judge!).
I arrived with my group at about 11am, and caught the first official performance of "Goofy's Garden Party"; I did not want to take any pictures, I just wanted to absorb the show; its music, costumes, dancers, props and characters. I was happy to see the return of both Mickey and Minnie's spring car, and Donald and Daisy's too – this year they left their cars during the show and walked part of the route – which was actually quite nice to see – I was lucky enough to get a high-5 from the #1 duck! Other very cool moments include Clarice's unique costume (ever the diva), and the fantastic music from last year – catchy, uplifting and very fitting to the Spring theme – a thumbs up from me. I do think there is a little too much going on this year, and the beauty of last year was that wherever you stood you could see most of the show. Now though, you can miss certain characters depending on where you stand. I would recommend watching the show from a few different points to ensure you see your favourites. Overall, I would rate this show 9/10 (last year was 10/10 – the best Disney show I've ever seen!).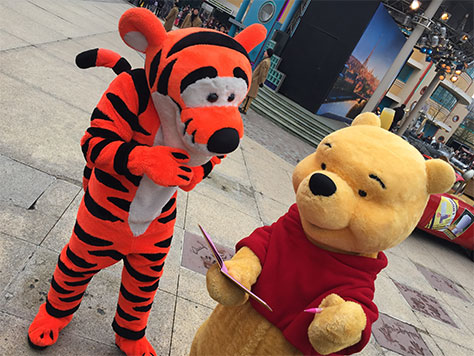 We then headed over to the Walt Disney Studios park (right next door to the main park) to catch the Stars 'n' Cars set. For those of you that don't know, SnC is the Paris equivalent of Character Palooza (KtP note: Stars n Cars meet is really different than Palooza); although it does now appear on the official park programme (thus attracting more people than before). You're guaranteed a wide (and random) selection of characters and there really is no way of knowing who will appear on any particular day. I've been before and seen upto 13 characters, and at times only five. Today was a great set, there was Pluto, Donald (unique costume), Tigger, Pooh, King Louie, Baloo, Rafiki, Snow White, Mulan, Goofy (unique costume), Remy, Emile, Woody, Jessie, and Mr Smee. The set up is that the characters drive in to a piazza/plaza that is roped off, and the characters make their way around the rope greeting guests – a bit like a movie premiere? This isn't great because there is no guarantee you get the meet the character you want, and with only a couple of guaranteed sets it can be disappointing. My advice is to get here at least five minutes before the start of the first set (usually midday) to ensure you're at the rope, otherwise you'll end up being behind people and you won't stand a chance. There is a designated area for disabled people, which I think is only fair given how frantic it can get.
We stayed for only one set, and then headed over to the Inventions Sunday Brunch, which runs every Sunday from 1pm – 3pm. Each week there is a theme, which indicates the characters and costumes of the characters that will appear, along with the type of food and costumes of the servers and CMs. This week's theme was Spring (London), and was set to feature Mary Poppins, Bert, Mr Penguin, Duffy, Mickey, Minnie and the chipmunks. The carved melons adorn the buffet counters and greeting desk are stunning, aren't they?
The London theme is a regular one, but the addition of the word Spring had set speculation that the VIPs might wear their Goofy's Garden Party costumes; and that was proved right!
First up: Duffy – in his Spring finest!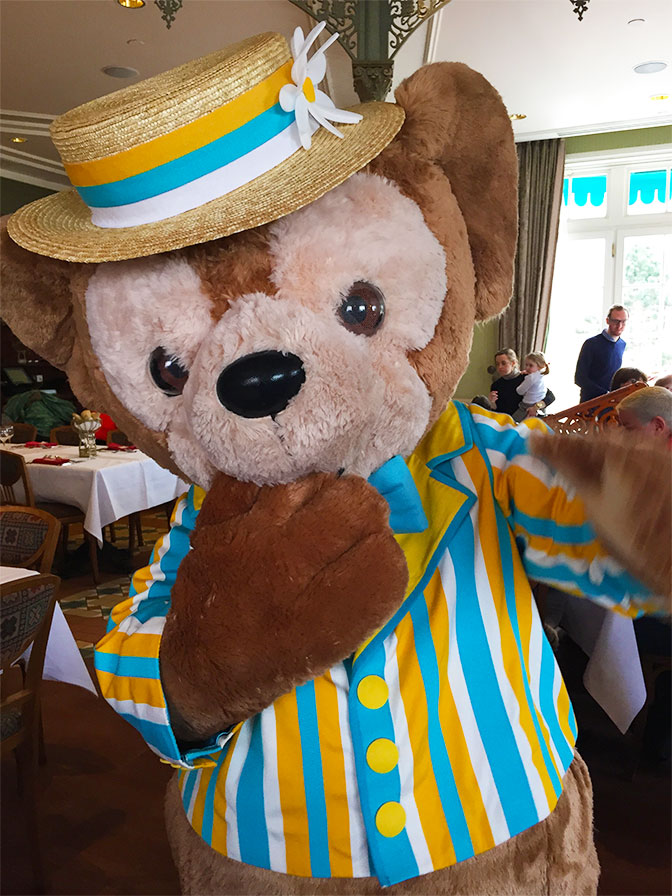 Next up: Mickey!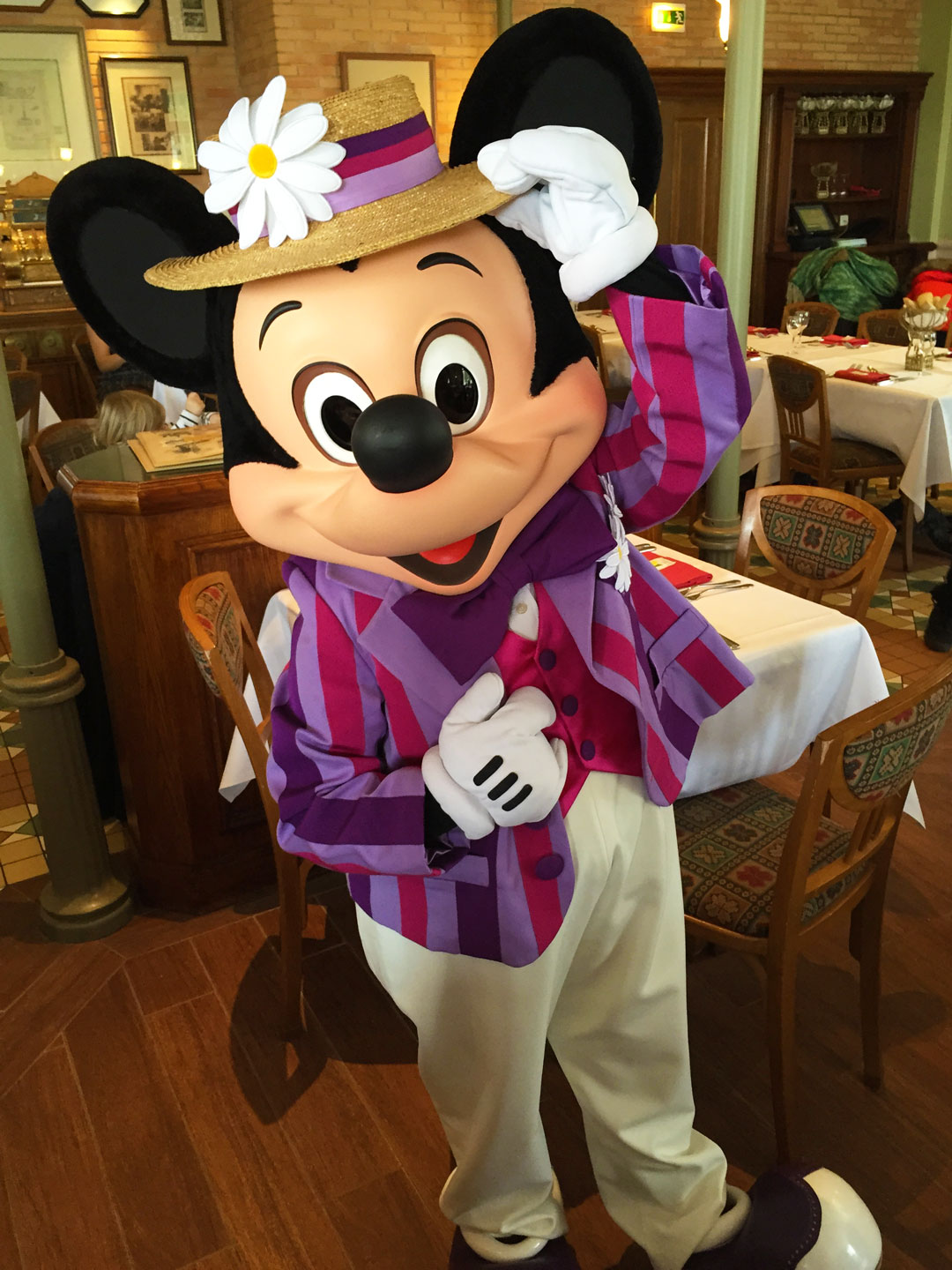 And the mouse and his bear together…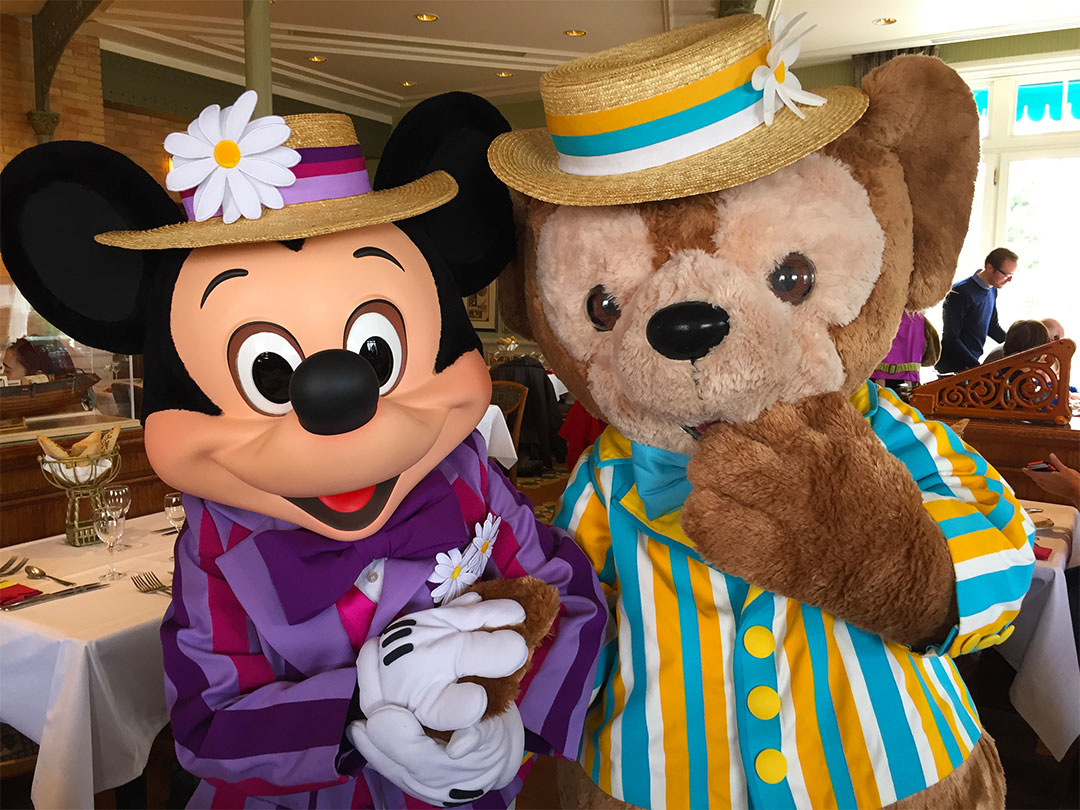 Next up: Penguins!
Then the Chipmunks appeared in their Garden Party ensembles!
The leading lady Minnie then appeared, and was cheered as she entered the room (she did look utterly fabulous!)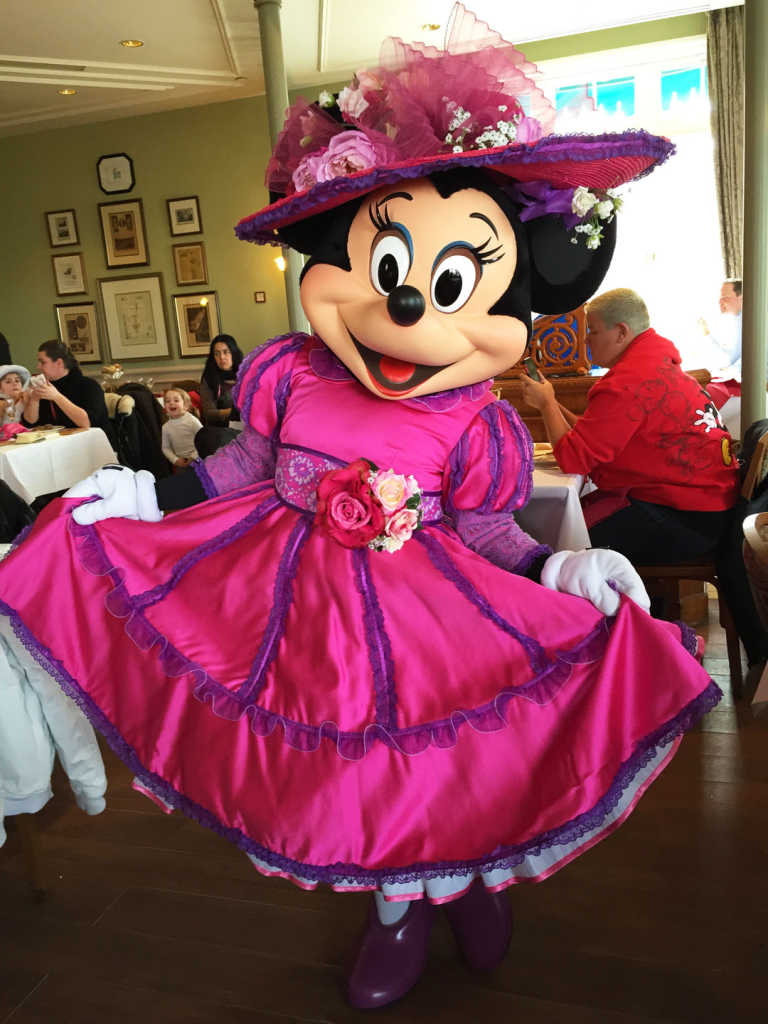 Mary and Bert appeared with minutes to go until the brunch was over, I didn't manage to get pictures of them, but their outfits were their usual park fare. All the characters were absolutely excellent, and I just adored the Mouse costumes!
We had a few minutes to walk off the very filling brunch buffet browsing Main Street, and then we took up our spots for another performance of Goofy's Garden Party..
We did not get chance to see Thumper or Miss Bunny because the lines were heavy during the whole day, and I am going again in three weeks, and again three weeks after that – so I'll have chance to see them. We also didn't get to see the Mary Poppins show either, which my friends have told me is really impressive; again, I will make sure to do this in a few weeks' time.
The only thing I was not too impressed with was the Spring Train. It featured Minnie, Daisy, Clarice, Clarabelle, Thumper, White Rabbit, Rabbit, and Miss Bunny. I was expecting (or maybe just hoping) for the characters to leave the train and greet guests, just like the train characters did for the 20th Anniversary celebrations, but alas, this is not happening. The train just travels up Main Street twice a day, and that is about it; a little disappointing.
The decor and topiaries have been criticised by some guests, but I have to say I think they are absolutely fantastic, and personally, I absolutely love the signs that greet you as you first pass through the gate – it is a really impressive welcoming!
We watched the amazing Disney Dreams (in the rain!), and then got an early night, ready for a few hours of magic the next day.
We arrived at rope drop for Extra Magic Hours and the queues to meet Mickey, Minnie, Goofy and Pluto on Main Street were long already, and by 9:00am they were at least 30 minutes per character! The chipmunks were meeting at Plaza Gardens, and their line was much shorter, probably because they are slightly hidden from most people's view.
Minnie started meeting guests earlier than published in her special Spring dress, but due to the rain she moved from the Boarding House, to a sheltered space next to City Hall.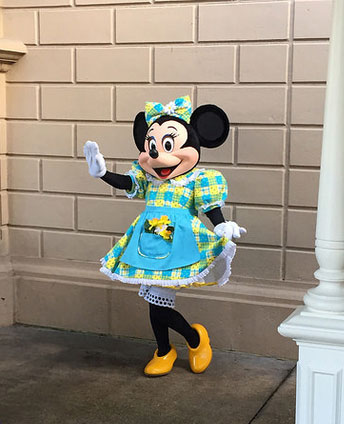 We enjoyed the Spring decorations and headed to the Studios to ride Crush's Coaster and Ratatouille (and Stars 'n' Cars of course!). These attractions are unique to Paris, and their wait times can hit 80-100 minutes early on in the day and maintain that all the way until park closing. Ratatouille offers Fastpass, but the wait for these are often 20 minutes anyway (Paris still operates a paper Fastpass system, not a pre-bookable WDW system). Both attractions are fantastic, the theming is second to none, and appeal to youngsters, teens, and adults. Crush does not offer Fastpass, I would recommend doing this first, and then head straight for a Ratatouille fastpass. We then rode Tower of Terror, which I think is better than the WDW version, simply because I don't like the random ride that WDW offers because you sometimes don't get to see out of the windows. It was then time for Stars'n'Cars.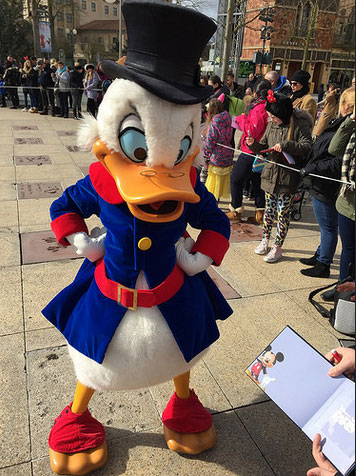 The park was not busy at all, and very few characters appeared; Woody, Jessie, Minnie (unique costume), Snow White, Goofy (unique costume), Remy, Emile and Scrooge! What a great suprise to see my favourite character! Of course,I ditched the other characters and ensured I got some quality McDuck time!  I was more than happy seeing Scrooge, and so I let other guests have my spot to meet the other characters, as I'd seen them all lots of times before, and I had Cafe Mickey to look forward to for some character time.
At Cafe Mickey, they have introduced a fixed price set menu: €34 for a starter and main, or €42 for starter, main and dessert. The restaurant was very quiet, and we were there two hours, the character interaction was great and the food was pretty tasty too – this experience redeemed the place for me; after a couple of disappointing visits. I had the best time ever with Mickey, Tigger and Pluto – they were just so much fun, they must have spent at least thirty minutes with us during the evening because the restaurant was so quiet!
This was a great end to a great trip, I'll be visiting again at Easter; when I will be hoping to meet the bunnies, see the Mary Poppins show and attend the two special Easter brunches (Alice in Wonderland, and 100 Acre Wood). I'll then be heading straight to Hong Kong Disneyland for their Annual Pin Day – lots of Disney magic in early April for this Disney Duck lover!
Please follow my Twitter and Instagram @DisneyDuckLover for pictures and live updates on my trips.
If you want to see more trip reports from Paris, then let Kenny and me know in the comments below and don't forget to share with your friends!