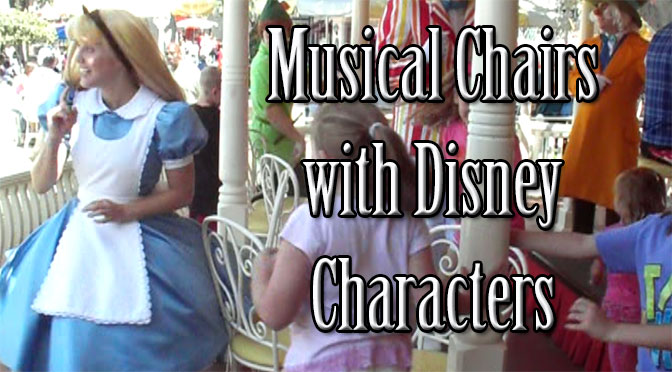 In 2007 we took my Dream Job trip to Disneyland in California. My kids had hoped to meet some great characters, ride all the rides and see the shows.   We saw the Mad Hatter pop out from backstage near the Castle and the kids wanted to get a photo and autograph.  He told the kids to follow him and they'd have more than that.  Remember, this activity wasn't set up for the Dream Job families, it was just a fun act that the characters performed.
We made our way over to the area with the Piano Player and he was then joined by Bert, Alice and Peter Pan!  My kids were overjoyed thinking they could just meet all 4 of these classic characters with no waiting.  The Mad Hatter then explained that they were there to have some fun together, not merely sign books and take photos.
He then set the stage for a fun game of Musical Chairs that my son and two daughters would get to participate in with a couple of other children who stopped by as well.  The characters stayed out and played with the kids for over 17 minutes!  You'd never see this kind of activity at Walt Disney World, but it was one of many great memories in the Disney Parks for my kids.
You'll definitely want to see the prize that is given away about minute 17 or so!