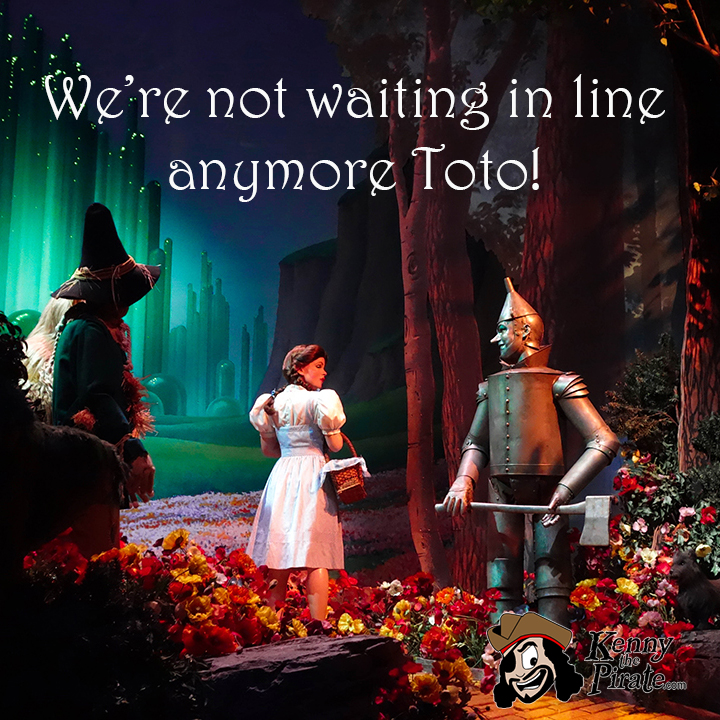 I thought might be interesting to demonstrate the average wait times at the four parks of Walt Disney World during the peak visitor time.  The charts represent the average posted wait times between 11am and 5pm daily because that is the time when the waits are typically climbing and falling.  The odd part of the data seems that December 29th was overall the highest waits across the parks with the exception of the Magic Kingdom which was its second worst day.
Animal Kingdom
Animal Kingdom rarely has huge waits.  The wait times have only gotten lower since they destroyed Camp Minnie Mickey, removed many of their characters and turned the entire park into a construction wall.  In the summer months Kali River Rapids can reach the 90 minute range, but you can see that average waits for the headliners at Animal Kingdom are rarely topping an hour during this crazy busy week.  As I predicted on my December Crowd Calendar, Animal Kingdom was the best place to be on New Year's Eve for low wait times.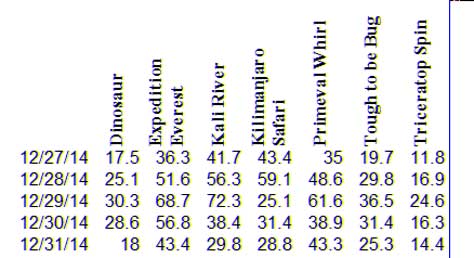 Hollywood Studios
Hollywood Studios offers New Year's Eve fireworks, which attracts larger crowds, but not as intense as Epcot or the Magic Kingdom.  I predicted Hollywood Studios as a great park on the 28th and 30th and that figured to be an accurate vision of the park for this week.  Would you wait 58.8 minutes for Muppet Vision 3D?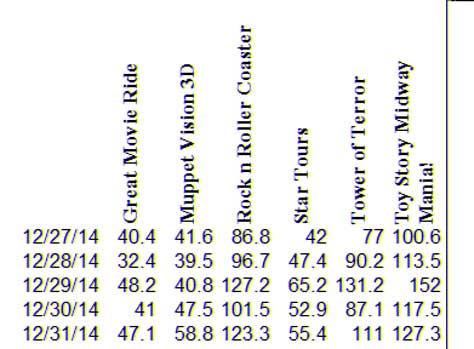 Epcot
Epcot proved to be it's normal New Year's Eve beast.  Many people wish to bring the New Year in with Fireworks and libations and Epcot is their preferred space for the combination.  The wait times on New Year's Eve were FAR worse than any other date.  I predicted yellow on the 28th, red on the 29th, yellow on the 30th and red on the 31st which looked pretty accurate for the crowd sizes.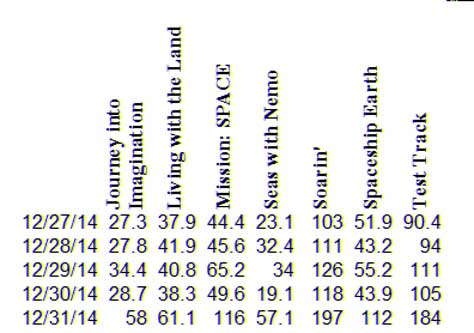 Magic Kingdom
You'll find the image below easier to read after clicking upon it, but New Year's eve proved to be a typical avoid based on wait times.  It's really difficult to recommend the Magic Kingdom any day during a holiday period just for the fact that most people feel it's more log jammed than other parks.  The pathways between rides is much more confining, so you bump into people more than you would at Epcot.