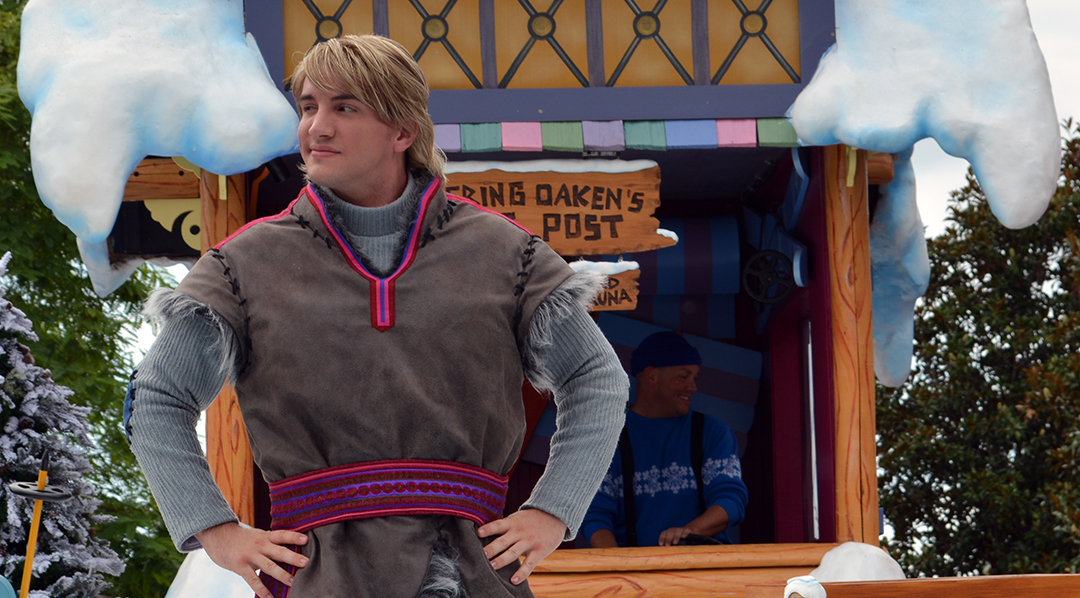 Anna and Elsa's Royal Welcome and Parade featuring Kristoff
We arrived at Hollywood Studios about 10:20am with the goal of watching the Anna and Elsa's Royal Welcome and Parade which begins at 11:00am.  We scouted a spot near the entrance.  It was directly across from the gates from which the floats and characters appear.  There was a rope, but you're asked to stand along a brass line on the ground.
We chatted with Deb from allears.com, who is a wonderful lady and offered some sage advice.  We stood under a nice cloud cover and a breeze, so it wasn't as brutal as it usually would have been.  After standing there quite a while, mommies began sticking their little kids at our feet without our permission.  I tolerated the little girl in front of us and didn't cause a scene.
An apparently British lady felt rather strongly that her lovelies deserved a last minute spot in front of another family and threatened to hurt the father.  It wasn't the bright, beautiful scene one would love for a Disney Park.  Cooler heads prevailed and the parade began.
Click on a pic for a much larger image.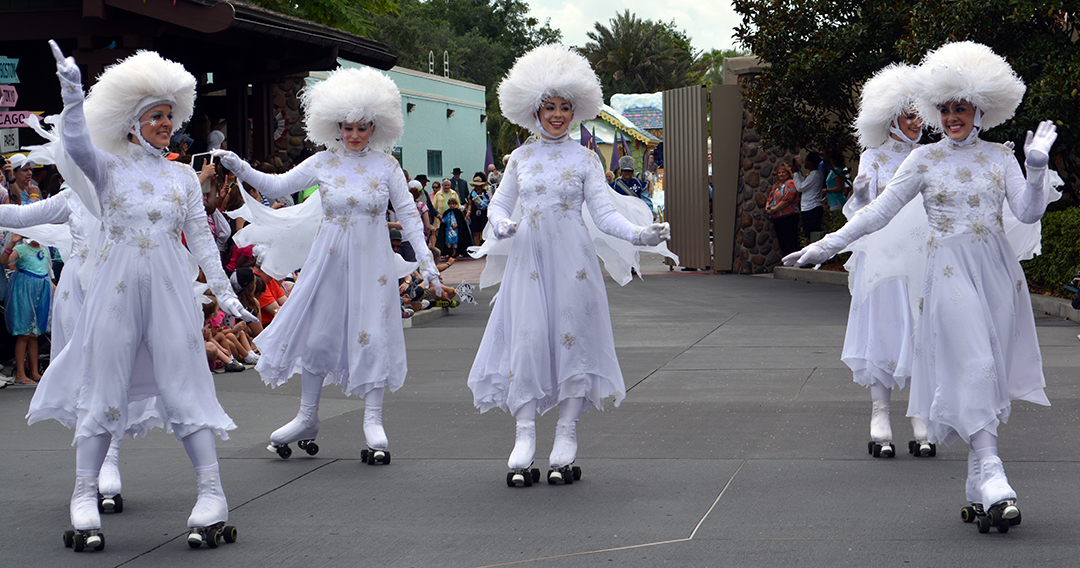 You may notice that the parade is merely a portion of the Christmas parade, with a new paint job and Frozen characters.  I'd bet you that this overlay will continue for the Christmas parties.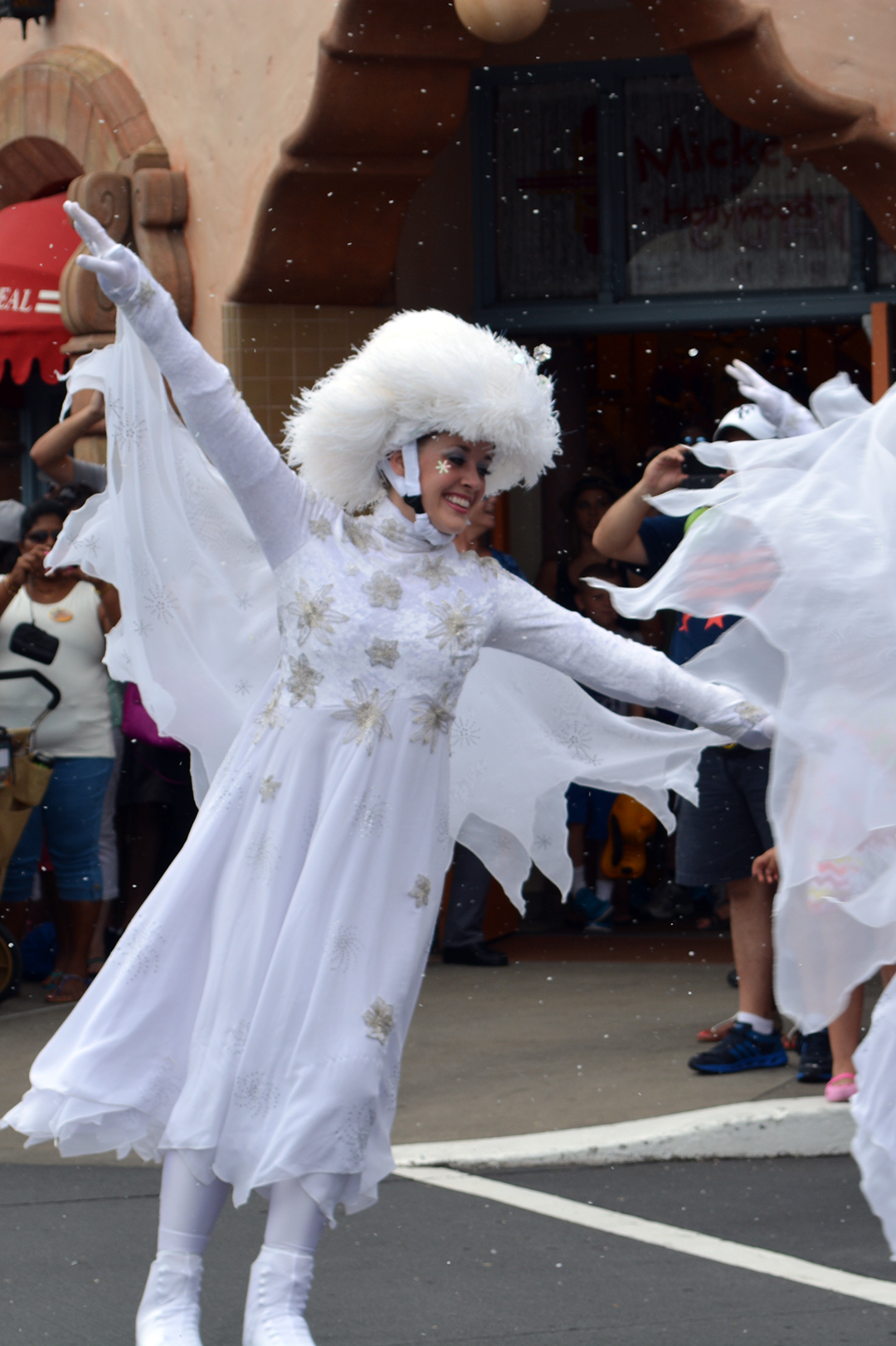 This float is usually used for Donald and Daisy, but has been taken over by a Queen and Princess.  It's horse drawn, but no one came to the parade 1 to 2 hours early to see the horse.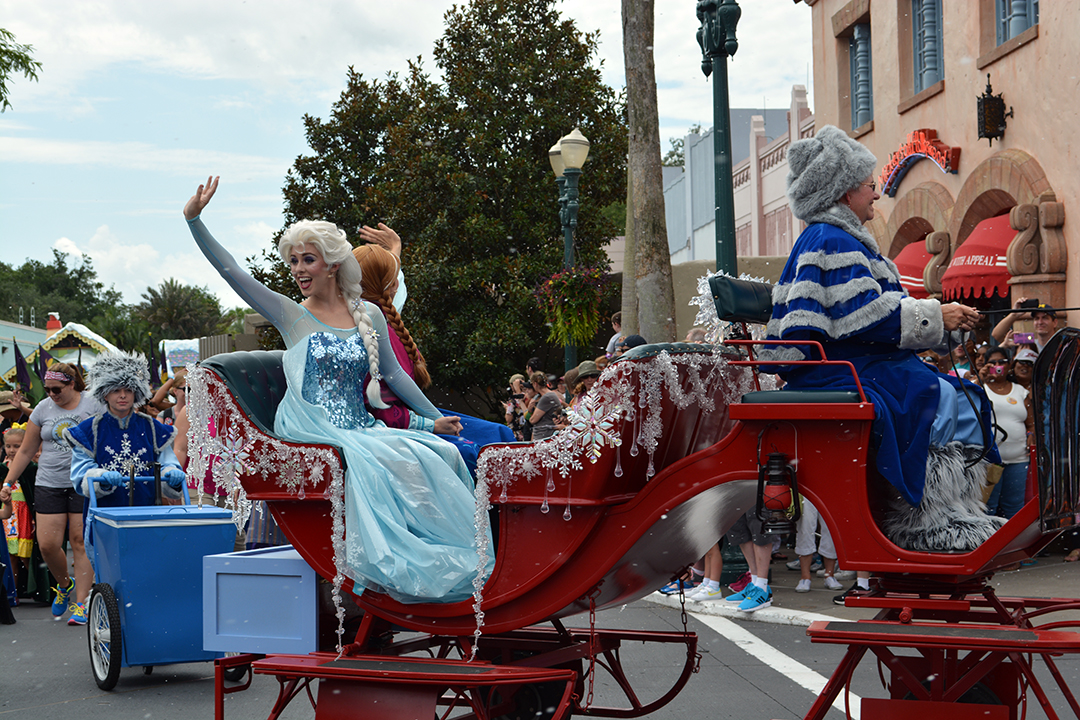 Elsa loves me!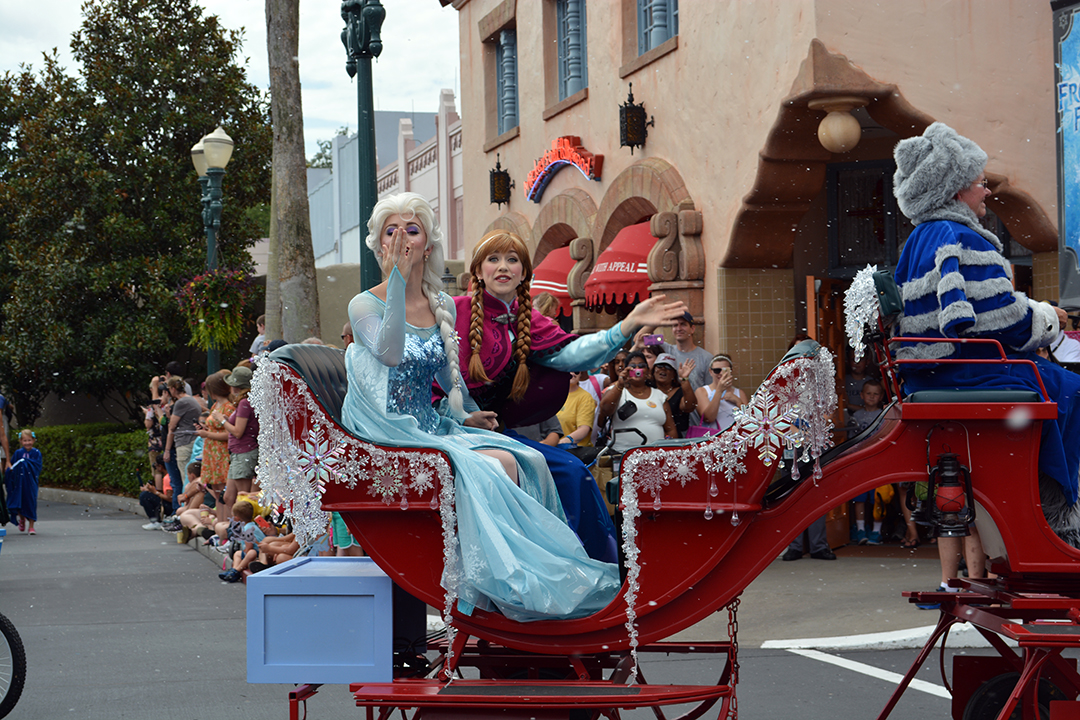 Watch out!  She could freeze you in place!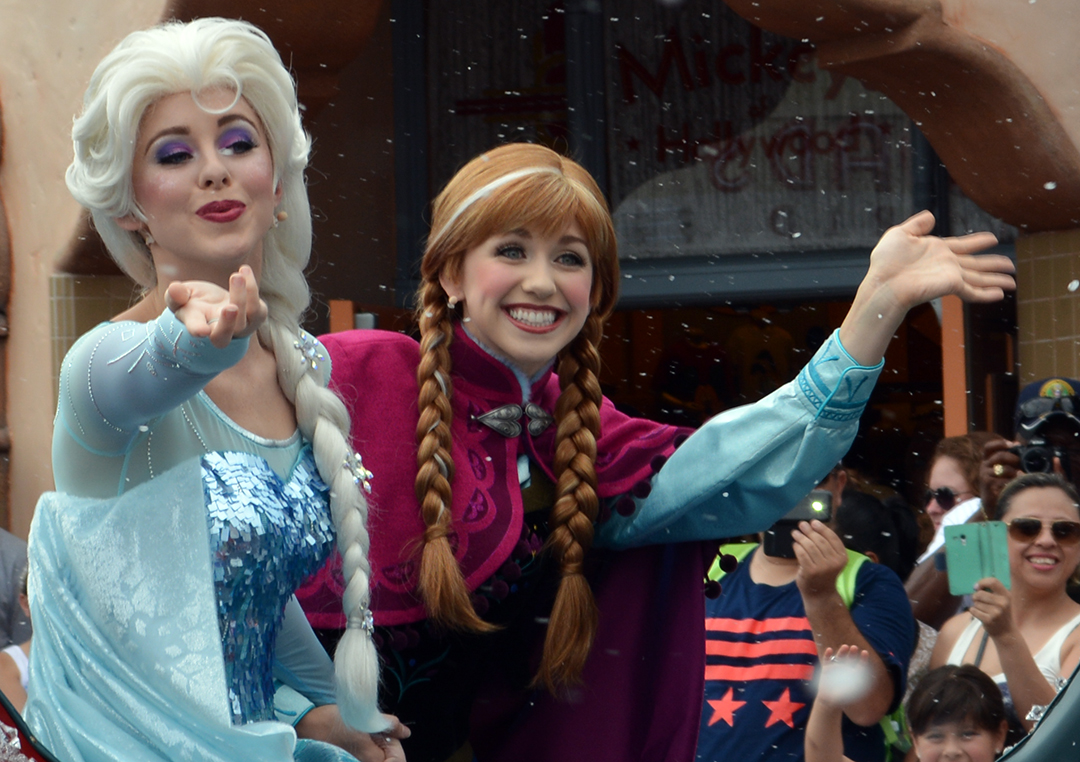 Elsa and Anna were really excited by their new parade.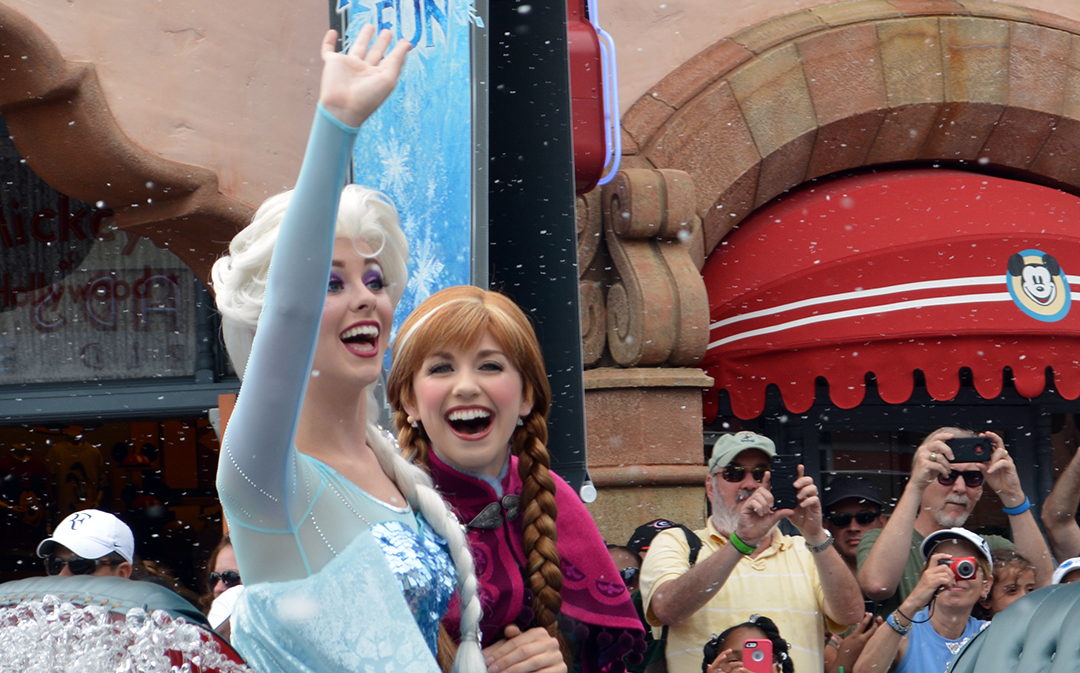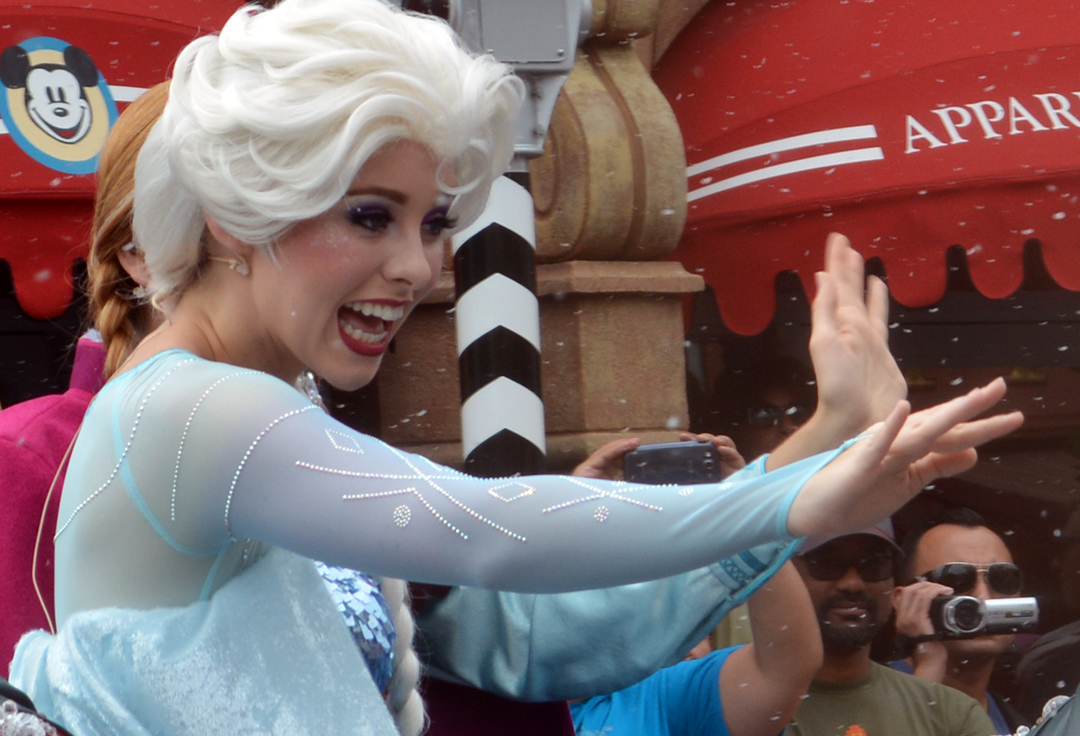 Following Anna and Elsa were a number of children who were randomly selected to walk in the parade.  There is no sign up for this, I don't know where they were randomly selected from and don't know how to get into the parade.  Many of the girls were dressed as Anna or Elsa already.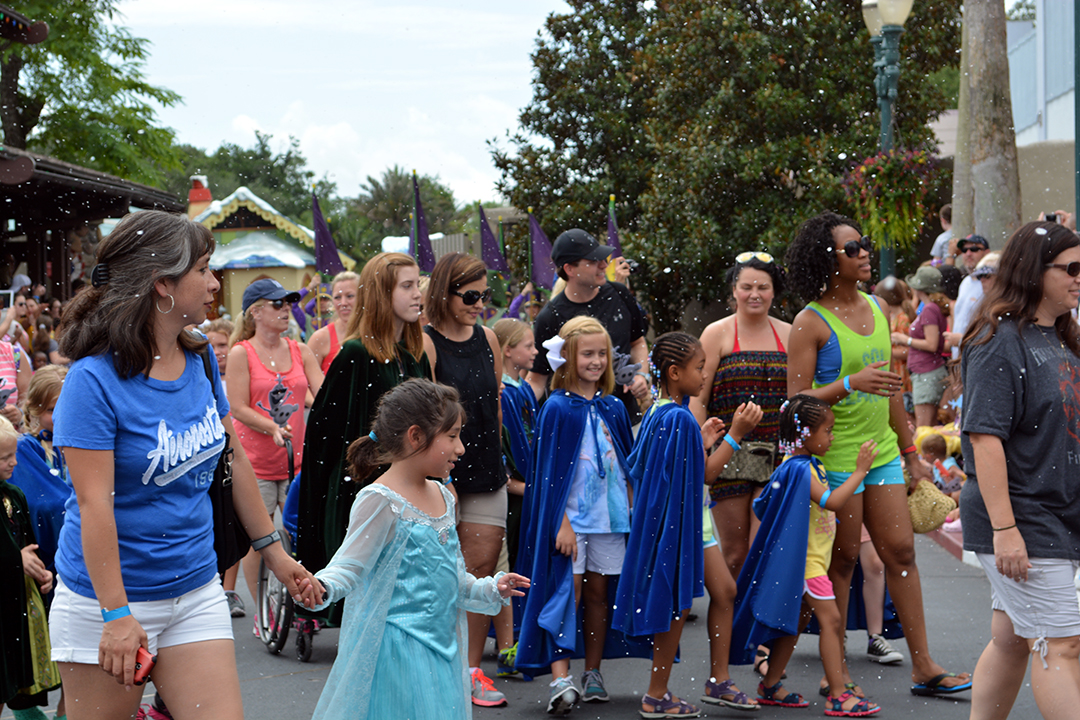 I did notice one young Kristoff in the bunch on the far left.  Moms or Dads are welcome to walk with the children who are chosen.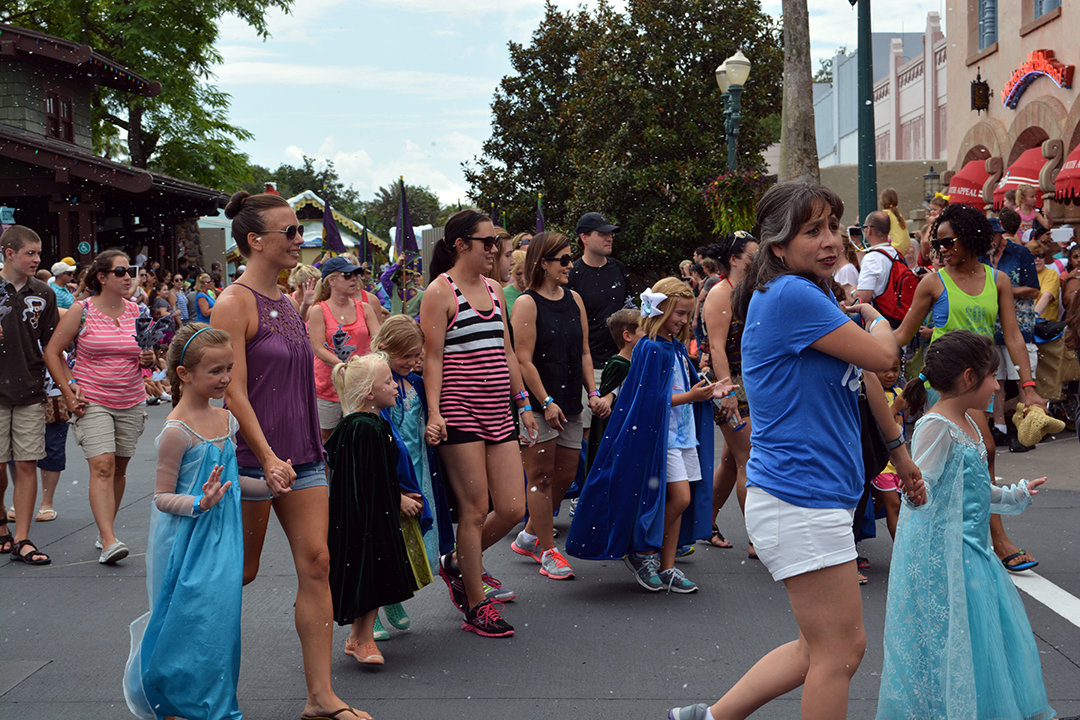 Well, hi there ladies!  I'm digging this new parade.  Oh, did I tell you there's "snow" during the parade?  You might want to guard the lens of your camera and don't eat the snow.
Following the children were some flag wavers.  I have no clue how an american looking marching band style flag waving crew fits into a Northern European parade, but whatever.  Still entertaining I suppose.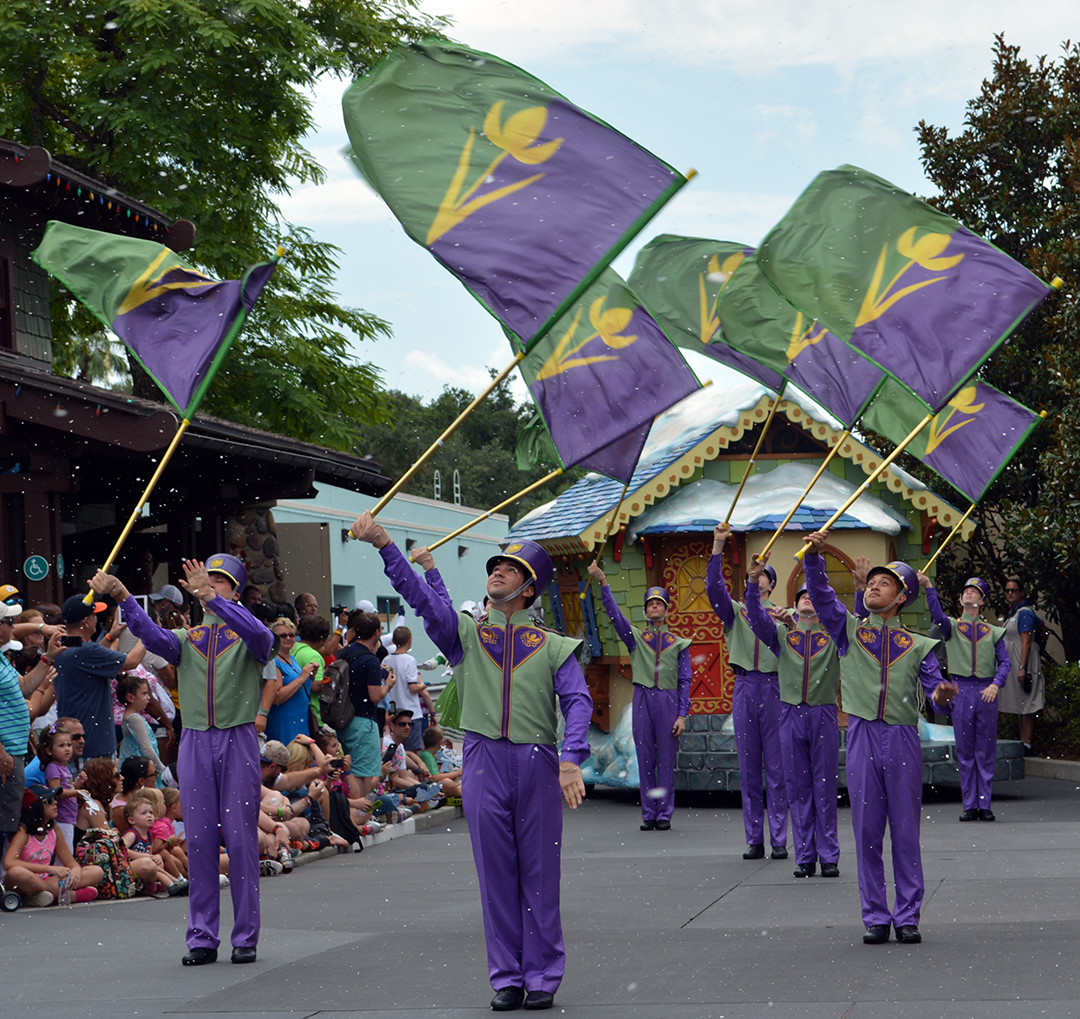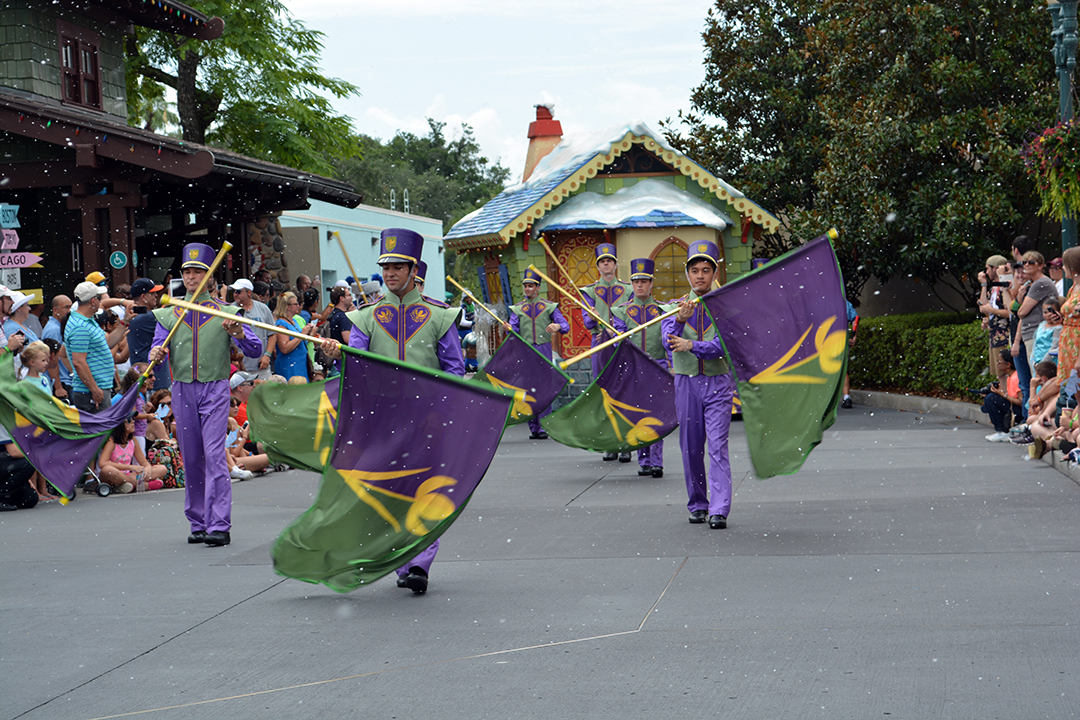 Then there a totally empty float.  They repainted it to look a little more Norweigan, but no Scrooge McDuck.  I'd bet you that some type of Olaf will ride this puppy for the Christmas parade.  It wouldn't have made sense to have him in the parade because he was on screen at the Welcome show at the hat, so we just see a house pass by.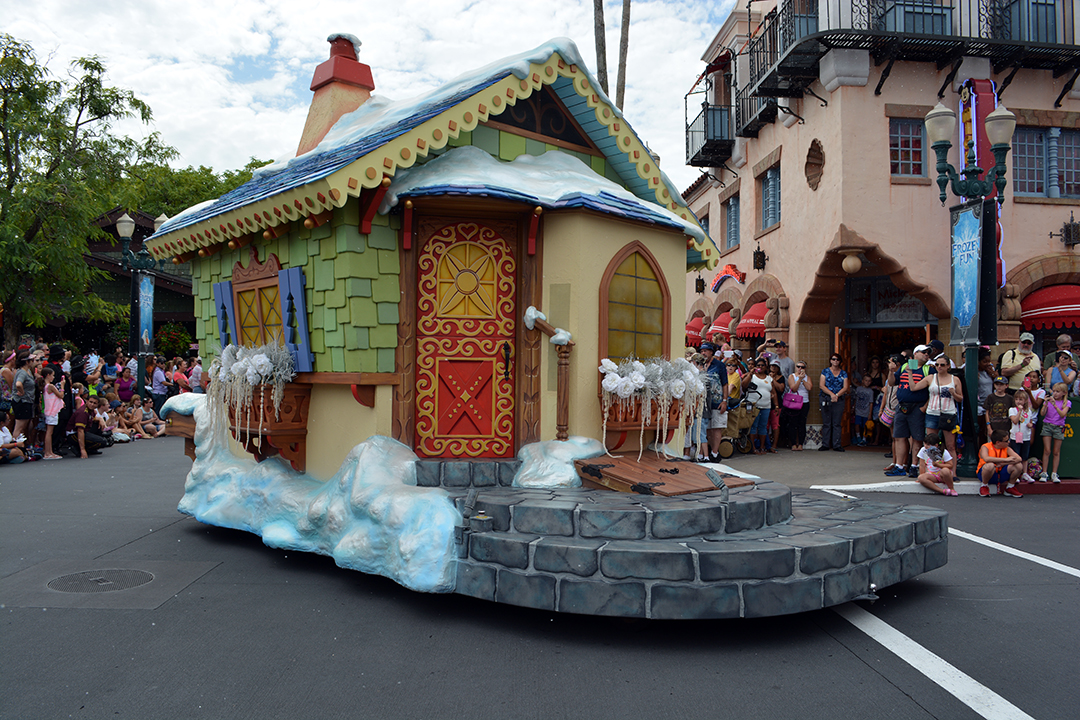 See, a little repainting
Then there's more skaters that usually appear in the Christmas Parade.  Maybe we should think of this as Christmas in July and you can go ahead and pre-purchase all those Christmas gifts of Frozen merch!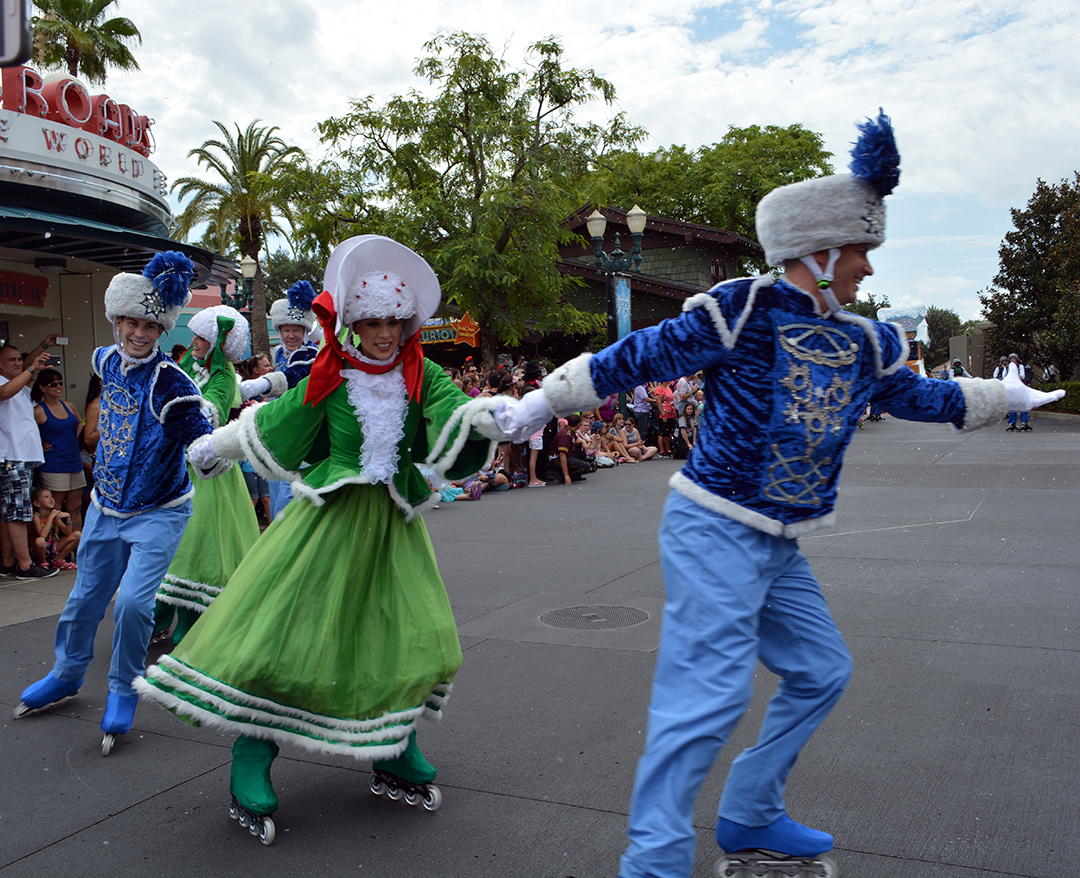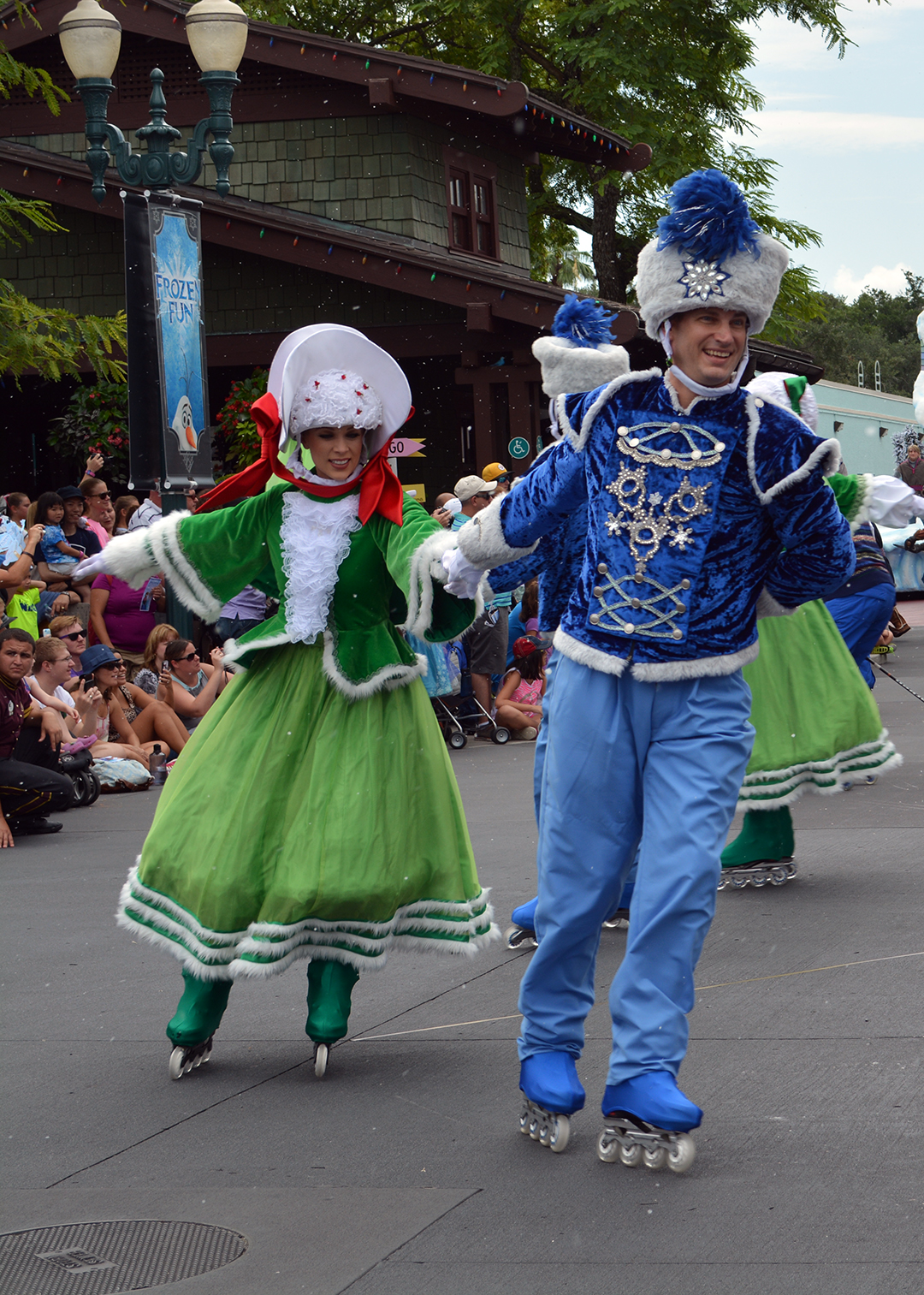 Following the blue and green skater people were the alpine skater guys.  There's lots of skaters, if you're into that X Games sort of thing.  It's still snowing, but no accumulations are occurring, except on my camera lens.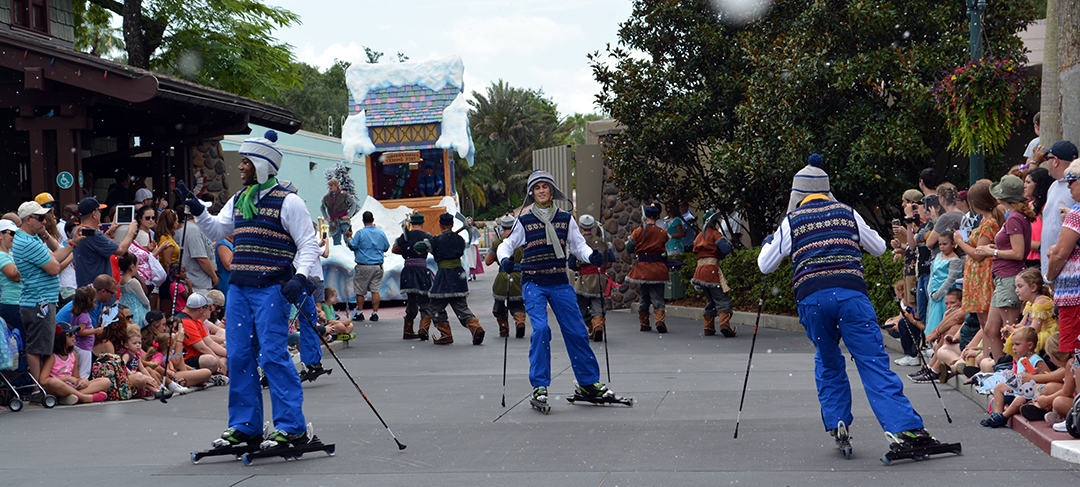 Who is that guy who will conclude the brief parade?  He has a crew of guys digging in the streets.  Don't worry fellas the gold is in the merch that is flying off the shelves, not under the streets.  Ice?  They are digging for ice in Florida in the summer?  Hmmm.  Still cute and reminds me of the Grave Diggers without the cool sparks.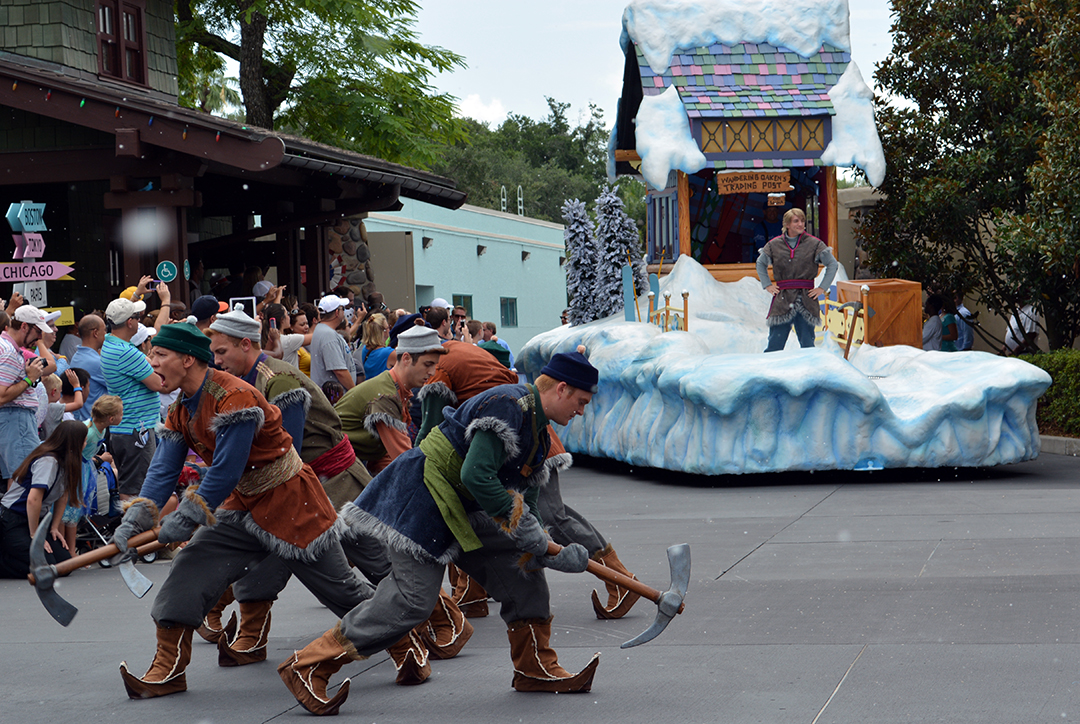 Dig, dig, dig!  Oh sorry, that's Fantasmic!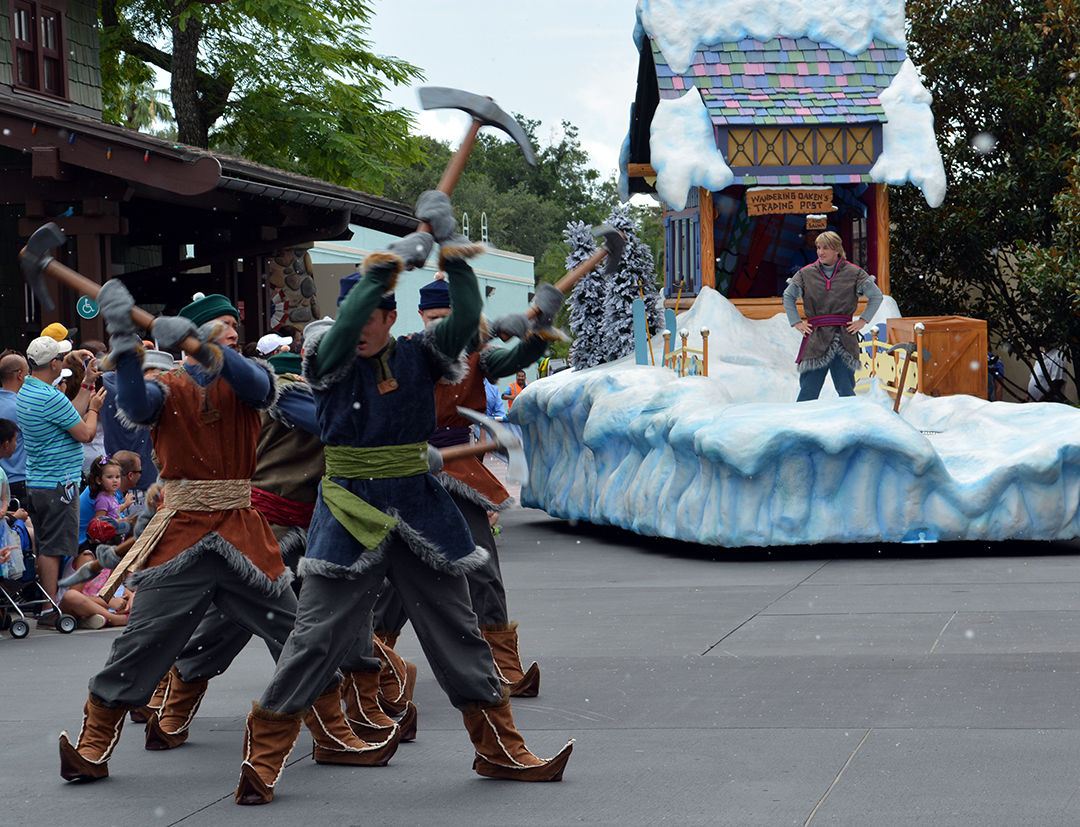 Tada…It's Kristoff!  It's his first appearance ever and he's on the Wandering Oaken's trading post float.  It's a remodel of the Chip and Dale ice skating float.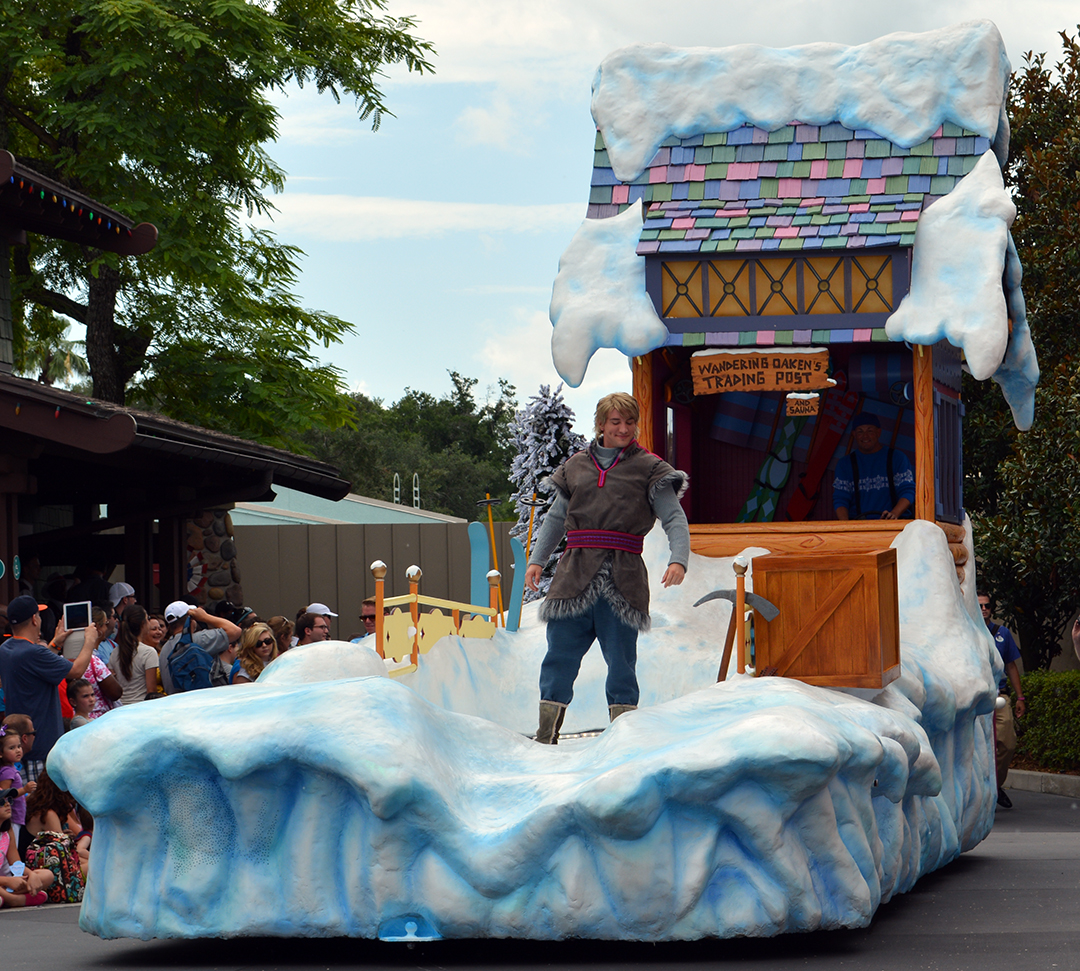 Don't trust a pirate, huh?
TIP:  The parade stops at the Hat, but Kristoff stays on his float!  If you want great photos of him, stand between American Idol and the Sorcerer Hat.  As a matter of fact the entire parade will continue after the Welcome Show and you could see it from American Idol steps like I recommended for Star Wars Weekends.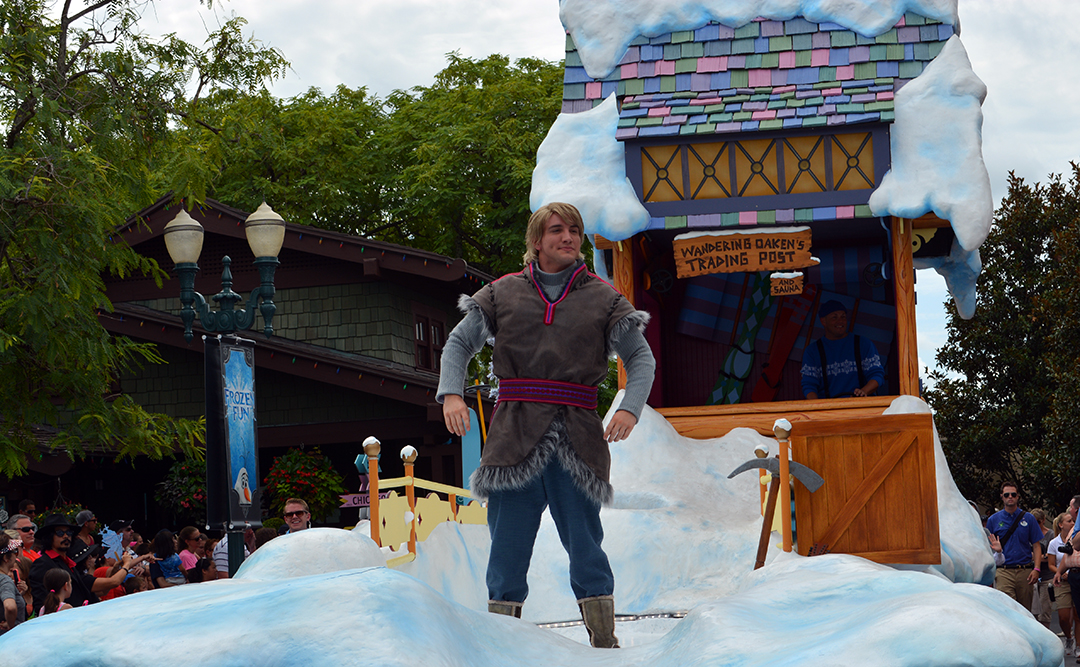 Several women posted on my Facebook page that he looked hot.  I guess it's all the heavy clothes, but don't worry, the ice around him should help some.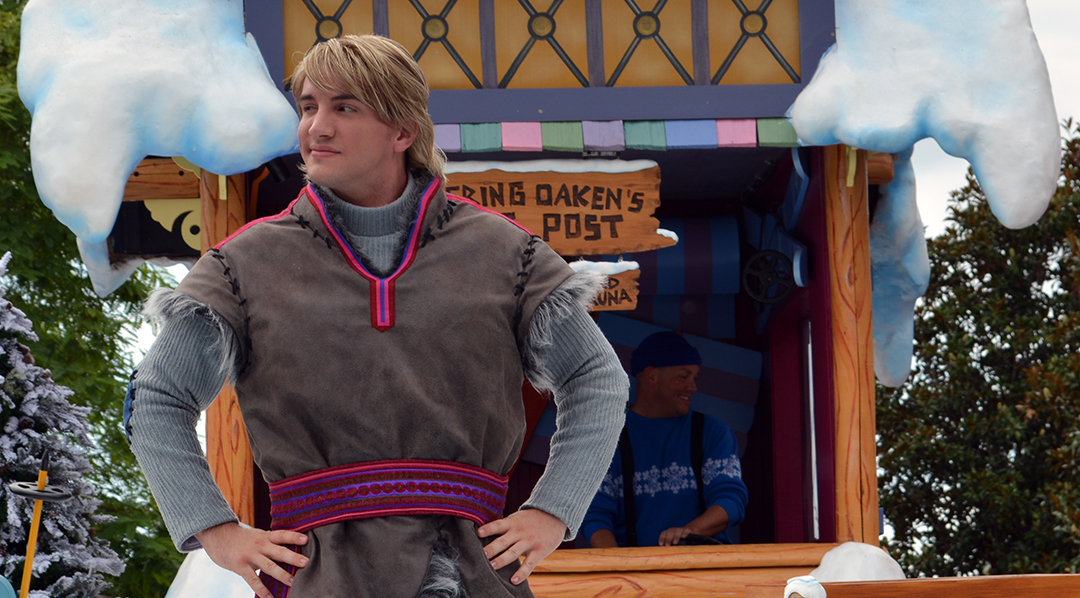 He stole my dimple!  I wonder how many times this photo will be clicked upon and pinned on Pinterest???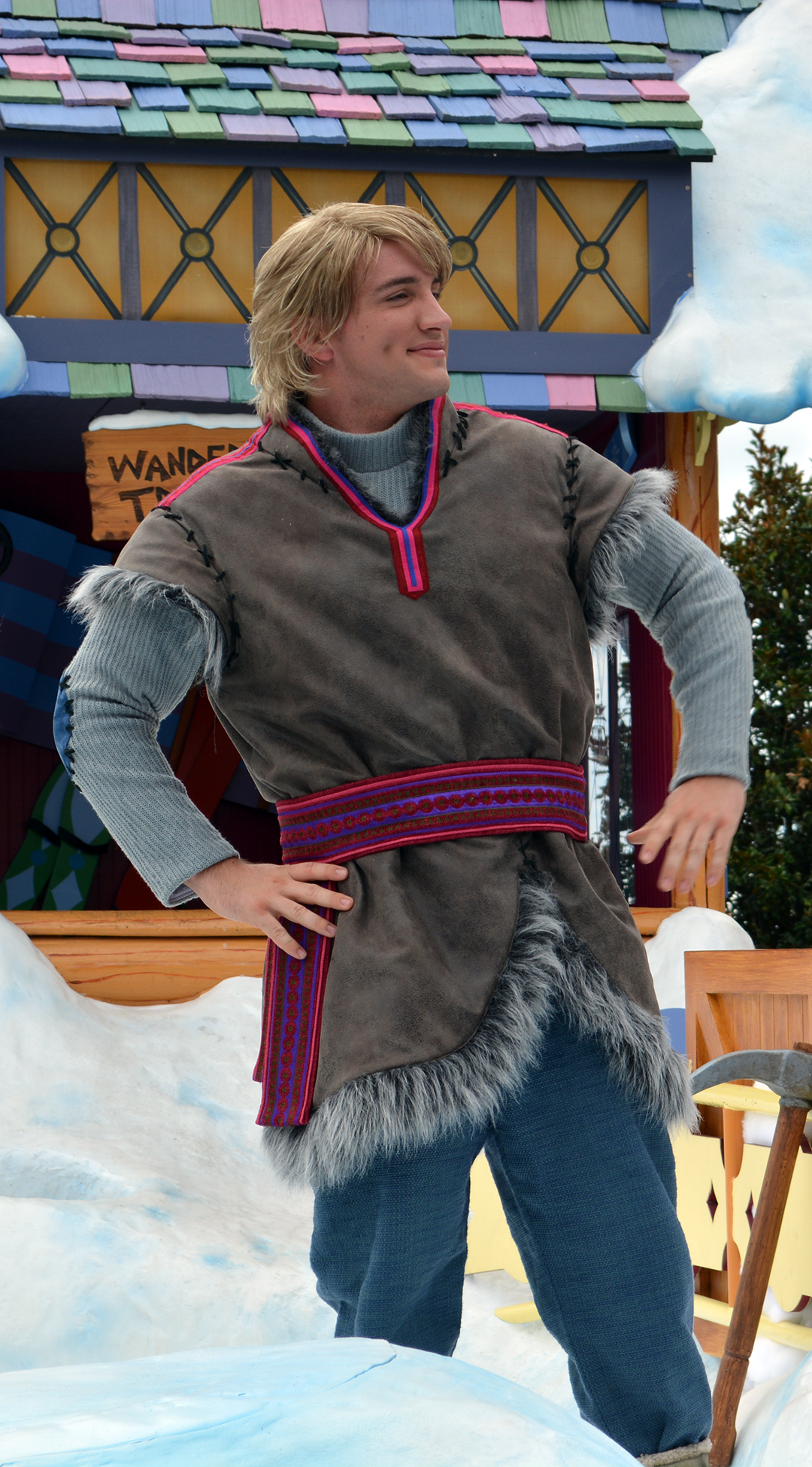 The parade ends right after he passes.
TIP:  There are NO meet and greets with any Frozen characters at Hollywood Studios.  You can still meet Anna and Elsa at the Magic Kingdom though.  Kristoff doesn't meet!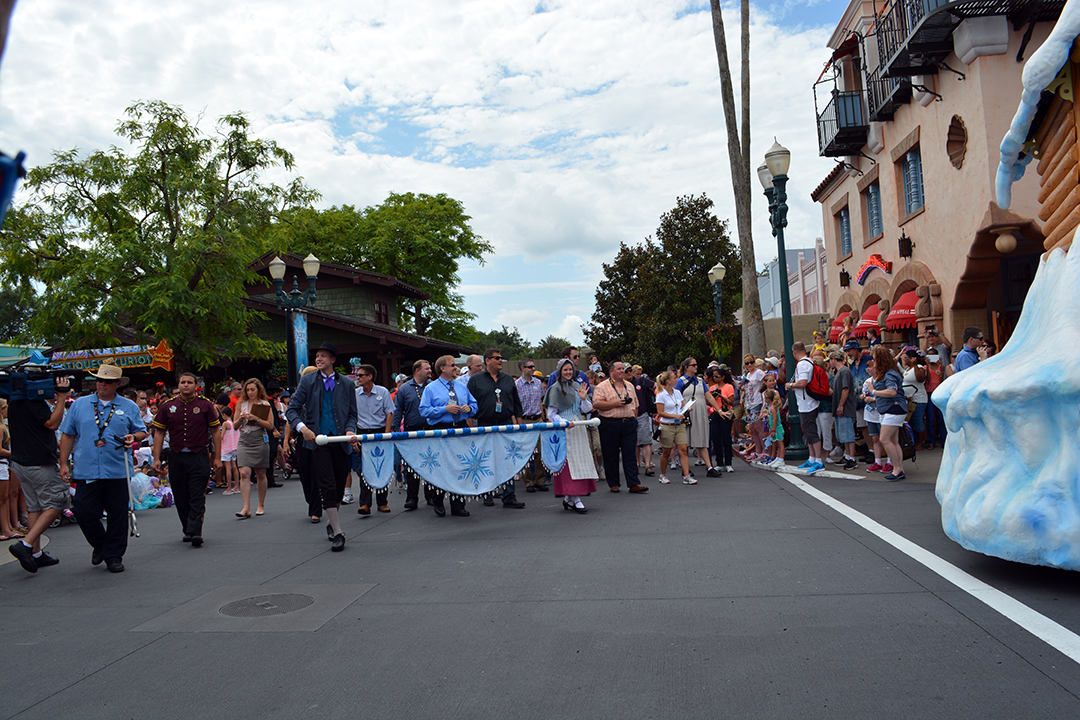 We ducked right into the fray and walked all the way up the street.  It's amazing how many people were excited to see me and wave and me and take photos of me!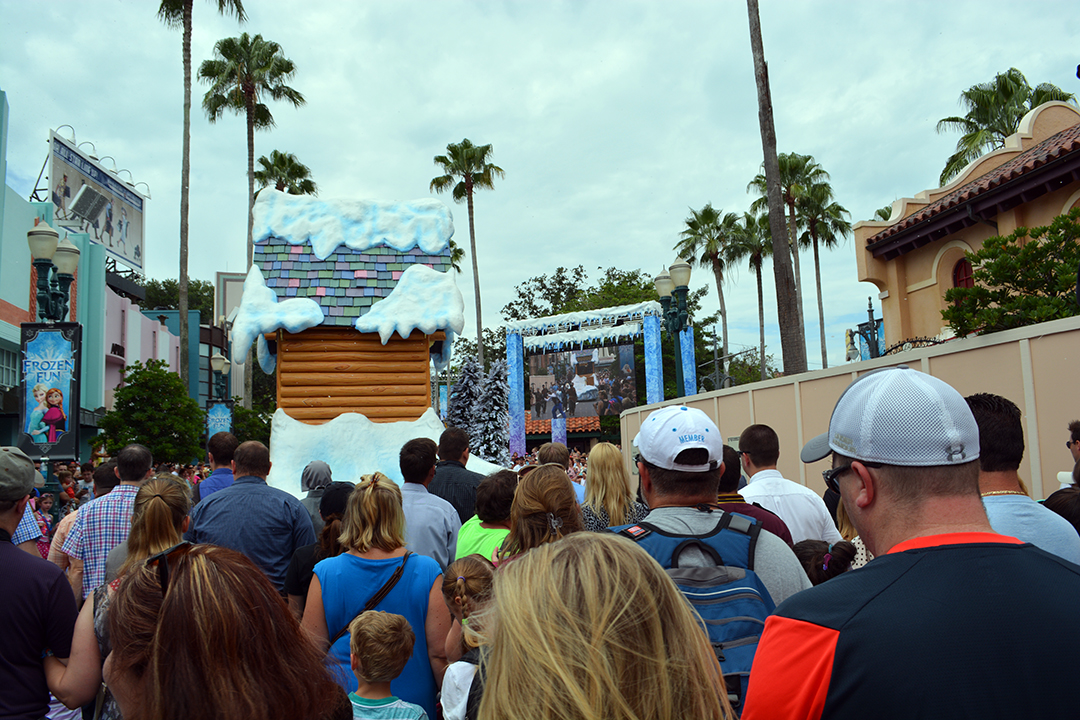 If I had been as pushy as some around me I could have been right along the rope at the Hat when we arrived there.  I was content being a few rows back though.
I posted a full video on my Facebook page of the entire Welcome Show at the hat.  You can view that here.  You might want to like the page because I post there often while I'm touring the parks
https://www.facebook.com/photo.php?v=635575086538686&set=vb.217298715032994&type=2&theater
I'll write a post about my Sing-a-long experience tomorrow, but I will tell you to go pick up a FREE card that has the return time on it.  It reserves your spot so you don't have to stand in the blazing sun all day!