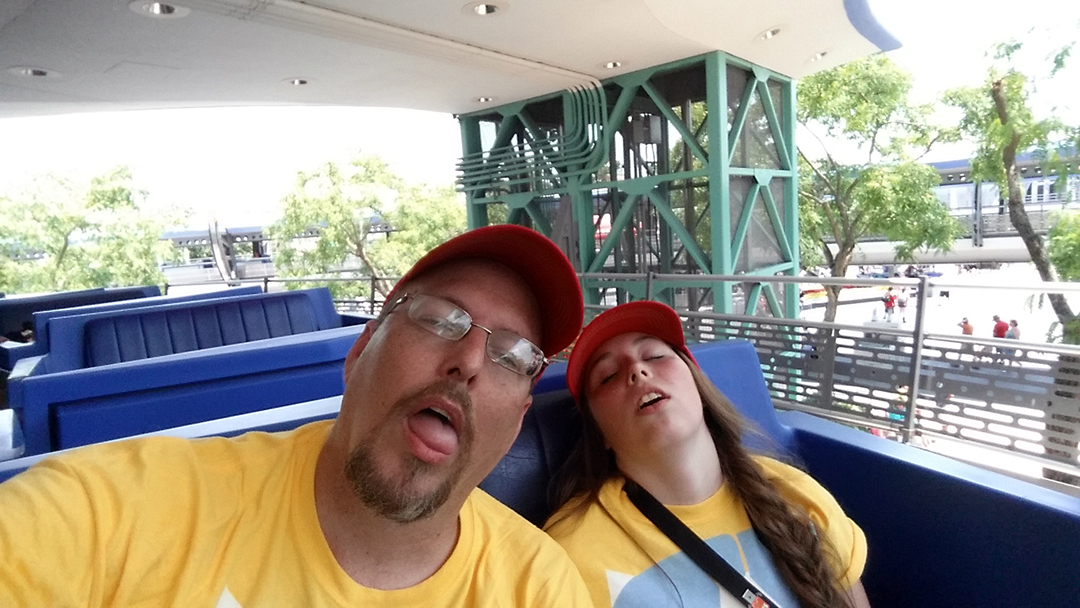 KennythePirate's Ultimate Magic Kingdom Experience on the Rock Your Disney Side 24 hour day.
"The Quest for 100″ – Part TWO
We left off our previous entry at Noon on May 23.  We had conquered 35 attractions in about 6 hours and we were on Main Street USA.
36. Buzz Lightyear next to his ride
We entered the line at 12:08pm and hoped for a short wait because the line wasn't very long to meet him.  We waited 12 minutes to meet him and he was excited that we were making great progress out our ultimate tour.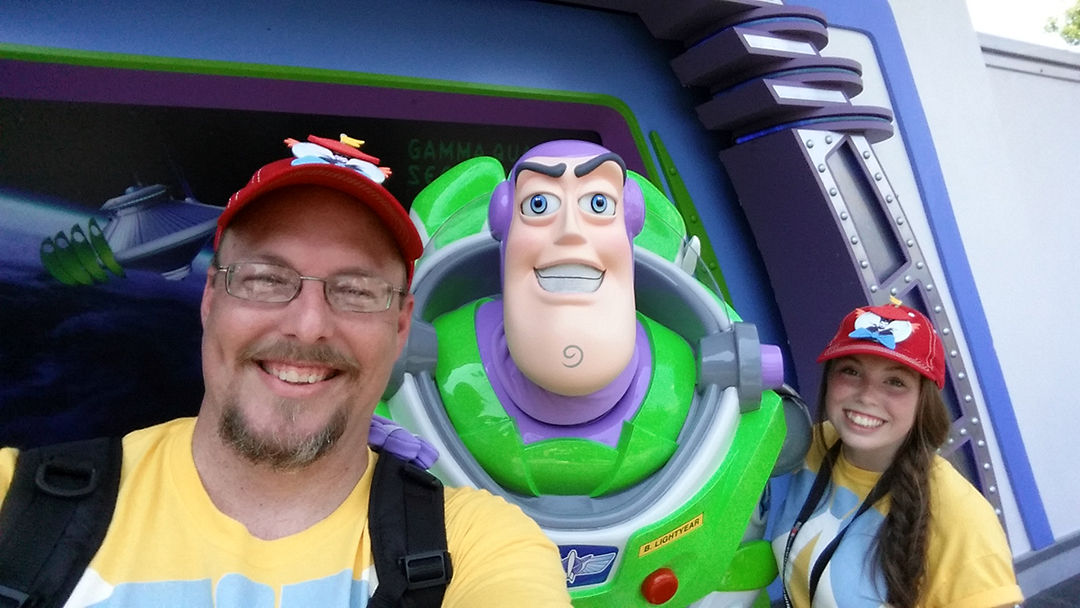 He was stampin' up as usual that day.
37.  Tomorrowland Transit Authority Peoplemover.
We probably made a mistake by going ahead and riding this now because we would end up with a much longer wait for Alice in Wonderland that we would hope.  We didn't sleep, but we were pretty tired already.  It was well above 90 degrees and we'd been on our feet for quite a while.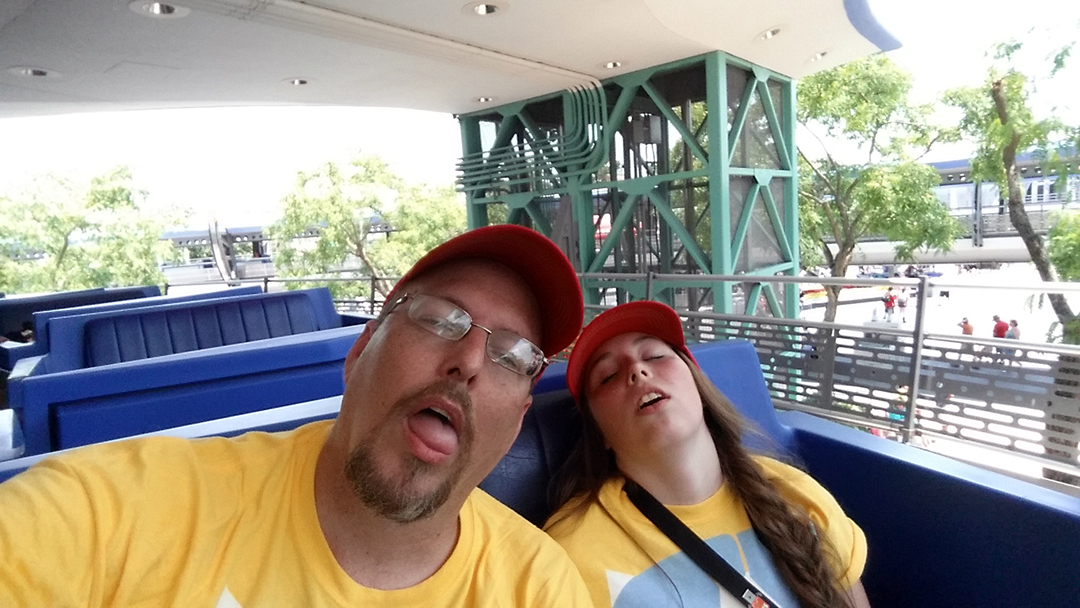 38.  Alice in Wonderland and White Rabbit.
This meet and greet and most other in park meets aren't required to complete an Ultimate Tour, but we wanted to try to squeeze it in so we could reach our goal of 100 in a single operational day.  We ended up waiting about 30 minutes!  We usually don't wait more than 10 minutes to meet these characters.  The lines for characters were no reaching ridiculous levels.  Alice was thrilled to meet the real Tweedles and have a photo with us.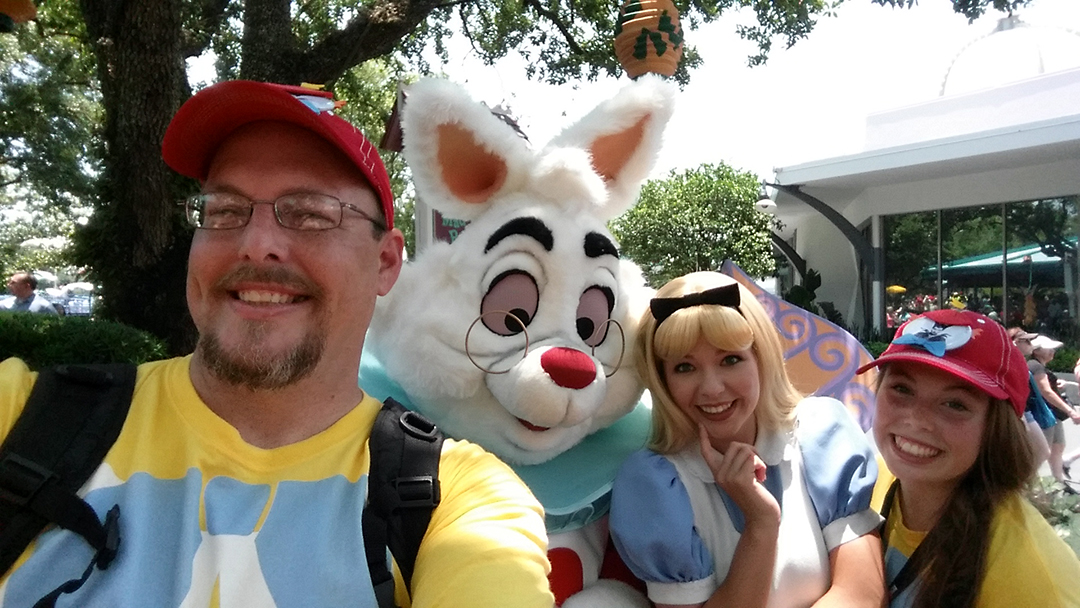 She and the White Rabbit each signed out book.  As you can see we dogear the pages to make it easier to find the next blank page.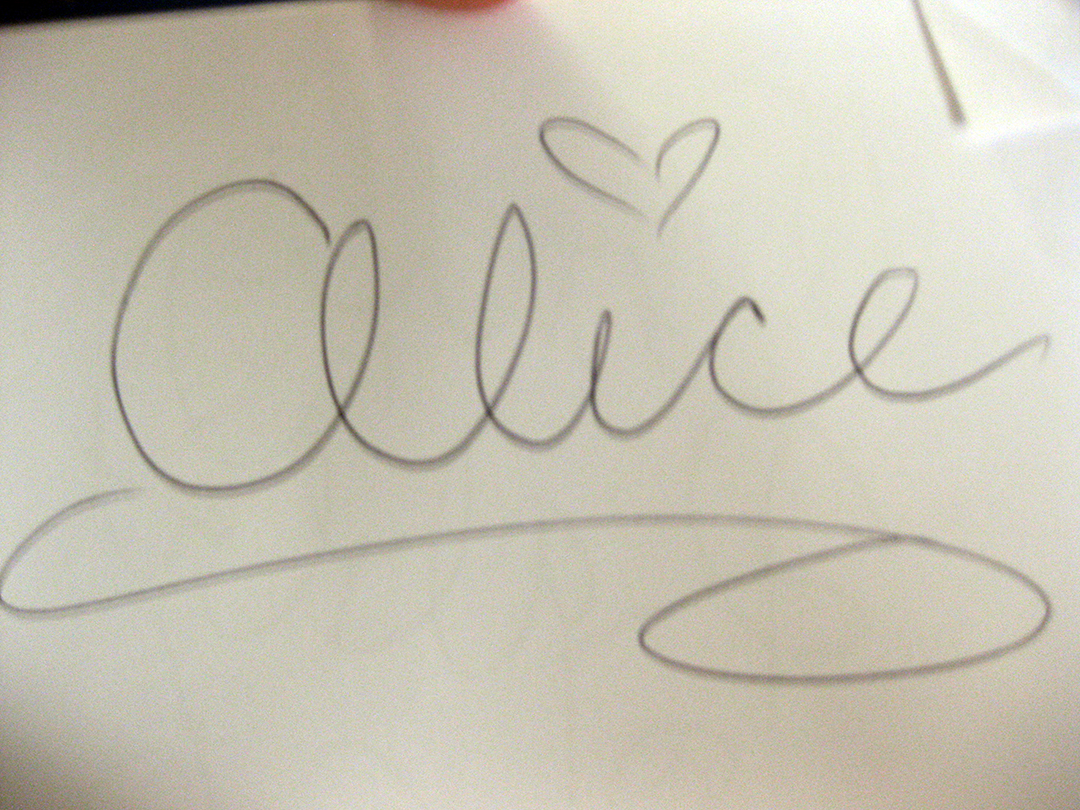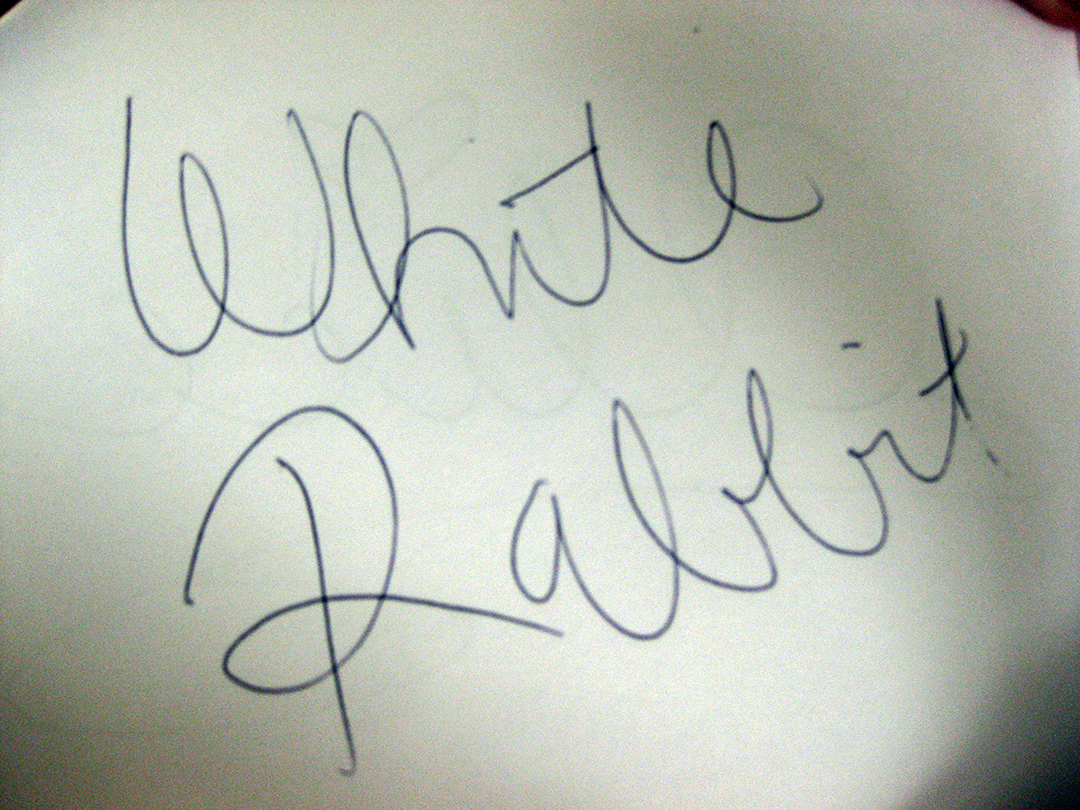 39. Chip n Dale – Frontierland
We hopped in line to meet the chipmunks at 1:18pm and the wait took 15 minutes.  We were one of the last families to meet them for the day.  Dale is looking a little sneaky, isn't he?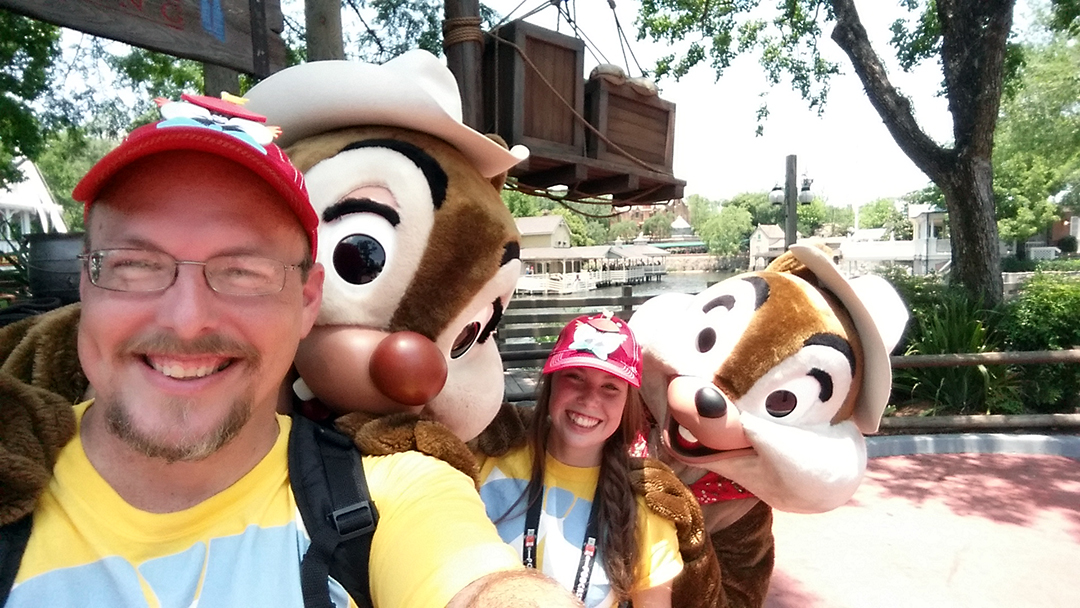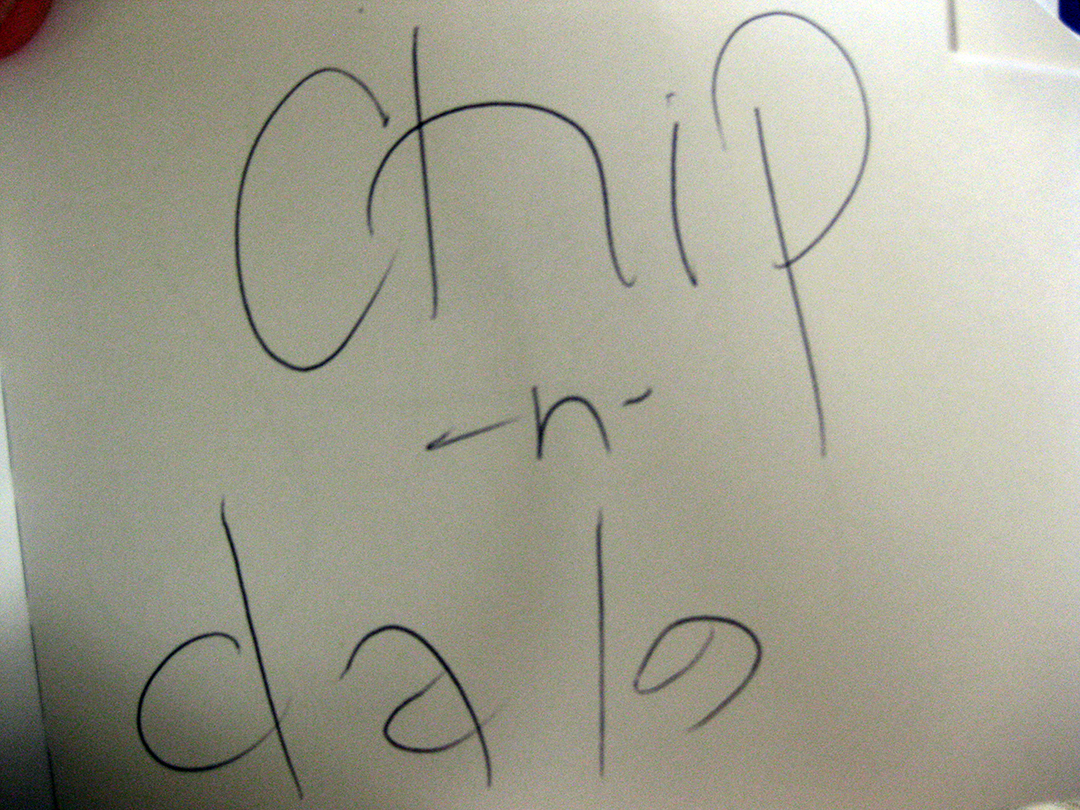 40.  Stitch – underneath the Peoplemover.
Shade, glorious, wonderful, cooling shade!  That's what we thought as we stood in line briefly to wait on Stitch to return from his quick Mahi Mahi break.  This was one of our shortest waits to meet a character all day and Stitch was being mischevious as usual.  He tried to rub his finger on Jordyn afterward.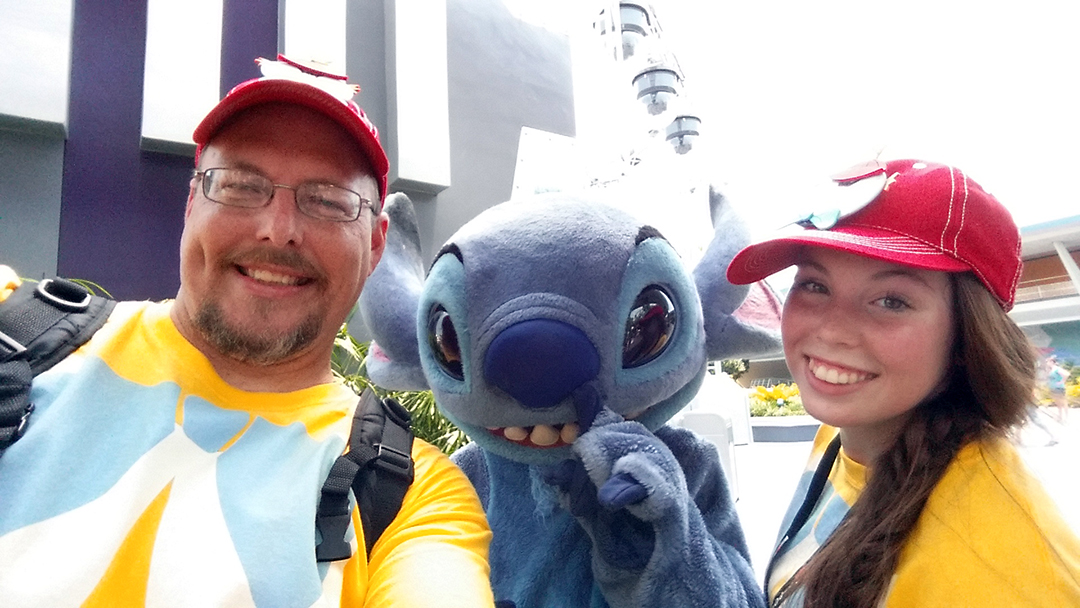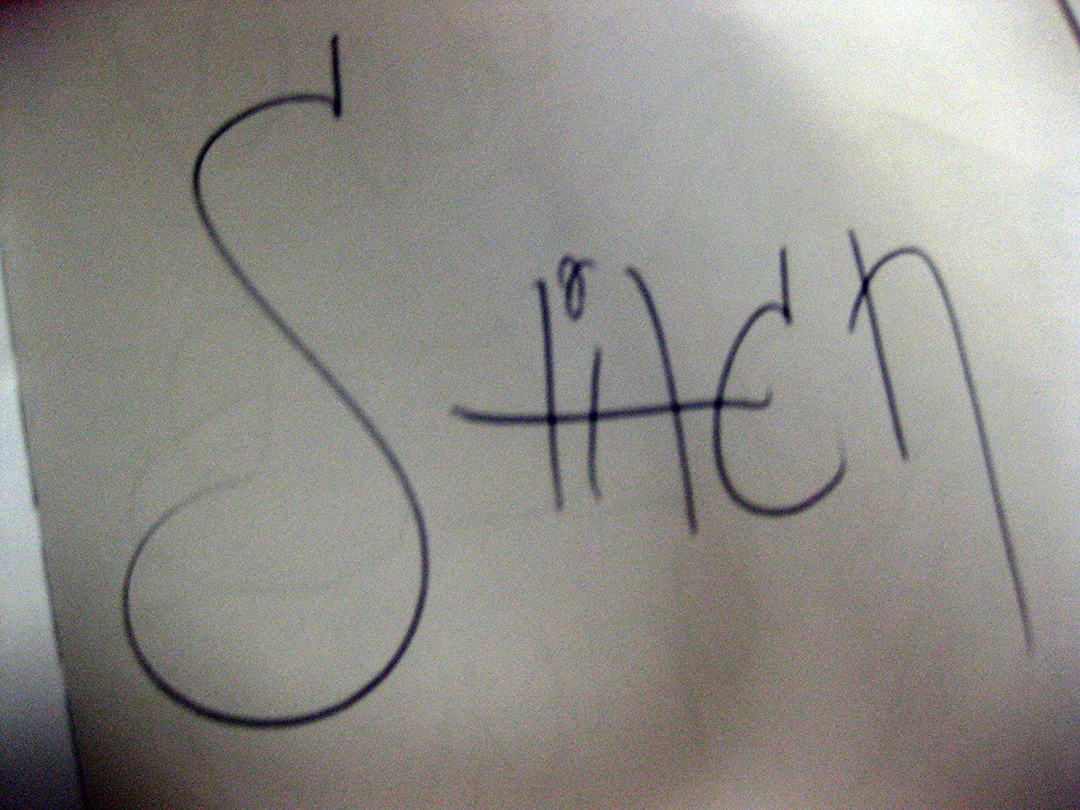 41.  The Tremaine Family – beside the Sorcerer's of the Magic Kingdom window near the Castle.
The Disney app said that the Tremaines would return at 2:00pm, so we lined up early to avoid ANOTHER long character wait.  They arrived a couple of minutes late, so we waited a total of 15 minutes. They are always a lot of fun to interact with.  So, it's about 2:00 and we've completed 41 attractions.  Our average has slipped to about 5.125 per hour.  Still pretty good and the average we hoped to see for the full day.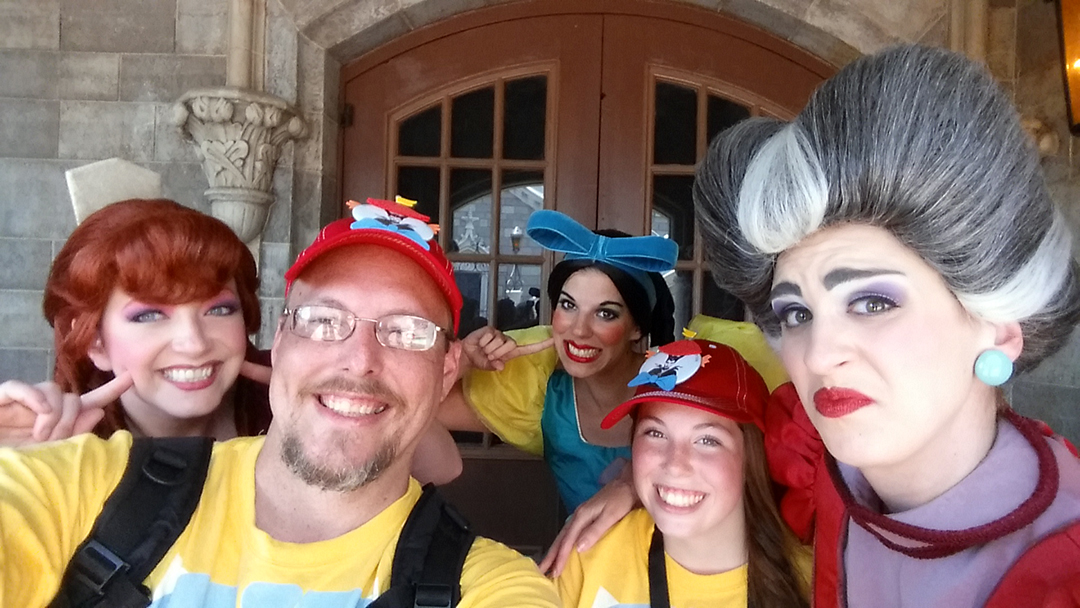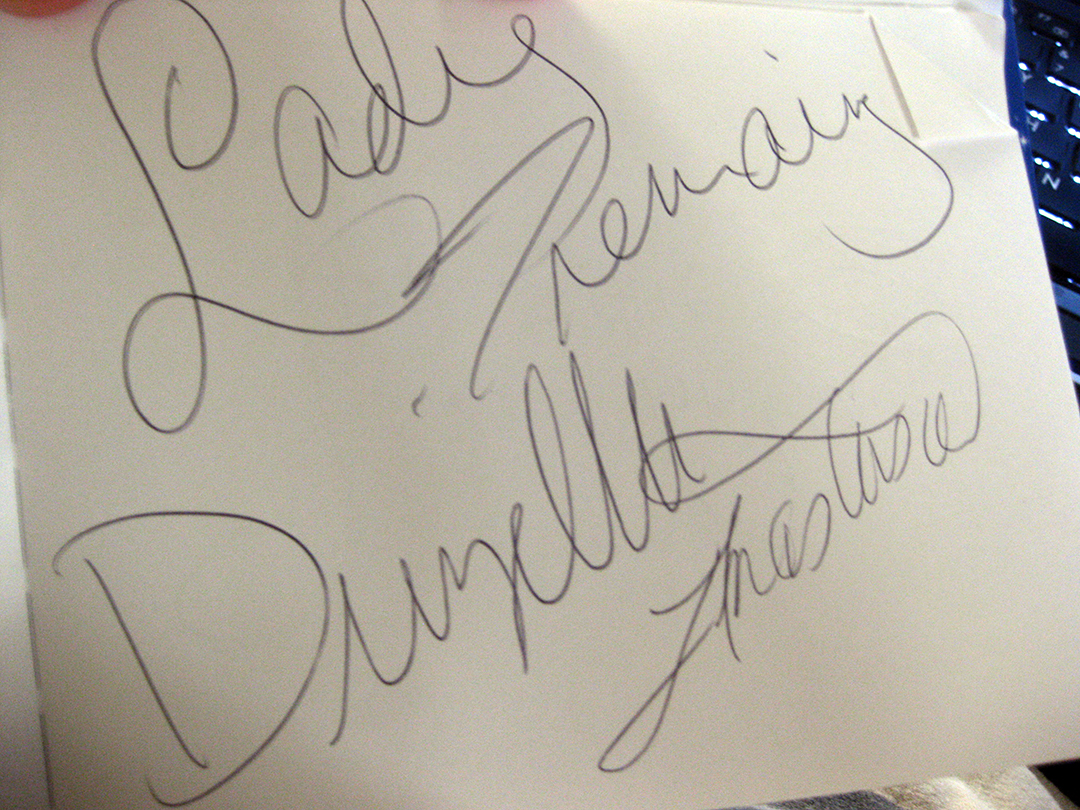 42. The Notorious Banjo Brothers and Bob
We leave the Castle and hustle back over to Frontierland to find The Notorious Banjo Brothers and Bob playing some of their yee haw tunes.  This is a fun, little show that many guests miss.  It really adds to the old west appeal of the area.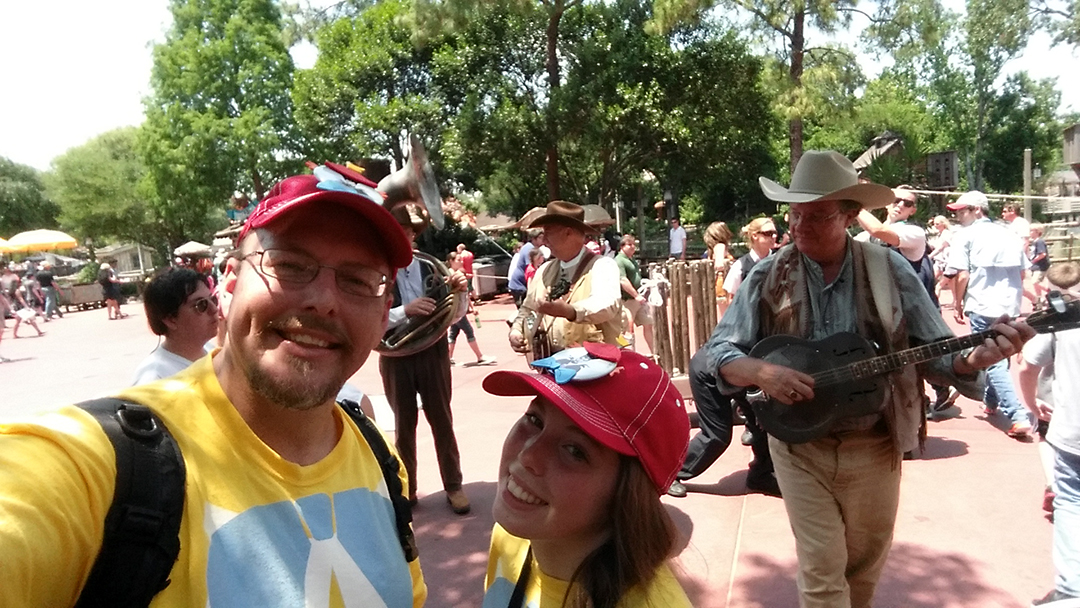 43.  Frontierland Shootin' Arcade
We dropped in some quarters and did some great shooting.  I tried to focus my gun and realized it was shooting a little low.  Jordyn was impressed that I was hitting target after target from long range.  I shoot breach because I'm left eye dominate and right-handed.  As a child, my dad used to take us out into the woods with 22 rifle to do some target practice with old cans.  I would always miss until I learned in school that I'm left eye dominate.  This attraction and the Tomorrowland Arcade are required attractions, so be sure to bring a bunch of quarters with you.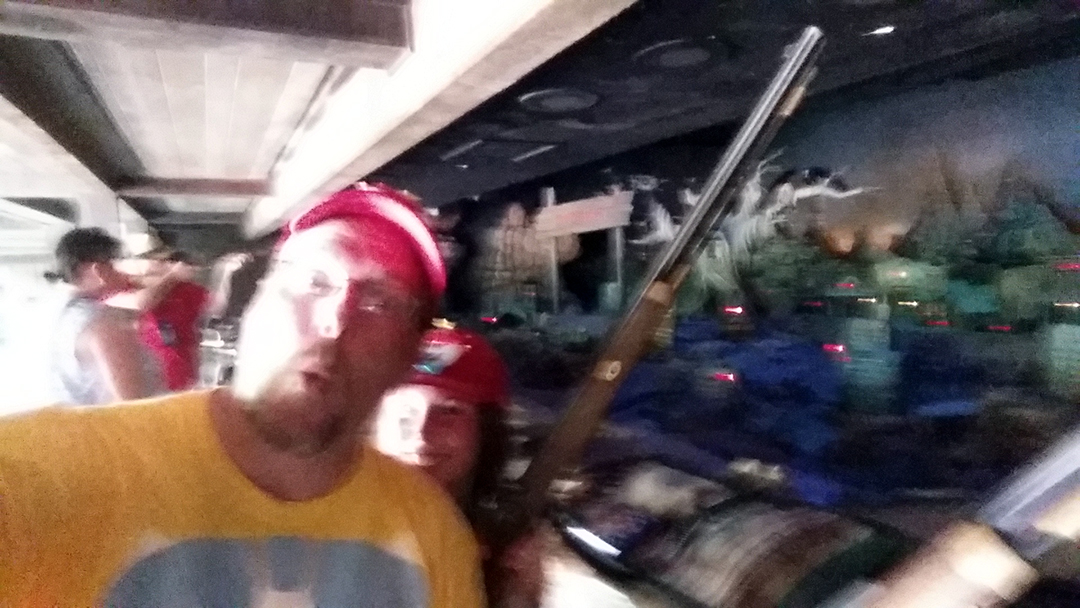 44. Captain Jack Sparrow's Pirate Tutorial
It's always fun to see lots of little pirates taking their pledge.  One day, many years from now some little guy or girl may have to take over this blog, right?  I (state your name)…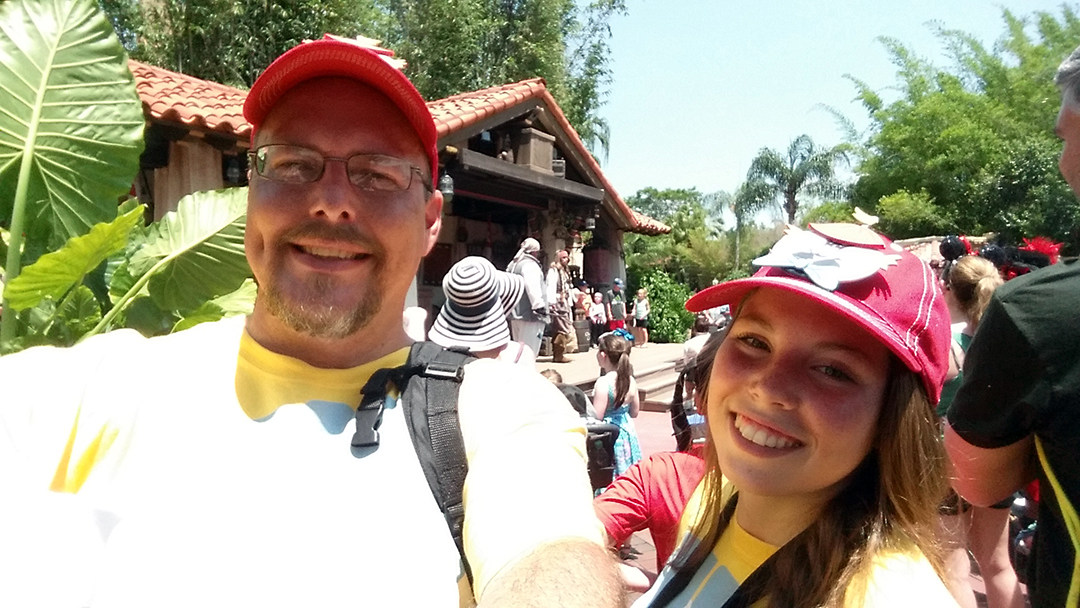 45.  A Pirate's Adventure – King's Ransom
We spent the next 37 minutes playing the A Pirate's Adventure games.  We had never played these games, so we didn't know where all the landmarks were.  The rules required a photo with each final stop.  We took photos of every stop in case anyone wants to see them in the future.  Ultimate tourists are required to complete one mission and the rest are bonus points.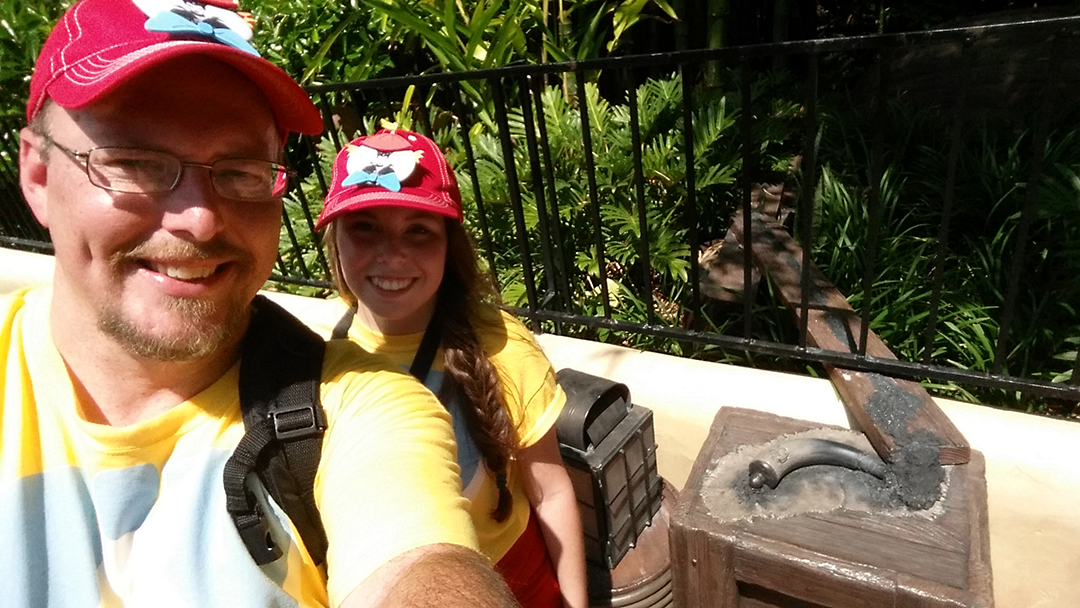 46.  A Pirate's Adventure – Blackbeard.
This final window left us befuddled.  We were searching all over the store and didn't realize it was way up in the front of the store.  The cast members didn't know where each symbol was located or they were playing coy because it is a "treasure hunt."
During this mission a person told me that Touring Plans should pay us to do all this promotion for their site.  LOL.  I have no problem giving some respect to Len for what he created.  I used that giant bible known as the Ultimate Guide on our first family trip and it helped us a great deal.  I apprenticed by learning a great deal from their information before realizing there is no good resource for those who wish to meet characters and ride rides.  The apprentice eventually becomes a master.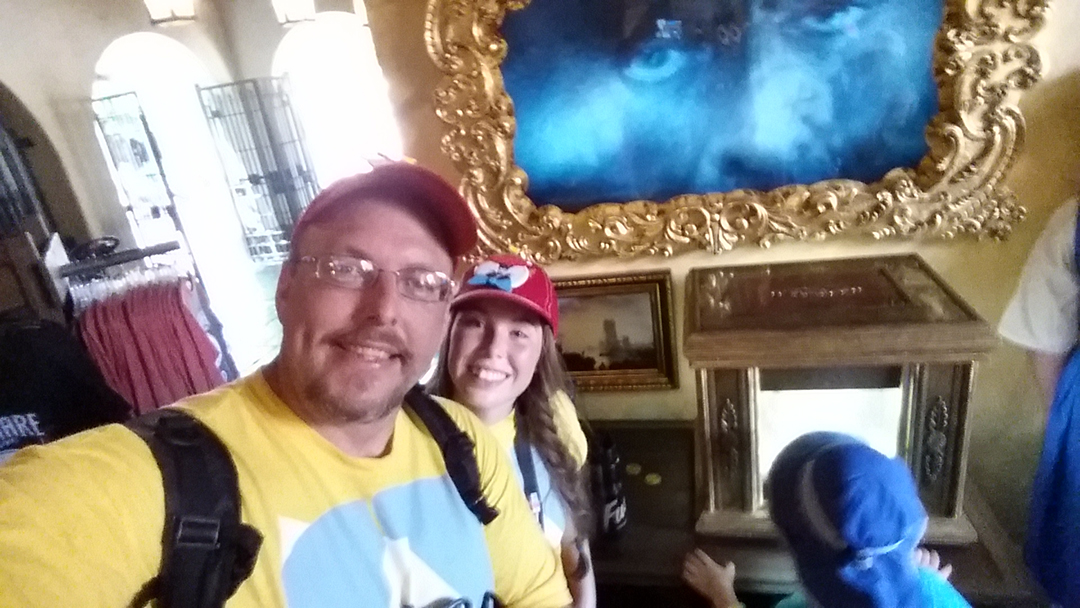 47.  A Pirate's Adventure – Heads you lose
We completed our third Pirate's Adventure with a few minutes to spare before the daytime parade would step off in Frontierland.  I was impressed with the selfie quality of the Samsung S5 when good lighting was available.  I took photos and recorded data all day long with this phone too.  Late at night we switched to our old pocket Canon to take low light photos.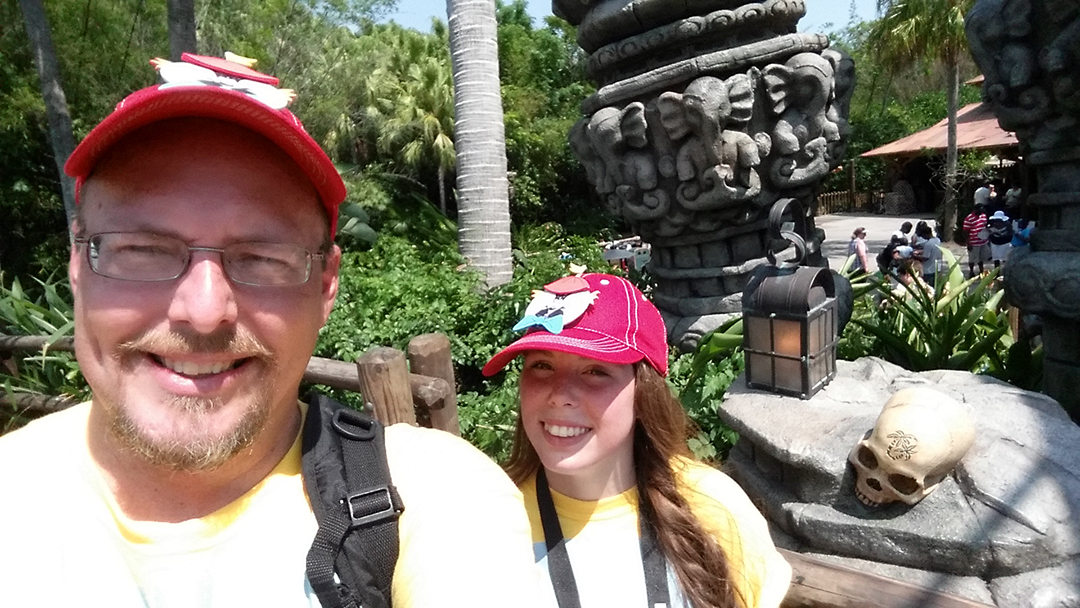 48. Festival of Fantasy Parade
We found a nice little shady spot across from Pecos Bill right along the tape.  We kept having people trying to stop in front of us.  NOPE, move along.  Not gonna happen pal.  You're welcome to stand behind us in the empty space, by my toes are on the tape my friend.  The rules required us to take a photo with the first and last floats and allow one to walk along the parade, but we just stayed put.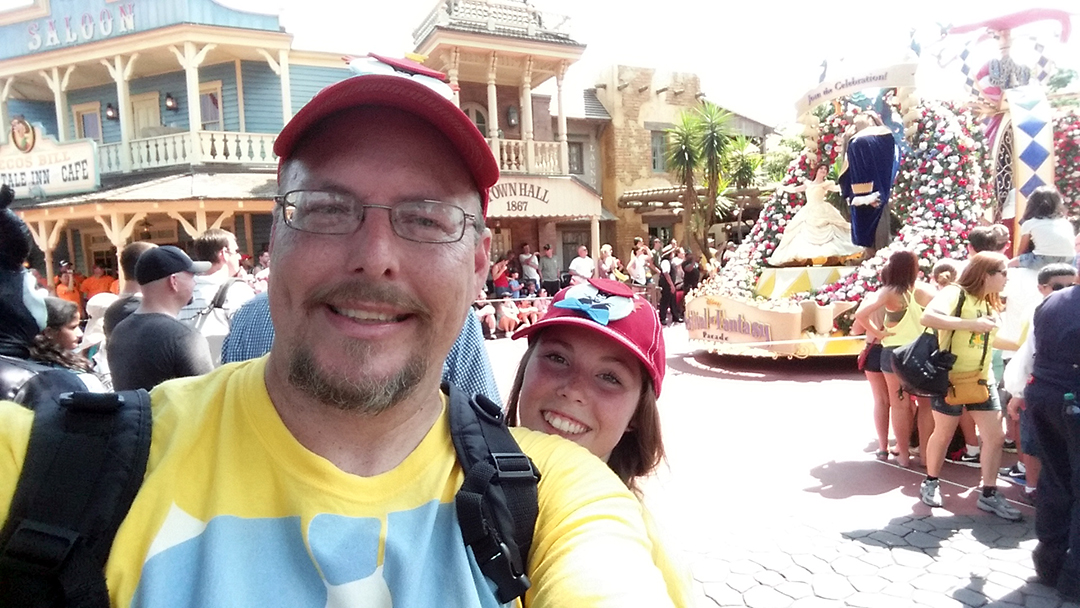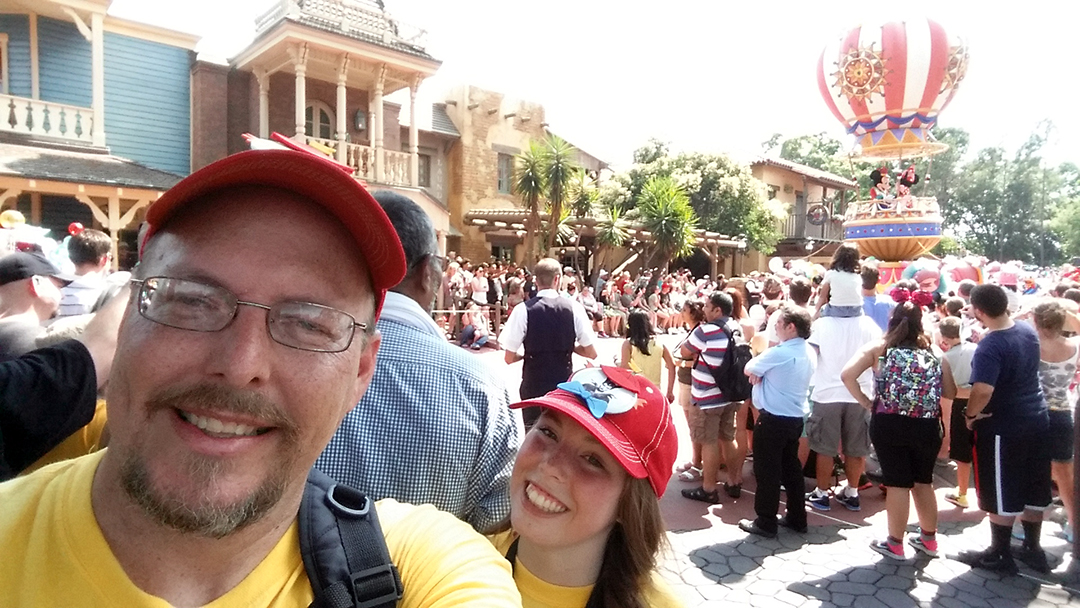 When Anna and Elsa appeared people began running up the rope and one child actually ran under the rope, but fortunately the Cast Member caught him before he got to the float.
Tink hit us with a little Pixie dust that we'd need later in the night.
We found the source of the unseasonably hot weather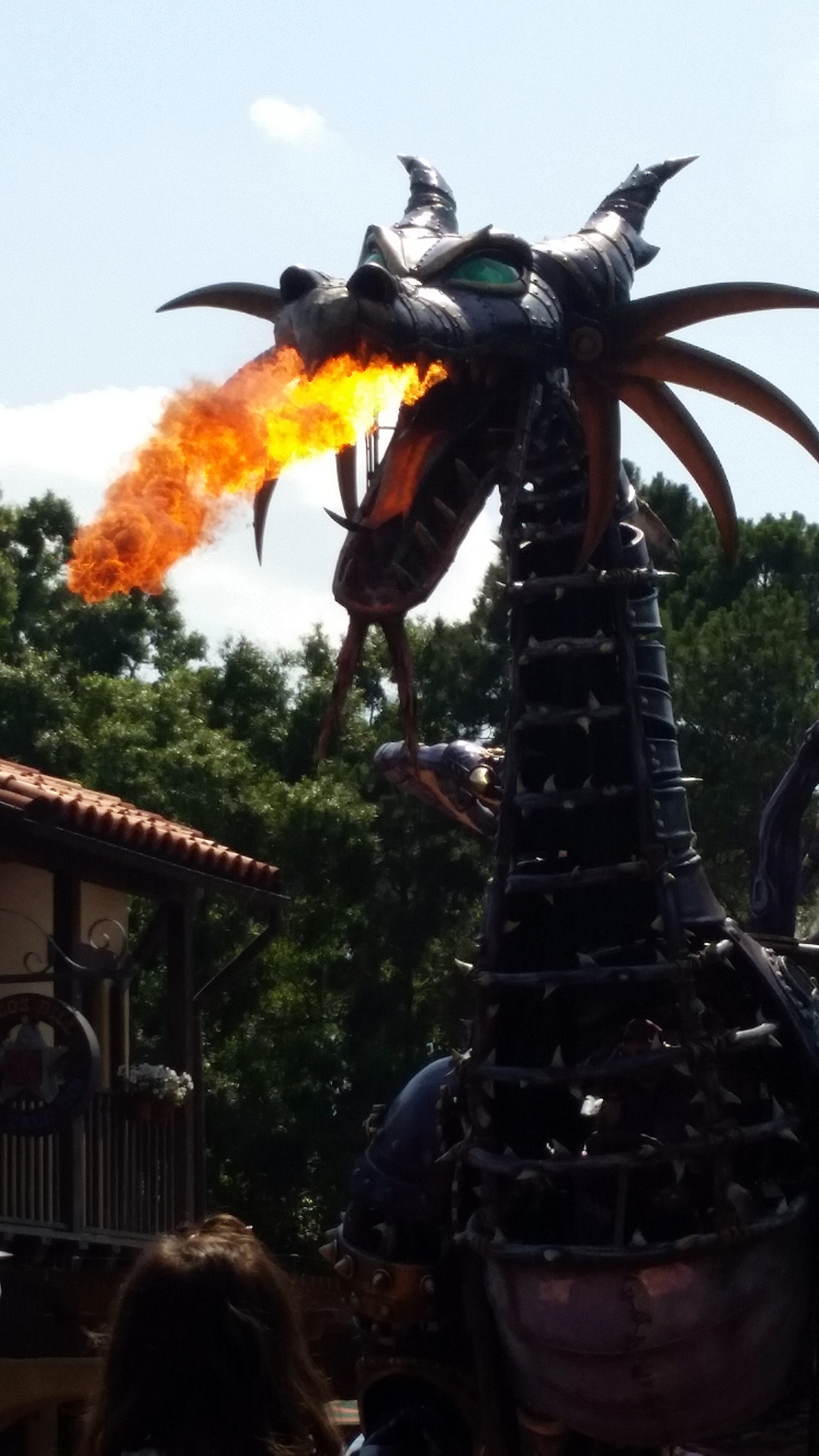 49. Woody and Jessie – Splash Mountain Exit area
We made our way through the growing crowd to the Woody and Jessie meet and greet area.  We waited 21 minutes to meet them and they rotated offstage right after us or we would have had to wait even longer. Terrible photo on my part.  The one that Woody appeared better in was all shaky.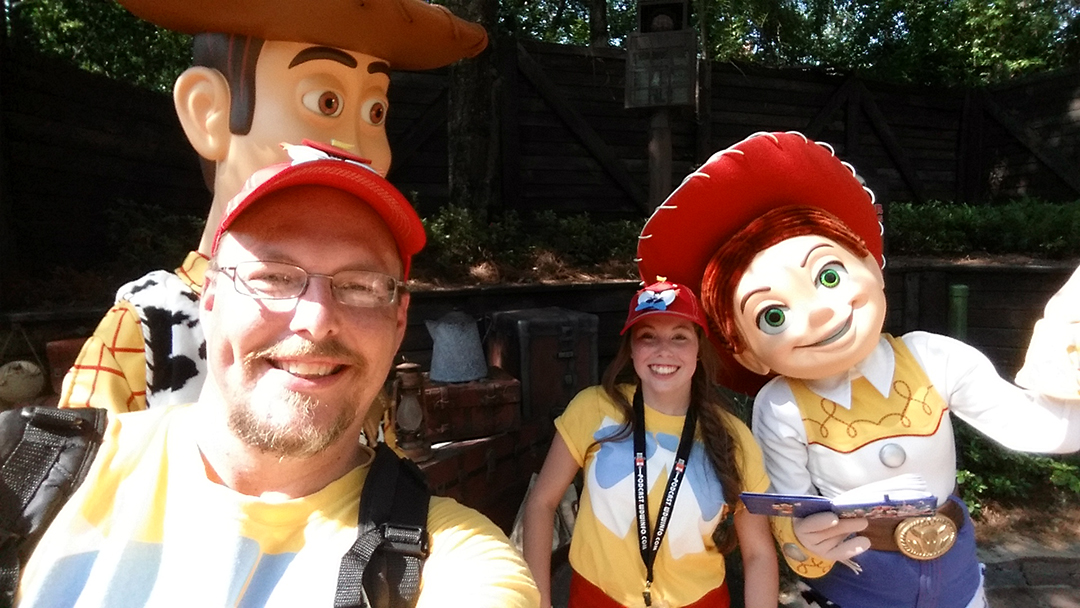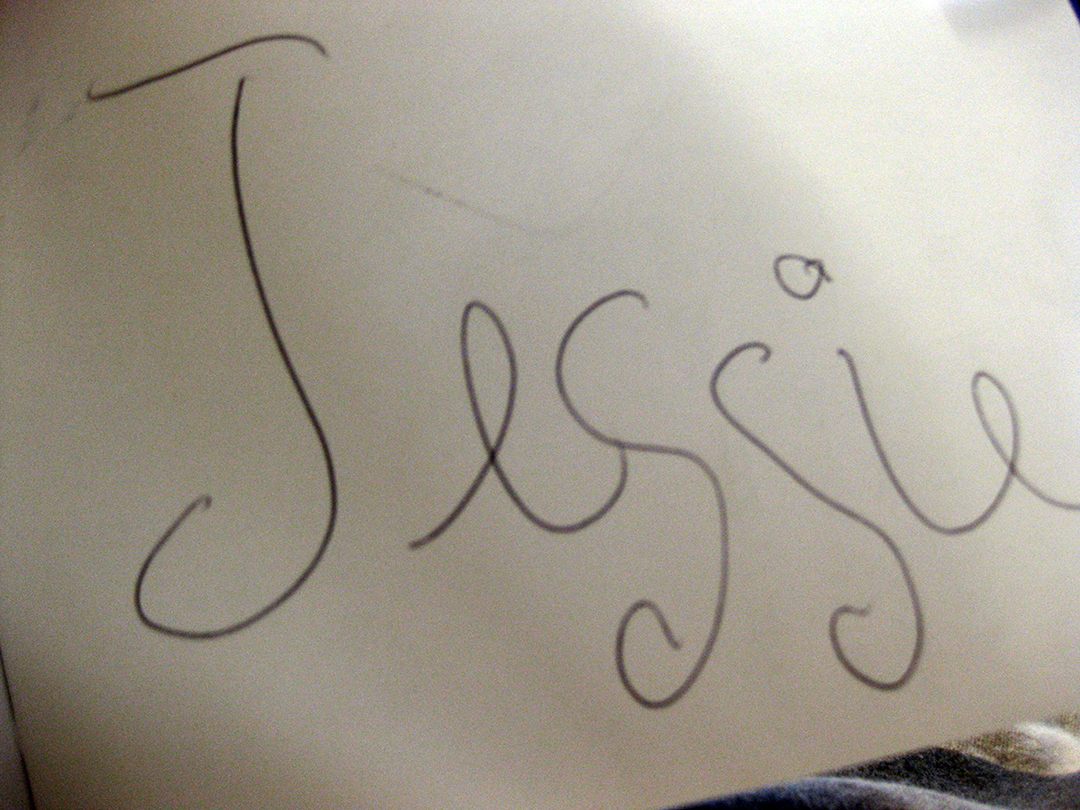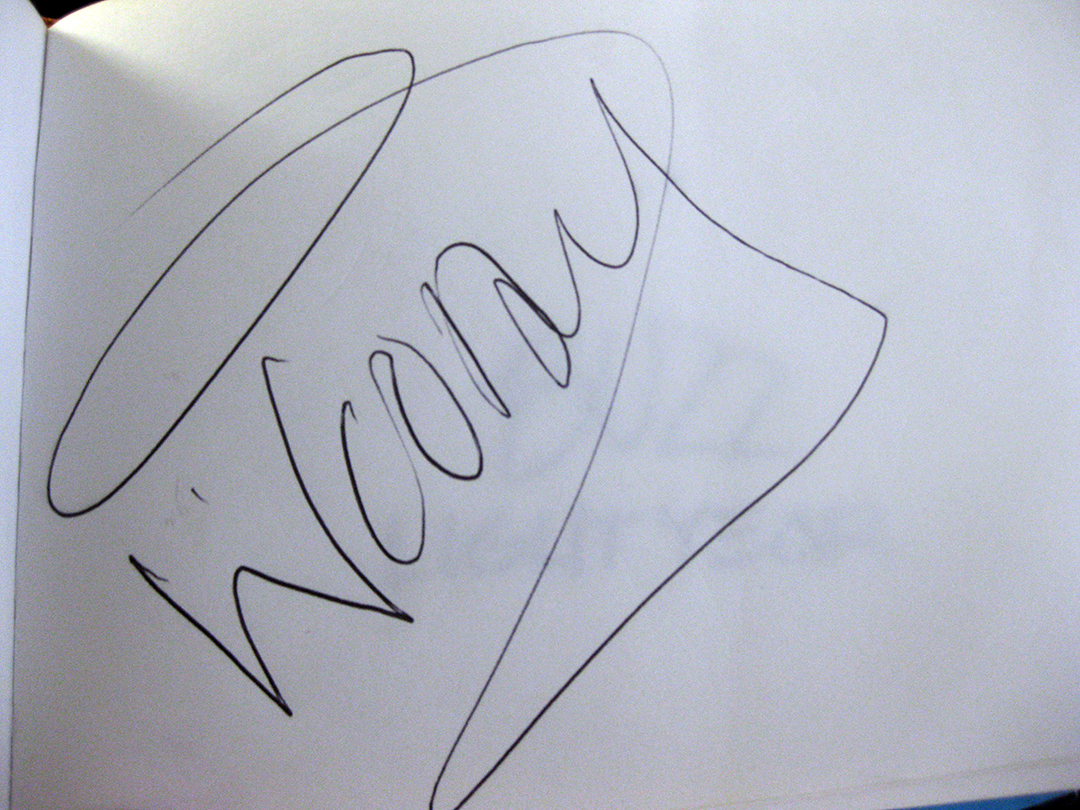 50. Big Thunder Mountain Railroad
Earlier in the day, we had arranged Fastpass+ for Big Thunder Mountain.  We were going to head straight to Tom Sawyer Island first, but the Cast Members in the area were begging for riders.  We were like, umm we don't want to wait 45 minutes.  The lady said to ignore it because the ride was a walk-on.  She was right, there was NO ONE in line.  We just changed our Fastpass+ from Big Thunder to Buzz Lightyear.
NOTE:  Most people don't realize they can change their FP+ after acquiring it at a kiosk.  If they don't have what you want, grab the earliest one possible and keep trying to change the time or experience until you find what you like.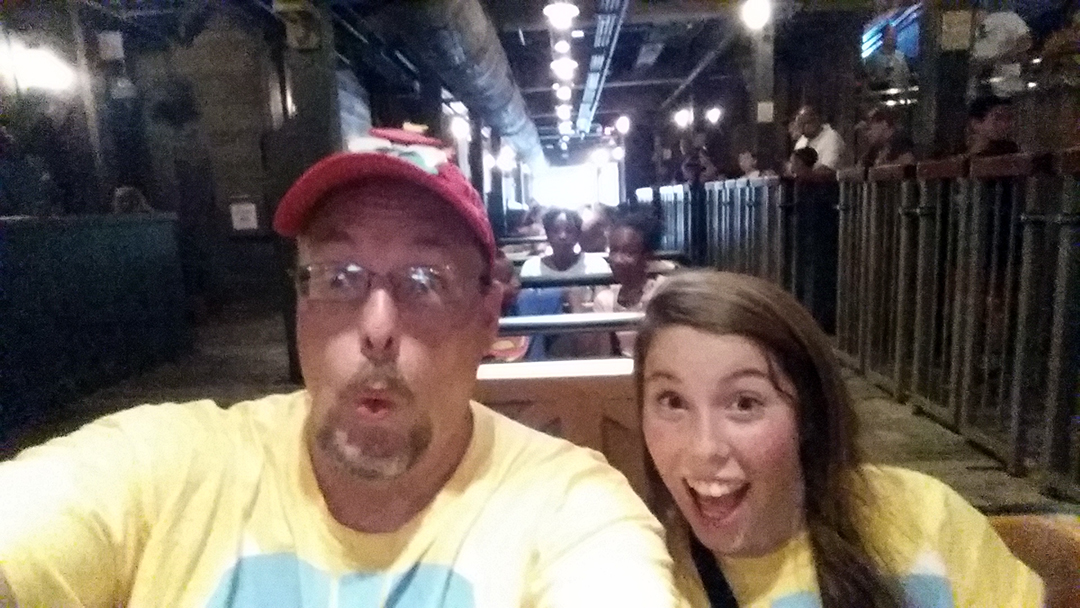 51. Tom Sawyer Island
We headed over to Tom Sawyer Island to do the three things that are required for this tour to be complete.  Tourists are required to walk across the Barrel Bridge, walk through a cave and shoot a gun in the rifle roost.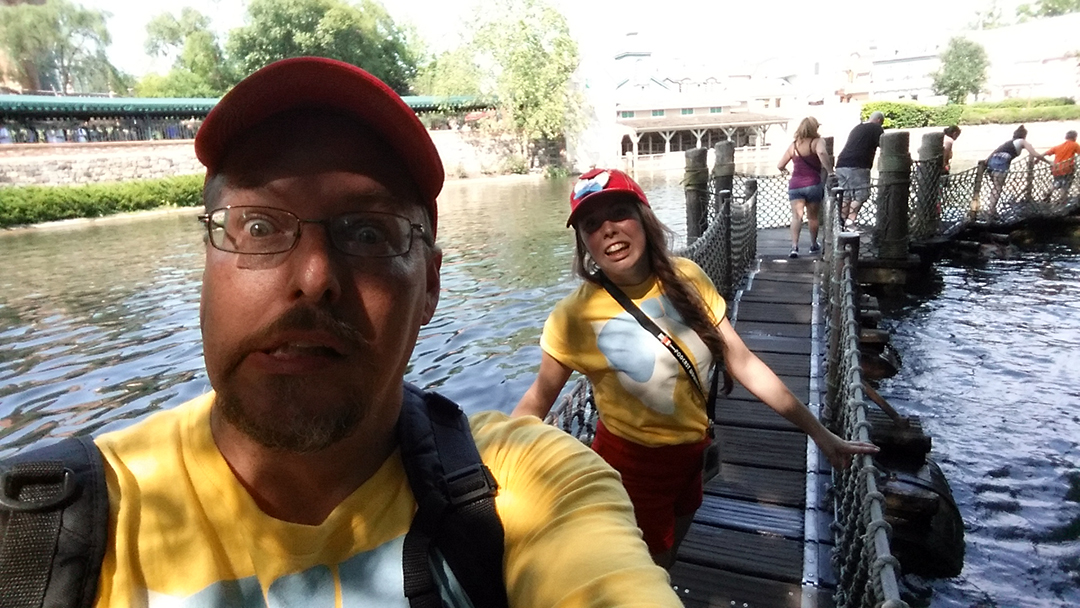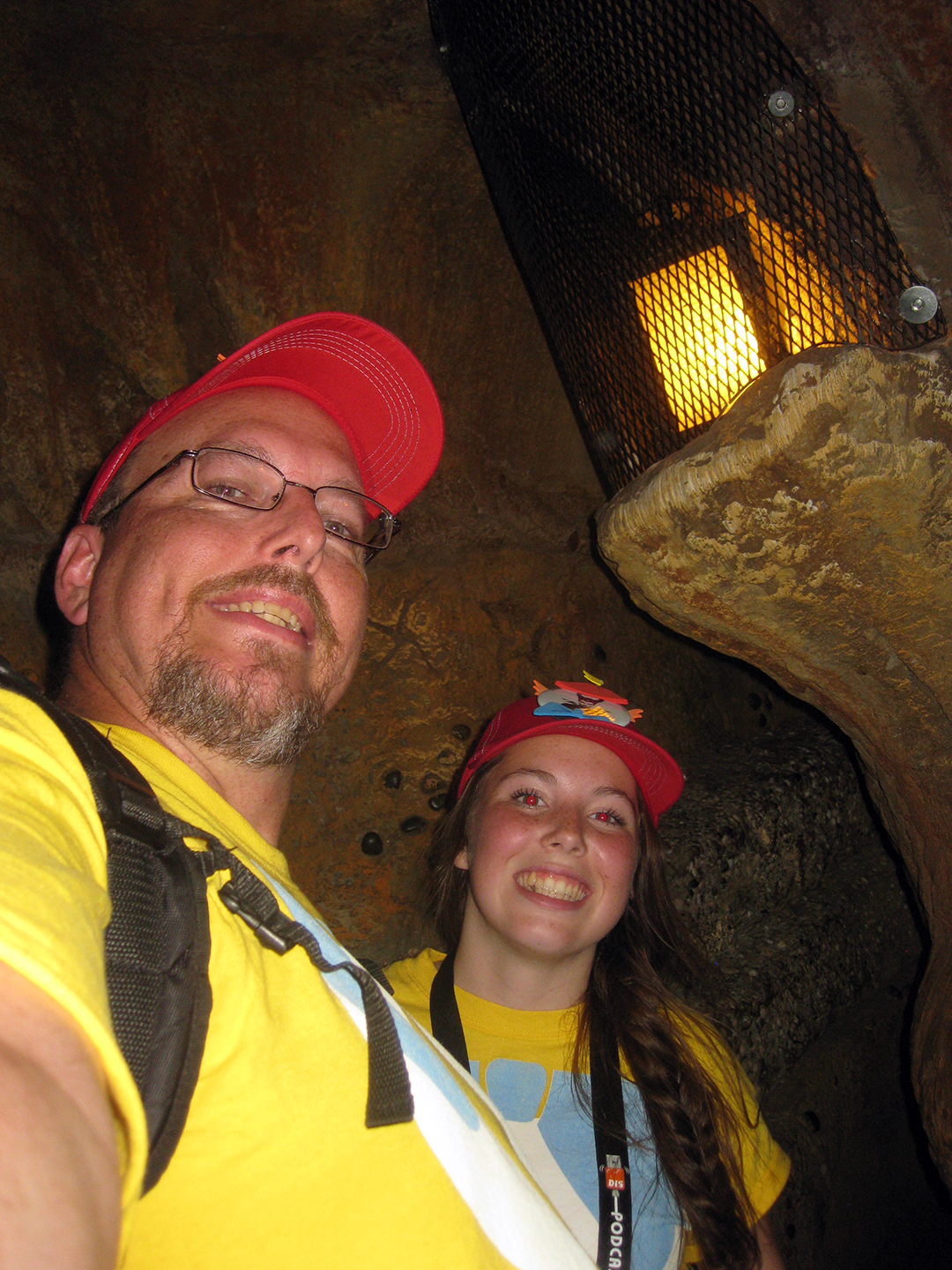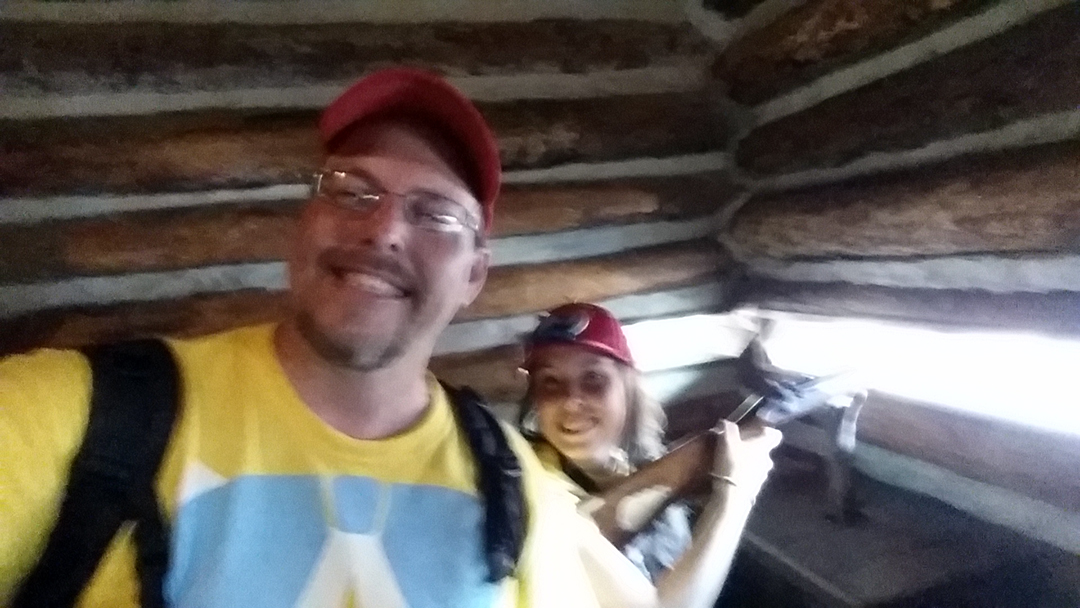 We exited Tom Sawyer Island at 4:39pm
52. Swiss Family Treehouse
We were heading back to Town Square for the required Flag Retreat and had a few minutes to spare.  We noticed hardly anyone was climbing the tree, so we enduring the heat and viewed this attraction.  The climb was brutal because I was tired from 11 hours of running all over the place.  This photo is taken at the highest point in the tree to prove we climbed the whole thing.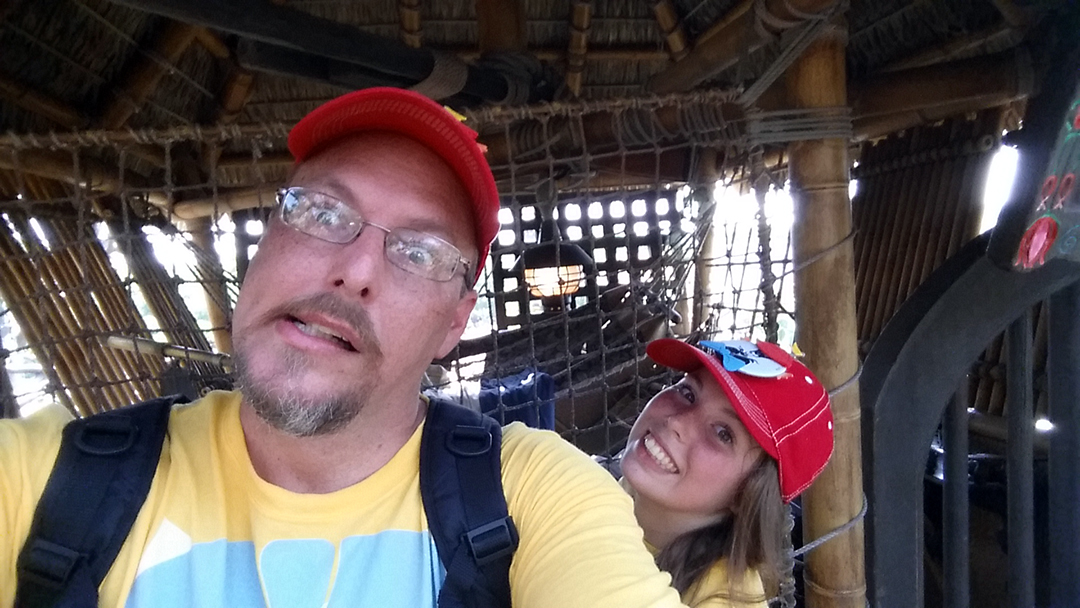 53. Flag Retreat
We made it back to Town Square with a few minutes to spare, so we took a short restroom break and waited in the shade until one minute before it began.  We ran into some other ultimate tourists.  They are usually easy to spot because they carry notepads with all kinds of stuff scribbled on them.  One group was on attraction 41 or 42 about now.  Pretty good for their first ever attempt!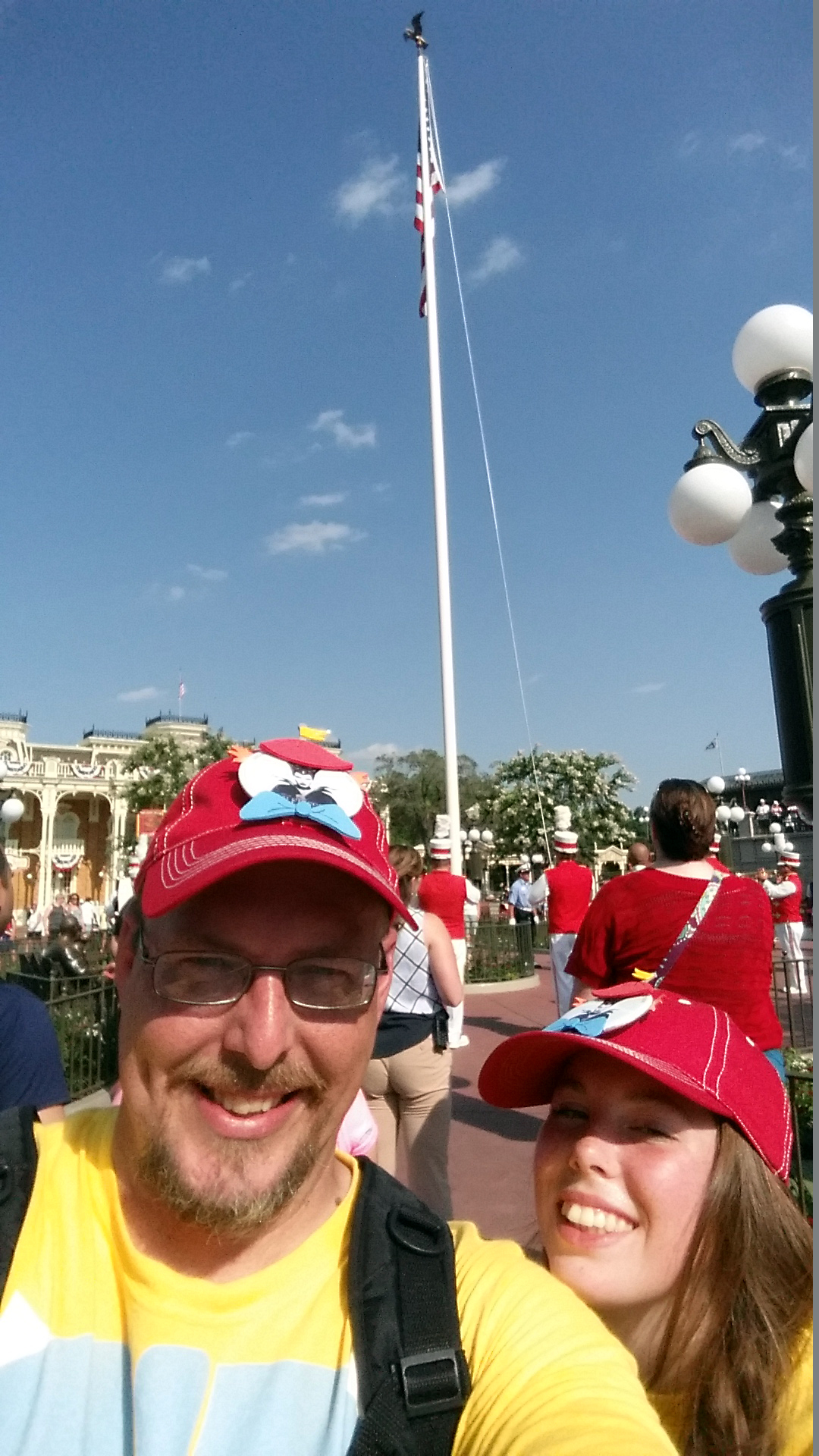 Don't worry the lady is wearing pants.  Lol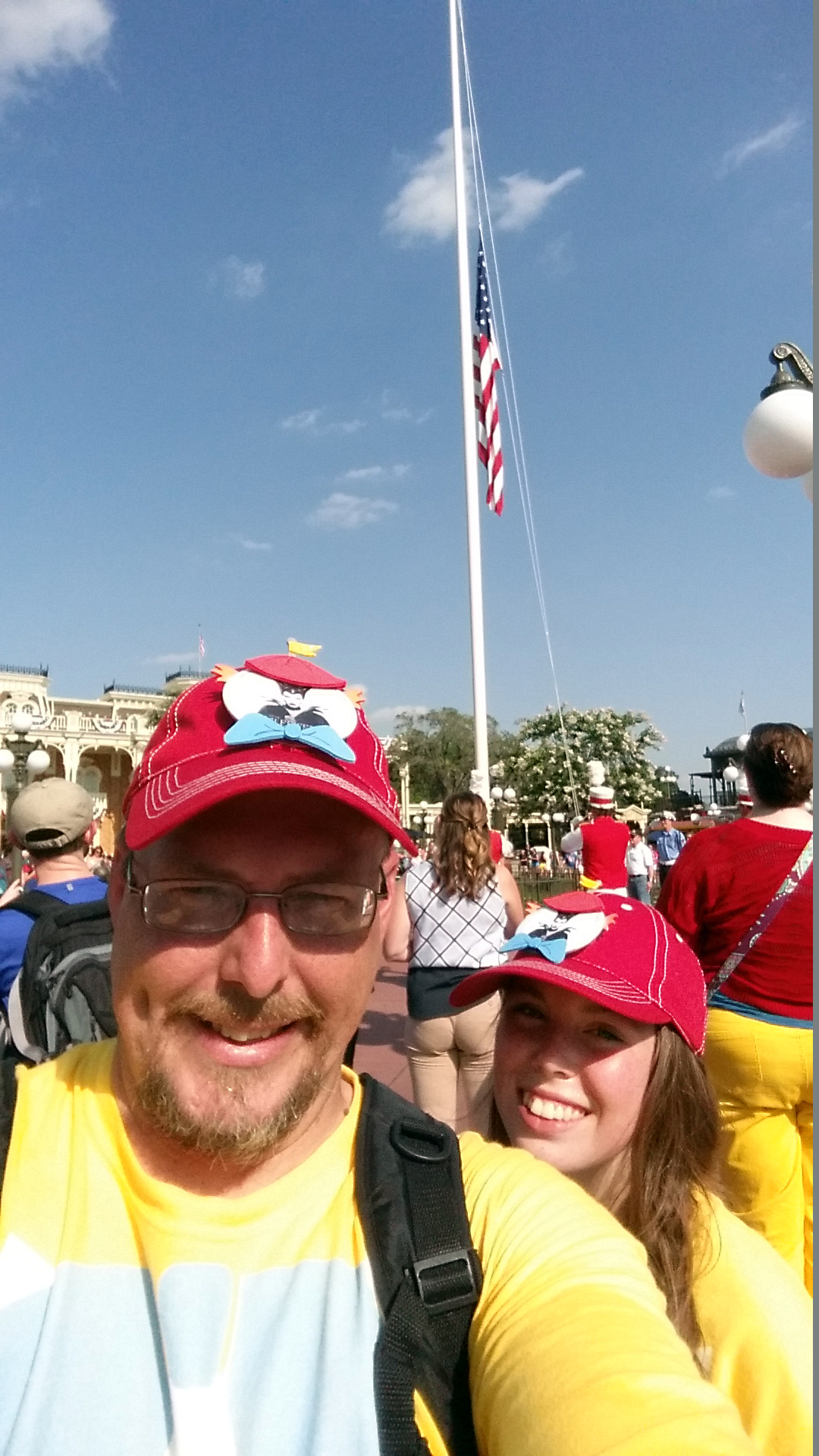 The rules require someone to stay until the flag is removed from the pole.  I told the other Ultimate Tourists and they said, "Then why are you staying around?" I wasn't I headed off to Casey's Corner Pianist and they followed along after checking to see if the Glassblower was still working.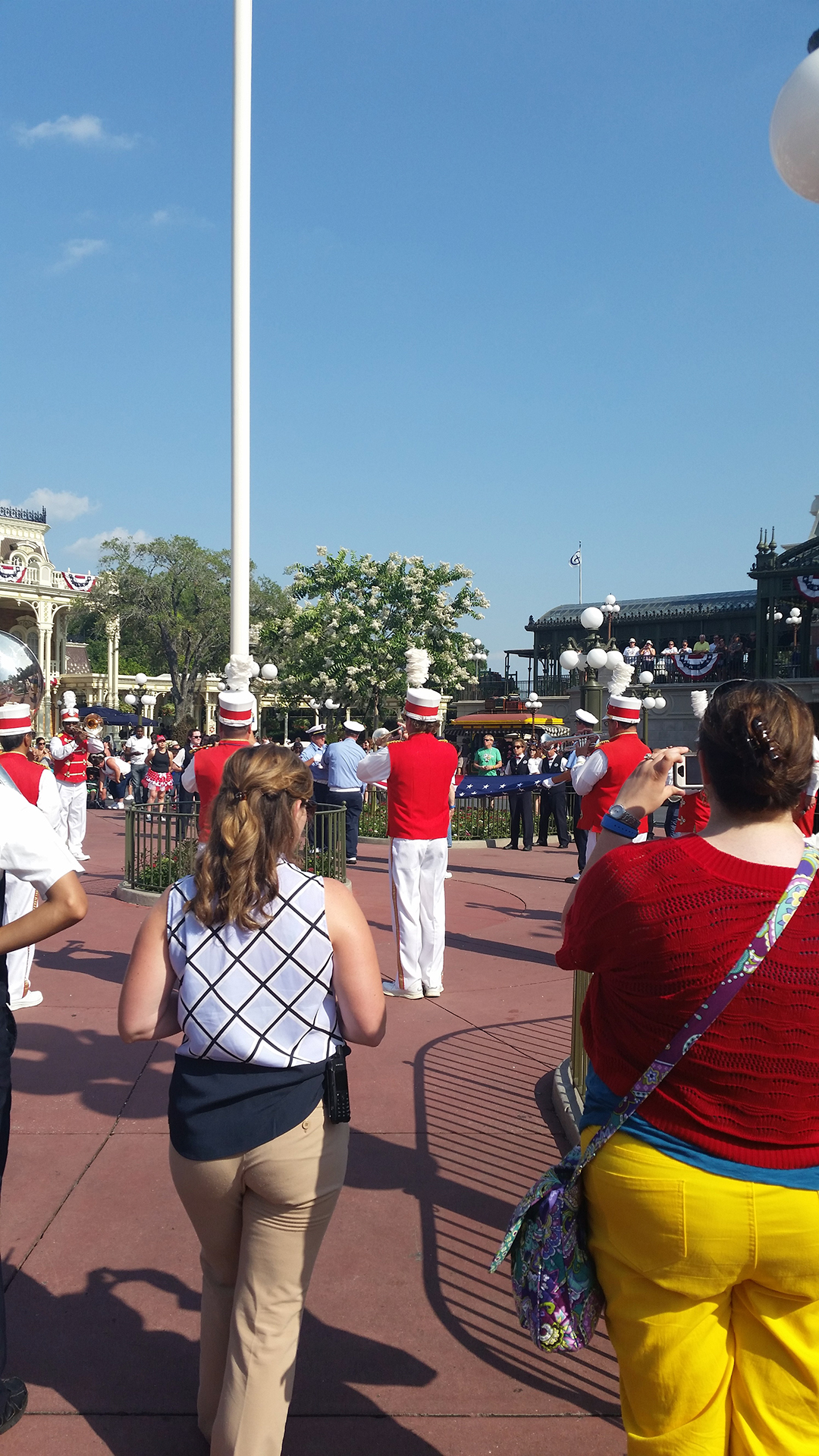 54. Casey's Corner Pianist
The Casey's Corner Pianist is another one of those unheralded fun little shows that take place daily.  The gentleman playing the piano is a long time Cast Member and he usually allows a child to help play a song or two.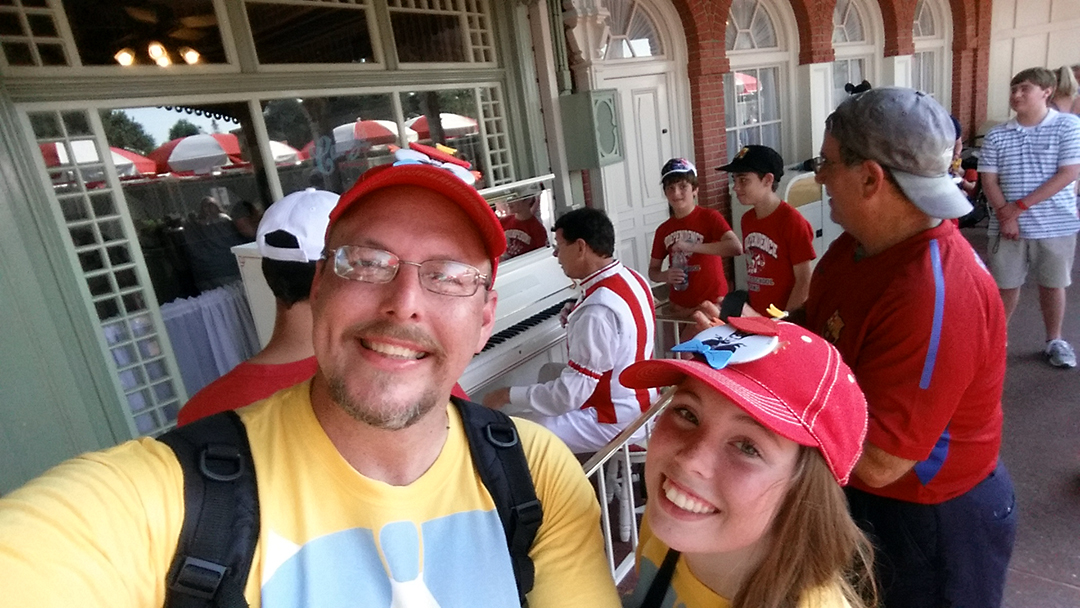 55. Dream Along with Mickey
I love this fun castle show.  I wish they would keep things fresh and create a new show since it's been running for 7 years, but it's still a great show that shows some popular villains and heroes battling it out.  Hint…good always wins in the Disneyverse.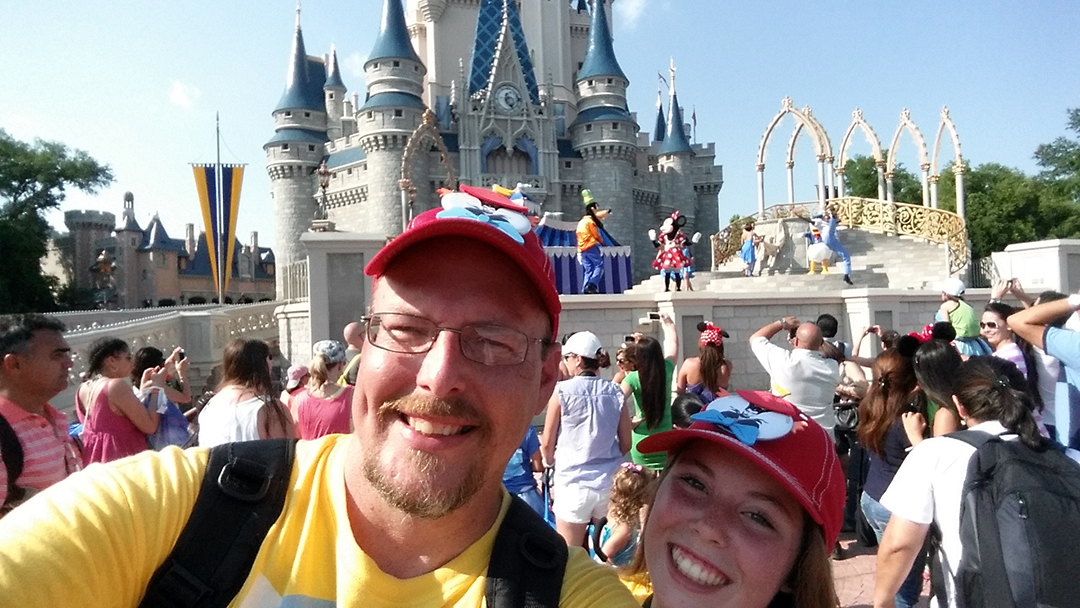 This chic is really popular among character fans.  The line to meet her late at night were actually longer than the line to meet Anna and Elsa.  She even appeared for select guests in her new Live Action Movie form.  Those guests were given special tickets with the Maleficent horns.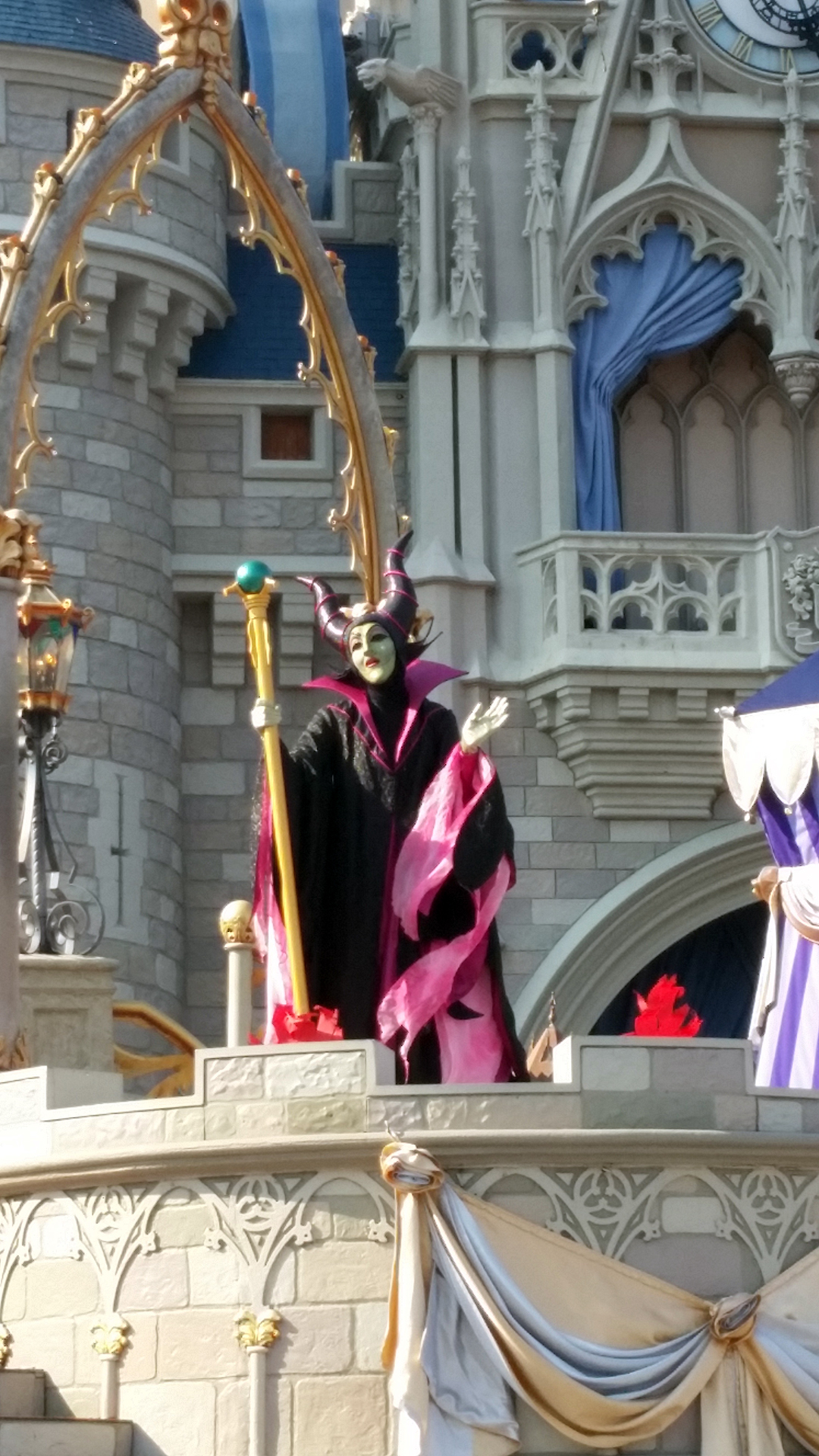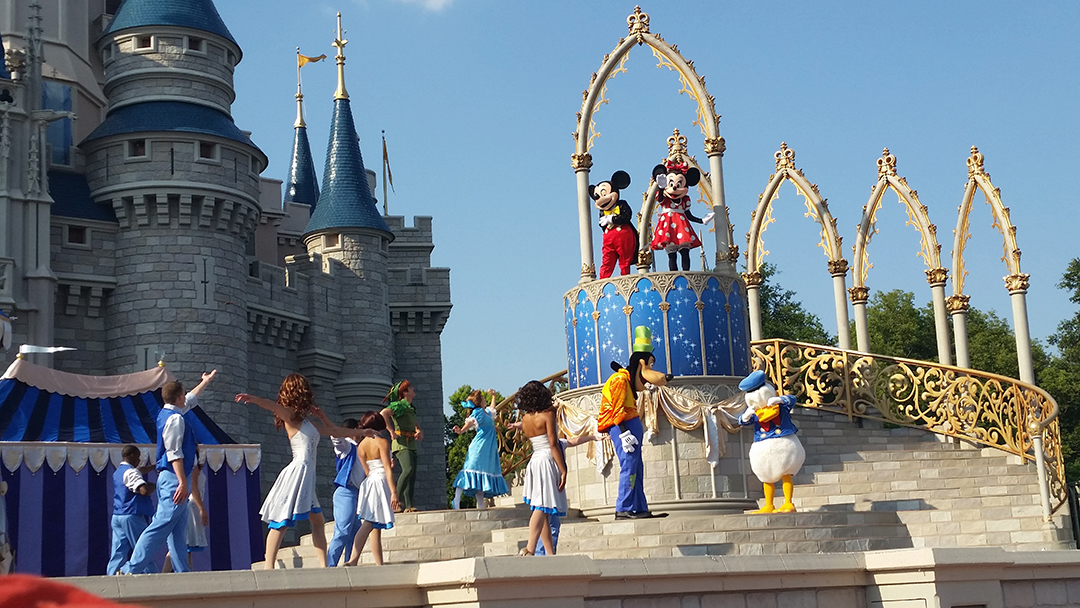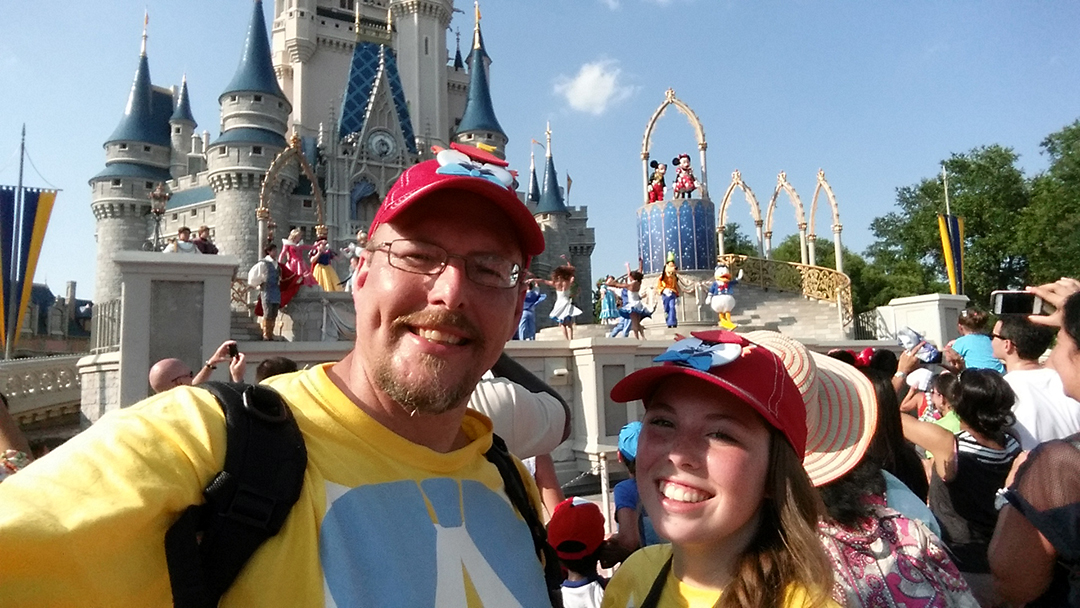 56. Move it, Shake it, Celebrate it Street Party.
We had ten minutes to burn.  We journeyed over to Cosmic Ray's to quickly purchase some chicken nuggets and a large soda to give us a little pick-me-up while watching the parade enter the castle hub.  Guests are required to be in the hub when it appears and stay until the floats begin leaving.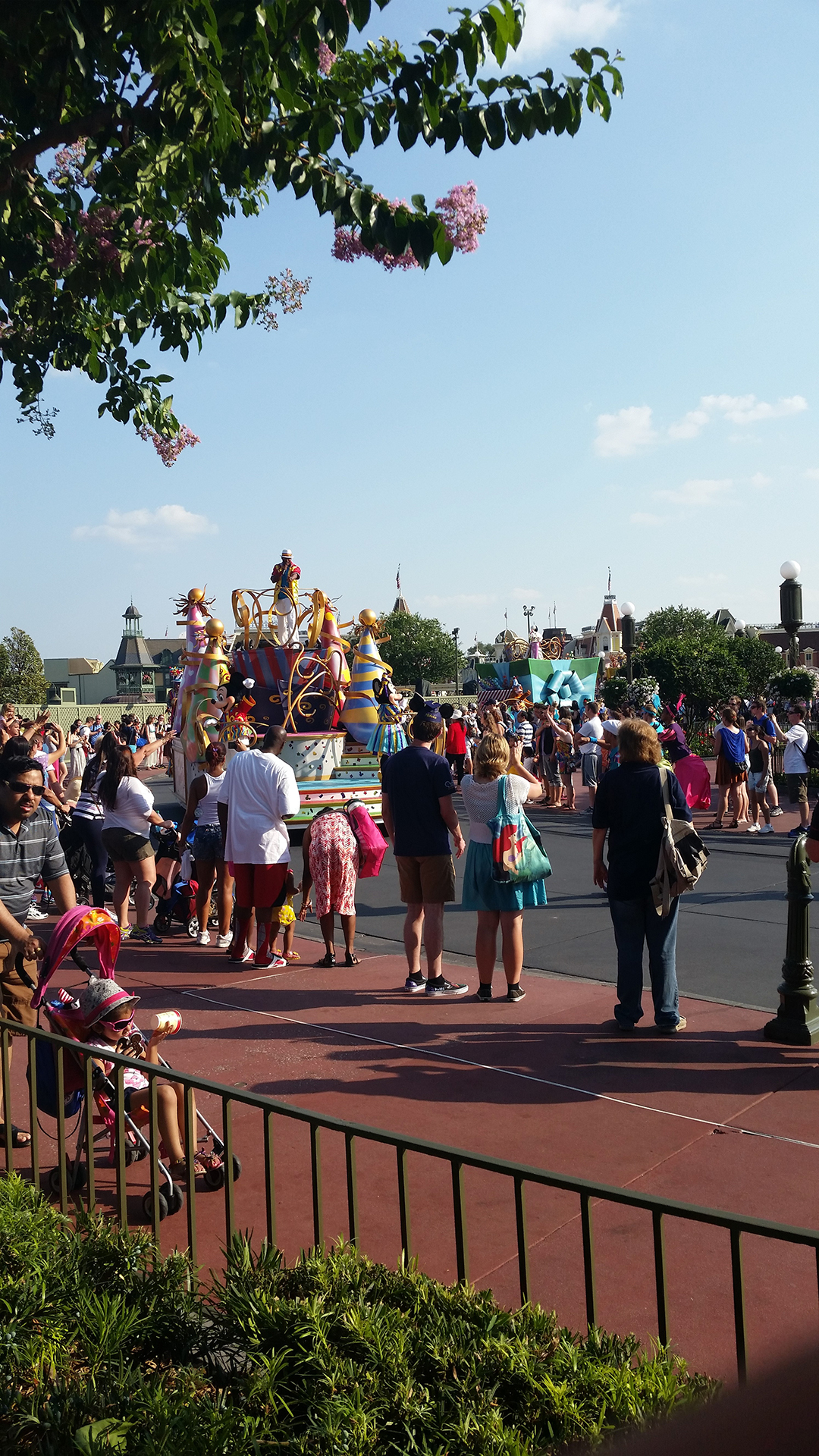 The final MiSiCi of the day featured some type of fan voting.  We obviously didn't vote.  One of the choices made us go, huh?  This one made sense:  Cruella de Vil.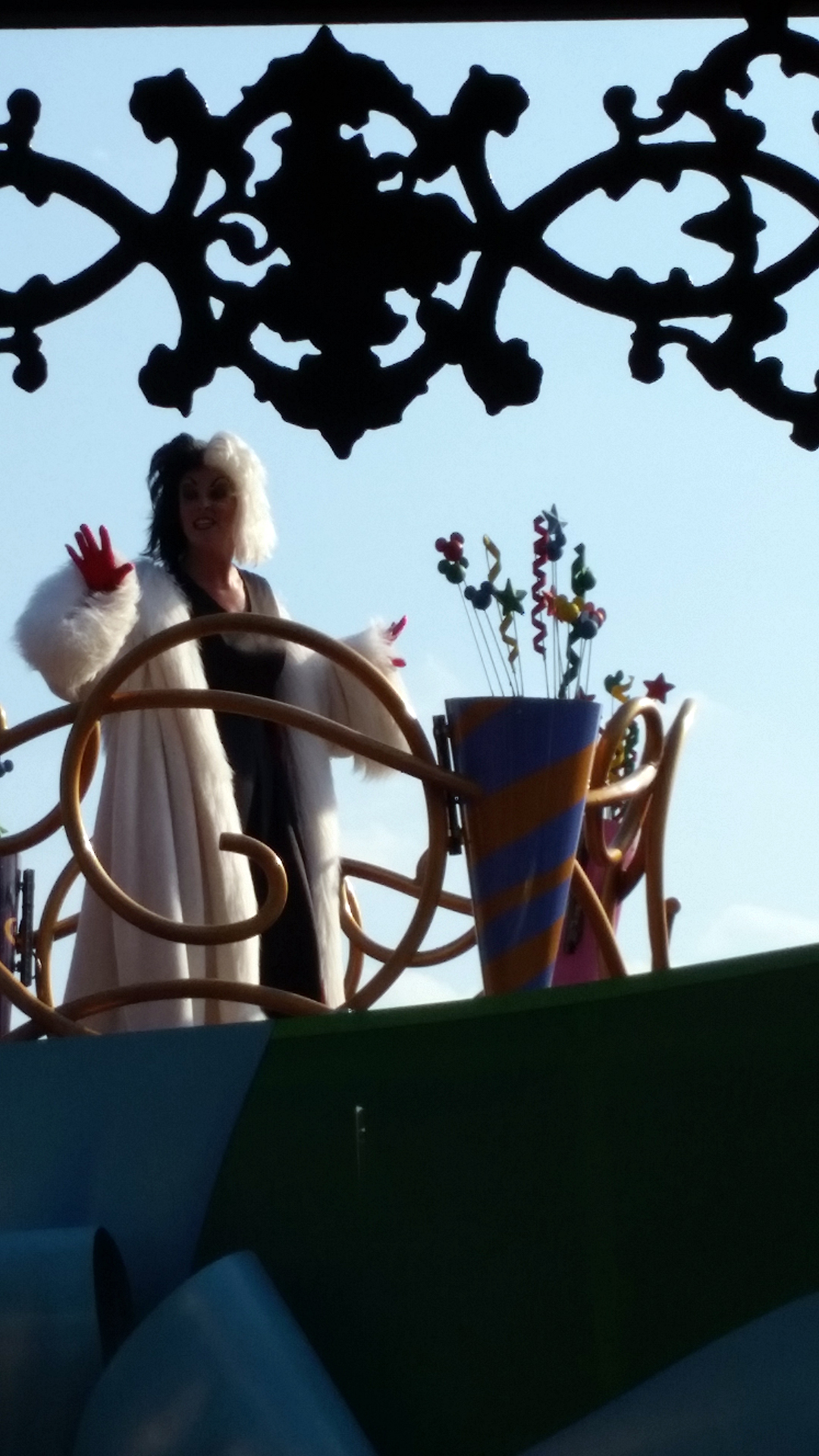 Want to know where EVERY girl in the Magic Kingdom was located at 5:45pm?  Yes, the muscles are real.  They are on loan from me.  The number one question I was asked ALL DAY was "Will Hercules be meeting tonight?"  NOPE.  WDW is just going to stick him on top of a box twice today, sorry.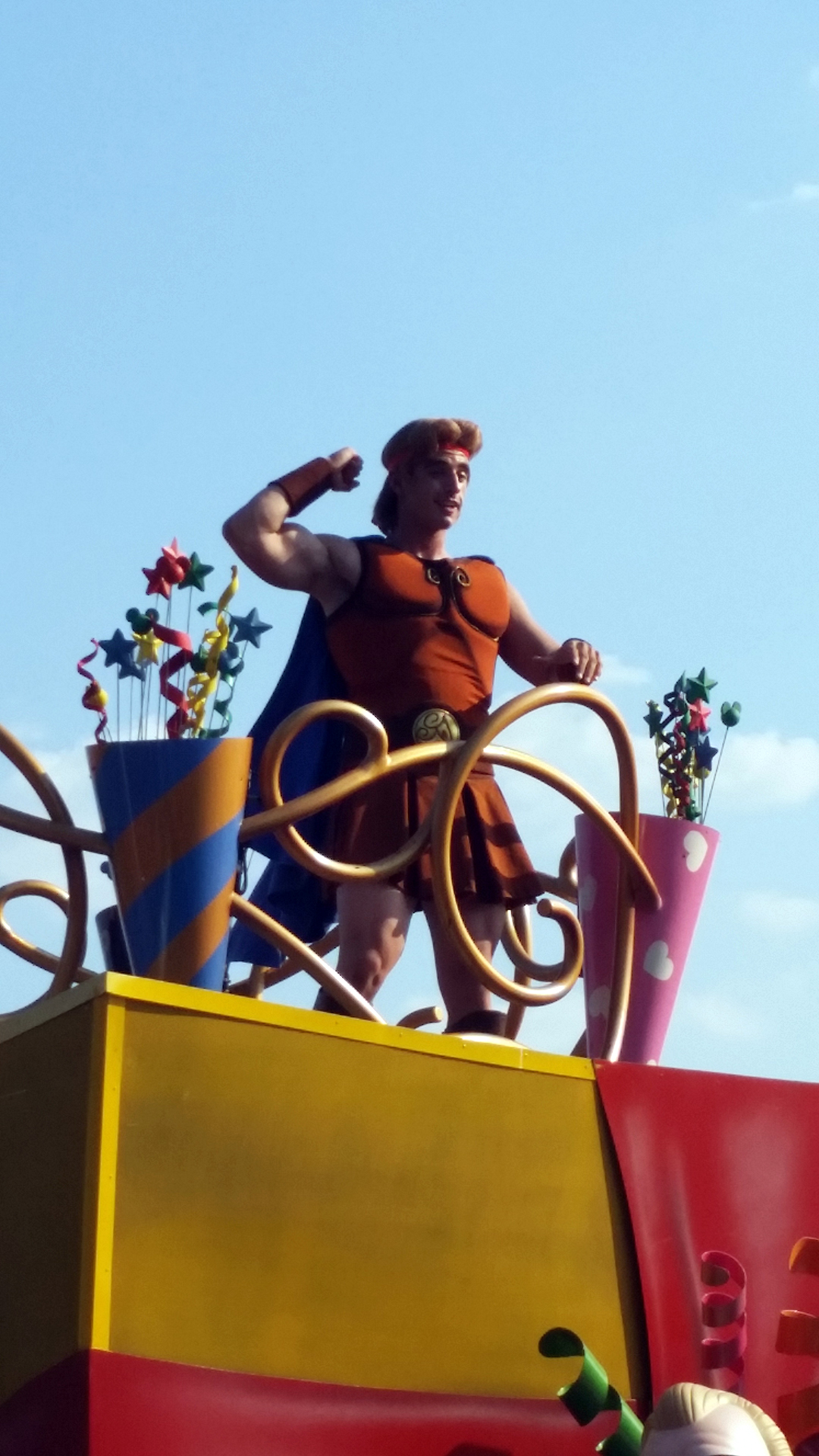 Dr. Facilier was a good choice.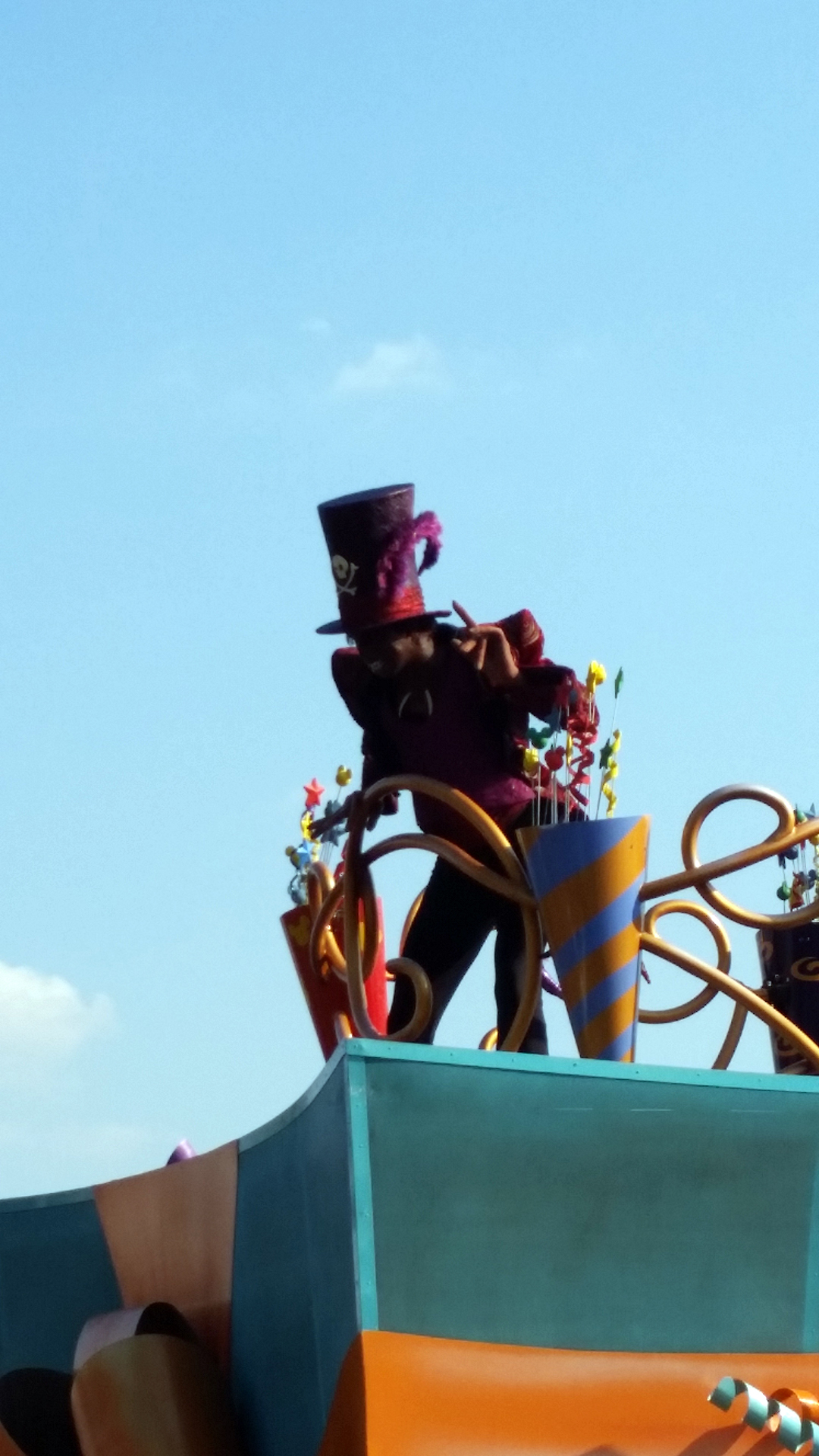 Huh?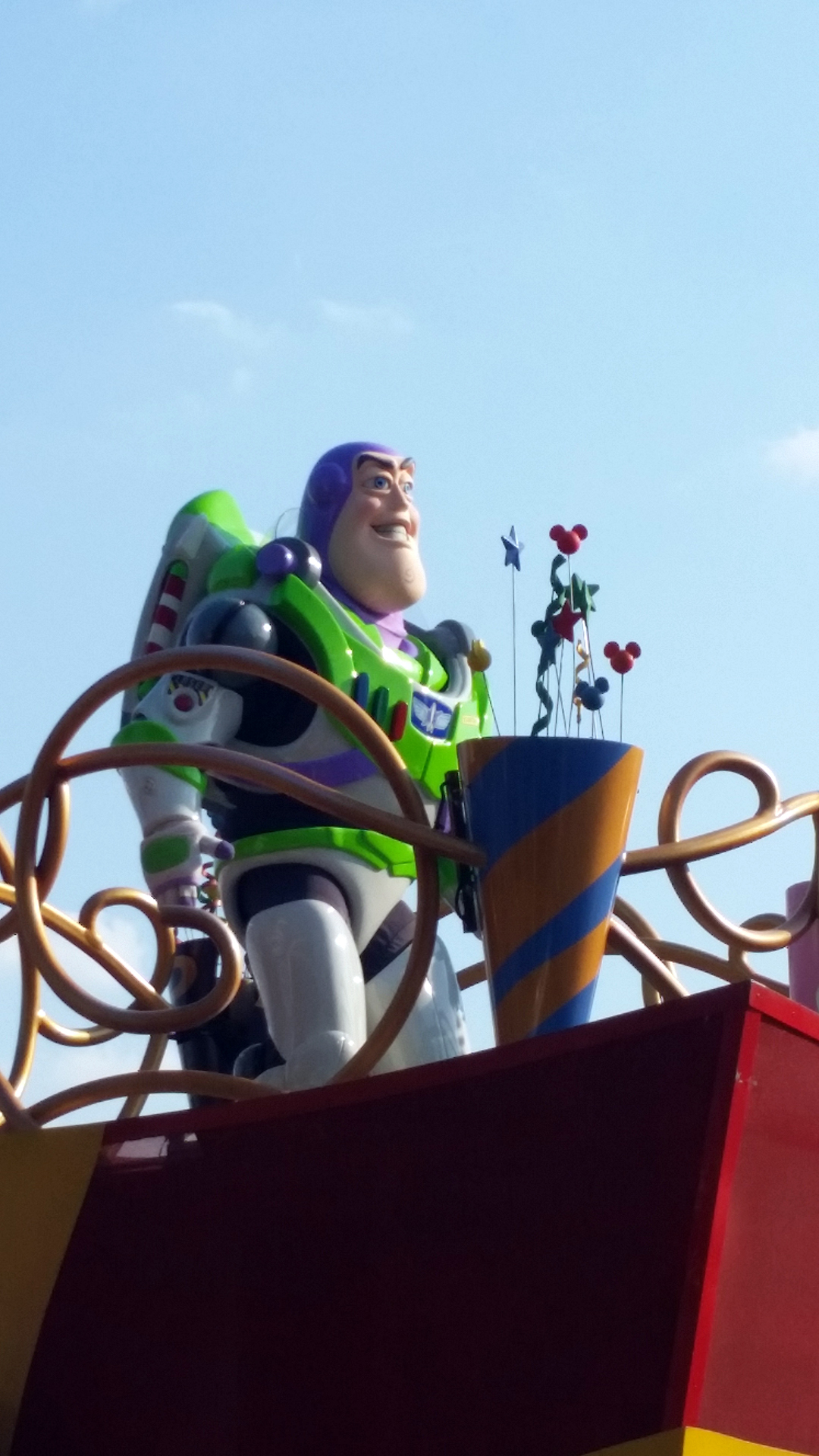 Can't get too much Cruella.  She is such a fun villain.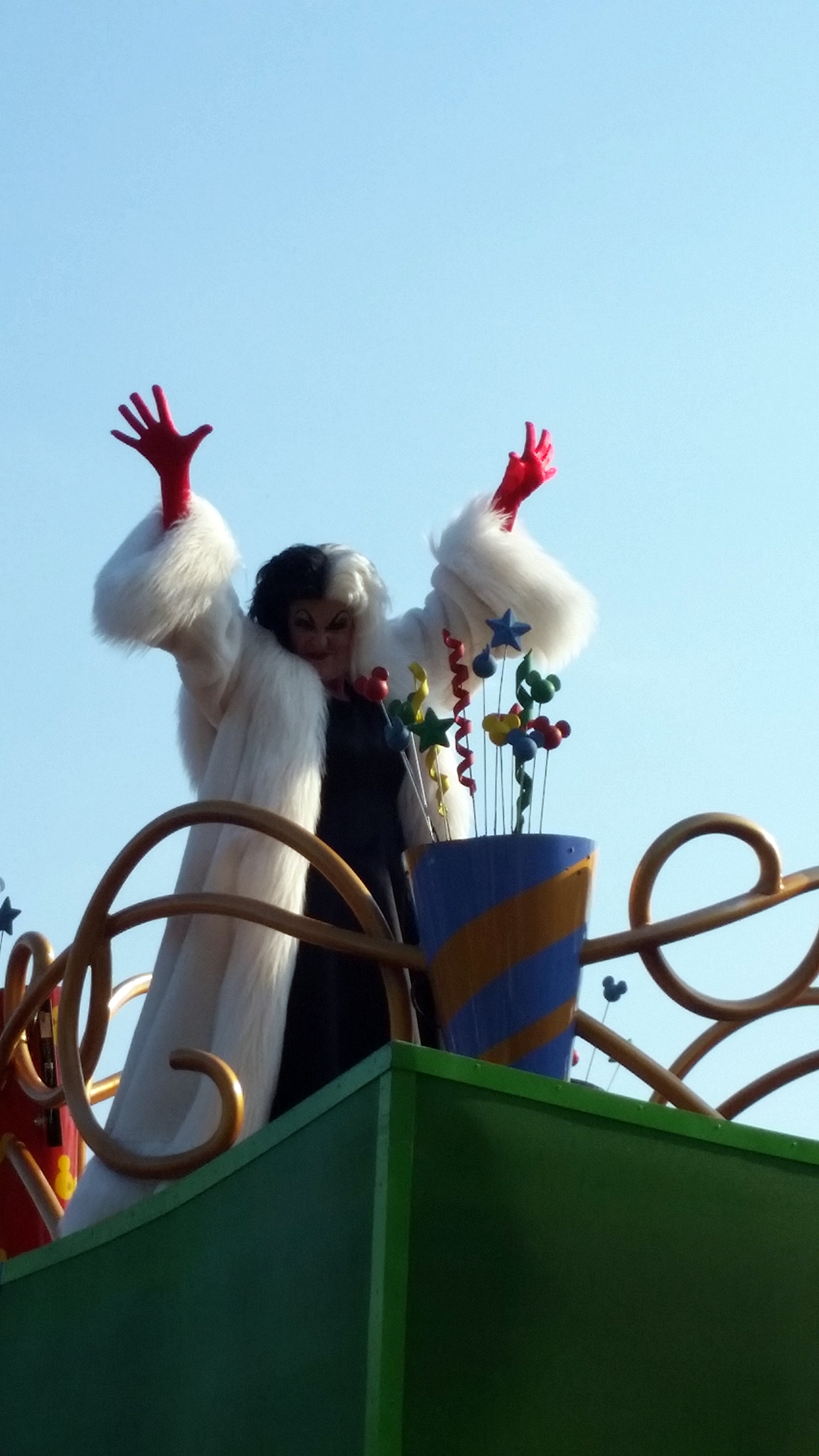 We stayed for and participated in the Street Party until the floats left the area.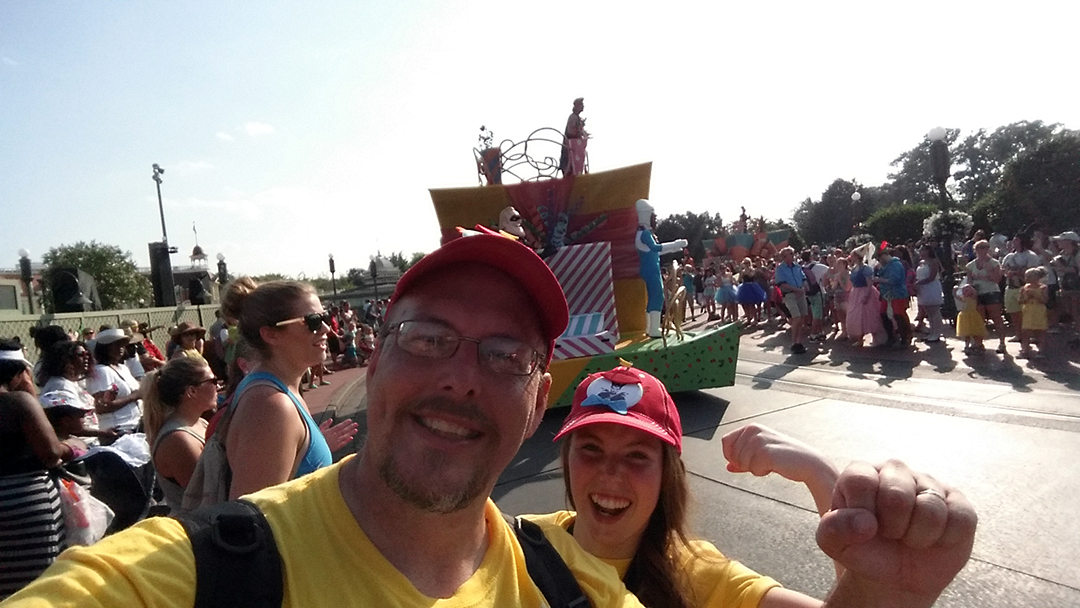 It's about 6:00pm and we're half way through our day.  We had experienced 56 attractions which gave us an average of 4.66 per hour.  To reach our goal would require 21.46 hours of running all over the place, plus enough open attractions to accomplish the goal.