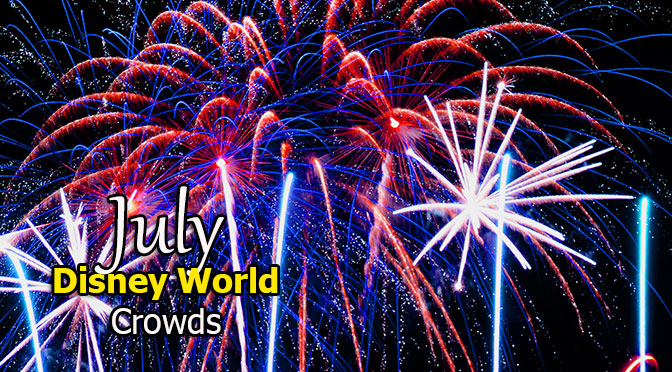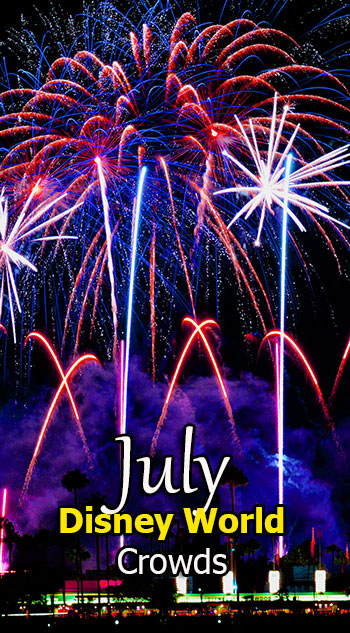 The Disney World Crowd Calendar July 2020 puts us right in the middle of the summer travel season at Walt Disney World, so the crowd calendar is basically Orange most of the month, except the first week of the month.  The 4th of July week is the busiest summer week with large crowds and long lines..  You can still enjoy the parks by going to a green park, arriving at least 45 minutes before rope drop and following one of my TOURING PLANS to get the most out of your day.
I would recommend seeing the Magic Kingdom July 4th Fireworks on July 3rd.  You can also view the Magic Kingdom July 4th Fireworks at the Polynesian Resort or Transportation and Ticket Center.
I recommend the strategy of arriving early and taking a mid-afternoon break.  Go for a swim with the kids and enjoy the pool, then take a nap of an hour or so before returning to a park for evening entertainment and rides.
NOTE:  Mid to late July is generally a time in which many South American tour groups visit Walt Disney World.
Will the park hours for Magic Kingdom, Hollywood Studios and Animal Kingdom be extended?
Yes, it's highly likely that the park hours will extend for many dates in July.  Disney usually releases preliminary hours, then adds hours the closer you get to your trip.  With Animal Kingdom now offering "After dark" experiences, you can expect that park to stay open much later.
What will the weather be like during your July trip?
Average high temperature:  92°F
Average low temperature:  73°F
Mean temperature:  83°F
Record high temperature:  101°F (1980)
Record low temperature:  62°F (1984)
Average Precipitation:  7.05 in.
July is the hottest average month and 3rd rainiest in Orlando.  If you factor in the humidity, it can feel almost unbearable in the mid-afternoon.
Dress in light colors and wear comfortable shoes with socks that breathe.  Bring a small, handheld fan for each child.  Bring a poncho for each person and a stroller cover because there's often afternoon thunderstorms in the summer.
Should I use Extra Magic Hours privilege?
Avoid the trap of visiting a park on its longest hours day.  More people will be there and the wait times can be 30% to 100% higher than other days.
If you are planning to use Extra Magic Hours, use the morning ones, they are a great benefit, if you leave after lunch or parade time.  Avoid the parks that offer evening Extra Magic Hours because they have large crowds at night and many rides have long lines (Hollywood Studios and Epcot).  The exception would be the Magic Kingdom late at night because most guests won't stay up from 1am to 3am in the morning.  If you choose a Late Extra Magic Hour park, you should plan to sleep in the next day.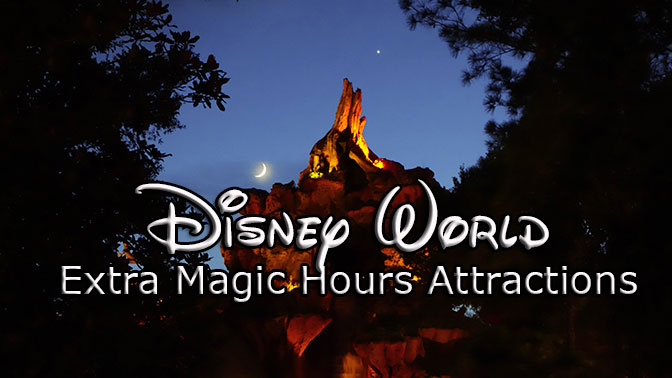 A note on Fastpass+ Booking
Fastpass+ can be booked 60 days in advance for ONSITE guests and 30 days in advance forOFFSITE guests and Annual Passholders.  You can begin booking them at 7am Eastern Time.  The booking dates are included on my Disney Crowd Calendar below.
Special July Events at Walt Disney World
Special 4th of July fireworks at Magic Kingdom and Epcot
To read the crowd level, follow the DATE at the top!  The best park each day is marked in GREEN.
Lowest Crowds
Low Crowds / Best Park
Moderate Crowds / Median Park
Busy Crowds
Insane Crowds / Worst Park
Weekly view includes all entertainment options, weather and Fastpass/Dining booking dates!
Be sure to print in landscape mode with background image turned on!
If you are viewing on a desktop/laptop, you will see a week at a time with all the full details.  It is printable.  If you are on mobile, it will show in mobile format that will stream down the page.  You must subscribe to Character Locator in order to remove any advertisments.


My Crowd Calendar includes park hours, Extra Magic Hours, special entertainment options, 180 Days Dining Window, 60 and 30 Day Fastpass+ Booking Windows!
2020
Historic Disney World Park Hours
Are you planning a vacation? Reach out to our trusted travel agency sponsor Authorized Disney Vacation Planner
Mouse Class Travel
!