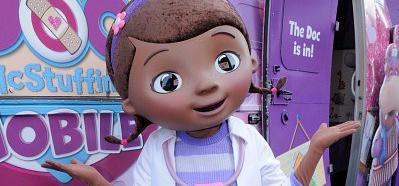 As I previously reported on December 2, 2013, Doc McStuffins will be coming Hollywood and Vine character breakfast and lunch at Disney's Hollywood Studios in Walt Disney World.
In addition, Sofia the First will also be added to these same character meals and will be joining Handy Manny and Jake.  They will also offer a new musical performance time.   Jake and Sofia the First offer regularly scheduled meets inside the park that don't require a meal reservation, but Doc McStuffins and Handy Manny does not and will not offer a regular in park meet and greet outside of the restaurant for the foreseeable future.  Doc McStuffins and Sofia the First will take the places of Agent Oso and June who will no longer offer meet and greets once the change takes effect.
Doc McStuffins and Sofia the First are scheduled to begin at Hollywood and Vine on January 26, 2014.  I booked my reservation for Hollywood and Vine for 8:05 a.m. so my family can be one of the first to meet her!  You can book your reservation for Hollywood and Vine, but be sure it's for BREAKFAST or LUNCH.  Each meal is served as a buffet.
Are you excited to finally get to meet Doc McStuffins?