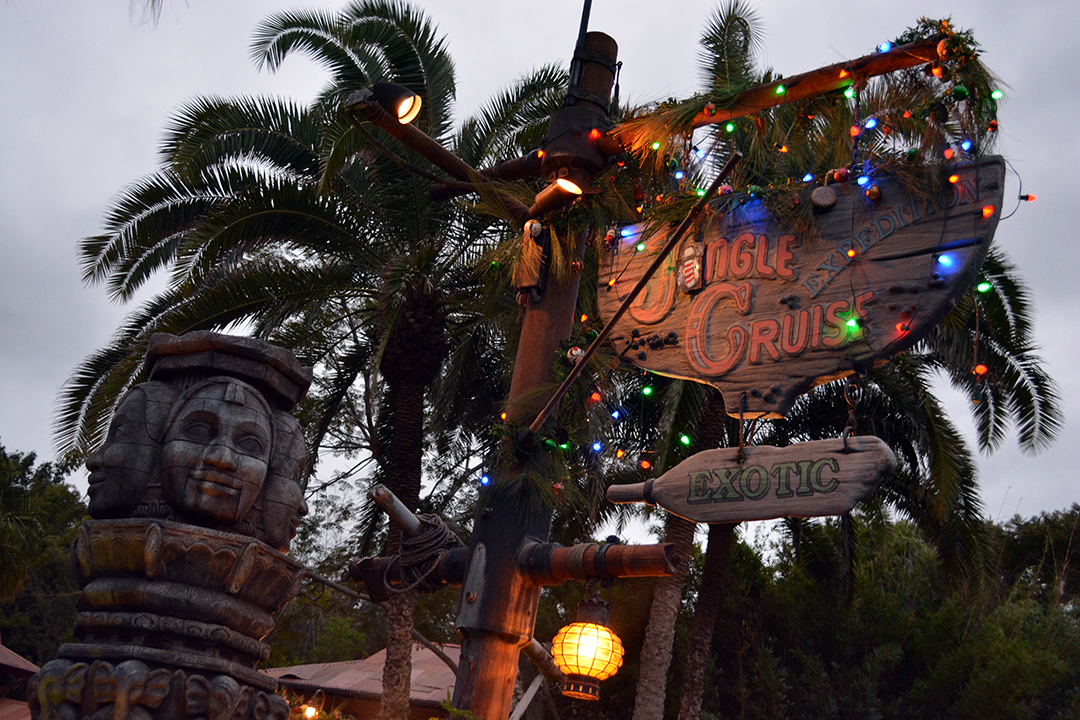 The other day my kids and I ventured over to the Magic Kingdom to check out the Jingle Cruise on its first day of operation.  We took in the experience twice, once using Fastpass+ and once using paper Fastpass.  I was excited to see that the Magic Kingdom is attempting to do Christmas overlays again.  We used to enjoy the Country Bear Christmas version until it was eliminated.  We arrived to find a one hour wait for standy by guests.  The Jungle Cruise usually has a little longer wait than may other attractions due to its low capacity, but it was obvious that many guests wanted to take in the new version.
Some of the Jingle Cruise skippers were decked out for the occasion and some just wore their regular hats.
There's a number of different Christmas themed decorations strewn about the queue line to set the stage for the limited time experience.  In keeping with the Jungle Cruise, it's a pretty low budget makeover with candy canes, poinsettias, Santas and other festive decor.
There's a cute little Christmas tree just inside the queue line on the left hand side.
The office area has been made over pretty nicely.  In order to see it well, you'll want to walk through the regular, standby line.  This blurry photo was taken from the Fastpass queue while being bumped by a guest that really wanted to hurry onto the attraction.
When you finally arrive at the Jungle Boats, you'll notice that they all have simple signs that change the name to something that fits the holiday theme.  I think the fact that its only on one side and the way it looks like it was slapped onto the name placard is intentional.
Here's the boat names that we observed while waiting briefly using Fastpass:
Brrrrr Bertha
Candy Cane Connie
Icicle Irma
Mistletoe Millie
Sleigh Ride Sadie
Vixen Val
Yulelog Lolly
Each of the boats has a Christmas wreath on board.
The dock on the opposite side has some lights and decorations as well.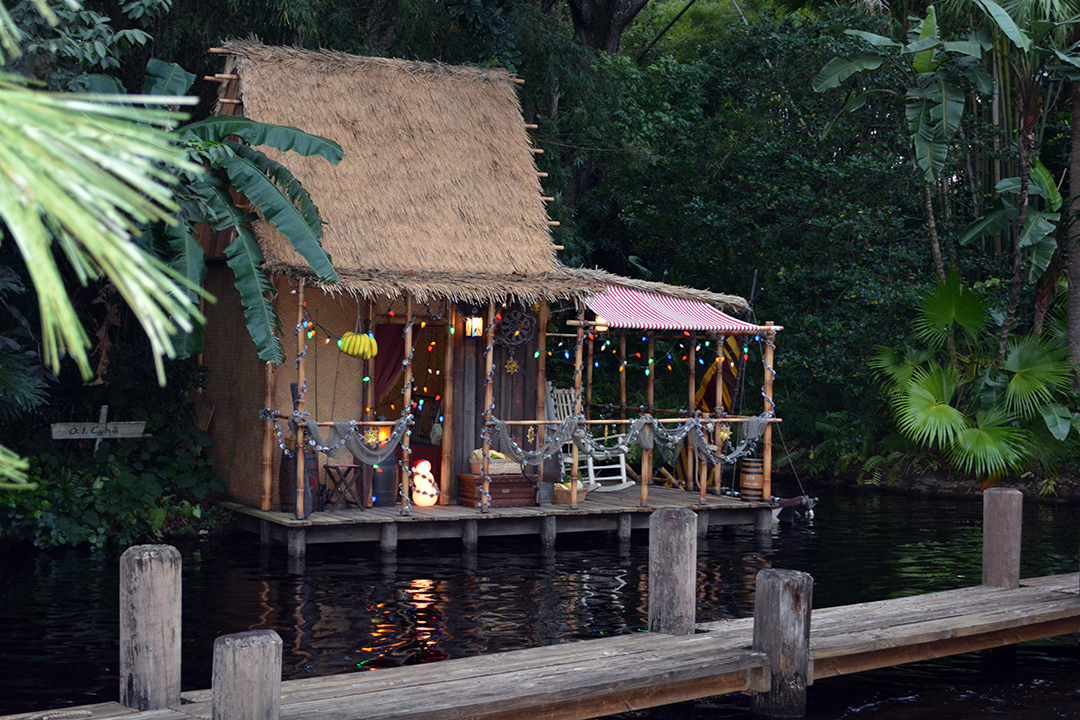 We had hoped to see more decorations within the ride itself, like maybe an elephant in elf trunks or a hippo wearing a giant Santa hat, but there's not much to be found inside the actual ride.
Here's where I'll discuss the actual presentation of the skippers.  Our first skipper was a young lady with great wit and perfect comedic timing.  She shared a number of holiday themed jokes that went along with the ride well.  She made the ride interesting and funny.  I took photos while she did her spiel.  I figured I would just take video on our second ride, figuring it would basically be the same.
WRONG!  The second skipper, I won't reveal name, sex, age or anything like that, was TERRIBLE.  We could hardly understand the person due to a very strong accent and the person blew the few jokes that we could understand.  This skipper told us that hippos are only dangerous when wiggling their teeeth.  Really, they wiggle their teeth now?  It was a pretty bad experience.  After getting off the boat, I overhead a guy say, "We waited an hour for that?"  I'll go back to Magic Kingdom again later and try to get a decent quality video for you, but for now, just enjoy the pictures.
Finally found some Christmas decorations!  It's on Trader Sam who is preparing for Black Friday with a big sale, he'll trade you two skippers with bad timing and accents for one that was like the first skipper we rode with.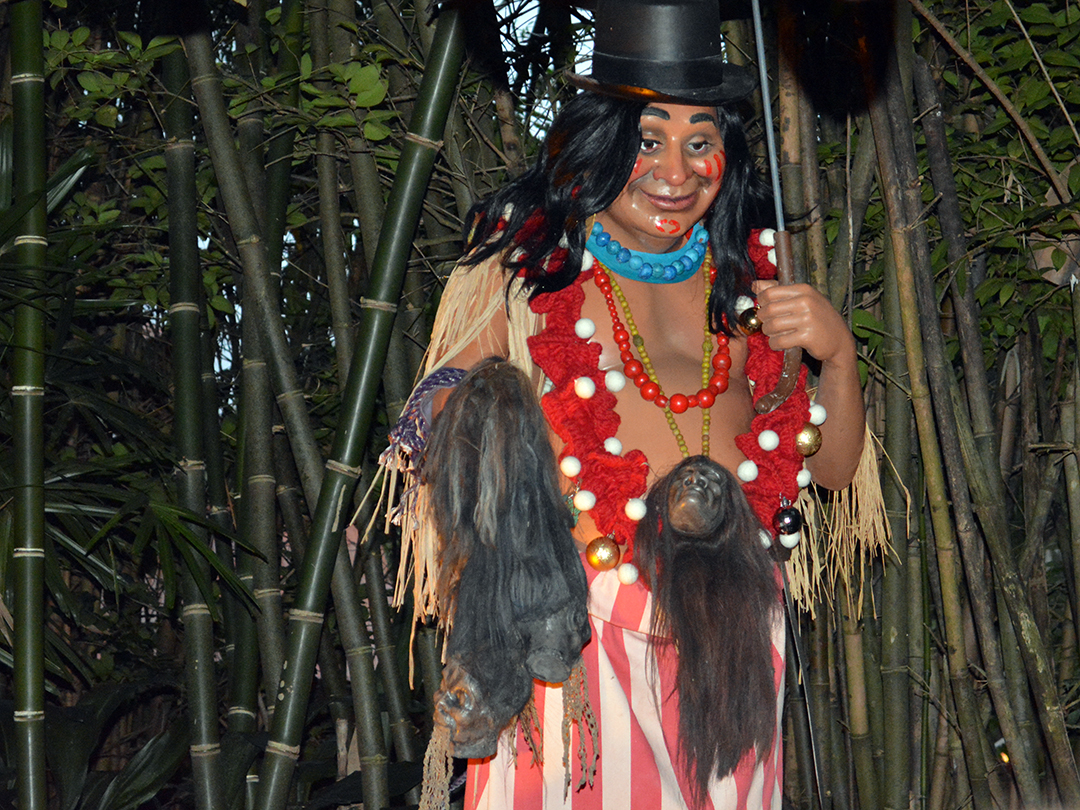 Merry Christmas.  Your experience may vary!