Princess Fairytale Hall to open soon
We should expect Fairytale Hall to open to park guests very soon.  When looking at the Magic Kingdom schedule for Wednesday, September 18, 2013 we find that Fairytale Hall AND Town Square Theater are both listed.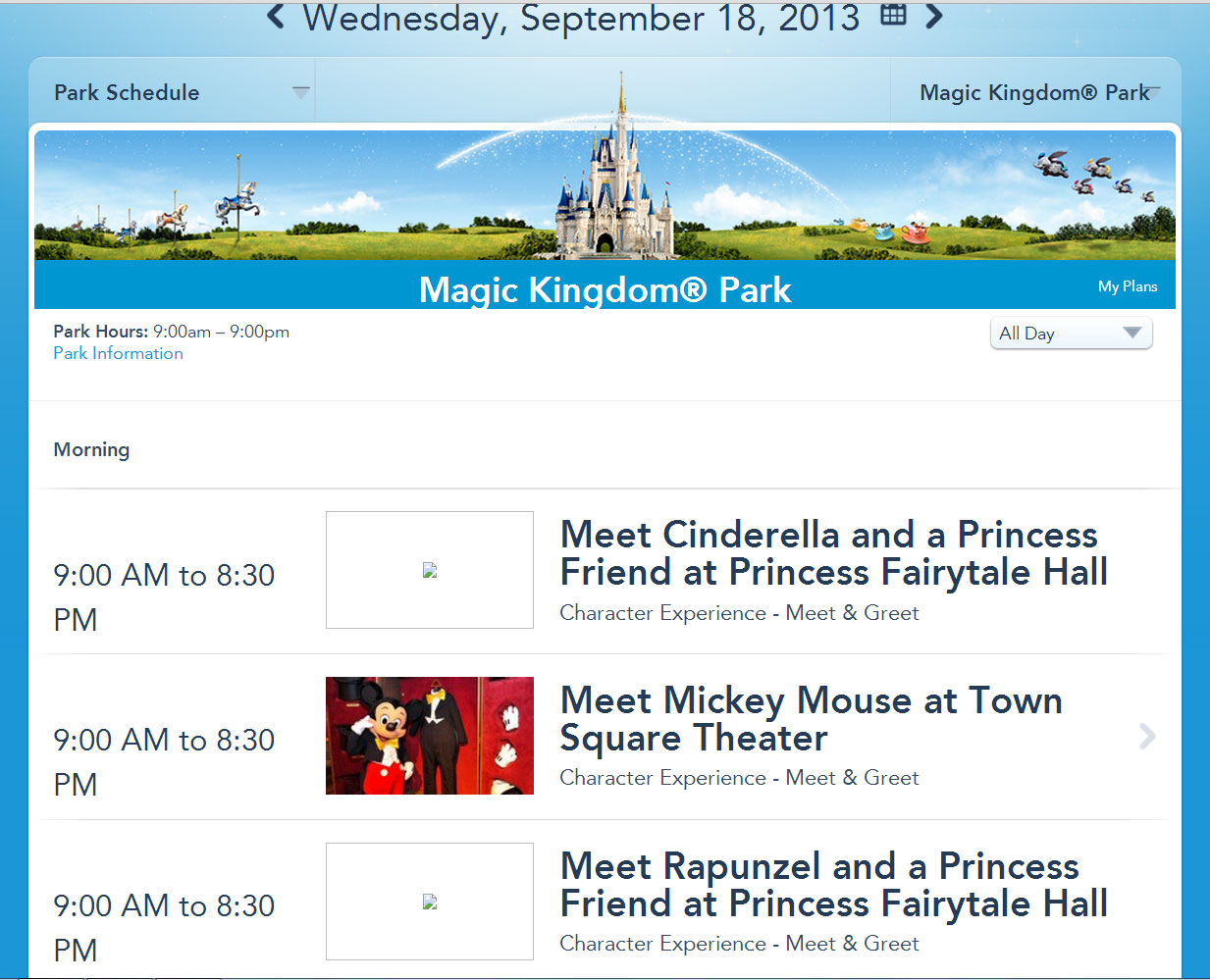 The external signage and Fastpass+ entrance sign have been installed.  The meet and greet will offer one line for Cinderella and one line for Rapunzel.  Each of those princesses will be joined by one other princess.  It's highly likely that 90% of the time you'll meet Snow White or Aurora in those spots, but there is the potential that other Princesses could drop in, especially later in the evening.
Anna AND Elsa will offer meet and greets
Disney has been casting BOTH Anna and Elsa for meet and greet roles in Walt Disney World.   Most credible rumors are placing Anna and Elsa in Norway somewhere, (perhaps near the water like Belle or near the Agent P sign up booth?) but it hasn't been confirmed by Disney.  I would guess that they would begin offering meet and greets some time in Octbober.
Villains event – not all bad guys may offer meet and greets
Many people are excited about the Villains event that is going to be offered at Hollywood Studios on September 13th.  Disney has promised 13 Villains, but hasn't confirmed the actual list of Villains appearing.  They did mention that Hades will be the host of the stage portion of the event along with his "henchmen."  Those "henchmen" could include Megara and/or Pain & Panic.  Now character fans are getting excited, huh?  Well, there's no guarantee that those characters will offer actual meet and greets and could be only stage performers.
It's been said that some characters will only appear on stage, some characters may only appear for the dance party portion to dance with guests and some characters could appear for meet and greets.
Labor Day week LTM is likely another dance party at the Hat
Limited Time Magic has largely been dance parties and it appears that the trend will continue. The Monsters University Homecoming will end on September 1 at Hollywood Studios and rumors have it that a different dance party will take its place on September 2 for a short run.  This dance party would basically act as a filler between Monsters U and the 13th Villains Event.
Pirates Week could offer Limited Time Magic Pirates.
I've heard that Captain Jack Sparrow, Barbossa and possibly Angelica could provide appearances for a Limited Time Magic production.  "Talk like a pirate day" is officially Thursday, September 19th, but this event could take place September 16-22.  I've heard from another source that Disney may offer the Pirates section of the Boo to You parade as a pre-parade section added to the beginning of the 3:00 parade.  There could be special face painting options and a Disney pin or two.
Thor to offer meet and greets at Disneyland
Now, you wish you lived on the West Coast, huh?  Thor will begin offering meet and greets at Disneyland this fall as a test.  Disney wants to gauge fan reaction to Marvel Characters in Disneyland and or California Adventure.
NOTE:  Don't forget to purchase Character Locator to have all character meets, entertainment schedules, ride wait times with Fastpass and in park dining.  Character Locator works on ALL phones!  I've updated about 60% of the menus since the recent changes have occurred and hope to have it all completed by this weekend.  Of course, it is my birthday Friday and I think I'll head to Beaches and Cream with the family for a celebration!