I wasn't able to make it to Long-lost Friends 2.0 until the final Sunday and couldn't arrive until noon. It was VERY hot outside. My goals were:
1. Meet Louis (and Dr. Facilier)
2. Meet Chicken Little and Abby Mallard – My family met them in 2005, but the photo isn't very good quality and I wasn't in the pictures back then :)
3. Meet the Brers all together. I've met them each separately, but not as a group.
4. Skip the Robin Hood gang to allow others to meet a group that I met a couple of times in February.
I saw Louis and Shadowman still out and jumped in line. The Cast Members informed everyone that they characters would be leaving soon, but they would be right back. The actual line took about 5 minutes, but the wait for the short break ended up being 15 minutes. Fortunately, another character fan had a HUGE umbrella and was willing to share the shade. I wasn't in a big hurry and it was the one thing I wanted most, so I waited it out.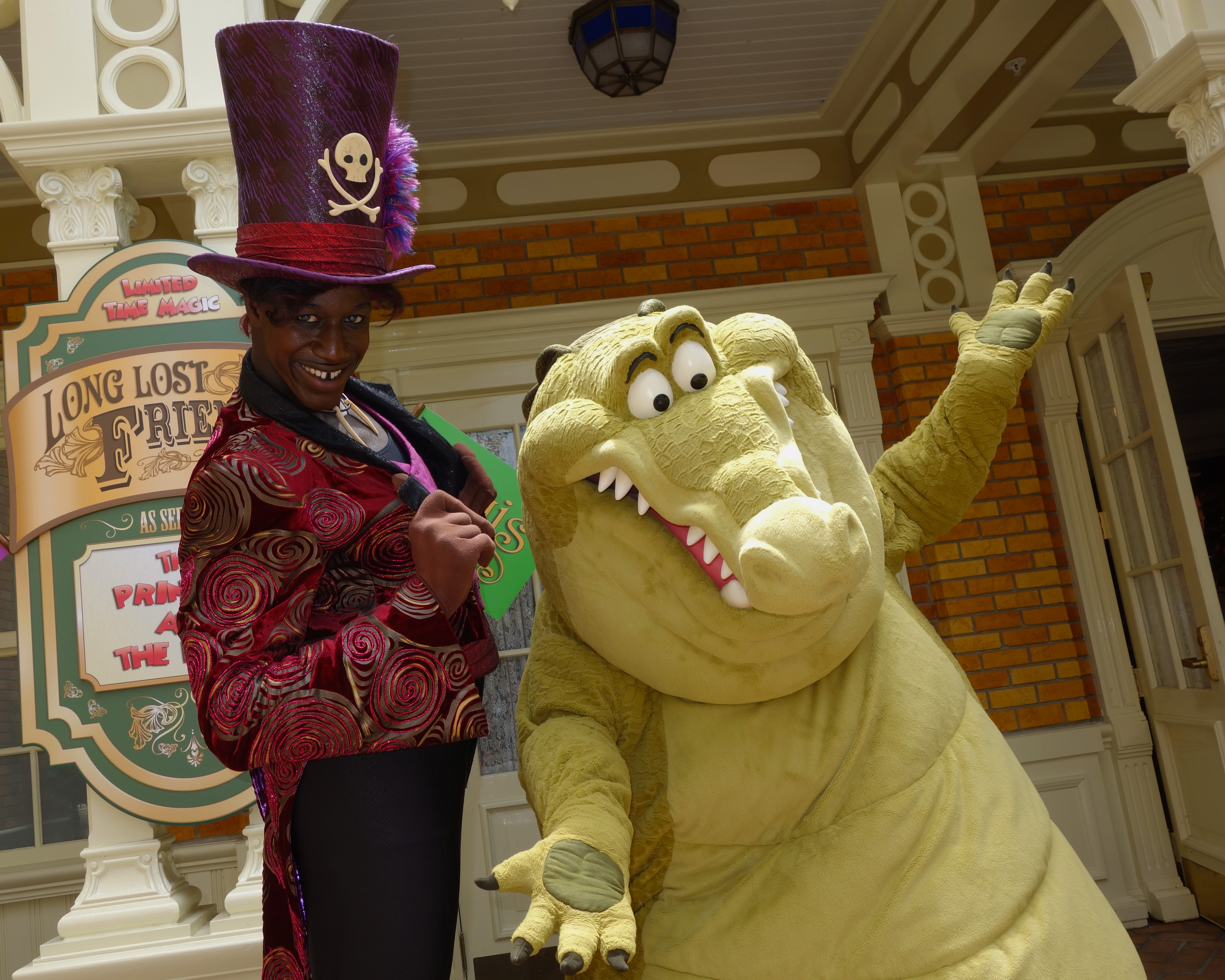 Dr. Facilier was very talkative, which was pretty cool because I thought they were trying to just push people through the lines quickly. CMs were telling people at each meet, "One photo per group." I asked politely each time if I could take a photo of the character, then a photo with the character and they were fine with that. I told Louis that my daughter plays violin and he said she should switch to trumpet. I told him it was the first time I actually got to meet him and I was excited to find him after more than 250 different characters and thousands of meets. He jumped for joy.
I asked Louis how he felt about that alligator hunting show and he put up his dukes, he was ready for a fight and wasn't about to become Jambalaya!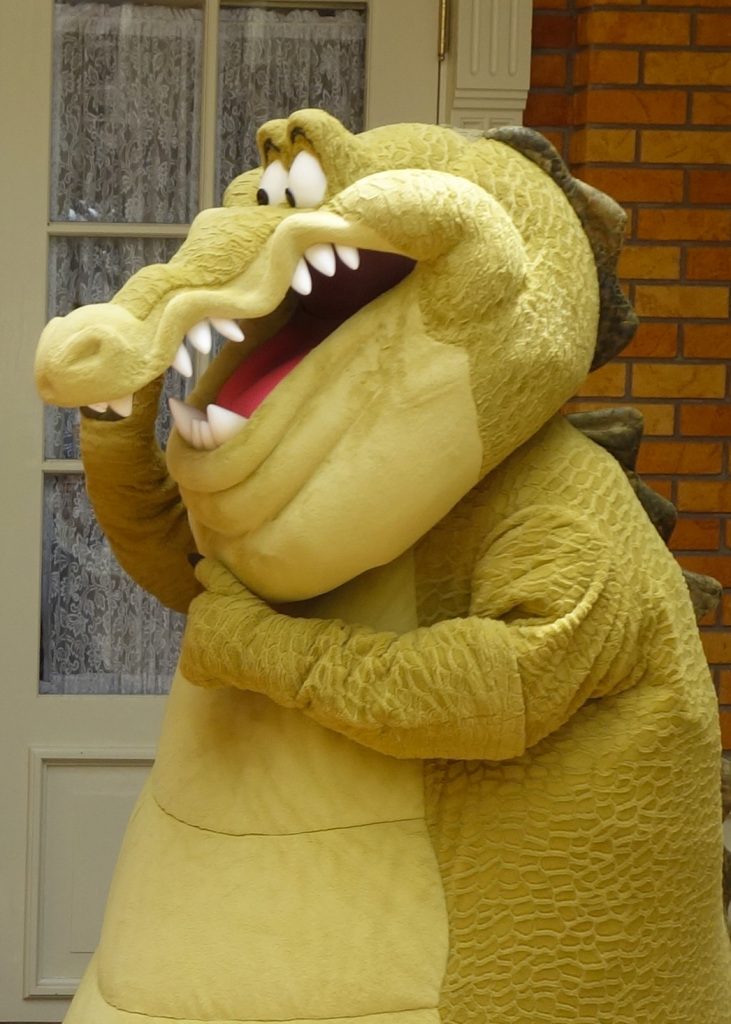 I was going to bring some cards for the pose, but I was pretty tired at 4:00 AM when I left and totally forgot my prop.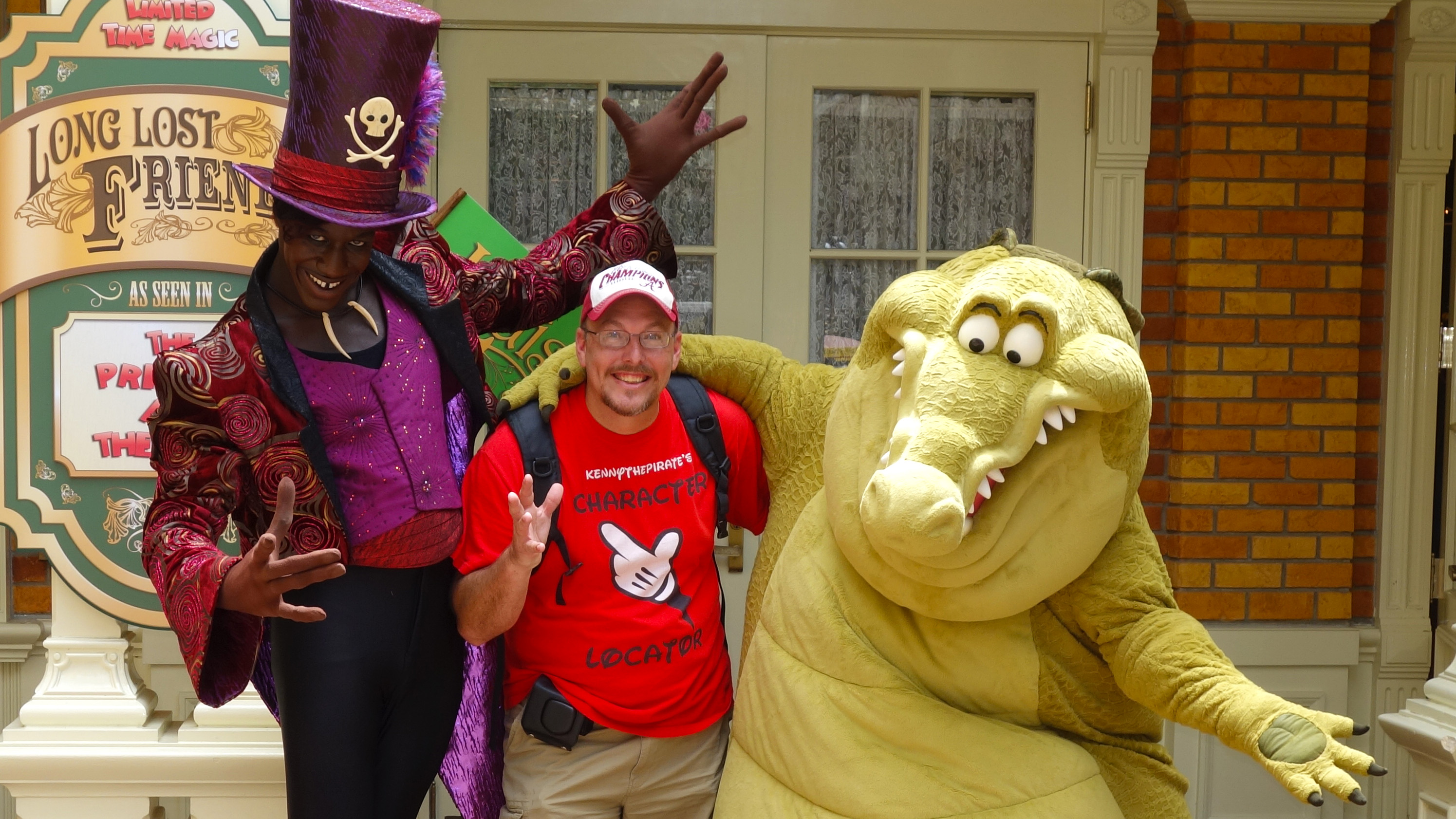 After that meet the Cast Members announced that the characters would return at 1:30 PM. When I got in line for Chicken Little at 1:20, there were 8 people in line and 24 in line for the Robin Hood gang and they hadn't even returned from break. If you've followed the blog long, my catchphrase "See the character, meet the character" is how most tourists operate. As soon as the characters arrived the lines ballooned to being 2 meets deep or 30-45 minutes at the back of the Robin Hood line. The 18 people who follow this little rambling blog know to arrive a little early to avoid crazy lines. (The lines for Daisy/Minnie were 35 minutes, the lines for Goofy/Donald were 25 minutes and the line for Ariel was 40 minutes shortly after this meet and greet for example!)
Abby Mallard is such a unique looking character!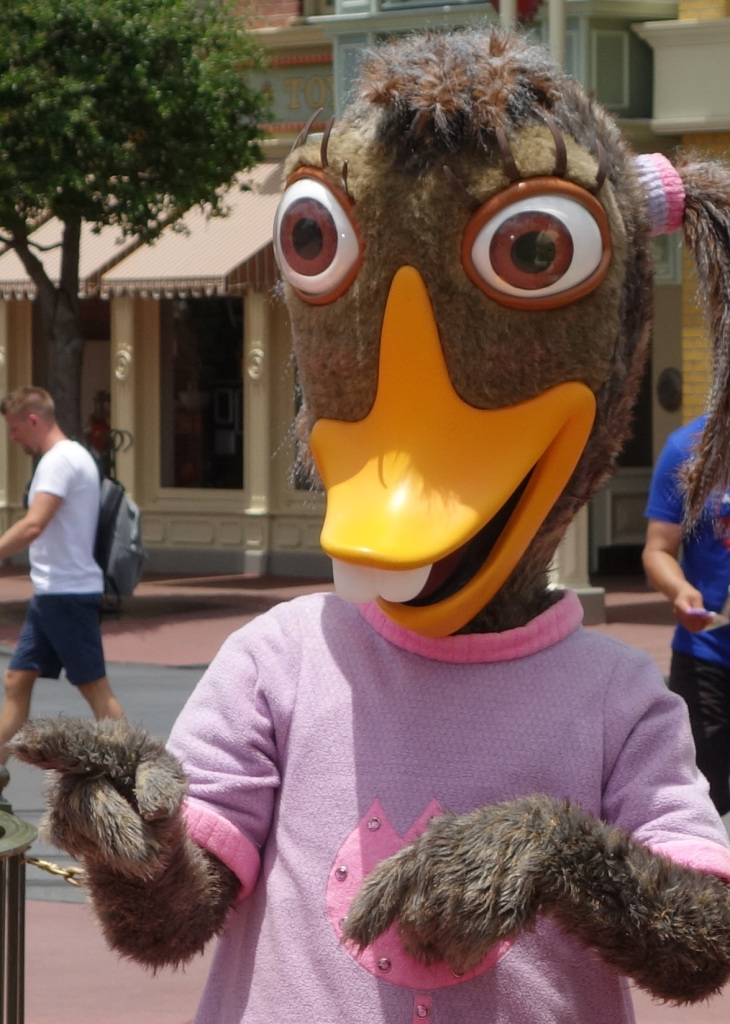 Chicken Little on the other hand is a pretty handsome dude. My mom always said a man looks more intelligent in a nice pair of glasses.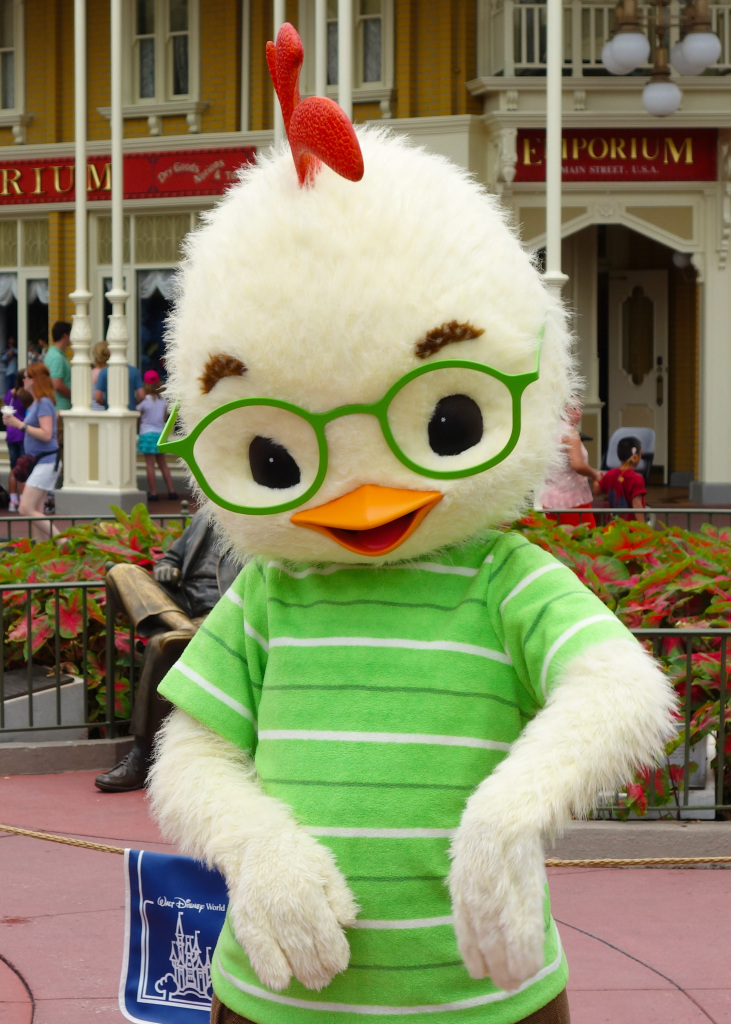 You'll never get this photo of Abby and Chicken Little (Should I call him Chicken or Little?) again. Well, unless they are presented for Long-lost 3.0 or 2.1 or whatever it becomes in the fall.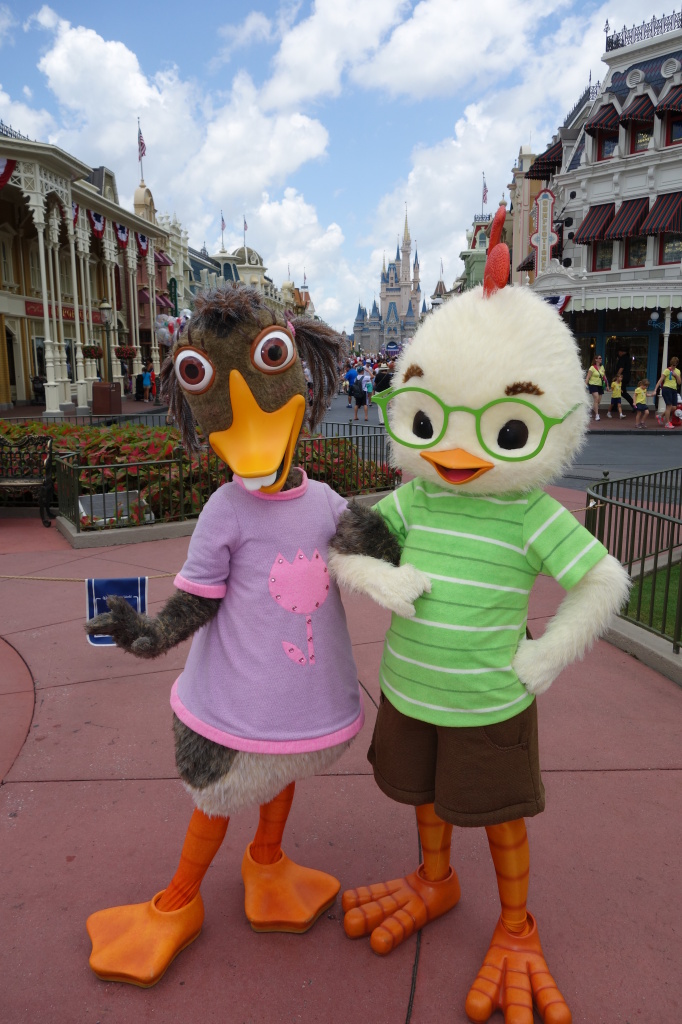 We were trying to pull of the "Sky is falling" approach in the photo, but I think Chicken Little was worried about becoming the next Chicken Nugget meal at the Magic Kingdom.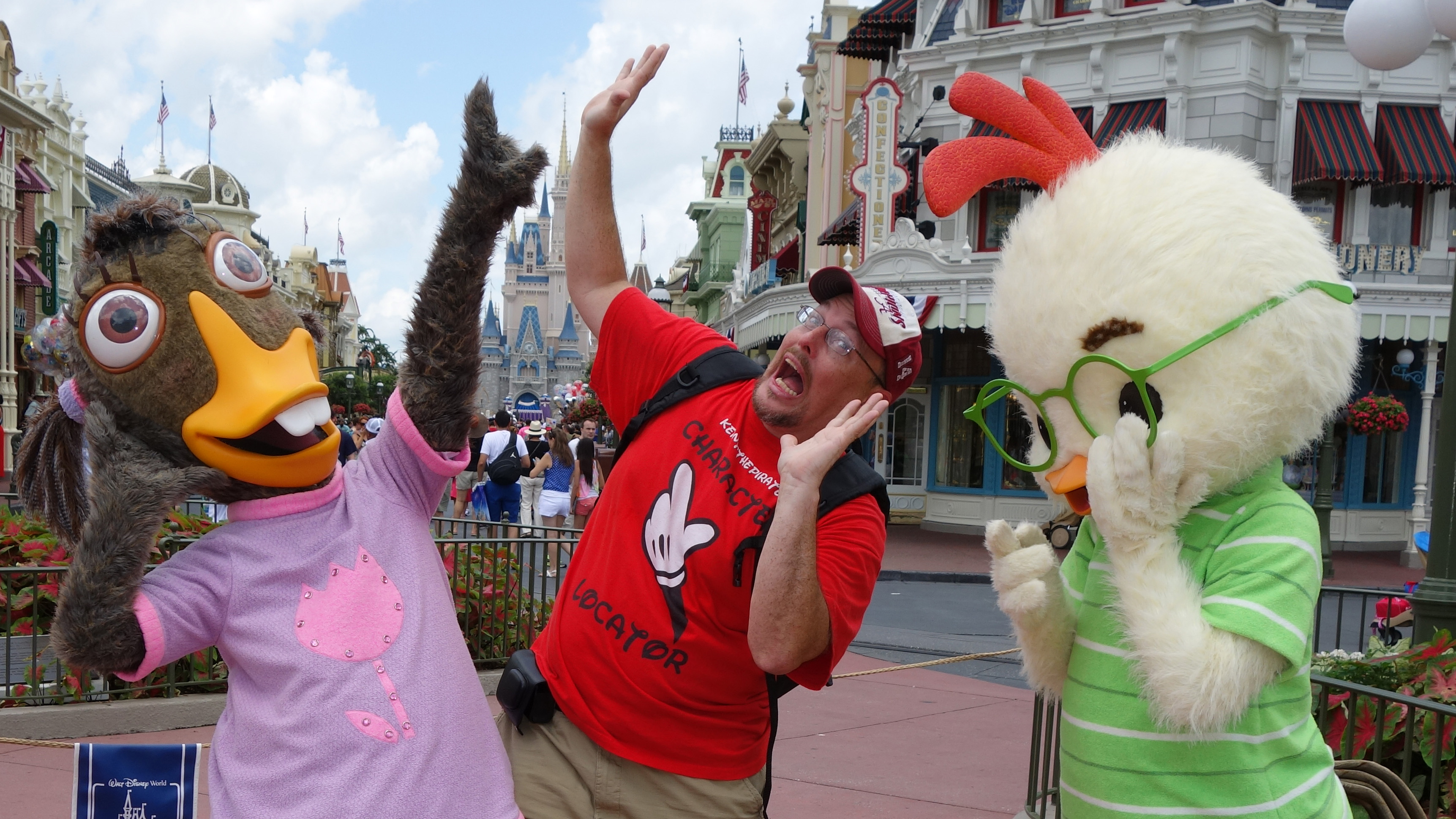 I went to the Brers line and they closed it before I met them, so I waited for the 10 minute break and was among the first in line. I asked for a close up photo and this is what I got! These guys were so hilarious! This was one of the most fun (my some might say funnest) meets I've had.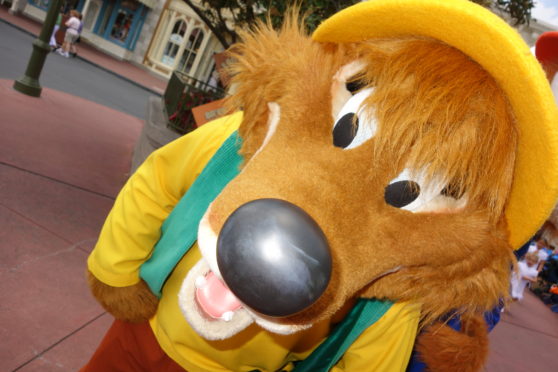 Brer Bear about tackled me and wrestled with Fox. I told them I wanted a group photo and they kept cutting in front of each other. I told Rabbit he was my favorite and the other two pushed me aside.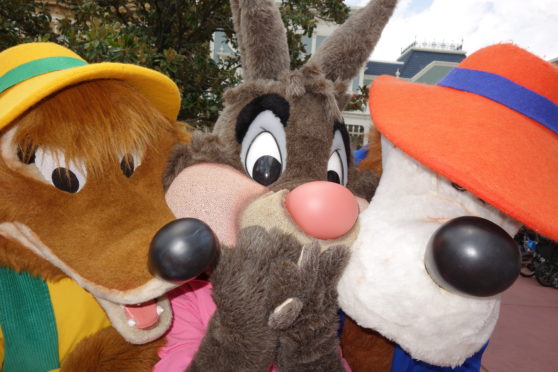 After looking at the photos, I like the previous one even better than this staged one.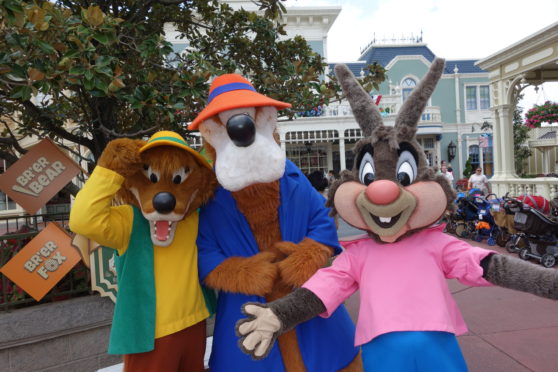 After a discussion of Splash Mountain not being wet enough and who falls into the Brer Patch the most, we took our final photo. These 3 meets were a lot of fun. I hope the tourists who think they show up every day appreciated it as much as I did. If you want to see Robin Hood photos just scroll down on the left hand bar under Walt Disney World Character Photos.