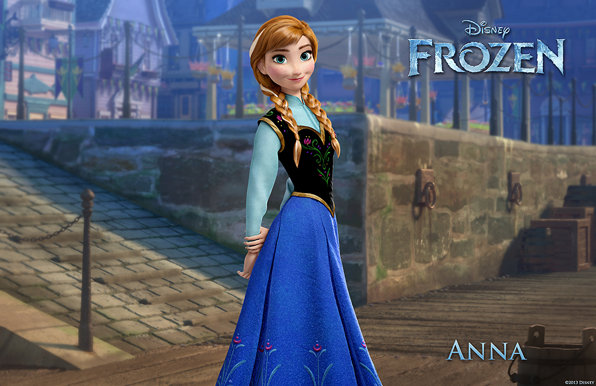 Anna from Frozen to join the Magic Kingdom characters?
(Rumors: There is no guarantee that anything will happen at Walt Disney World until it is officially announced or actually happens and is subject to change at any time without notice.  This information is unofficial and provided for discussion and entertainment)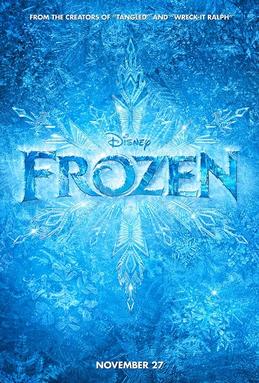 According to the RUMOR  Anna and Elsa from the movie Frozen will join the rotation of Epcot characters as face charactesr.  RUMOR says that she is said to receive a new set that will be designed especially for her in NORWAY in Epcot.  Anna is said to be the daughter of a Duke in the movie (a "Lady"), which is only a slight deviation from the constant Princess repetition that Disney is engrossed in these days.  I would personally like to see more male heroes added to the rotation, but little girl's mommies spends lots of dollars on their mini-princesses.  The move Frozen is set to release November 27th.
About the movie:
Frozen is loosely based onHans Christian Andersen's fairy tale The Snow Queen. The animated film is being directed by the writer from Wreck-it Ralph, Jennifer Lee, in her directing debut.  The movie will feature the voices of Kristen Bell as Anna, Idina Menzel ("Wicked") as Elsa the Snow Queen, and Jonathan Groff as Kristoff, in speaking as well as singing roles. It's said to be a an epic comedy set in a Scandinavian environment.
Anna and Elsa are sisters.  Anna is an ordinary young lady who is said to be "funny, perky, weird in a good way and fearless."  She is an ordinary hero.  Elsa is the older sister who has special powers who chooses to use them to build her own kingdom of snow and ice.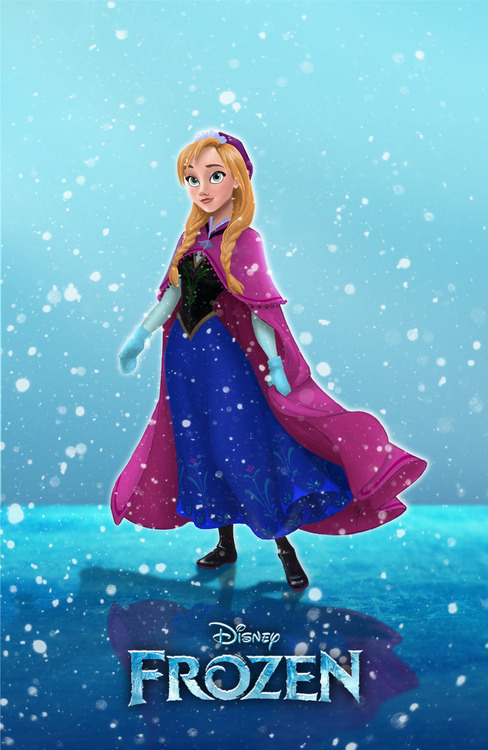 Anna (voice of Kristen Bell)
Anna is more daring than graceful and, at times, can act before she thinks. But she's also the most optimistic and caring person you'll ever meet. She longs to reconnect with her sister, Elsa, as they were close during their childhood. When Elsa accidentally unleashes a magical secret that locks the kingdom of Arendelle in an eternal winter, Anna embarks on a dangerous adventure to make things right. Armed with only her fearlessness, a never-give-up attitude and her faith in others, Anna is determined to save both her kingdom and her family.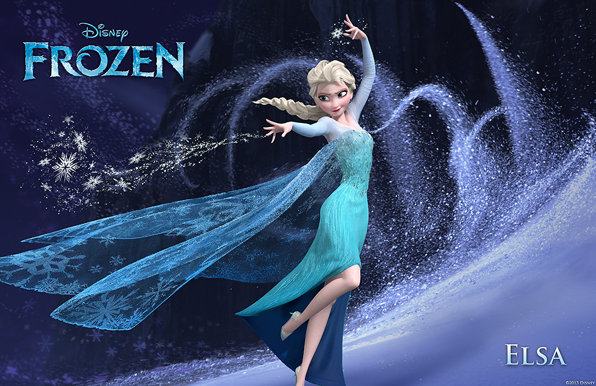 Elsa (voice of Idina Menzel)
From the outside, Elsa looks poised, regal and reserved, but in reality, she lives in fear as she wrestles with a mighty secret—she was born with the power to create ice and snow. It's a beautiful ability, but also extremely dangerous. Haunted by the moment her magic nearly killed her younger sister Anna, Elsa has isolated herself, spending every waking minute trying to suppress her growing powers. Her mounting emotions trigger the magic, accidentally setting off an eternal winter that she can't stop. She fears she's becoming a monster and that no one, not even her sister, can help her.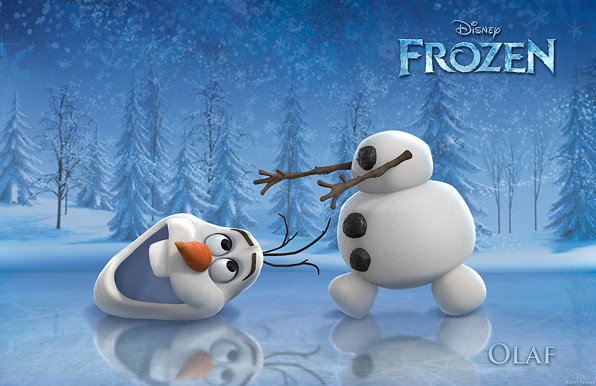 Olaf (voice of Josh Gad)
He's Olaf and he likes warm hugs. Sprung from Elsa's magical powers, Olaf is by far the friendliest snowman to walk the mountains above Arendelle. His innocence, outgoing personality and uncanny ability to disassemble himself at good and not-so-good times lead to some awkward, albeit laughable moments. He may also have the world's most impossible dream, but what he doesn't know won't melt him—or will it?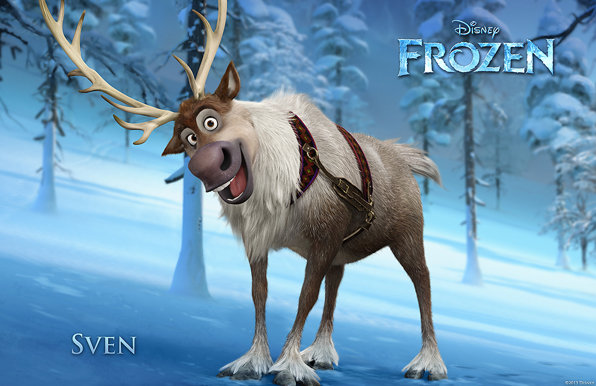 Sven
A reindeer with the heart of a Labrador, Sven is Kristoff's loyal friend, sleigh-puller and conscience. He makes sure his mountain-man companion is the stand-up guy Sven knows and loves, and does so without saying a word. A few emphatic snorts usually get his point across. Life would be perfect if only Kristoff would lose that ridiculous reindeer voice he likes to use when speaking for Sven (as if reindeers really talk that way).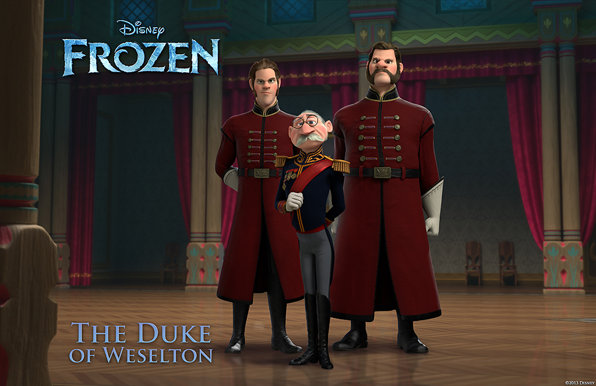 Duke of Weselton (voice of Alan Tudyk)
What the Duke of Weselton lacks in stature, he makes up for in arrogance and showboating. He's determined to get close to the new queen—that is, until Elsa's magical secret is revealed. Then he's the first to call her a monster and try to turn her own kingdom against her—anything that might help him exploit Arendelle's tradeable goods.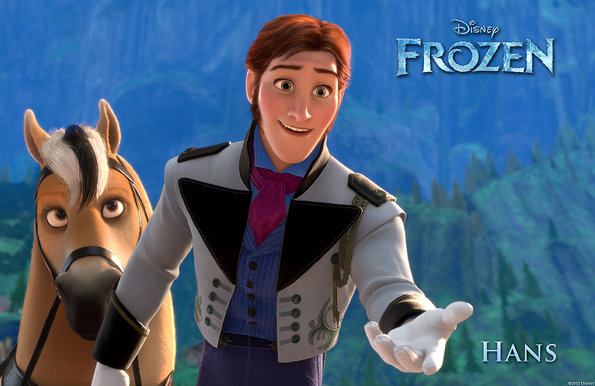 Hans (voice of Santino Fontana)
Hans is a handsome royal from a neighboring kingdom who comes to Arendelle for Elsa's coronation. With 12 older brothers, Hans grew up feeling practically invisible—and Anna can relate. Hans is smart, observant and chivalrous. Unlike Elsa, Hans promises he'll never shut Anna out; he just might be the connection she's been waiting for all these years.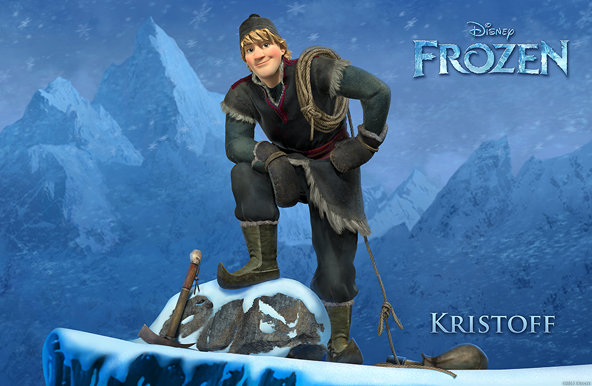 Kristoff (voice of Jonathan Groff)
Kristoff is a true outdoorsman. He lives high up in the mountains where he harvests ice and sells it to the kingdom of Arendelle. Rough around the edges, Kristoff's the strong, no-nonsense type, who follows his own set of rules. He may seem like a loner, but he always has his best friend by his side—a loyal and extremely mangy reindeer named Sven.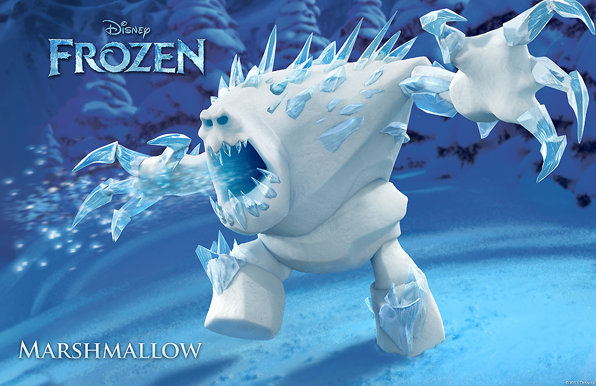 Marshmallow
Marshmallow is an enormous icy snowman born from Elsa's powers. He serves as a brute bodyguard charged with keeping intruders away from her ice palace. The menacing white beast doesn't say much, but he packs a powerful punch.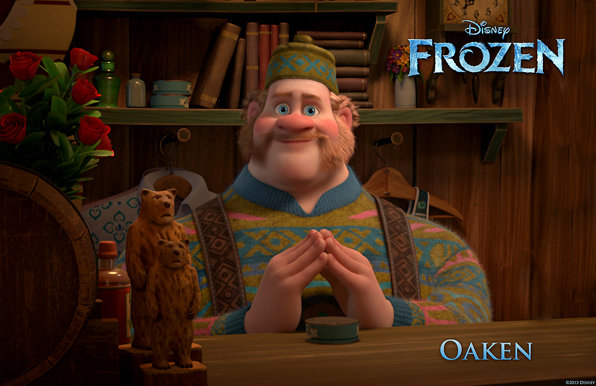 Oaken (voiced by Chris Williams)
Oaken runs Wandering Oaken's Trading Post and Sauna. But since Elsa's massive winter storm hits in mid-July, he finds himself with a surplus of summer supplies. Deal-seekers beware: though he's good-natured and helpful, if you cross him, Oaken won't hesitate to throw you out of his humble establishment.
(Images are copyright Disney and information on characters comes from yahoo movies.)