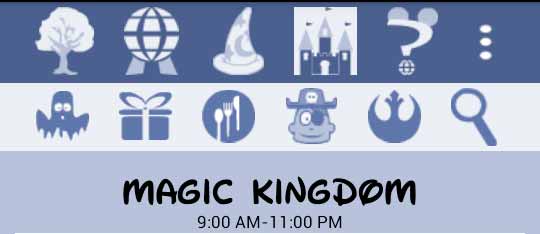 Yesterday I introduced you to the some of the new features for the Characters area of the new Character Locator app that will be released to the Android market on Saturday, May 4th.  (We are also working on a Mobile Site that will help with the iThing, Blackberry, Windows phones and other assorted stuff.  While we work on iThing native app, this should fill the bill for a while.)  I'll write more about the Mobile Site later this week.
Today, let's look at the "Shows."  After choosing Magic Kingdom, you merely click Shows on the bottom bar and you will receive the "At a glance" view of the current shows.  It was 10:23 a.m., so you can see what's available at that time.
The Shows section will also offer the I SAW, Wait, Share and Camera features that I introduced yesterday.  With this app you'll be able to track every attraction you experience on your trip or merely see every accurate schedule at a finger tip's touch.
Show schedules updated every Saturday night when WDW releases them.