By placing the character locations and schedules  on Character Locator, it was my hope to help some people locate their favorite character more easily. Some characters were listed on the Times Guide, but others are left off the Times Guide. This makes some characters more rare and hard to find at Walt Disney World.  The official Disney line was "ask a Cast Member." That can be helpful at times, but other times the hard-working cast members just don't know the answers or haven't worked there long enough to answer guests questions.
At other times the schedules were guarded like State secrets in a black box with handcuffs attached. Recently, one twitter follower said she was given 5 different answers when she asked where Mary Poppins was meeting. I hoped to help people know where to go and when to go there to meet their favorite characters. It was my experience on Ultimate Tours that character meets were always the longest lines, even when the meets were well-planned. Of course, we were trying to do EVERY attraction and EVERY character in the same day which we first accomplished in June, 2011.
Currently, there are about 60 different characters available for regular, scheduled, in-park meets. There another several characters that can be met by paying a fee for a meal or character experience that don't meet regularly. But, what about the "Rare" characters? Where do they meet and how can you find them?
Some characters like Abby Mallard, Angelica, Chicken Little, Iridessa, Kim Possible and Ron Stoppable, Prince Caspian, Rhino, Silvermist and the Power Rangers are just EXTREMELY RARE or impossible to meet in Walt Disney World. But there are other characters who do show up from time to time in set locations, but NO SET SCHEDULES. Well, no set schedules that most of the public will see.
Some characters may only appear once or twice a year like Li Shang (right before Christmas parade) or Shan-Yu in Epcot.  Recently, Eric appeared for several meets in Epcot and in the past Hercules and Megara might pop in once or twice a year.  Other characters who regularly appear in the parks use Epcot to train their attendants and photographers.
One might also see characters training for the Halloween Party in mid-August in Epcot or Animal Kingdom.  A rare, random meet, like seeing Mushu in Epcot might happen from time to time, but the list below are characters that are a bit more difficult to find.  Maybe you'll get lucky and find Governor Ratcliffe in Animal Kingdom or the Brers at the Frontierland Hoedown. With the help of a good friend, I was able to compose this non-exhaustive list of characters who don't make scheduled appearances, but are most likely to appear in a park.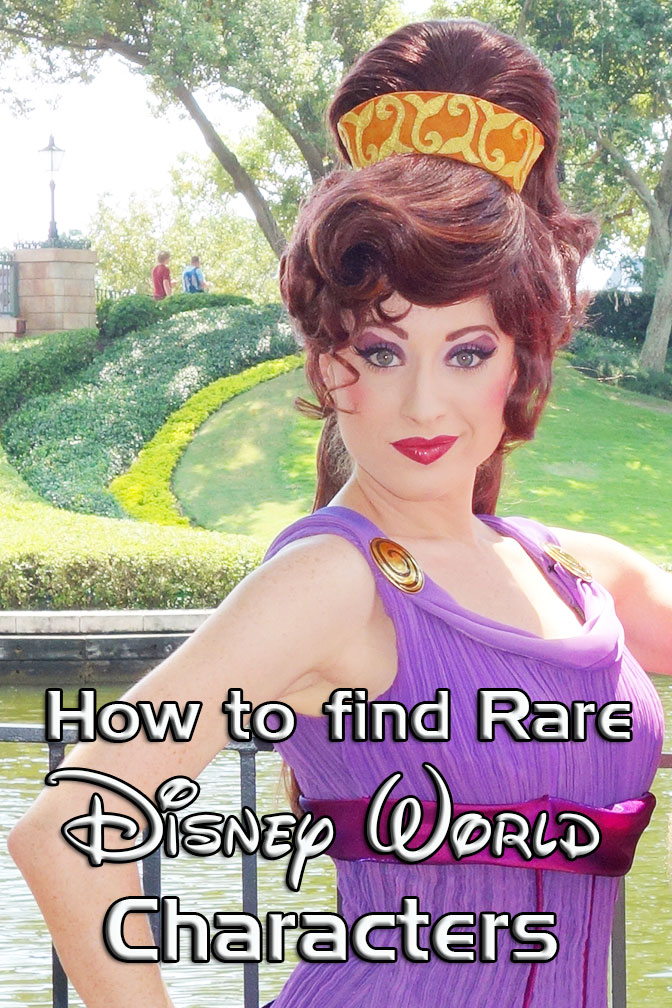 Be sure to check out Character Locator for great character info and schedules!
These characters are considered more difficult to locate in Disney World.
Epcot Training meets may not happen daily, but the regular times are included on Character Locator.
Frontierland Hoedown is a scheduled experience that often allows a brief time of meet and greets it's included with Character Locator subscription.
Character Palooza is a great meet and greet at Hollywood Studios.  Schedules vary, be sure to check Character Locator on your week of travel.
Mickey's Not So Scary Halloween Party and Mickey's Very Merry Christmas Party are ticketed events that any guest can purchase tickets to attend (some dates sell out in advance.)
Updated June 18, 2017
Abu
Beast
Bert
Big Al
Bolt
Brer Bear
Frontierland Hoedown
Animal Kingdom – entrance late afternoons
Brer Fox
Animal Kingdom – entrance late afternoons
Brer Rabbit
Frontierland Hoedown
Animal Kingdom – entrance late afternoons
Captain Hook
Clarabelle Cow
Dopey
Eeyore
Genie
Magic Kingdom – ocassionally appears with Aladdin
George Sanderson
Gepetto
Gideon
Gov. Ratcliffe
Animal Kingdom  – randomly pops up with Pocahontas
Handy Manny
Horace Horsecollar
Continue on page 2!