The Storybook Giggle Gang is a new clown troupe that has recently joined the Circus area of New Fantasyland.  Some of the Giggle Gang are officially trained by the prestigious Ringling Bros and Barnum and Bailey Circus.  They've left that circus and joined Mickey's new one.  After all, Mickey has it all:  a sideshow with various amazing feats, a circus train that will soak your child while you rest, a wild roller coaster and of course a flying elephant!  Why wouldn't you leave Ringling blah blah blah and join MICKEY MOUSE!
We decided to take in this circus act recently and brought you photos and my amazing storytelling ability! (rimshot)  We watched their show on December 22nd at 5:00 pm, which gave a nice afternoon sun. The clowns are really good at um, er, clowning.  I realized after watching these guys carefully that clowning is all about over-exageration.  Crazy faces and crazy poses.  The Giggle Gang does a very good job with that.  The story is that the Giggle Gang secretly wants to play a prank on the band.
The Giggle Gang is comprised of Snort, Charles "Chuckles" Buffoon McMonkeyshine III and Whinny Horselaugh.   Chuckles is the the group leader and loves to call for group discussion.
In order to pull off their desired prank, they need anonymity.  They choose to hide behind some specially designed newspapers.  That should do the trick!
Well, Snort, maybe that disguise won't work?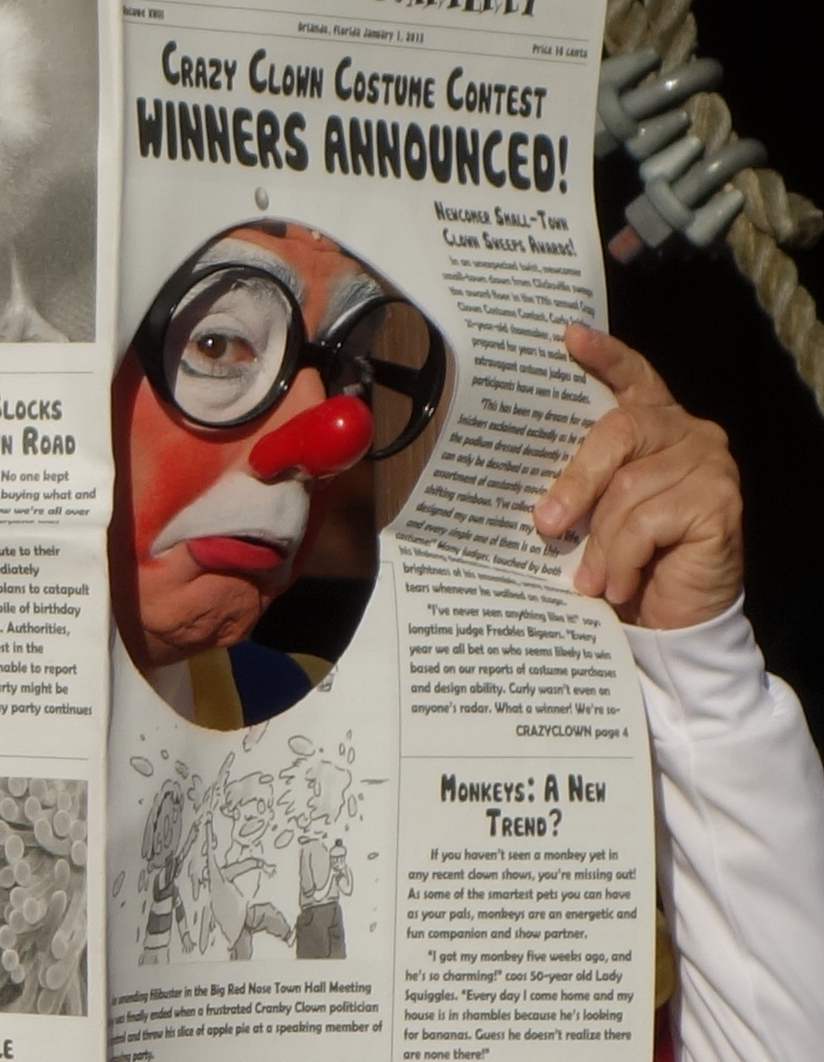 The Silly Saxtet arrives.  The Saxtet is comprised of 3 Saxophone players and a percussionist.  They are dressed as firemen clowns complete with the red nose.  The Saxtet begins playing some upbeat music.
The Giggle Gang are working hard to disguise themselves from the Saxtet.  Well, two of them have pretty good disguises anyway.
While the foursome play some more music the jesters make their way around behind them.  They've decided that the best prank is to jump off the wall and scare them.  Their idea of a jump was pretty funny.  They do succeed at scaring them. (See photo at top)
So the Saxtet wants to get even and uses their woodwinds to give them a scare.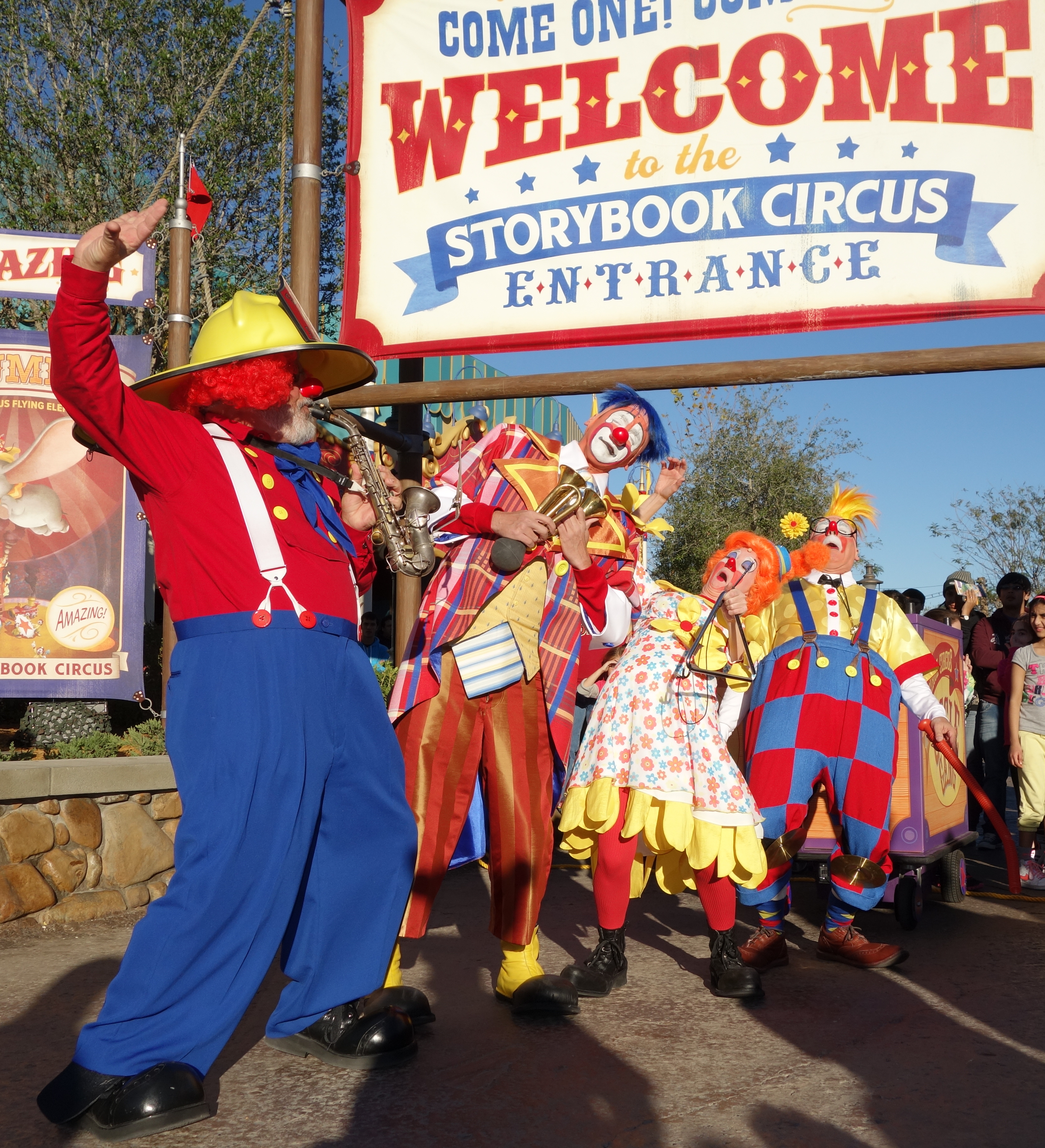 The Giggle Gang challenges the Saxtet to a music competition and the Saxtet appears to be the winner.  I voted for the Giggle Gang, but I think the voting was rigged.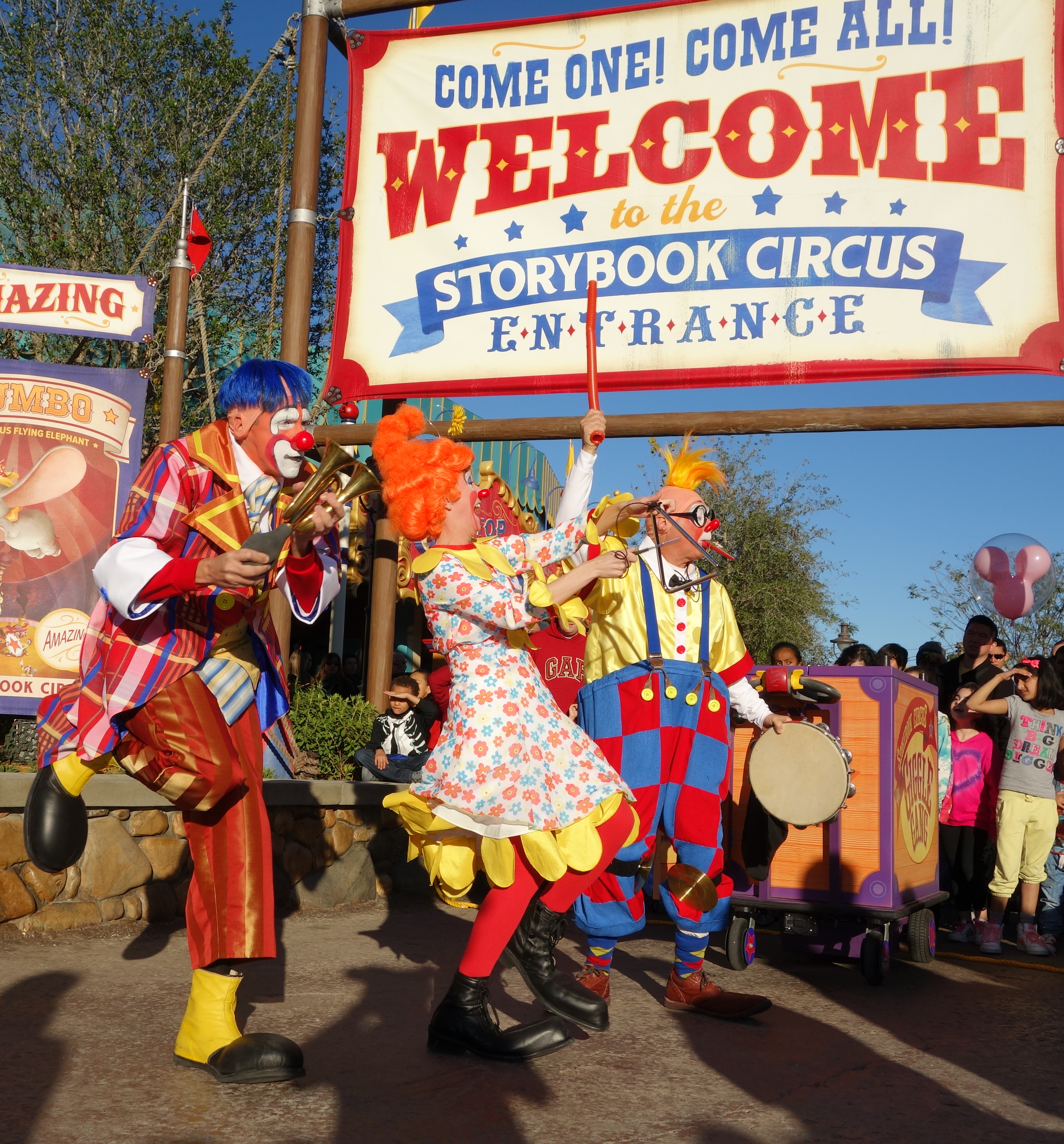 How could you lose with talent like Snort has to offer?  Tambourine, plastic noisy thing AND a kazoo!  That's the instrument of champions, like yours truly.  He's a man after my own musical instrumentation.
The Saxtet likes Whinny's skills with the triangle.  I can't say that I blame them, she had to play an instrument with 3 sides and a metal stick.  There's a lot going on there.  Well, it guess it was a bit too difficult for her, she had to enlist a nearby child to assist her with the metal stick part.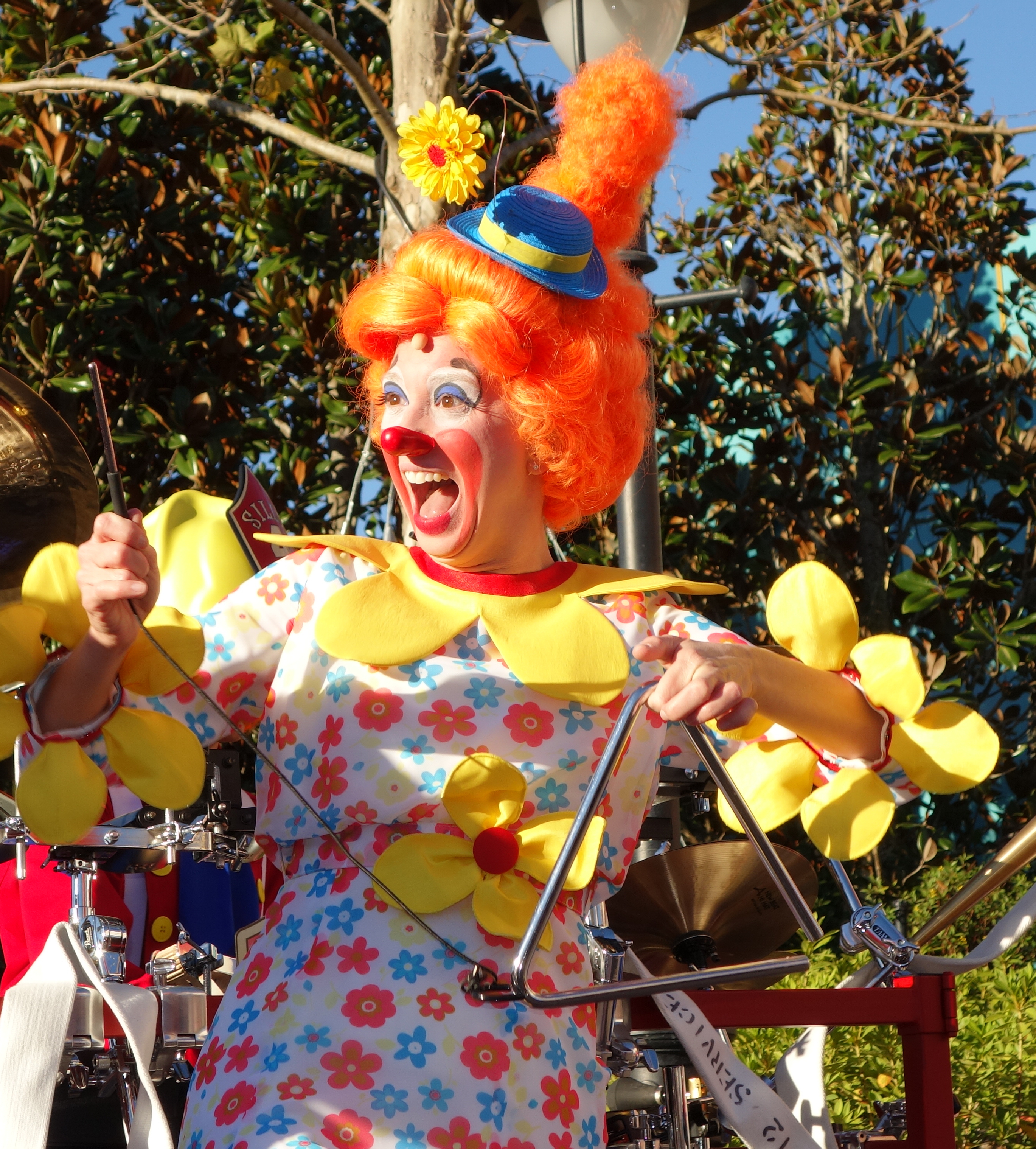 Whinny was excited to join the band, but Chuckles didn't seem very happy about the decision to take her over him.  There's nothing worse than a sad clown!
Chuckles switches from the squeeze horn, which seems to be the obvious choice of quality music, to the maracas to accompany the Spanish style music.   Chuckles then celebrated being chosen for the Saxtet while Snort is sent into despair after not being allowed to play the trash can lids.  Hey, they play those things all the time in Epcot!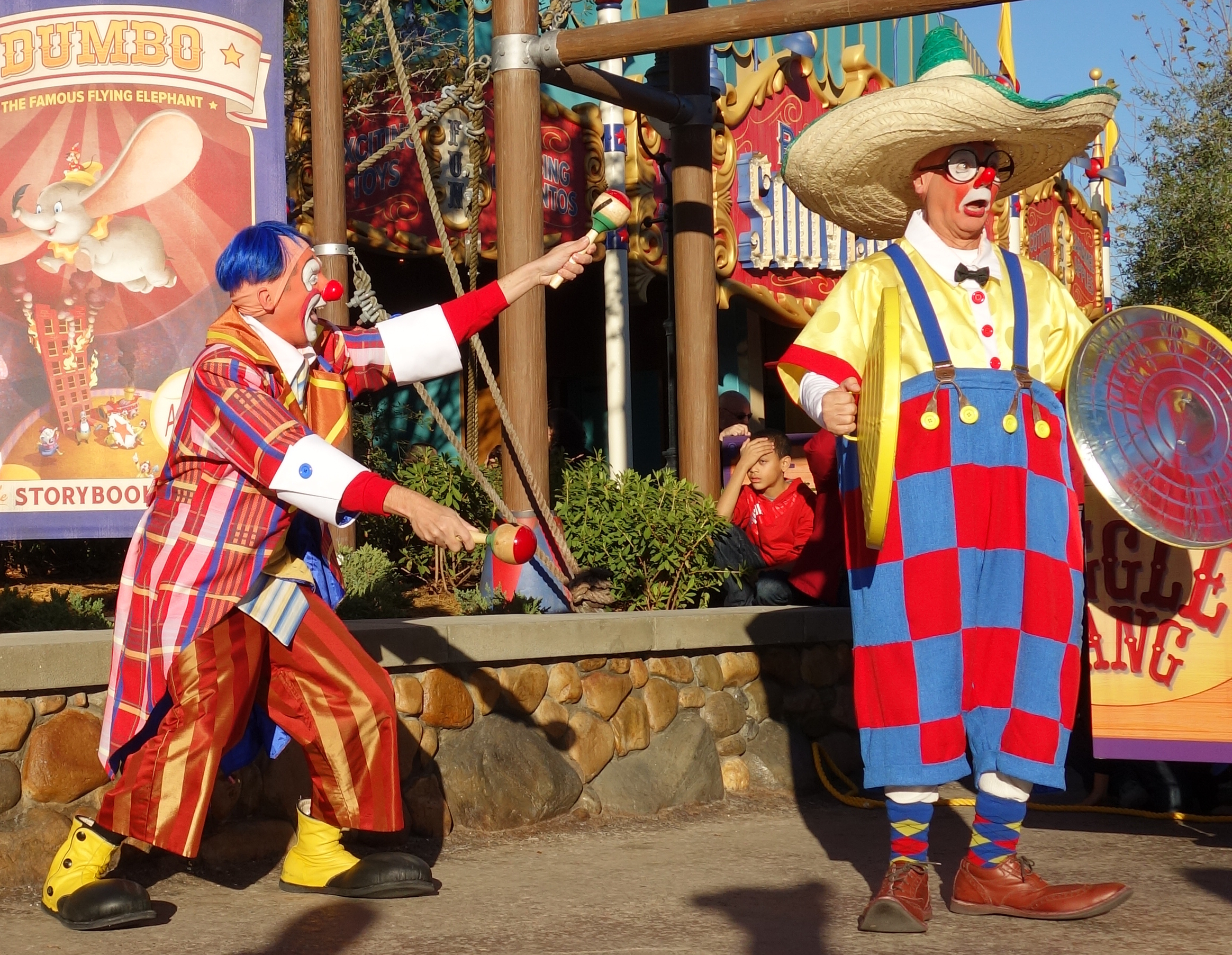 Snort makes one last musical attempt at joining his two clown friends in the band.  This elaborately designed, multi-purpose instrument has to do the trick.  If not he can always go for a swim.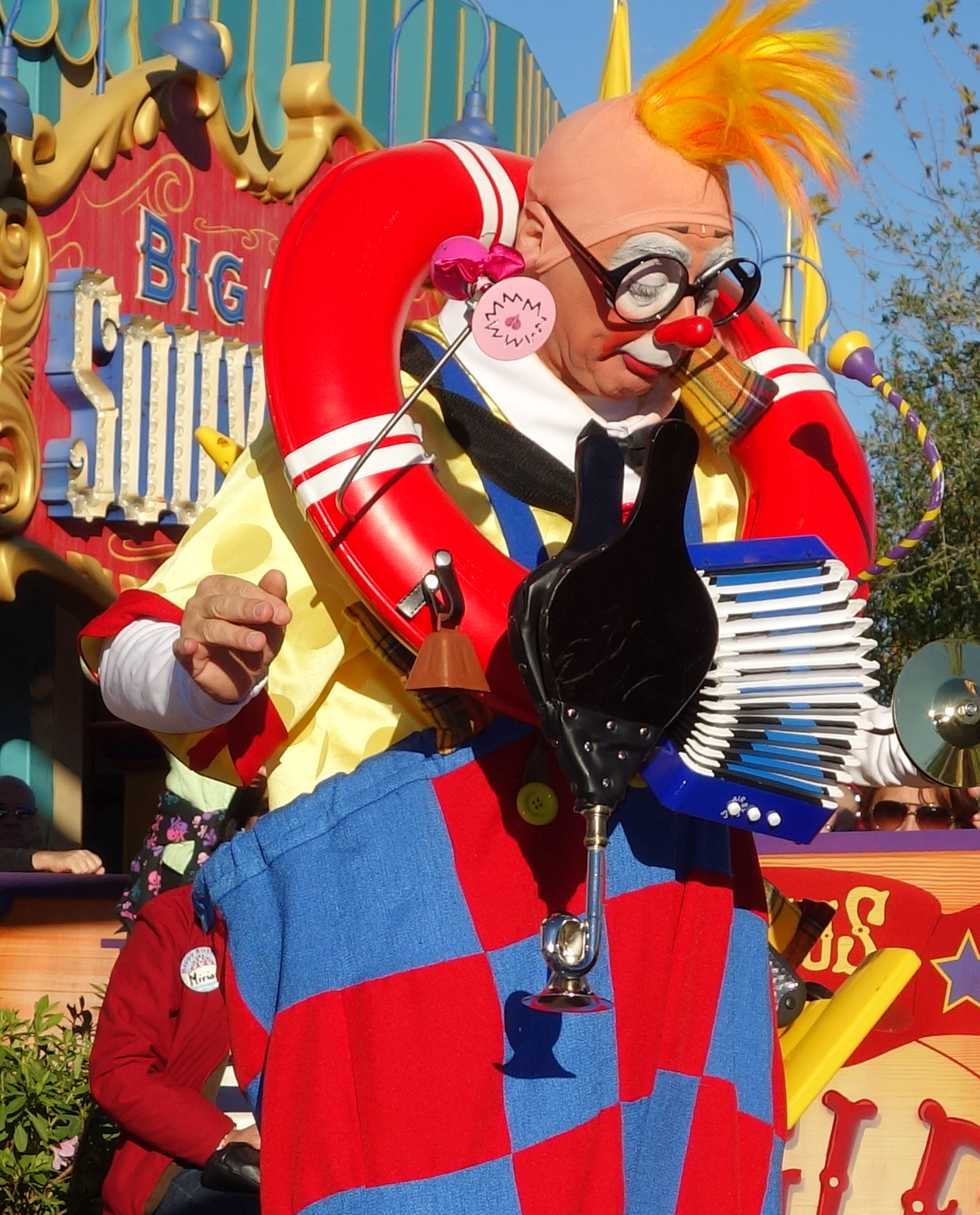 Snort, unfortunately, wasn't chosen to join the band.  Don't crush the dreams of a clown man!  Don't you guys know what clowns are capable of?  He could easily sneak up behind you and throw "water" on you with his bucket, squirt you square in the face with a flower or bring his entire family in the family Yugo.
Their rejection causes him to cry out "I want my mom!" which launches the band into the classic Muppet song "Mahna, mahna."  The song leads to his acceptance into the group that I guess would now be called a Septet.  They all live happily ever after or until the next show in 30 minutes.
The show takes about 13 minutes and was very well received by the crowd.
The Clown Quarterly – Orlando, FL January 1, 2013  Price 10 Cents (But the photos were taken on December 22, 2012)
Headlines:
Crazy clown costume contest winners announced.  Newcomer small-town clown sweeps awards.
In an unexpected twist newcomer small-town clown from Clicksville sweeps the award floor in the 77th annual Crazy Clown Costume Contest.  Curly Snickers 21-year-old shoemaker saved up and prepared for years to make the most extravagant costumes Judges and participants have seen in decades.
"This has been my dream for ages Snickers exclaimed excitedly as he took the podium dressed decadently in what can only be described as an unruly assortment of consistently moving and shifting rainbows.  "I've collected and designed my own rainbows my entire life and every single one of the is on this costume!"  Many Judges touched by both his lifelong dedication and the sheer brightness of his ensemble, were moved to tears whenever he walked on stage.
"I've never seen anything like it!" says long-time Judge Freckles Bigears.  "Every year we all bet on who seems likely to win based on our reports of costume purchases and design ability. Curly wasn't even on anyone's radar.  What a winner! We're so-  CRAZYCLOWN page 4.
Town Hall meeting turns into huge food fight.  
An unending filibuster in the Big Nose Town Hall meeting today was finally ended when a frustrated Cranky Clown politician lost control and threw his slice of apple pie at a speaking member of the opposing party.
Several clowns, bored at the standstill, immediately took the opportunity to stand up and throw at anyone that was nearby.  Within five minutes, clowns were picking up all nearby ed- FOODFIGHT page 3.
Monkeys: a new trend?
If you haven't seen a monkey yet in any recent clown shows, you're missing out!  As some of the smartest pets you can have as your pals, monkeys are an energetic and fun companion and show partner.
"I got my monkey five weeks ago and he's so charming!" coos 50 year old Lady Squiggles.  "Every day I come home and my house is in a shambles because he's looking for bananas. Guess he doesn't realize there are none there!"
In addition to pets, monkeys are also valuable assets in any show.  Along with being able to fit into an assortment of C- MONKEYS page 11.
Study claims yellow most preferred clown color.  
A study conducted by graduate students at Clown University produces results that claims yellow to be the most preferred color among clowns.
As one of the hottest and most disputed topics in clown academia today, researchers all over clown society have been trying to prove what the most preferred clown colors are for years.  The controversy has sparked loyal supporters of one color over another, and has even caused fan clubs to arise with adamant supporters unwilling to compromise or cede their opinions.
The students of Clown University have gathered data and developed algorithms mapping the statistics for years and claim that there are no  holes in their quantitative analysis.  The research papers are being critically analyzed today.
Giant surprise party blocks traffic on Country Clown Rd.  Clown Lost and Found.
Drivers on Country Clown Road were in for a big surprise yesterday as a pileup of confetti, balloons, inflatable animals, and a wide variety of other products overflowed completely out of the house of Petunia Poppers at 3pm yesterday afternoon.
"I don't even know what happened!" Poppers exclaims for the brief 20 seconds when she emerged from the celebrations.  "It's my 30th birthday and my friends wanted to surprise me with a party.  No one kept track of who was buying what and next thing we know we're all over the streets and everyone was joining us!"
Civilians on route to their destinations immediately abandoned their plans to catapult into the jumbled pile of birthday discombobulation.  Authorities, also voluntarily lost in the cacophony, are unable to report back when the party might be over.  The birthday party continues to expand today.
Clown lost and found
Item:  Red clown nose with glitter.  Location discovered:  Circus palooza
Item:  Large wig made out of large and small slinkies.  Location discovered:  Circus Palooza
Item:  Pet rabbit wearing blue cape and yellow boots.  Location discovered:  Clown Market Central Store
Item:  Yellow daisy that squirts water with spiral green stem.  Location discovered:  Clown Market Central Store
Item:  Blue overalls with sequins.  Location discovered:  Circus Camp
If items belong to you, visit Lost and Found at Clown Lake Crescent.
Clownfish for sale.
Clownfish found abandoned in roadside fish bowl looking for a home.  Well-trained and always clowning, this clownfish is the perfect addition to your loveable assortment of pets.
If interested in adopting, please call 1-800-pet-home  (KtP NOTE:  It's actually a relief from credit card debt number, so don't bother calling)