Disney's trains are loved by so many, but what makes them special? Take a look at why they're so popular around the globe.
History of Trains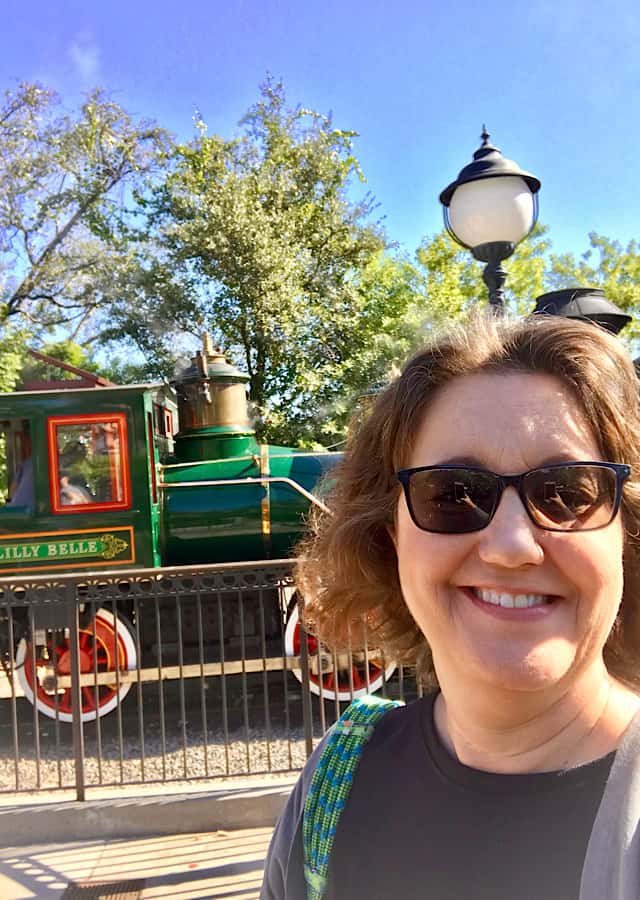 The history of modern train industry started with steam engines. These magnificent railroads made it possible to transport goods and people quickly and cheaply. Then, this sparked the new age in the life of industrial revolution initiating a global economy.
Over the years steam trains changed significantly. Passenger sections became popular and took passengers on short and cross country trips changing the course of history.
Today, steam locomotives are mostly used in museums as windows to the past. However, a there are a few working models used as tourist attractions, including Disney Parks around the world. These steam engines railroads run on coal like historical trains did.
Walt Disney's Love for Trains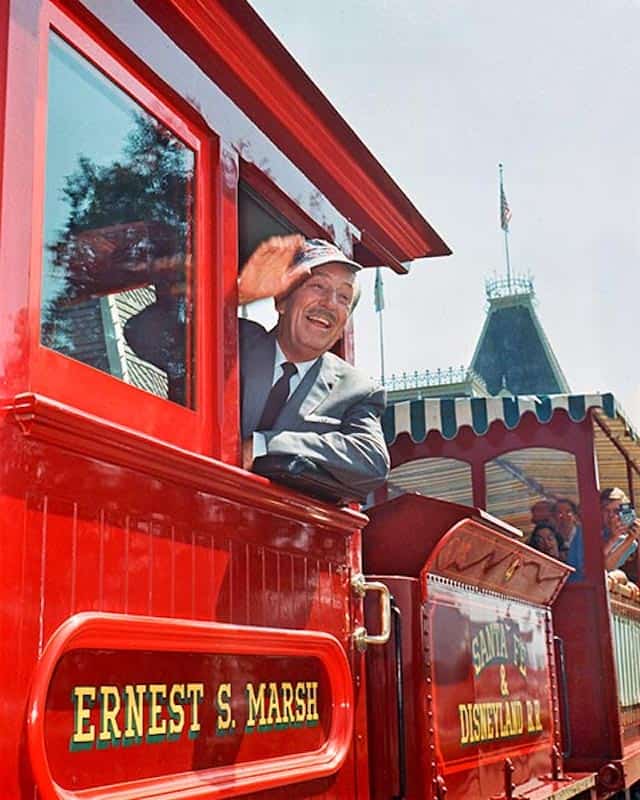 A noted train enthusiast, Walt Disney built his very first railroad in his backyard. The Carolwood Pacific Railroad, a 1/8-scale train, debuted in 1950 featuring a custom-built, steam powered locomotive.
Delighted with his miniature backyard railroad, Walt decided to share his love of trains with the whole world. Today, railroads exist at every Disney Park around the globe.
"I suppose I've always been in love with trains," Walt wrote in the October 1965 issue of Railroad Magazine. He traced his rail fascination to his youth, "As a small boy living on a farm near Marceline, Mo. … at a time when railroads loomed large in the scheme of things and steam engines were formidable and exciting." 
Walt Disney loves trains and shared his love of trains with guests around the world.
Hong Kong Disneyland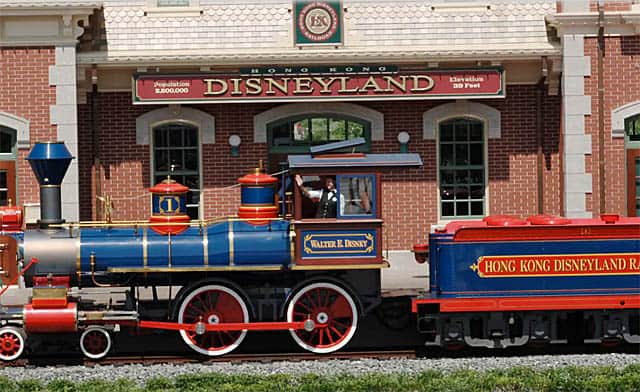 Guests depart from turn-of-the-century America onboard a vintage locomotive for a scenic tour of Hong Kong Disneyland Park. In addition, the Hong Kong Disneyland Railroad is also a great way to get around quickly and easily. Because the trains are scheduled to arrive at each station every 5 to 15 minutes throughout the day, you never have to worry about waiting to ride one.
The Disneyland Railroad includes 3 different locomotives. These engines are modeled after the original steam engines of America in the late 1800s. These locomotives are: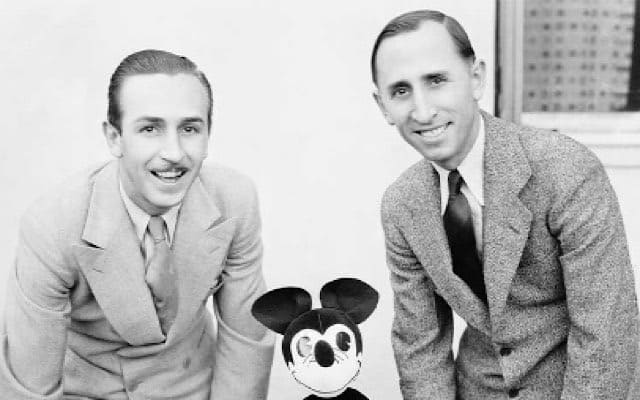 Walter E. Disney, named after Walt Disney
Roy O. Disney, named after Walt's brother
Frank G. Wells, named after the president and chief operating officer of The Walt Disney Company from 1984-1994
Each locomotive pulls 5 passenger cars. Not only that, but each coach includes benches that face the park giving guests a spectacular view of Adventureland, Fantasyland, Tomorrowland and Main Street, U.S.A. The 2 trains include the "Walt" train and the "Disney" train.
Disneyland Paris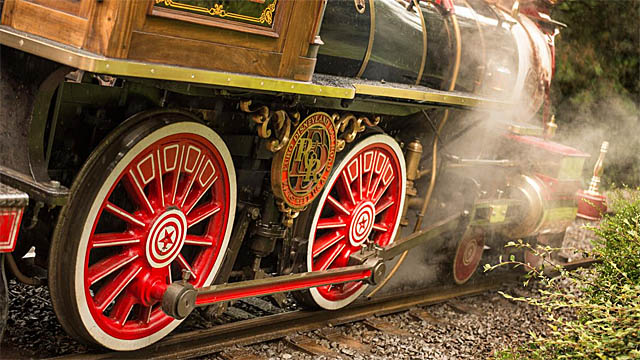 Departing from Main Street Station and Frontierland Depot, guests take a gentle ride around Disneyland Park. This gleaming steam train is ideal for seeing the sights and attractions of Disneyland Park, such as the Grand Canyon Diorama, Indiana Jones and the Temple of Peril and Pirates of the Caribbean. All passengers unload at Main Street Station!
At Disneyland Paris, look for 4 meticulously restored, working narrow-gauge trains. Each includes 5 passenger cars named after American legends.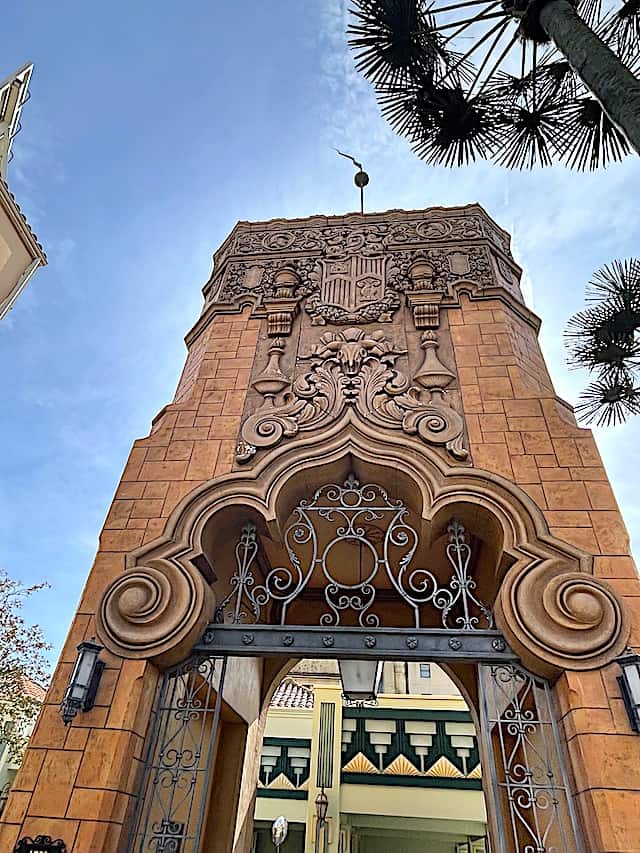 W.F. Cody – Buffalo Bill's real name Cars are named after Western cities: Silverton, Durango, Denver, Wichita and Cheyenne.
C.K. Holliday – The man who built the Santa Fe railway commonly seen as a vacation train. Look for car names from popular resorts: Coney Island, Atlantic City, Chesapeake, Long Island and Niagara Falls.
G. Washington – The first President of the United States. The train's colours are blue, white and red. The cars are named after places famously associated with Washington: Mt. Vernon, Boston, Philadelphia, Yorktown and Valley Forge.
Eureka – The word Californian miners yelled when they discovered gold during the gold rush. The cars are named after Californian cities: San Francisco, Los Angeles, Monterey, San Diego and Sacramento.
Magic Kingdom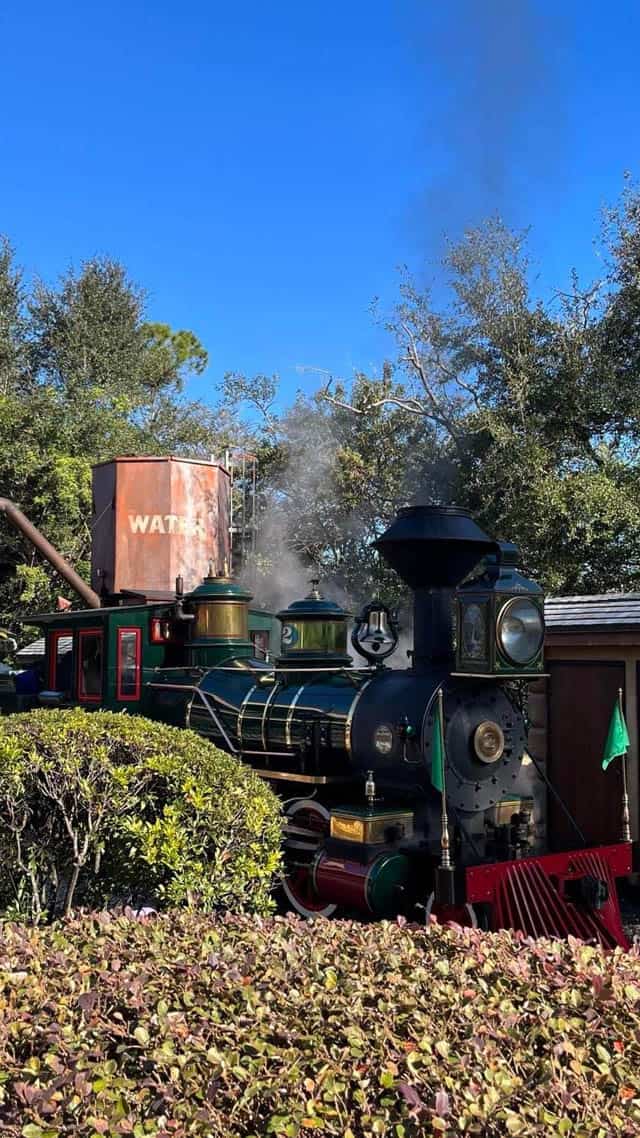 As an extension for Walt's love for trains, the railroad was also added to Disney World's Magic Kingdom. Guests listen to the clamor of the engine, the chug of the wheels and the call of the whistle as they travel aboard the Walt Disney World Railroad.
Here, guests enjoyed a relaxing 20-minute, 1.5-mile scenic round-trip tour. On your trip around Magic Kingdom, you'll also get a one-of-a-kind view of various attractions and even go through a few of them, including TRON.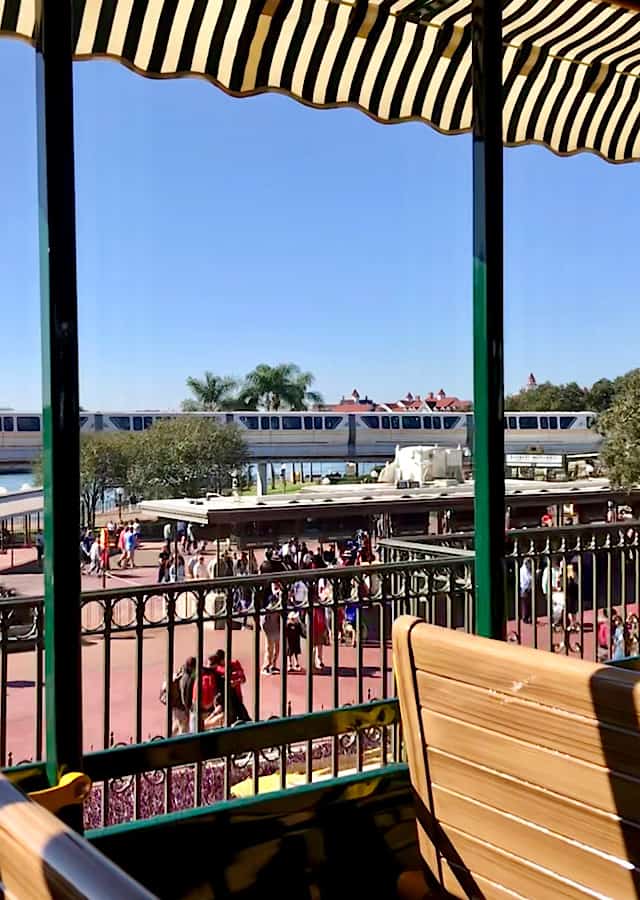 In addition, there are 4 restored, vintage narrow-gauge steam trains, originally built between 1916 and 1928 at Disney World.
Here, guests board or disembark at any of 3 stations:
Near the entrance to the park on Main Street, U.S.A.
The Frontierland station
The Fantasyland station
Legendary Rails at Disneyland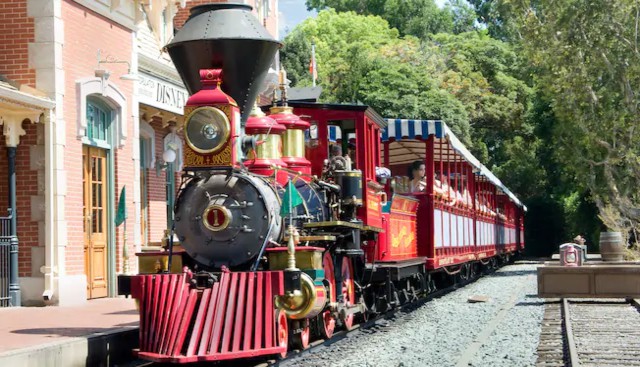 Then, at Disneyland, you can steam along the banks of the Rivers of America and behold rugged landscapes inspired by 4 of America's majestic rivers: the Mississippi, the Columbia, the Missouri and the Rio Grande. Each are carefully recreated, complete with indigenous rock formations, wildlife and picturesque waterfalls.
Between the Tomorrowland and Main Street, U.S.A. stations, a special treat awaits! See Walt Disney's legendary dioramas of the Grand Canyon and Primeval World – Land of the Dinosaurs, where you'll encounter a thrilling prehistoric land of towering Audio-Animatronics dinosaurs come to life.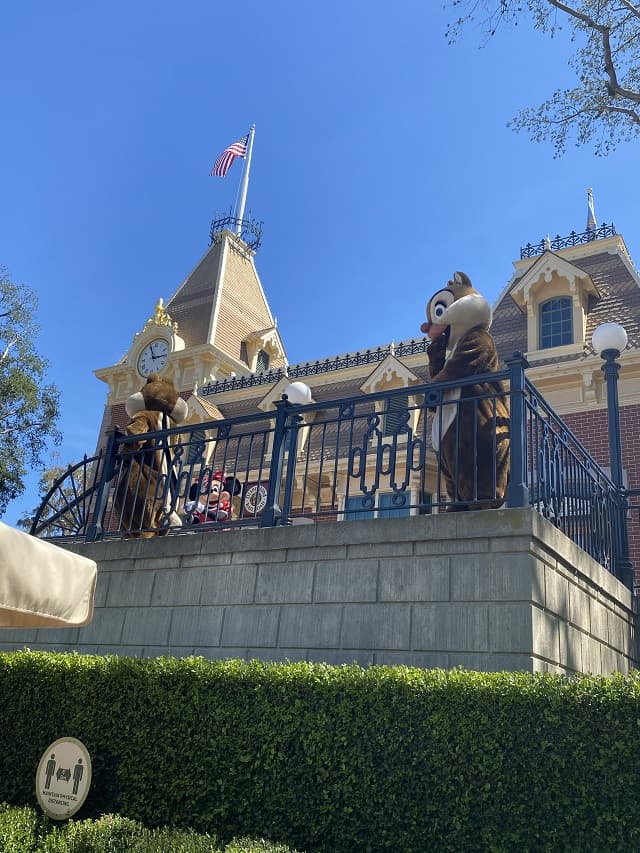 The Disneyland Railroad is a handy way to get around the park. Trains are scheduled to arrive every 5 to 10 minutes at most times throughout the day and travel clockwise around the park.
Hop on or off at one of 4 convenient stations:
Main Street, U.S.A.
New Orleans Square
Mickey's Toontown
Tomorrowland
The 5 meticulously restored, working narrow-gauge engines were named after American locomotive legends. The lone exception is the Ward Kimball, named after the Disney Animator who originally inspired Walt Disney's passion for the railway.
The engines are:
C.K. Holliday
E.P. Ripley
Ernest Marsh
Fred Gurley
Ward Kimball
Tokyo Disneyland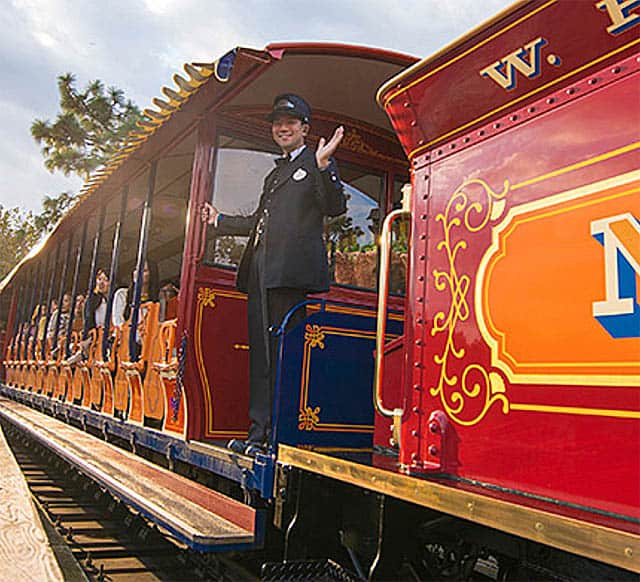 Tokyo Disneyland park has a train that goes around the outside borders of the entire park. However, in Japan, there is a law saying that if a train has more than 1 stop, then it must be a paid ride.
To avoid this, Tokyo Disneyland only has one stop and runs the entire course of the park, making it an attraction instead of transporting guests to another part of the park.
Tokyo Disneyland train is an attraction rather than a way of transporting guests.
Climb aboard an authentic steam train for a round trip through Adventureland, Critter Country, and Westernland. You'll go on a journey that takes you through a tropical jungle and on to the American Old West.
Are you excited that the trains have finally reopened? Will you ride them on your next visit? Please share your thoughts in the comments below and share this post with a friend who loves trains.

Source: trainhistory.net