LATEST VIDEOS
Subscribe to my Youtube!
Just Mousing Around - LIVE
LIVE - Just Mousing Around
LIVE - Just Mousing Around Tonight!
We all have different personalities, and that's great! If everyone was the same, the world would be a very bland place to live. Thankfully, there are lots of unique people in this world and just as we all have different personalities, so does Cinderella Castle! Check out our list and see which one of these castle styles matches your personality.
You might be thinking: "ok, how can a castle have a personality?", but stay with me here. Since 1971 when the Magic Kingdom first opened, Cinderella Castle has gone through many different changes. Some good and some well…I'm looking at you Pepto Bismol castle.
Each transformation takes on its own personality and we love them all! Which version of Cinderella Castle fits your style and personality?
Dream Lights
Do you love to get all dressed up in your fanciest bling for a night on the town? You might be most like the Cinderella Castle Dream Lights! This is where I (Christina) belong for sure.
I love getting all dressed up in fancy attire. Fashion has always been my passion, but even more than that is SPARKLE! My mom taught me from a young age "if it doesn't sparkle, don't buy it". Don't worry, I am not walking down the street looking like Elton John in concert, but a little bling just gives you a feeling of classiness and that you can take on the world.
Beauty takes time and Cinderella Castle knows it because it takes six weeks and hundreds of hours of manpower to dress the castle up in all her glitzy glamour. The castle uses over 200,000 LED lights attached to 40,000 square feet of fishing line that is dyed to match the specific colors of the castle.
If Faith, Trust and Pixie Dust are the words you live by, then your castle personality is definitely the Dream Lights!
Original Castle
Are you the kind of person who is a timeless classic? Do you pride yourself on originality? You may be the OG Cinderella Castle! While Cinderella Castle had several transformations over the years, she always returned to her original self. For many years, the paint scheme remained mainly the same gray/beige with blue turrets until it was changed in 2020.
Cinderella Castle took over 18 months to complete and stands 189 feet tall. The reason it is only 189 feet is because at the time it was constructed, any structure over 190 feet required a flashing red aviation light on top. Today, that height limit is now 200 feet, which is why Everest stands at 199.5 feet and Tower of Terror at 199.0 feet.
To make the castle appear taller without going over the height limit, Disney used force perspective technique. Making the upper levels of the castle smaller in scale tricks your brain to believe the that structure is in fact much taller than it actually is.
The Castle is also home to the Cinderella Suite. The castle suite is somewhere nearly all Disney guests fantasize about staying in, but did you know there is a very special clock inside the suite? The grandfather clock that resides inside the castle suite is permanently stuck on 11:59. Cinderella's clock may have struck midnight, but in Disney your magic will never end.
The clock on the outside of the castle is also rather special. If you've ever looked at the Roman Numerals on the clock, the number 4 is written as IIII instead of IV. The reason for this is that the numeral IV wasn't used until Colonial times and the story of Cinderella is set in the 1600s. If you look at the clock in the movie you will also see 4 written as IIII.
If you are an originalist you know that "if it ain't broke don't fix it". Sometime it's best to just leave well enough alone. We miss you, OG castle!
25th Anniversary Castle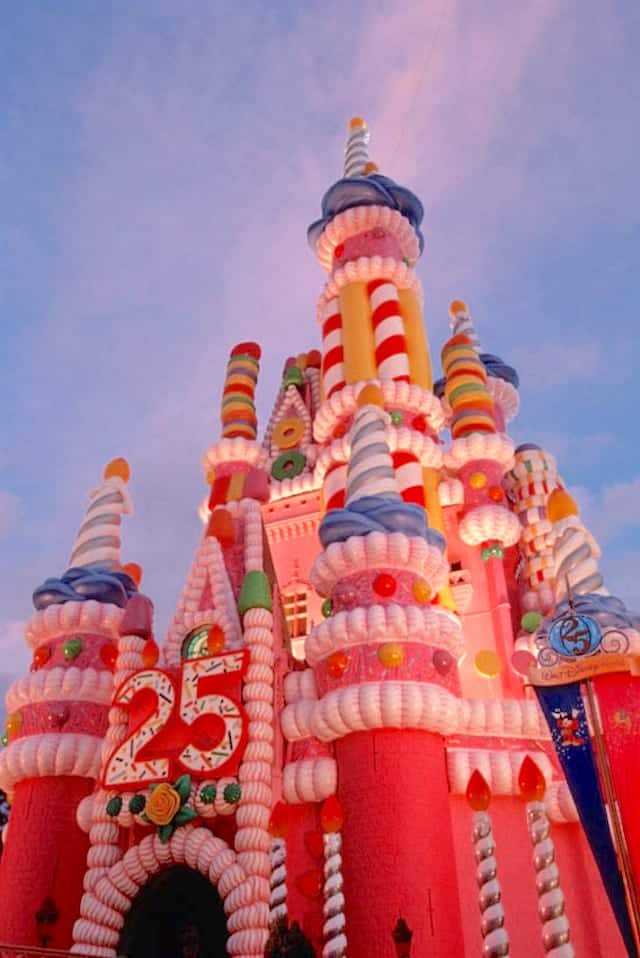 Do you love all things nostalgia? Do you see the beauty in everything? You might be the 25th Anniversary Castle!
There's nothing wrong with clinging to nostaliga or loving a retro-style. I have a little of the castle cake in my personality, too! The 90s were my favorite era. Even looking back now and realizing how cringy some styles and trends were in hindsight, at the time, they brought me great joy and that is a feeling I will always hold onto.
On October 1, 1996 Walt Disney World began its 15-month 25th Anniversary Celebration with the tagline "It's Time to Remember the Magic". In honor of its 25th birthday, Cinderella Castle was transformed into a giant pink birthday cake. The Imagineers used almost 400 gallons of pink paint in three different shades, 50 gumballs, 30 lollipops, 4 Life Savers, 12 gumdrops, 16 red candy hearts and 16 green candy stars to create this 40 million pound cake.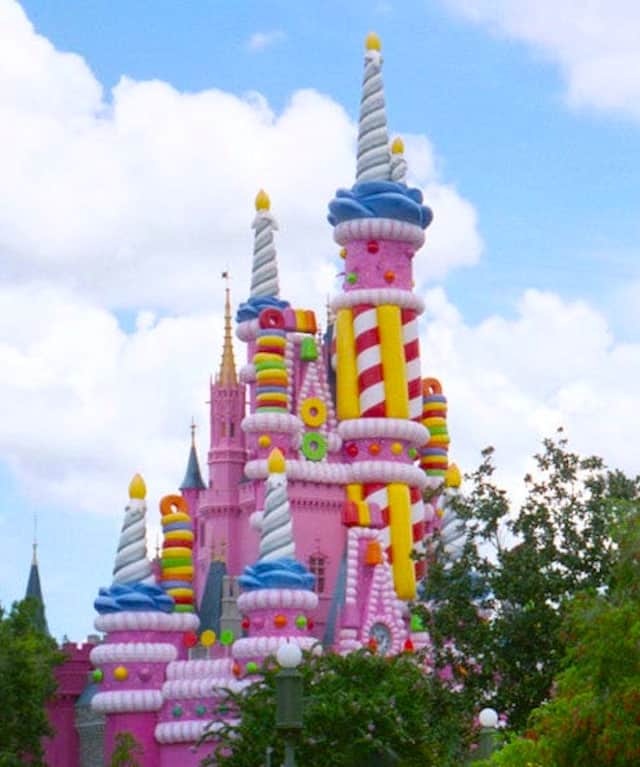 It also included 26 candles ranging from 20-40 feet tall. The 26th candle represented the years of future celebrations to come.
The castle cake personalities are people who can see the beauty in everything. These are very special people. Their endless optimism brightens the world wherever they go and inspires others to also look deeper and find the positive in life.
There are some who hated the pink birthday castle, but others learned to find the fun and charm in her bright pink facade. If you fit this description, you are the 25th Anniversary Castle Cake!
50th Anniversary Castle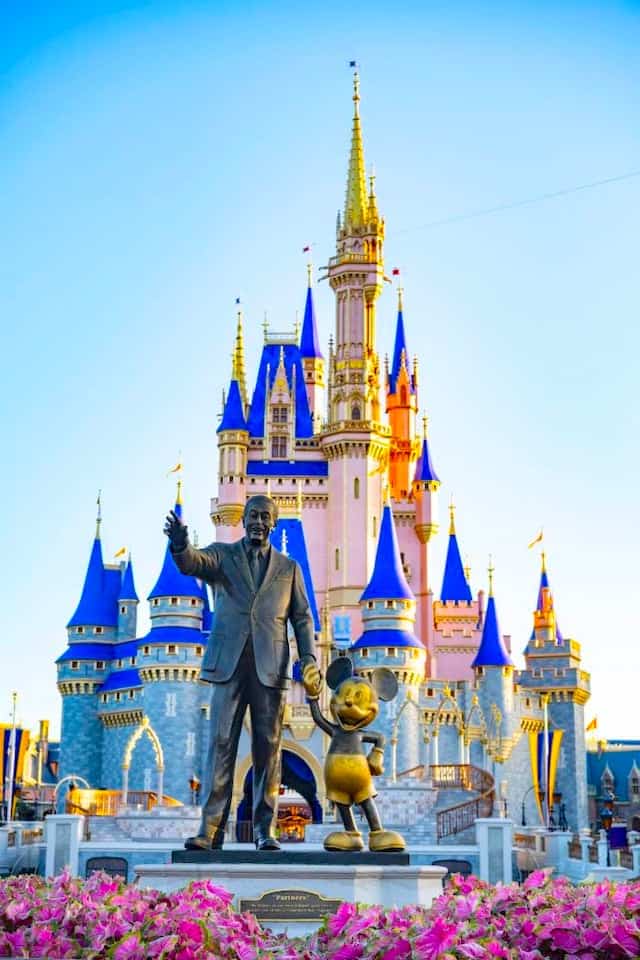 Have you recently gone through a self-transformation and emerged a new you? You might be the brand new 50th Anniversary Castle.
We've all made those New Year's Resolutions that last a month, but if you are a person with a will-power of steel and stuck with your journey of transformation, than this castle personality is for you! It's easy to look deep inside and mentally assess the things you want to change, whether that be a physical, spiritual, or even mental/emotional change, but it's hard to stick to those goals.
However, when you do stick with it, there is nothing like that feeling of hard-earned success! To be able to look back and see your growth and realize you are more than your failures. Even if you got knocked down, you got back up stronger than ever – and are better for it.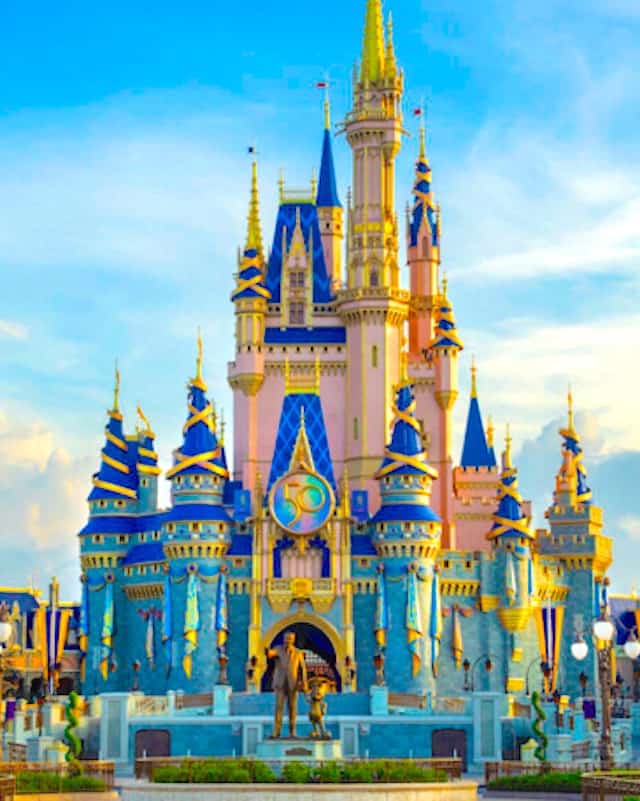 In February of 2020, Walt Disney announced that Cinderella Castle would be going through a major transformation. She would be getting a whole new paint job. When the parks reopened in July of 2020, the castle transformation was complete and guests had mixed feelings about the color scheme.
The pink seemed a bit dark and the turrets looked more purple than blue in the sunlight. Rather than accepting defeat, some improvements were made for the upcoming 50th Anniversary celebration. The turrets were repainted a better shade of royal blue and the whole castle was adorned with stunning gold and royal blue accents. The 50th Anniversary castle is the perfect example of when things don't work out the first time, don't to give up.
If you are the kind of person who never stops working on improving and becoming the best version of yourself, you might just be the 50th Anniversary Castle!
The Happily Ever After Castle
Are you an adventurous spirit? Do you strive to find your own Happily Ever After? Maybe you are like the Happily Ever After castle projections. These are people who are chameleons, always able to adapt to their surroundings and overcome all obstacles. These people most closely resemble our heroes and heroines celebrated in the many scenes of the Happily Ever After fireworks show.
This beloved show debuted on May 12, 2017. It had huge shoes to fill taking the place of the long-time favorite show 'Wishes' but didn't disappoint. This nearly 20-minute show featured several different movement themes including: Dream, Journey, Friendship, Love, Adversity, and Triumph all qualities our Happily Ever After personalities embody.
If you have an adventurous spirit, full of imagination, love, wonder and courage you might just be the Happily Ever After Castle!
The Stitch-Crashed Castle
Do you have a knack for getting into trouble or making mischief? You might just be the Stitch-crashed Cinderella Castle. Believe it or not, on November 16, 2004 (the day Stitch's Great Escape opened) guests who walked into the Magic Kingdom were greeted with quite a shock.
Stitch had taken over Cinderella Castle, covered it in toilet paper from head to toe and tagged it with the message "Stitch is King". Thankfully, this was a one-day change solely to promote the opening of Stitch's new attraction.
If you have a love of all things Stitch or have a bit of a fun and wild streak, you might just match the personality of the Stitch-crashed castle!
As you can see Cinderella Castle has lots of different personalities! That's why it's so beloved and is one of the most photographed locations in the world.
Everyone has a different reason for loving the castle. What's yours? Let us know in the comments below and on Facebook!
Are you planning a vacation? Reach out to our trusted travel agency sponsor Authorized Disney Vacation Planner
Mouse Class Travel
!