LATEST VIDEOS
Subscribe to my Youtube!
LIVE - Just Mousing Around
LIVE - Just Mousing Around Tonight!
Evacuating from Rise of the Resistance gave us a thrilling chance to experience the attraction with the lights on. Check out our photos and details here.
Rise of the Resistance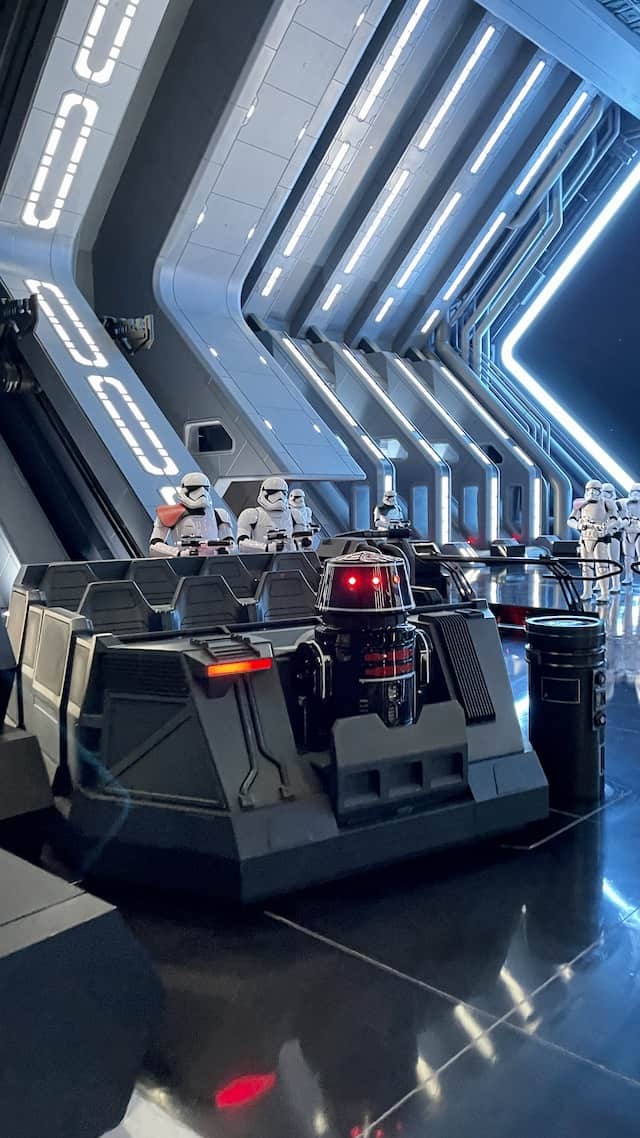 Located at both Disney World and Disneyland, Rise of the Resistance is the E-ticket attraction in Galaxy's Edge. It is some of the best work Imagineers have completed using some of the most coolest technology known to man. Rise of the Resistance is simply the best!
However, it is no stranger to technical issues requiring guests to evacuate. At times, the attraction doesn't open for rope drop or may close down for periods during the day. The trackless rides are my (Susan) favorite, but they also have the most technical issues.
Our Day in Galaxy's Edge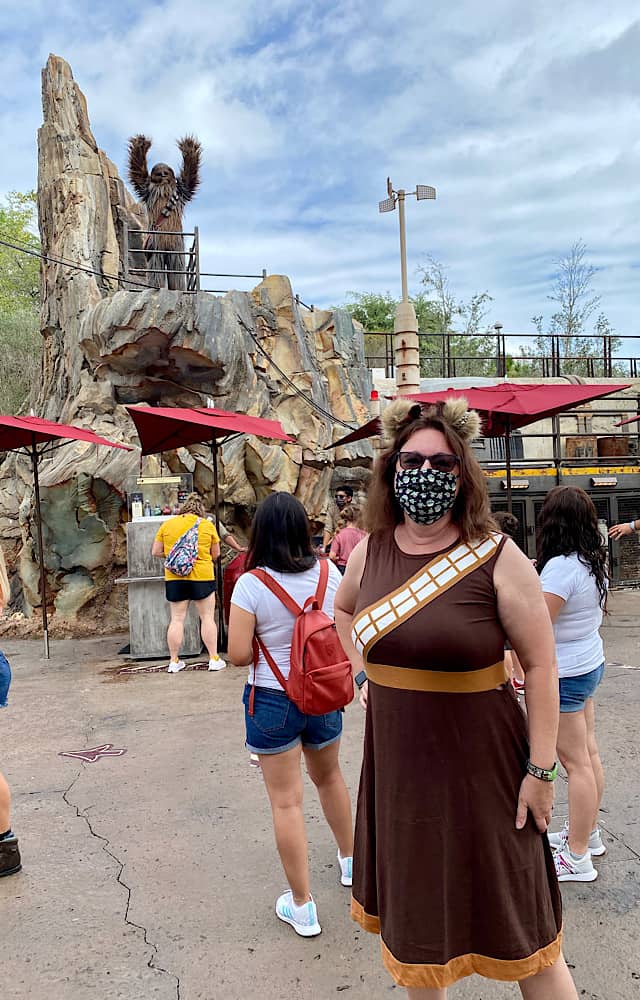 On our recent visit to Galaxy's Edge, Rise of the Resistance didn't open first thing in the morning. Not only that, but it opened for a few minutes and then shut down again. We were fortunate to get a Lightning Lane return time in the time it was running.
However, since the ride didn't open during our return window, guest services gave everyone in our party a Rise of the Resistance anytime during that day pass. We were so excited when it finally opened, and trekked toward it.
Ride Glitch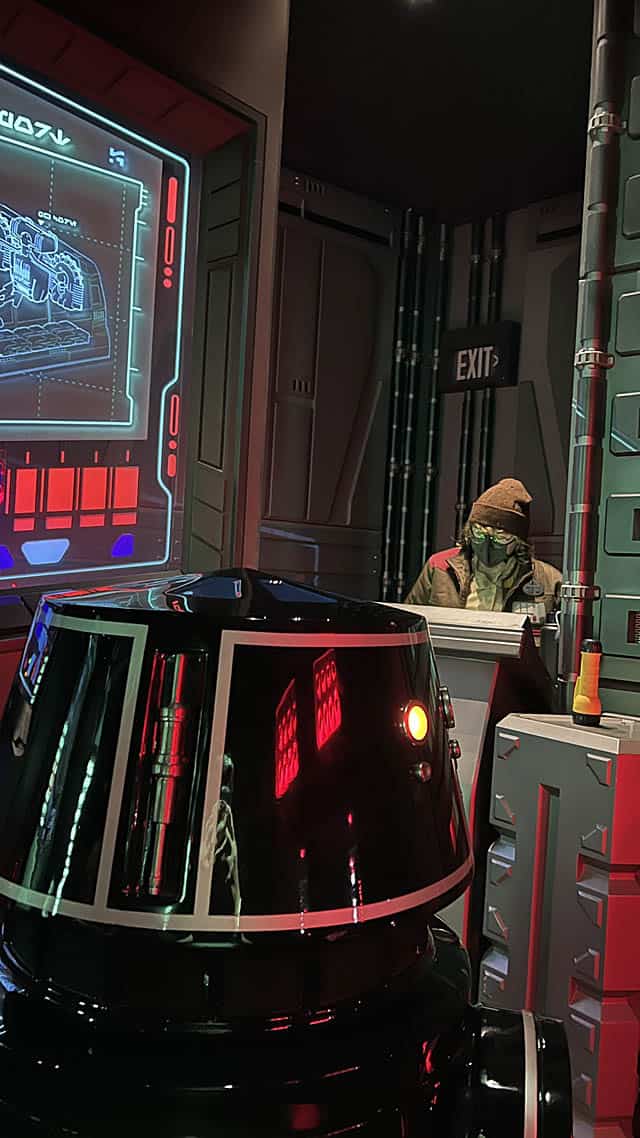 Rise of the Resistance is my favorite attraction in the world! Where else can you feel like you actually step into a Star Wars movie? Our Ride of the Resistance journey seemed different this time though. There were about 25% of the people not only in the queue, but in the actual ride waiting areas. It was eerie and cool at the same time. We guessed that it was operating with a limited capacity.
We stopped very briefly a few times before actually being evacuated. It was cool getting a shot (shown above) of the Cast Member working the ride. About 3/4 of the way through the ride, we abruptly stopped.
Announcements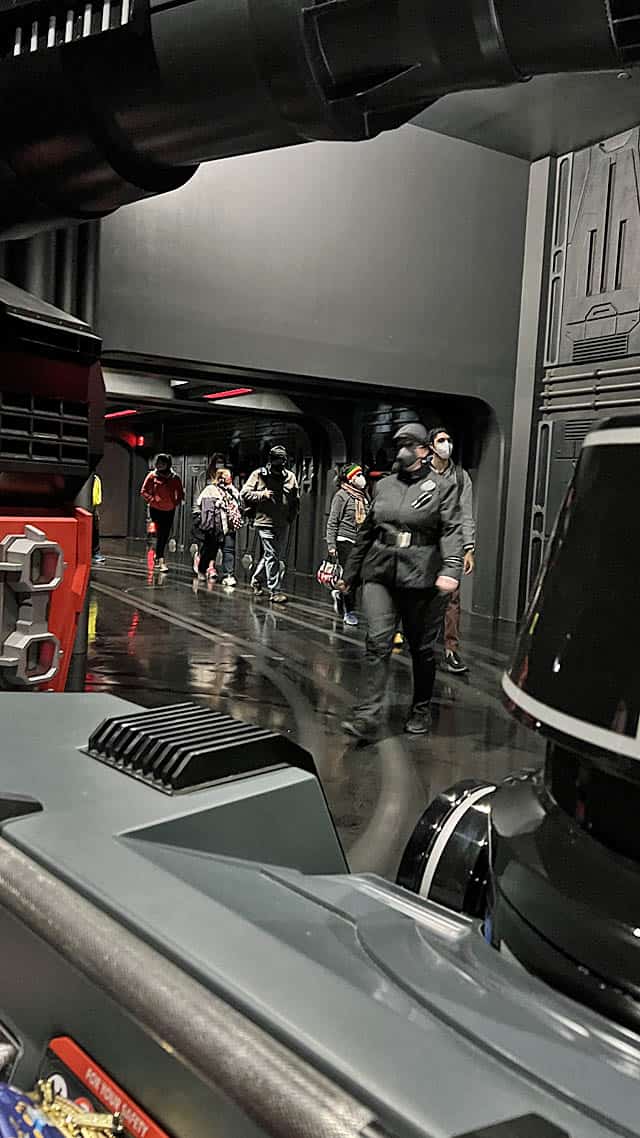 Then, the lights came on and Cast Members began announcing that due to technical issues, our ride had been interrupted. This continued for about 7 minutes until another announcement said that we would be evacuating from the ride! Yay!
Just like walking off the Haunted Mansion with the lights off, walking off Rise was on my bucket list!
What We Saw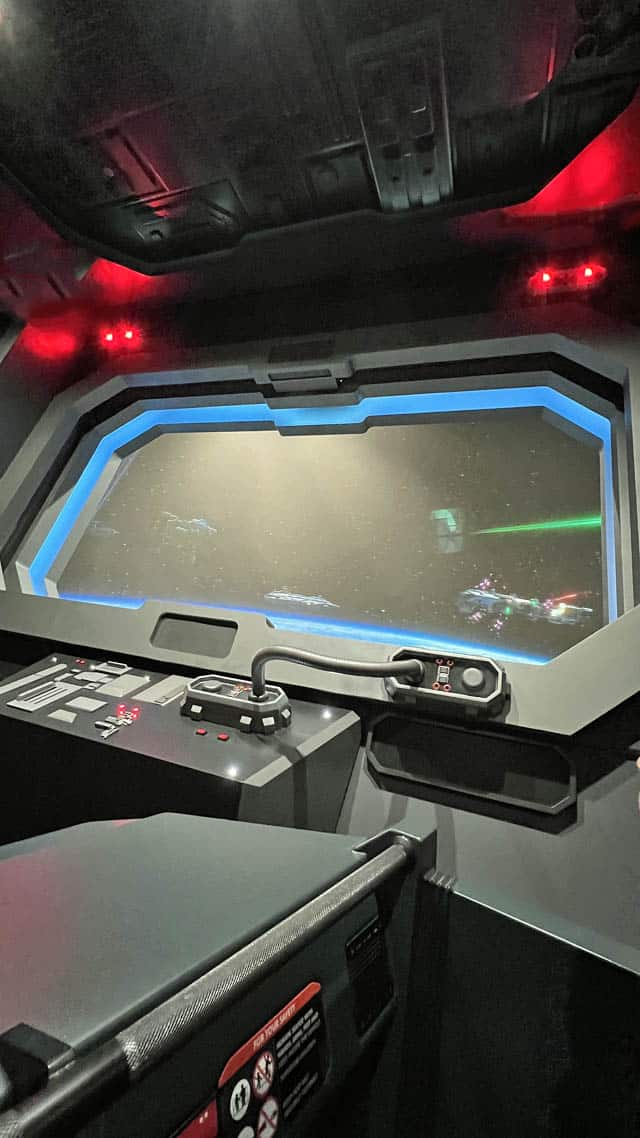 The larger than life attraction props looked even more cool with the lights on. We witnessed screens with intergalactic ships sailing by. Soon, a Cast Member unlocked our attraction vehicles and instructed us to follow the line of guests also evacuating.
It was very orderly and a smooth process. Before leaving the attraction itself, we were able to witness the vehicle tracks and a long hallway we just zipped down (shown below).
Entering Backstage Area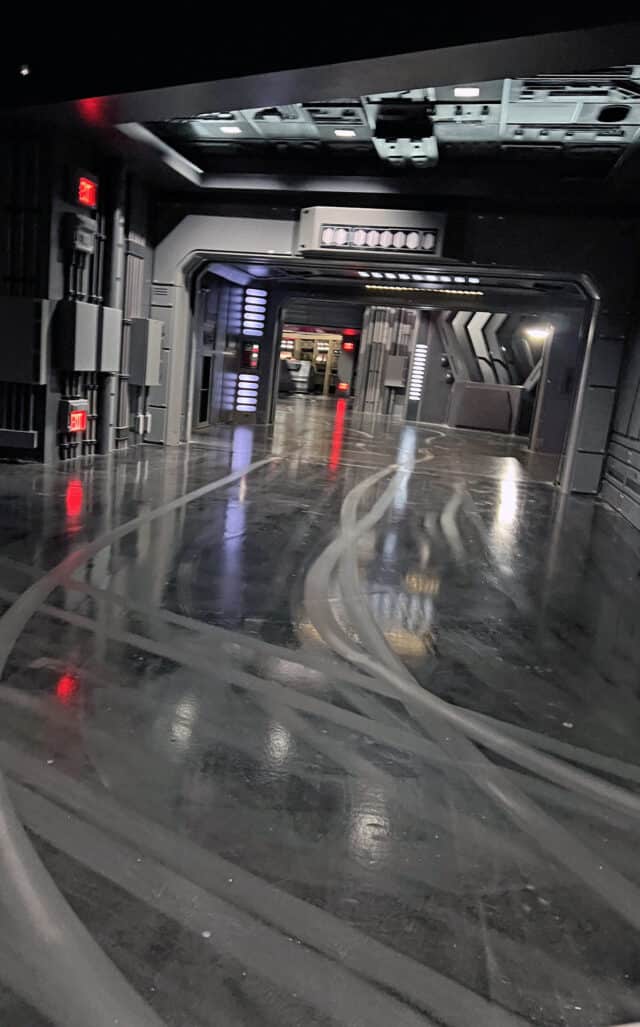 Leaving the ride area, several Cast Members informed us that we would be entering backstage areas. Due to this, they instructed us to put our phones away because pictures and videos are not allowed. They also asked if anyone was unable to climb stairs. This is what we literally did, climbed down a few boring flights of stairs.
Imagine a plain beige metal staircase with orange accents. Then, we winded around hallways until we reached the outside area (shown below). Although it lacked theming, we felt like we were walking in the utilidors at Magic Kingdom or something similar.
After Leaving Ride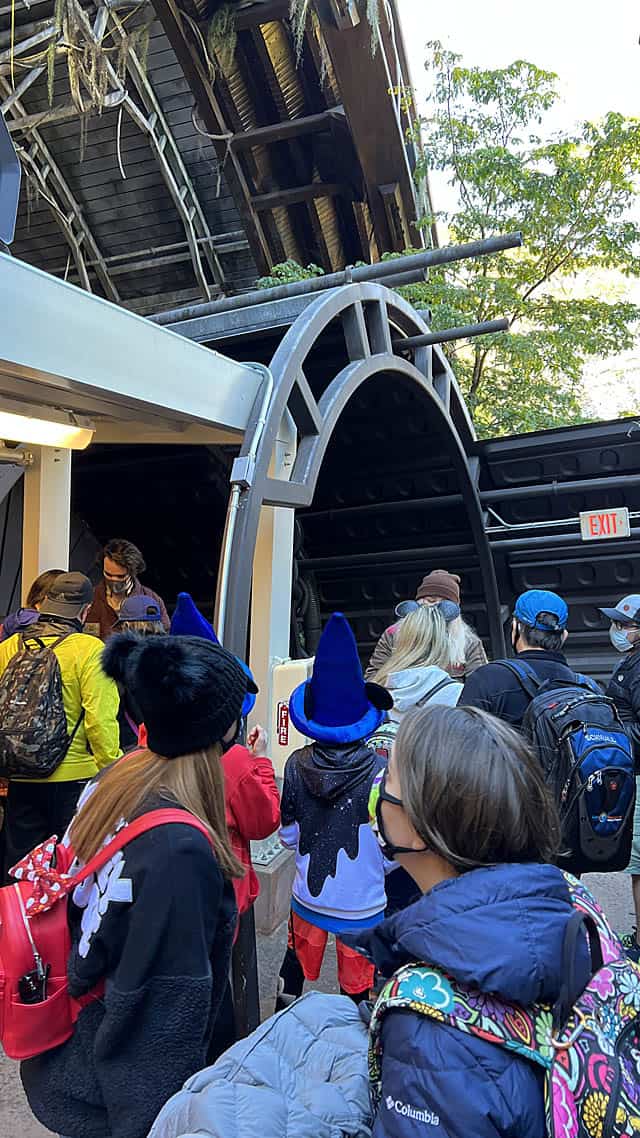 We exited the hallways to an outside area where Cast Members had guests wait in line to scan Magic Bands. At this time, everyone in our group received an all-day pass to ride Rise of the Resistance. However, we hopped to Epcot after this and were unable to enjoy the full ride. I felt it was worth missing some of the Rise experience to get the experience of being evacuated though.
Getting Stuck on an Attraction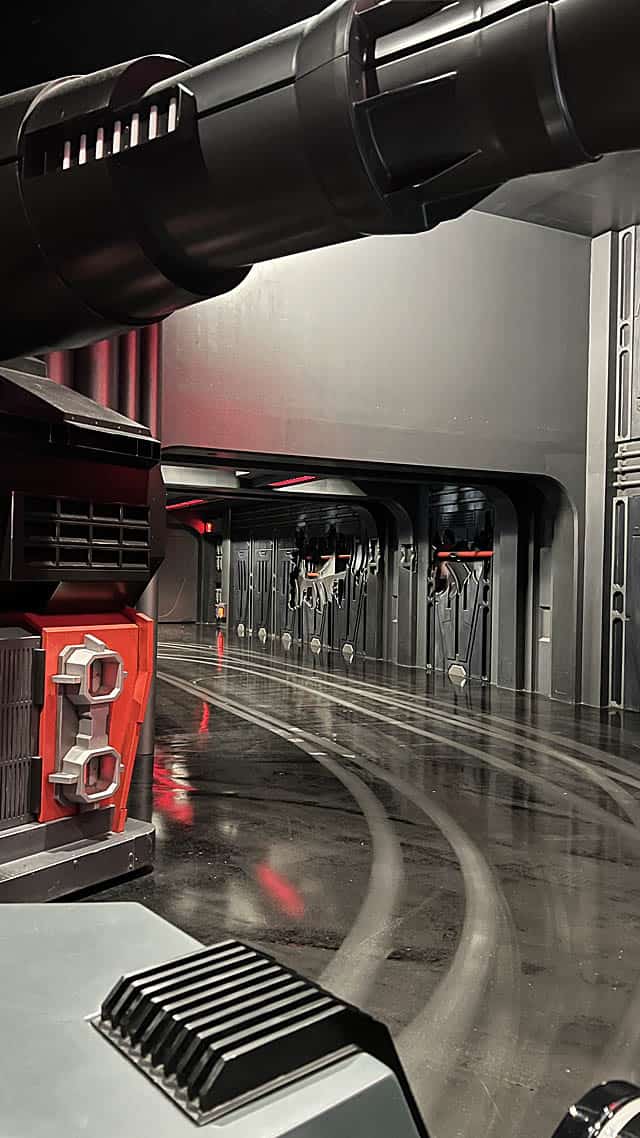 Rise of the Resistance is just one of many attractions that have to be evacuated from time to time. In fact, it happens more often than you think! There are something helpful things to do if you get stuck on an attraction. Always stay calm and follow Cast Member instructions. Also, never get out of the ride vehicle on your own or touch parts of the ride on your way out. For more tips, read Monica's article HERE.
Have you ever been evacuated from Rise of the Resistance and and experienced it with the lights on? Please share your experience with us in the comments below or on our Facebook page!

Are you planning a vacation? Reach out to our trusted travel agency sponsor Authorized Disney Vacation Planner
Mouse Class Travel
!