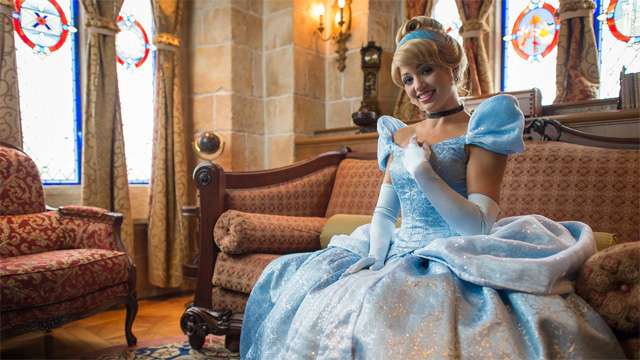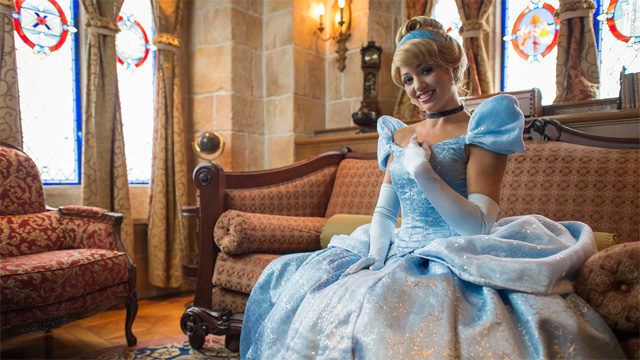 Who doesn't love meeting characters? There is something so magical about being able to interact with your favorite character and having real conversations with them. I have so many special memories from various different characters, both fur and face, but one special interaction I encountered really changed the way I look at the characters completely. Come see all the hidden details in Disney character costumes!
One night, last November, we were eating dinner at 1900 Park Fare. The first character to come to our table was Prince Charming. I've often felt awkward around Prince Charming because, while always very regal and kind, his personality often came off a little stiff to me.
Prince Charming
That all changed when he arrived at our table. Prince Charming instantly knew how to engage us, which is why I love Disney characters so much.
He immediately began talking about his outfit and pointed out all the special hidden magic the Fairy Godmother had added to it. The prince showed us the lapels on his shoulder pads which were carved out into two C's (one for Charming and one for Cinderella).
He showed us the sleeves of his jackets where the clock tower could be seen embossed into the fabric. It was a detail that you would never notice unless it was pointed out to you. Even getting up close it is difficult to see.
The buttons of his coat had Cinderella's carriage engraved on the front of them.
He then told us to be sure to ask Cinderella to show us what hidden magic the Fairy Godmother added to her gown.
Cinderella
When Cinderella came by, we asked her. At first, she thought we were talking about her glass slippers. I am glad she thought that because I completely forgot I had my Cinderella sneakers on. This is my favorite photo of that night.
After specifying that I was talking about her dress fabric she got excited and showed us that hidden among the filigree design were two glass slippers and two C's that came together to form a heart because she and Charming were meant to be.
I've gone to the liberty of outlining them below in case you can't see them! You can see both the glass slippers and the C's formed into a heart.
Don't you like my doodling?
Other Characters with Hidden Details
From that time on, we were off and running looking at more costumes. I was so excited to find out what other hidden details we had missed all these years.
Upon asking Lady Tremaine about her dress we did not get a straight answer, but we learned more after talking with Anastasia.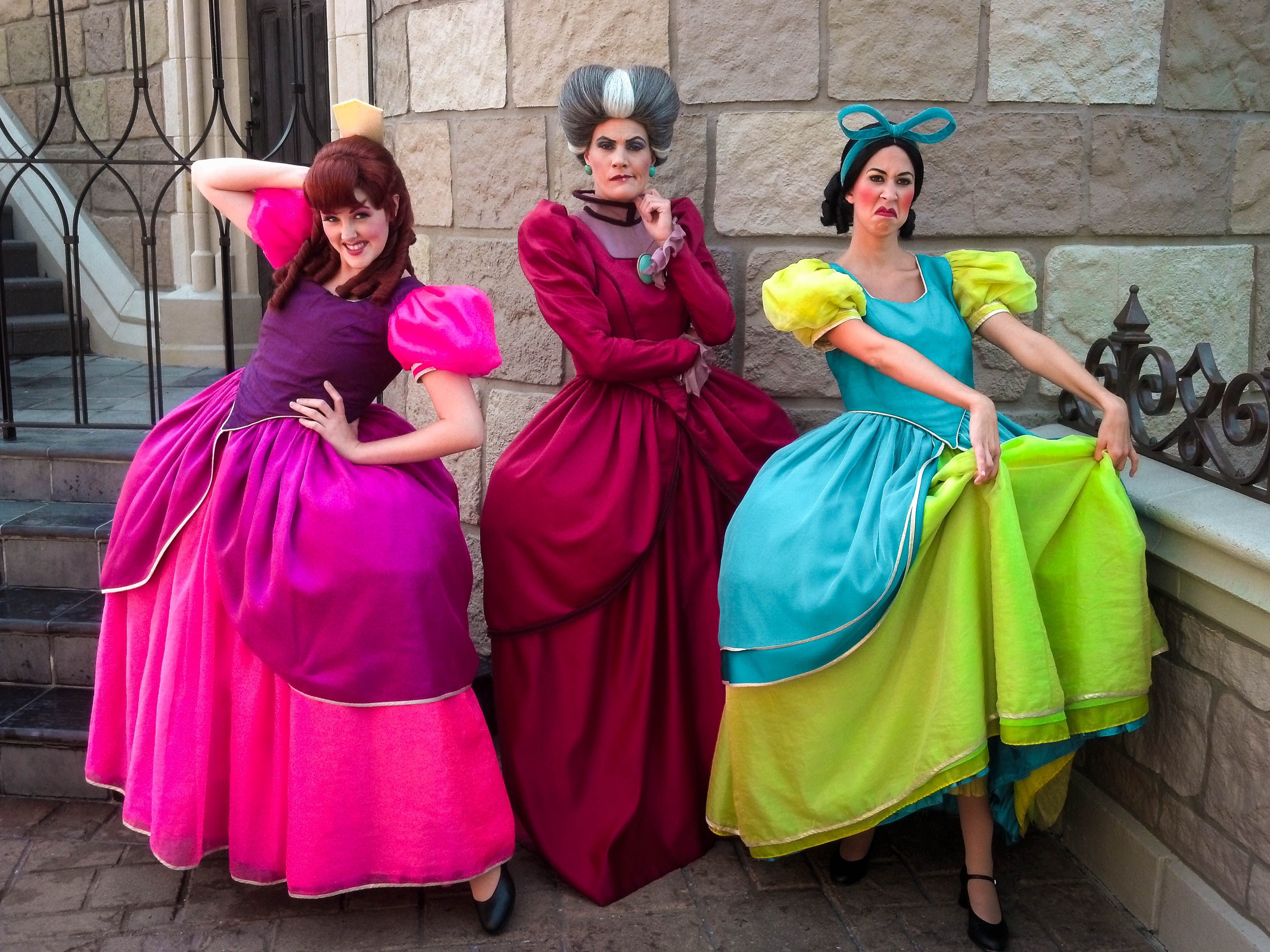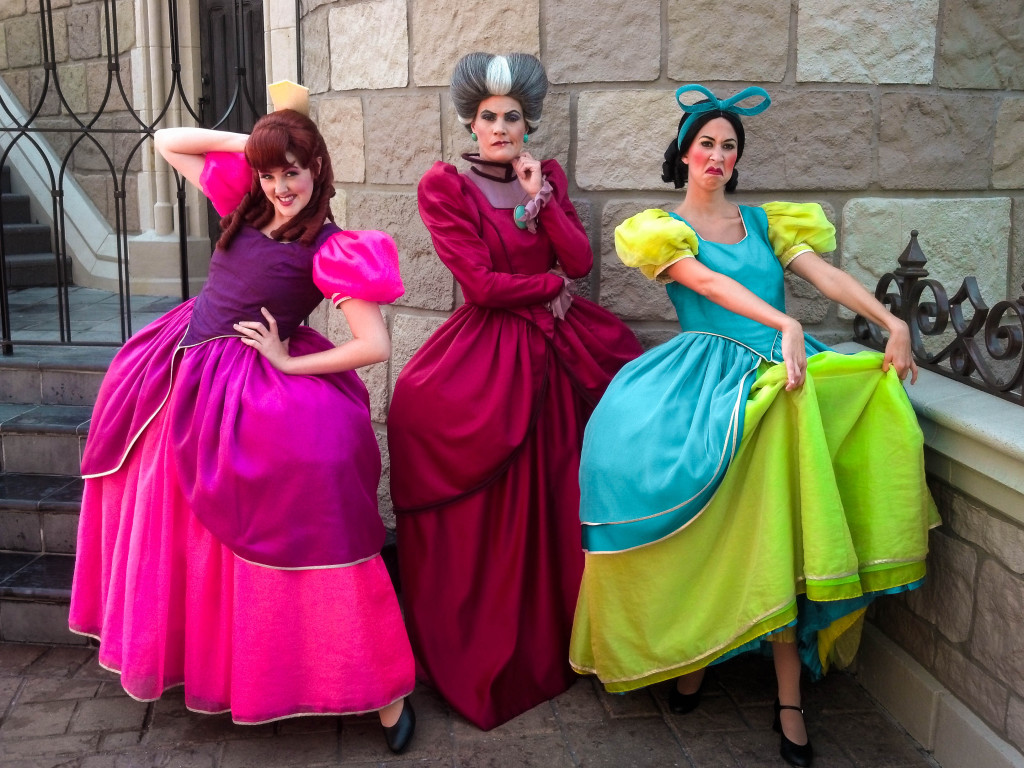 Both Stepsisters do not have anything special on their outfits, but Lady Tremaine has crests on her dress with two keys crossing, and above one of the corners is her cat Lucifer.
We had so much fun talking with the characters about their outfits, and most of them were so excited to share these amazing details with us. They were even kind enough to let us snap some photos.
When we visited Magic Kingdom, we made sure to visit a lot of characters. Our first meet of the morning was Merida. The first detail that we noticed right away is that she has a target on her left sleeve. Upon pointing this out to her, she also showed us that she has bears hidden at the bottom of her skirt.
After Merida, we moved onto the Fairy Godmother because of course, she must have something special on her outfit if she added something special to Cinderella and Prince Charming's outfits.
She was lovely as always and even remembered us from our last visit with her. Fairy Godmother showed us the bottom of her cloak and hidden between the vines of the pumpkin were Jaq and Gus. She said it was easier to always bring them with her so she doesn't lose them.
Check them out below!
On the back of her cloak, the magic fairy dust comes together to form a heart at the center of her back. It's a little hard to spot, but if you get close enough you can see it.
Even More Characters with Hidden Details
During Mickey's Very Merry Christmas Party, I visited the Princess Fairytale Hall to see Tiana, Naveen, Rapunzel, and Flynn Rider.
Tiana pointed out that Mama Odie put her wedding ring in her dress so that she would always have it with her and stop losing it when she was cooking at the restaurant.
Prince Naveen let me feel the "velvet" embroidery of his suit and said it was actually moss from the bayou. It was super soft and really felt spongy like moss.
I just love meeting the two of them together!
Rapunzel and Flynn did not have any hidden details in their costumes, but Flynn did let me see a hidden detail he was carrying in his satchel: Rapunzel's Crown!
These interactions were so much fun and the characters really seemed to enjoy talking about their outfits. It's easy not to notice the tiny details. Some are so small you would have to ask about them to see it. I think that is what is so amazing about Disney. They really think of everything and love adding special detailed meaning. Not just in their costumes, but everywhere around the park.
If you are looking for something to talk about next time you're meeting one of these characters, be sure to ask them about their costumes. You will have a wonderful interaction! They really do get excited to talk about them!
Have you noticed any other hidden details with the characters? Do you have pictures of these hidden details? Share your experiences with us on facebook! You can also keep the discussion going in our KtP Crew! We are a group of fun and friendly Disney lovers who would love to see things like this!
-Christina