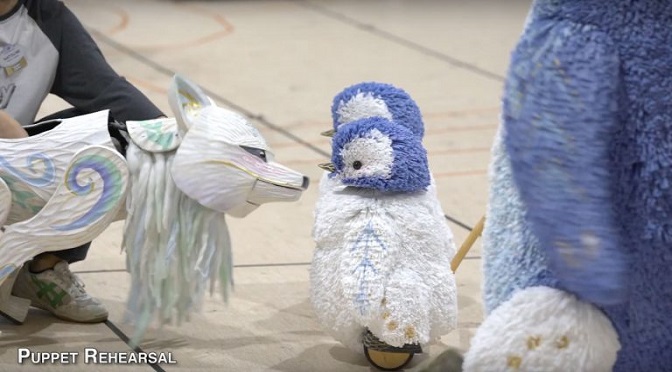 Earlier this season, Disney parks announced new Christmas entertainment and decor would be debuting at various Disney's Animal Kingdom lands for the holidays.  Today we received a behind the scenes sneak preview of the puppets that will be used in one celebration.
The village on Discovery Island is filled with sparkling white holiday decorations and colorful, animal-inspired luminaries, and throughout the day the area springs to life with a "Merry Menagerie" of winter animals, accompanied by serenading musicians as they create a playful atmosphere of festive fun.
[the_ad id='41482′]
Ten brand new puppets have been created and will come to life within the show.  You will also find decorations and celebrations in every land throughout the park.  As we know Disney has become well known for its puppetry in storytelling through the Frozen show on Disney Cruise Line and Finding Nemo The Musical at Animal Kingdom at Walt Disney World.
From the looks of the video that Disney shared, I cannot wait to see what Disney has in store for us this Christmas season as they never fail to disappoint! The interaction that the puppets will have with guests will certainly be a wonderful holiday memory to make this season! Check out the video below!
The spirit of the holidays and "Merry Menagerie" will come to life at Disney's Animal Kingdom on November 8th.
Are you excited about the new holiday offerings at each land throughout Animal Kingdom as well as the Merry Menagerie and its puppets?
-Marisol White