In 2016 I took my son on our first mommy/son Disney trip just two months after separating from my ex-husband.  The trip was such a success that I ended up buying us annual passes and we took 6 trips in that year.  I also took him solo on a Disney Cruise and to Disneyland.  I want to share some of the tips I learned for how to have a successful Disney vacation as a single parent.
1)  Stay as close to the parks as possible.  Some of the worst moments of my single mom Disney life included an exhausted child, a stroller, park bags and a crowded Disney bus with no seats available.  If at all possible try to limit your time on Disney buses by staying on the monorail so you don't have to unpack/fold your stroller at the end of a long park day with an exhausted child.  The Beach Club/Yacht Club/Boardwalk hotels are also convenient because you can walk into Hollywood Studios and Epcot and can get to the Magic Kingdom by walking through Epcot to the monorail station.  Definitely worth it to avoid a Disney bus in my opinion!  Another option if you have a car with you is to drive to and from the parks so you can unpack/fold your stroller in your own time and no need to stand on a crowded bus juggling a child and a stroller.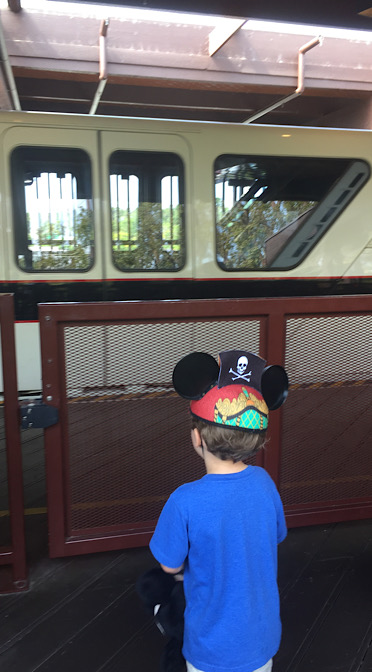 2)  On the topic of strollers, make your life easy and get a good one!  There is a reason most of the Disney stroller rental companies supply City Minis.  They are great park strollers: generous storage for park bags and souvenirs, large sunshades for the Florida sun and, most importantly, they can fold with ONE HAND.  This is key when you are the only adult in charge of carrying everything onto the bus. Even if you don't use a stroller anymore in everyday life you likely will be grateful for one at Disneyworld until your child is 6, 7 or even older.  There is a lot of walking at Disney World, and if your itinerary involves any nighttime entertainment you may find your child falls asleep in the stroller at the end of the night.  There is nothing more satisfying than successfully transferring a sleeping child in a stroller out of the park, onto the monorail, into your hotel room, and into bed undisturbed!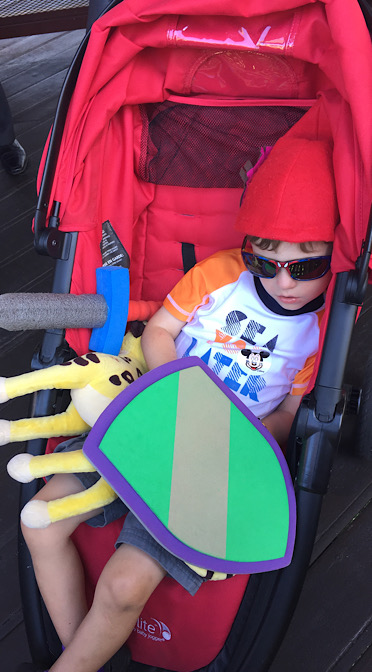 3)  Schedule breaks for yourself.  My son spent a few evenings at Disney's Children's Activity Centers where he had a GREAT time and while I spent solo evenings in the parks eating around the World Showcase or enjoying rides my son wasn't tall enough to ride.  Unfortunately, Disney has closed the Children's Activity Centers.  I'm still holding out hope they will reopen one day, but in the meantime, there are still other options.  The company Kid's Nite Out is one among many that provides babysitting in your hotel room.  I have heard great things about this service.
The Dolphin hotel has their own version of a children's activity center called Camp Dolphin.
The Beach Club has a new evening activity that we are planning to try on our next trip called Captain Hook's Pirate Crew.  I can tell by the description that this will be a HUGE hit with my son!
There is also a daytime children's activity that my son did once and loved!  Pirate Adventure Cruise leaves from the Beach Club or Caribbean Beach Resort for a 2-hour pirate cruise.  He had so much fun and wants to do it again next time.  Meanwhile, I spent a relaxing 2 hours enjoying a leisurely breakfast and sitting by the pool.  Win-Win!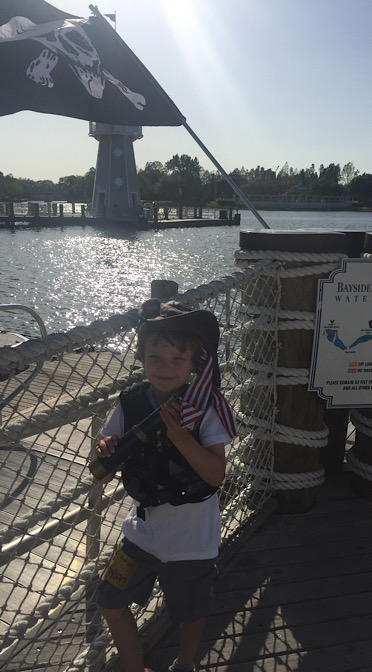 4)  Bring a friend.  On two of our trips I had two different friends, with children the same age as my son, join us for a few days.  These friends are married but their husbands weren't able to go to Disney at that time because of work schedules so my friends decided to piggyback on our trips since we could act as their tour guides.  It worked out great!  The kids loved playing together and let's be honest it helps to have an extra adult to watch children while one runs to the bathroom or stands in line for food.  I also know some moms whose husbands aren't into Disney so they brought the grandparents along as an extra set of hands which worked out well for them.  Just because you're a single parent doesn't mean you have to do it alone!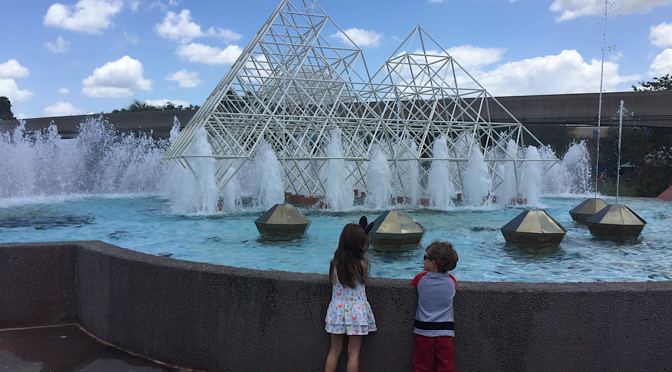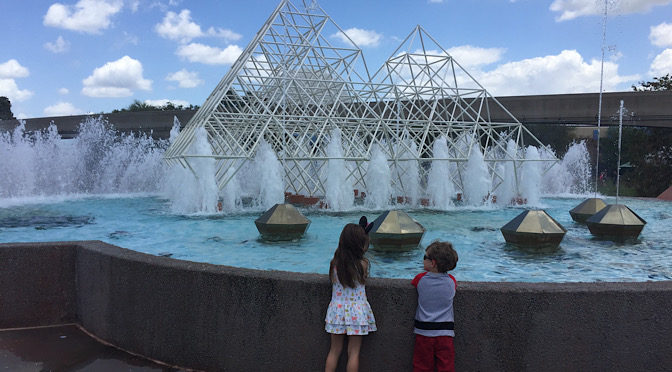 5)  Take it slow and follow your child's lead.  This is good advice for any Disney parent, single or not, but it somehow seems easier to follow when there are no other adults in your party you need to cater to.  Some of the most fun my son had at Disney World is when he was allowed to just play.  Whether it was having lightsaber battles with castmembers at the Star Wars Launch Bay, playing in the Boneyard at Animal Kingdom, having fun in the Dumbo play tent, enjoying the playground next to Splash Mountain or splashing around in resort swimming pools.  One morning we were waiting to take the boat from the Wilderness Lodge to the Magic Kingdom when my son announced he wanted to go in the hot tub first.  I tried to convince him that it would be a waste of a time since lines were shorter in the morning but in the end I decided to go along with his plan, and we spent a relaxing morning in an empty hotel swimming pool.  He was so happy!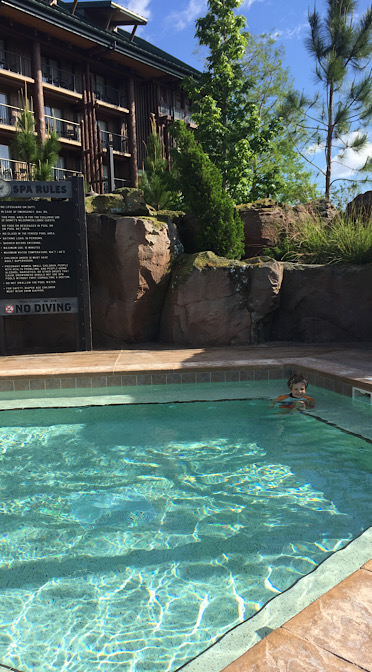 6)  Take a Disney Cruise.  If you're looking for a REALLY relaxing Disney vacation as a single parent, take a cruise!  The Youth Clubs on the ships are free, run all day and kids LOVE them.  There even is a Youth Club on Castaway Cay where my son spent a few hours while I went to the adult-only beach.  Heaven!  Another bonus is that DCL put us at a table with other single moms who had kids the same age as my son.  It was so nice for the moms and the kids!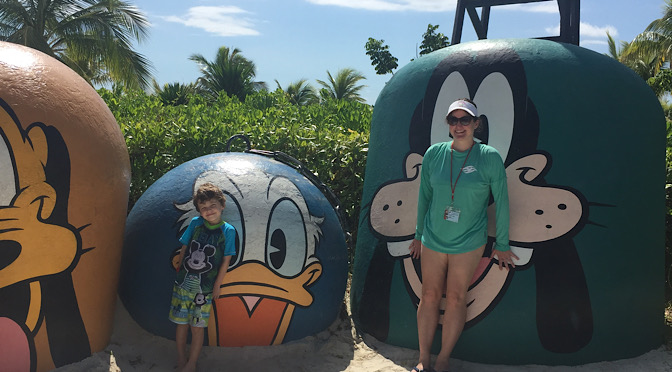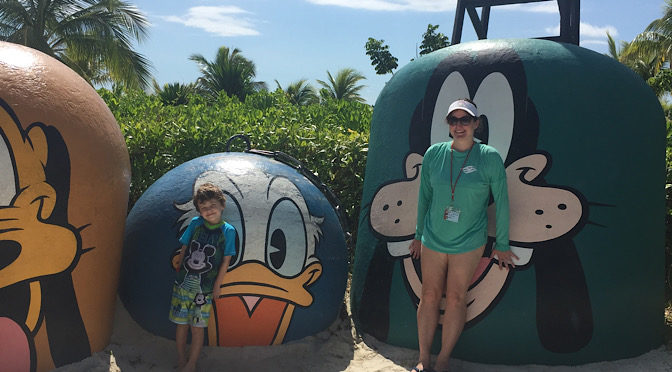 I hope this has helped some single parents realize that they can take their kids to Disney and still have a relaxing time!
If you have taken your kids to Disney solo and have any more tips comment below or on KtP facebook page!
By Ashley Emerson Beckwith
Follow me on Instagram @disneyparksmom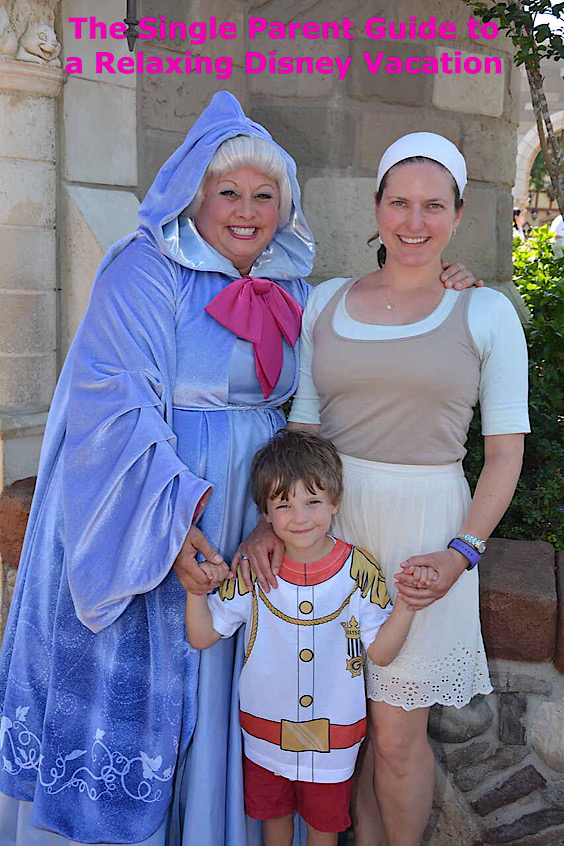 Are you planning a vacation? Reach out to our trusted travel agency sponsor Authorized Disney Vacation Planner
Mouse Class Travel
!