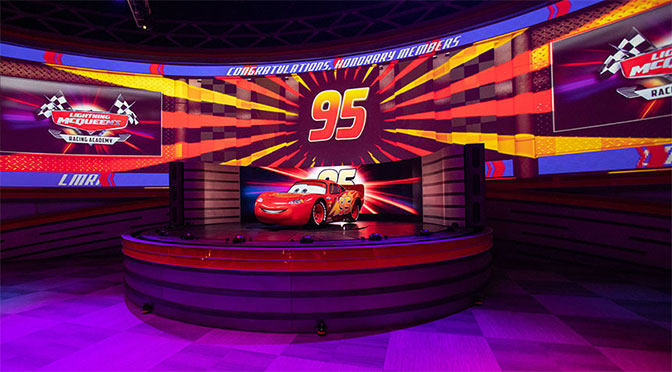 Disney just revealed new details for the new Lightning McQueen's Racing Academy and a teaser video featuring the amazing Lightning McQueen animatronic.  Take a look! 
Disney – "Lightning McQueen's Racing Academy will roll into Disney's Hollywood Studios this Sunday, March 31. This all-new show experience invites guests to step into the world of Pixar Animation Studios' "Cars" films as guests become rookie racers and learn the rules of the road from Piston Cup Champion Lightning McQueen himself!
During this 10-minute show, Lightning McQueen appears live on stage to share his racing knowledge – and if there's one thing he's learned over the years is that things don't always go as planned. But with the help of Mater, Cruz Ramirez and other friends from Radiator Springs, Lightning is bound to get back "on track."
Guests can indulge in more "Cars" fun in the courtyard outside Lightning McQueen's Racing Academy, including meeting Piston Cup champion Cruz Ramirez and jamming to an incredible music mix from DJ, the ultimate party on wheels. Lightning McQueen's Pit Crew will also arrive on the scene several times a day for "DJ's Ready! Set! Party Time!" which invites guests to gather around DJ for "Cars"-inspired dancing and games.
This looks like a fun, yet short experience for "Cars" fans.  What do you think?