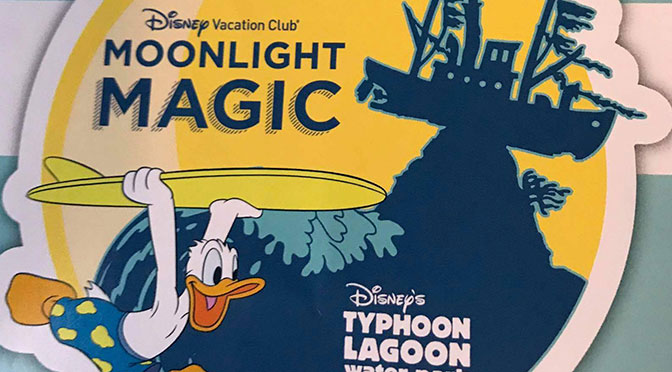 Our great friends Jim and Lisa invited us to join them at the DVC (Disney Vacation Club) Moonlight Madness event held at Typhoon Lagoon last night.  Here's a report from out adventure including photos of Tourist Donald Duck, Tourist Genie and Sebastian.
DVC Moonlight Madness events are always terrific experiences.  Snacks flow freely, music is pumping and they bring out some terrific characters for meet and greets.
The night began on a bit of a down note as a typical afternoon/evening thunderstorm hit the area.  It was pretty funny watching guests pile into the parks using umbrellas.  Umbrellas at a water park made me laugh anyway.
The rides were initially closed, but did open around 8pm.  We lined up for Miss Adventure Falls first and that was a wise move as it had a long line all night.  It was the first time our friends had visited Typhoon Lagoon and it was fun to share the new ride with them.  Their son was thrilled when it was over, but their young daughter was a bit scared.
From there we found some of the free-flowing snacks.  They offered ice cream snacks including Mickey Premium Bars, Mickey Ice Cream Sandwiches, Strawberry Fruit bars and Orange and Cream bars.  There was much poundage in the cookie variety and endless bags of chips.  Lemonade and water were available for self-service.  The Mickey Premium Bars were the hit of the evening and they had a hard time keeping them in stock.
We then took a spin in the lazy river, which was a hit with everyone.  Jim got in trouble for stacking tubes.
We then decided we would like to meet Sebastian.  The line appeared a bit long, but it only took a few minutes to meet him.  Debbie was overjoyed to meet him.  We had danced with him at a hard ticket party many, many years ago, but this was our first meet and Debbie couldn't remember the dance party anyway.  It was her first crab hug.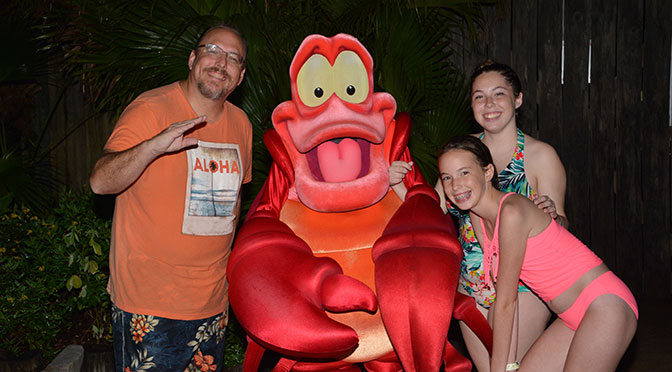 We then moved over to meet Genie.  His costume as Tourist Genie is awesome.  I've not personally seen him this way since Hollywood Studios opened.  We talked about places we've traveled lately.  He recommended trying a flying carpet over air travel.  He said there is no restrictions on baggage.  I have the same hat from many years ago too!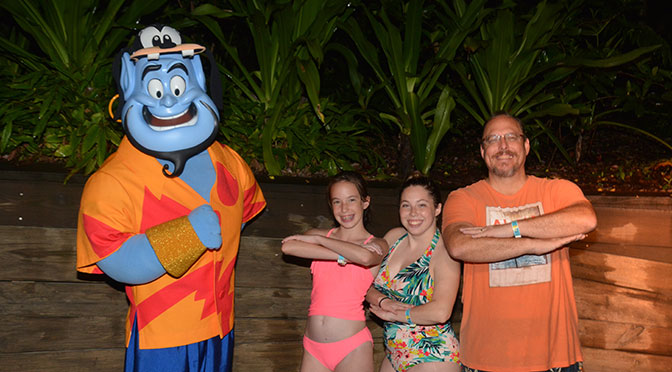 A cast member was inside Singapore Sal's playing trivia with the kids.  They were aces as they knew every question.  They received little duckies as gifts.
All the kids wanted to splash around in the wave pool.  You should know from my Typhoon Lagoon guide that it creates monstrous waves and drives you right into the ground.  People bang into you as well.  It's like the world's largest mosh pit.
Their daughter entered the pool excited and within seconds had been driven to the bottom of the pool and scraped her knee.  It took her a little time to recover emotionally, but no damage to the skin was done.  We played in the waves for a while, then I got kicked in the head and shortly after a full-grown man pretty much mauled me in one of the large waves.  It was time for some more snacks and then off to meet Donald.
Donald was looking awesome in his island vibe.  I think I have a similar shirt from our Hawaii trip.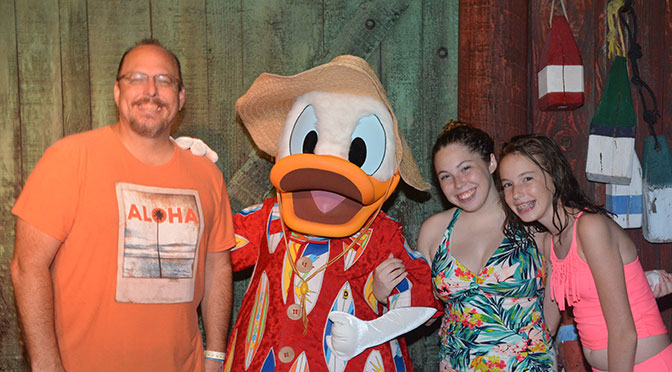 It was getting late and Jim and Lisa needed to take the kiddos back to the resort, so they cut out.  Jordyn and Debbie rode Crush n Gusher, which is our favorite ride in the park.  I would have ridden, but the single rider line was crazy long.
The crowds were very heavy for the event, but outside of Miss Adventure Falls and Crush n Gusher, there were no real lines, except for ice cream bars.  As a comparison, we visited Typhoon Lagoon a week earlier on a regular day and the lines were much shorter.  But the park being filled added an air of excitement as the big party was continuous until closing.  The DJ kept the music booming until the very end and we were expelled at the next exit on the lazy river and had to walk halfway around the park.
It was great fun being in a Disney water park after dark and another bucket list item checked off.
If you have any questions, feel free to ask away!