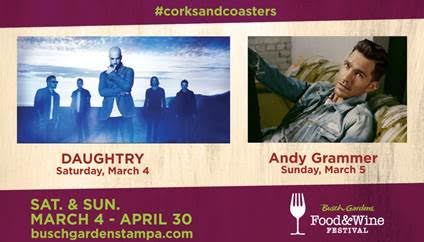 Busch Gardens® Tampa Bay's third annual Food & Wine Festivalkicks off this weekend as American rock band, Daughtry and pop sensation, Andy Grammer,  take the stage.
The festival takes place on Saturdays and Sundays now through April 30.  Concerts are at 7p.m.and are included with any Pass, Fun Card or daily admission.
DAUGHTRY – Saturday, March 4 at 7 p.m., Gwazi Park
Since forming, Daughtry has released four studio albums (Daughtry, Leave This Town, Break The Spell and Baptized), 1 Greatest Hits Album, scored four No. 1 hits, garnered four Grammy nominations, won four American Music Awards, won three People's Choice Awards, sold over 8 million albums and 16 million singles worldwide and sang at sold out concerts around the globe. At radio, the band has earned four #1 singles, including the multi-format No. 1 song "It's Not Over". Daughtry's self-titled debut was the fastest-selling rock debut in Soundscan history and its follow up, Leave This Town, marked the quintet's second consecutive No. 1 album. Daughtry's third album, Break The Spell was certified gold within four weeks of its release while their last studio effort, Baptized, produced the certified gold single, "Waiting For Superman."
ANDY GRAMMER – Sunday, March 5 at 7 p.m., Gwazi Park
Andy Grammer became the first male pop star in a decade to reach the Top 10 at Adult Pop Radio on his first two singles, "Keep Your Head Up" and "Fine By Me," certified Platinum and Gold respectively, selling more than 1.5 million downloads combined. In just a few short years, Grammer has sold over 250,000 albums, played to sold-out venues nationwide and performed onstage with Taylor Swift, Train, and Colbie Caillat. In 2014, Grammer released his second album, 'Magazines or Novels,' which included the multi-platinum hit single "Honey, I'm Good" that sold over 3 million copies and climbed to No. 1 on the Adult Pop Radio charts.
In addition to chart topping concerts, this year Busch Gardens Tampa Bay has added more ways to savor the festival including:
SPECIAL PACKAGES:
Food & Wine Festival VIP Priority Seating – VIP Priority Seating is available for each concert date. Reservations start at $24.99.
Food & Wine Sampler – Guests with exclusive interests in culinary offerings can purchase a Food & Wine sampler that includes any samples of choice throughout the Festival. Samplers are available in quantities of five, eight or twelve and start at $29.99.
Wine by the Bottle – Guests can take home a part of the Food & Wine Festival with wine available for purchase by the bottle in select gift shops, including Xcursions, Nature's Kingdom and Tiger Trail.
The Festival features 13 different culinary cabins that guests can experience throughout the park, each with its own special menu including three new cabins, Tasty Taquiera, Cooking with Coke® Pavilion and Fry Fusion Presented by Coca-Cola®. With a menu of more than 35 delectable dishes designed specifically for the event, including signature dishes and exciting new cuisine like duck tacos, lobster ravioli, bacon mac & cheese, brown sugar rubbed pork belly, banana foster panna cotta and cabernet-filled chocolates, as well as an expanded selection of wines, craft brews and cocktails.
The Busch Gardens Food & Wine Festival takes place on Saturdays and Sundays from March 4 through April 30 and is included with any Pass, Fun Card or daily admission. Food and beverage is not included with park admission and is available for an extra fee. Guests must be 21 years of age or older to consume alcoholic beverages.