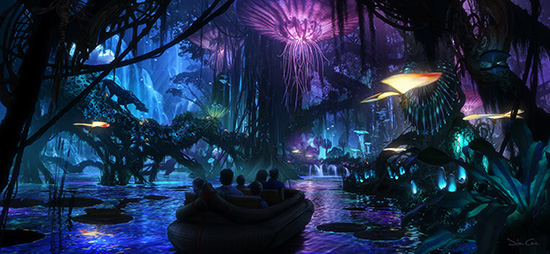 Yesterday, Walt Disney World released a new Florida Resident "Discover Disney" discounted ticket which allows us a possible peak at the new Avatar Land opening.
The new Discover Disney ticket is valid for either 3 or 4 days of use, depending upon ticket purchase.  It can be used only from January 4th through June 9th, 2017.  However, Animal Kingdom is BLOCKED from usage between May 27th and June 9th.  It's believed that this could point to a possible opening date of Memorial weekend for the Avatar Land area of Disney's Animal Kingdom.  Nothing is assured, until Walt Disney World releases official dates, but it seems possible that the area could open.
Memorial Day weekend has been a time that Orlando area theme parks used as a jumping off point for summer travel in the past and that week is always exceptionally busy for the holiday break.  Animal Kingdom is rarely blocked from any type of ticket promotion offer, so this seems to have some credibility.
The technical name for the new land is Pandora: The World of Avatar, but most guests are just calling it "Avatar Land."  The new land is said to be one of the most beautiful Disney has created.  It is said to offer 2 new rides:  A flying Banshee ride and a new boat ride through a bioluminescent forest.  I'm sure the new land will be truly amazing at night as all the flowers and trees come to life with vibrant color.
As for the ticket deal, Florida Residents ONLY may use the ticket.  The cost of the ticket is $139 for a 3-day ticket and $159 for the 4-day ticket offer. The 3-day Park Hopper costs $166.50 and the 4-day Park Hopper costs $193.50
Do you think this ticket offer is pointing to a possible opening date for Avatar?