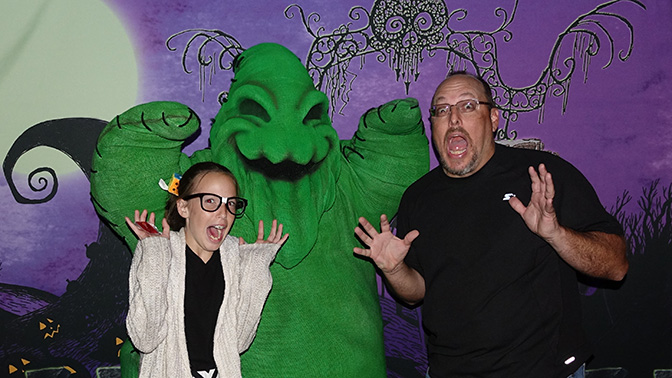 Back in 2013 we endured a difficult night called "Unleash the Villains" to get a photo with Oogie Boogie that turned out to be a blurry mess.  It was sort of appropriate for the night.  I ended up relying on other people's photos of me and my family who just happened to be shooting Oogie Boogie.  Well, last night I was happy that we got a great photo with Oogie Boogie and only waited less than 45 minutes.  Here's how it went.
Debbie and I had big goals to visit various Disney resorts on Halloween.  She has had to give up most types of candy due to her recent upper braces install, so meeting characters in special costumes was to be the highlight of the evening.
Well, life doesn't always go as planned and we all often have to re-boot when plans begin to fall apart.  My daughter needed my wife to rush over and sign some paperwork for college and my wife didn't return with the only available vehicle until well after we planned to depart.  We were going to meet up with friends and have a great evening with characters and try to find Debbie some chocolate.
We were nearing our first resort and my friend called and said that people at one of the resorts were rumoring that none other than Oogie Boogie was meeting at Saratoga Springs.  We asked if it was a credible rumor, then used Twitter and Instagram to search and see if anyone had posted any photos.  Sure enough we found one on Intagram and detoured our plans.
We didn't know if we'd get there and see the line already closed or what.  We arrived and went to the community hall and it had a very moderate line.  People in line confirmed that Jack and Sally were rotating with Oogie Boogie.  We heard that he'd do another meet at 6pm and hoped it would fall during our time.
Around 5:50 the super nice Cast Member asked the fans if anyone wanted to meet Jack and Sally.  If you wanted Oogie Boogie move to your right.  Everyone moved right.  He then offered anyone the chance to meet Jack and Sally, then return to the line.  That's how to accomodate your guests!  I was so pleased with the way this young man handled the line and allowed everyone in line at the time to meet Oogie Boogie.
How do you like Debbie's "nerd" costume?  I was dressed as "Incognito Guy."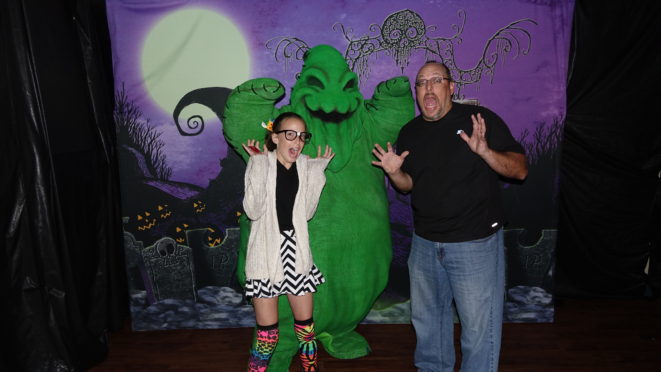 We ended up waiting about 45 minutes and Oogie Boogie was a lot of fun with which to interact.  The Cast Members all had big smiles, the guests had big smiles.  It was so much fun.  They offered cupcakes and candy and were even giving away the 7 Dwarfs Mine Train popcorn buckets filled with candy to the kids.  I was so impressed with not only that resort, but the Boardwalk and the Grand Floridian as well.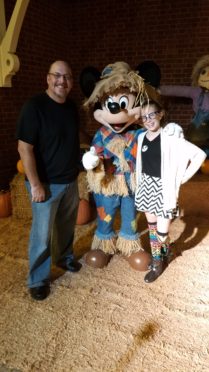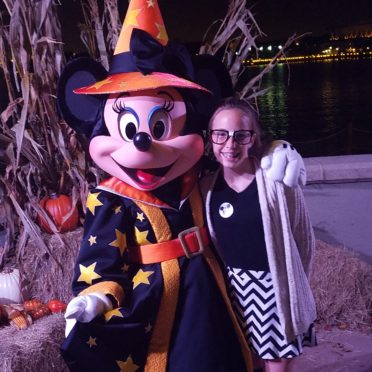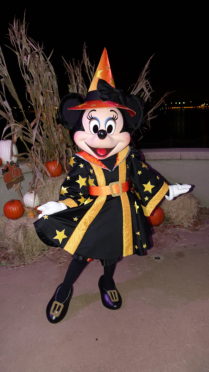 The great character variety, the tons of candy and the happy and friendly Cast made the night terrific and that's why we fell in love with Disney World many years ago.
What characters did you meet on Halloween at Disney resorts?  Share them on my Facebook page!
Are you planning a vacation? Reach out to our trusted travel agency sponsor Authorized Disney Vacation Planner
Mouse Class Travel
!