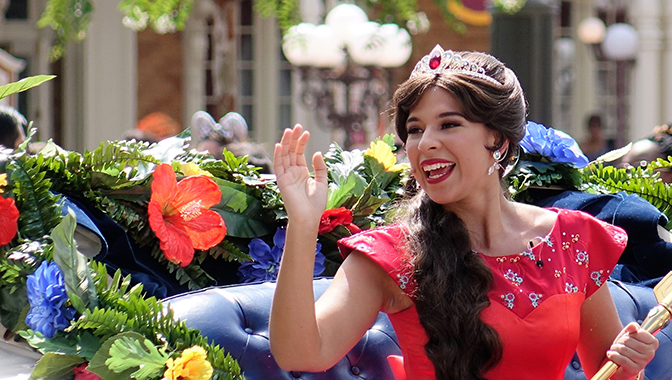 Elena of Avalor made her debut at the Magic Kingdom yesterday.  I was there to cover the event.  I also picked up a rumor on Elena's possible future meet and greet.  Here's the details:
Let's begin with yesterday's A Royal Welcome for Elena of Avalor event and how it will be presented on a daily basis at the Magic Kingdom.  It began with a royal footman stepping forward to announce the beginning of the show.  It was all running about 15 to 20 minutes behind as they lined up the dancers, musicians, carriage and loaded Elena in Liberty Square.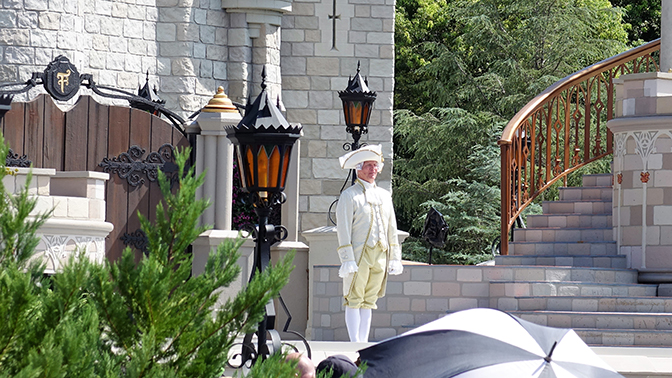 The footman announced a Vice President for Walt Disney World who did a brief introduction and attempted to do his speech in English and Spanish.  The Spanish speaking contingent, which was strong, enjoyed the attempt.  Next a representative from the Girl Scouts of America presented the first ever Elena of Avalor Scepter of Light Award and Scholarship to Ashley Chico.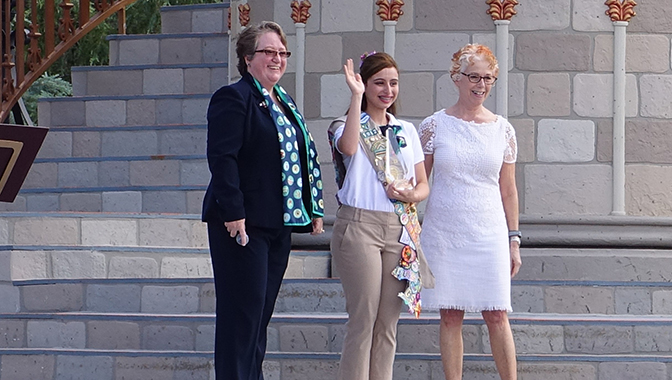 The Vice President Speech and Girl Scout award will not be part of the daily Royal Welcome.  Each day from now through August 27, 2016, Elena will join Cinderella and Prince Charming on the Cinderella Castle stage for this brief introduction to the new Disney Jr Princess.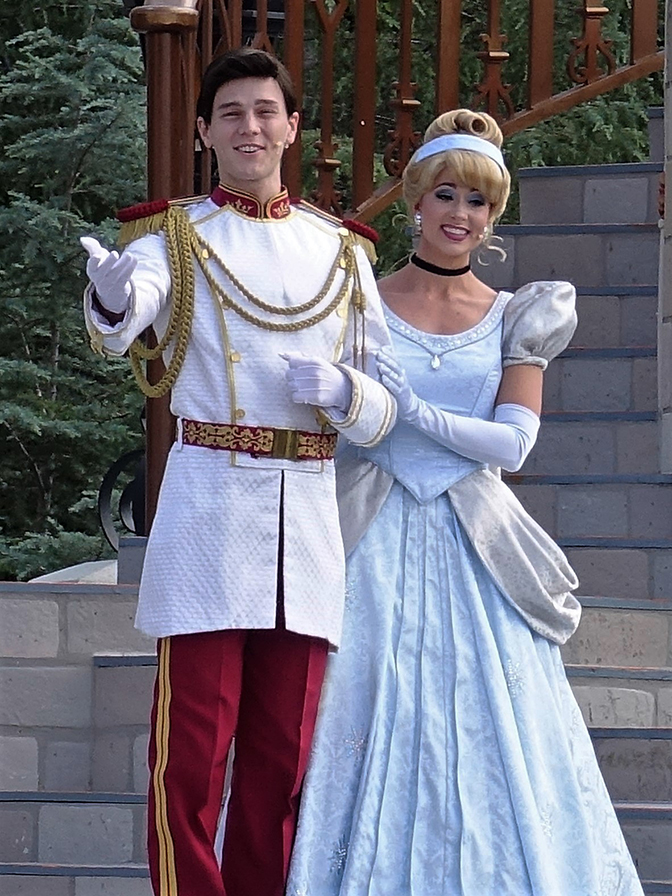 Elena was preceded by banner carriers and musicians.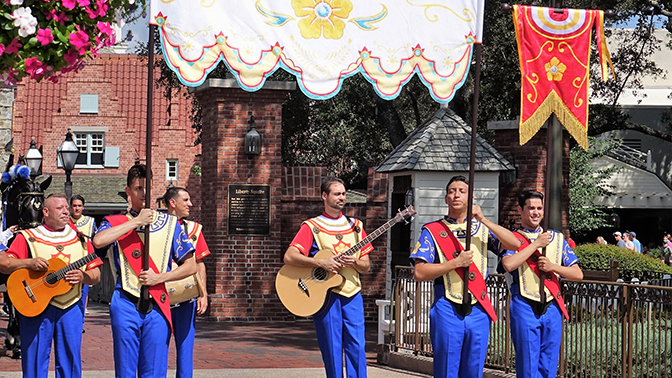 Dancers and singers appeared on stage for the grand welcome.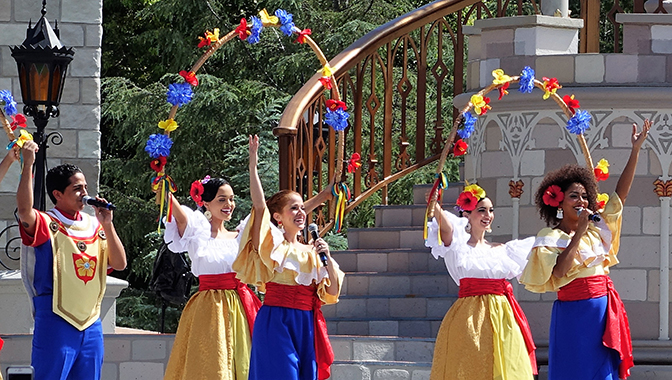 Elena rode along in an open coach, covered by many colorful flowers.  She was excited to meet her new fans.  The Elena of Avalor show, which I haven't seen, has been renewed for a 2nd season.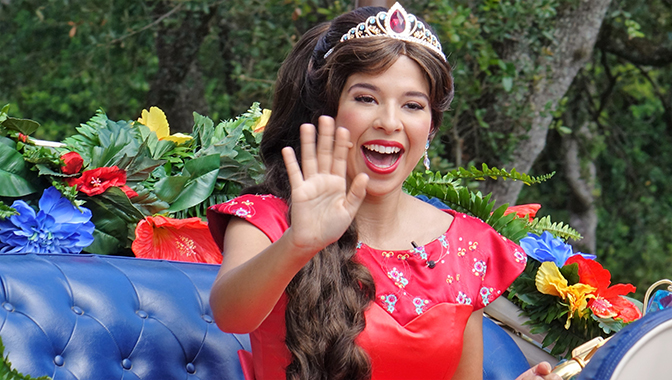 Following Elena was a large group of Girl Scouts.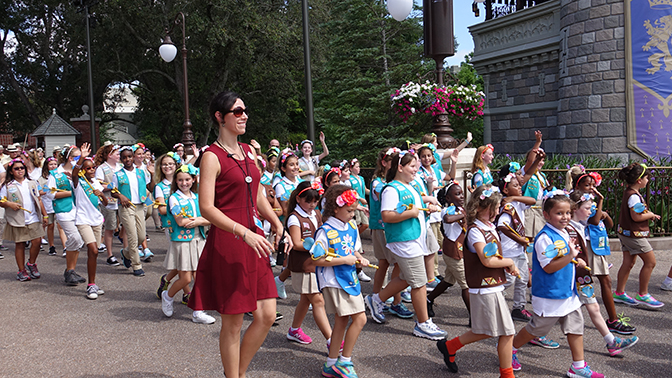 Then more musicians.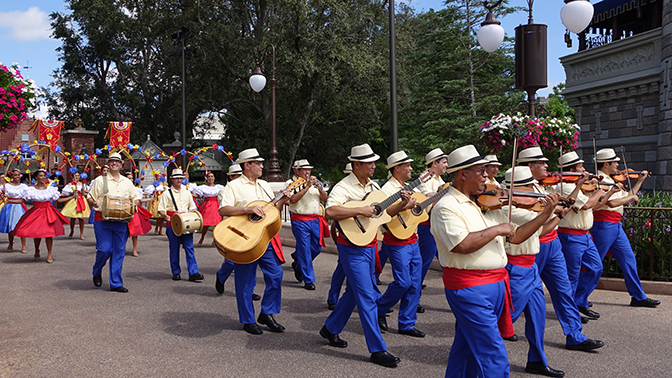 And more dancers.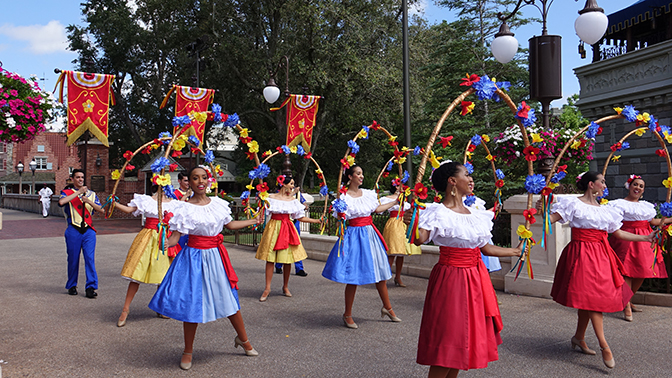 Prince Charming and Cinderella officially welcomed Elena to their kingdom.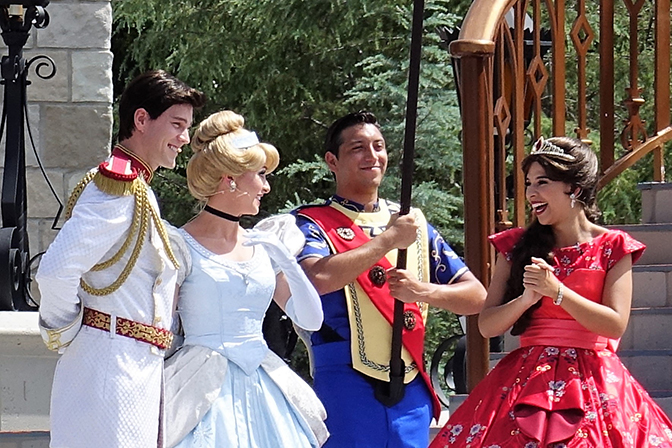 Elena then broke into a song called "This is My Time."  Elena will actually sing the song live.  You should expect Cinderella, Prince and this song each day for about a 6 minute show.  Schedules are always on Character Locator.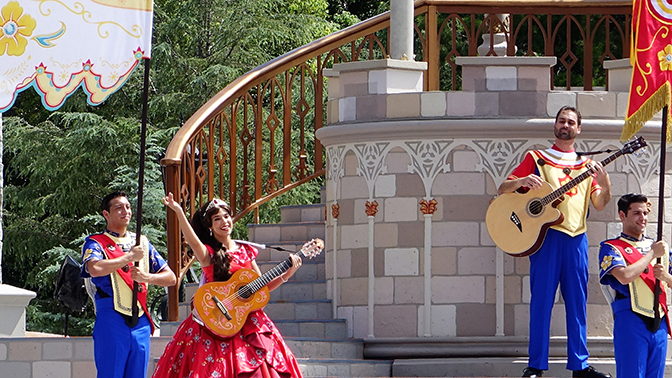 Elena then demonstrated her scepter.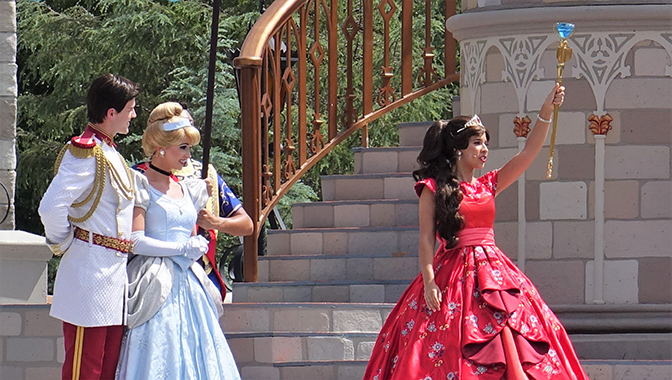 Streamers flew and the cast smiled and waved for the large joyous crowd.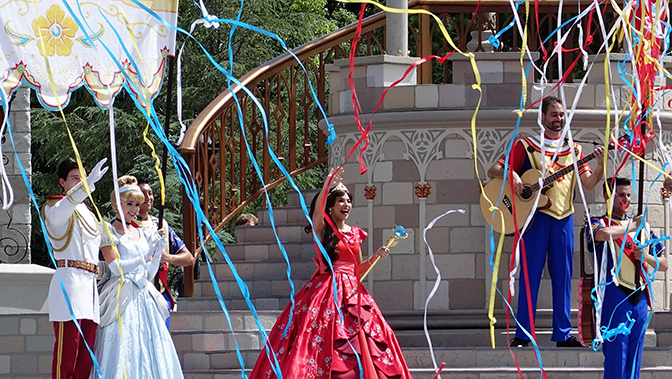 Elena then made her way down Main Street.  Most guests had no clue anything was happening until she passed them.  One woman grabbed her small child and ran down the street with her to try to let her get a view of the newest Disney Princess.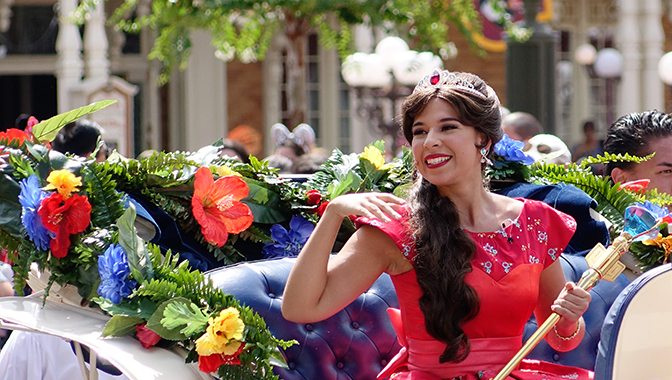 It may seem overdone to some people to take a character from a Disney Channel show and make a big processional and stage show, but for Latina girls it was a true joy to see "one of their own" being introduced as a Princess.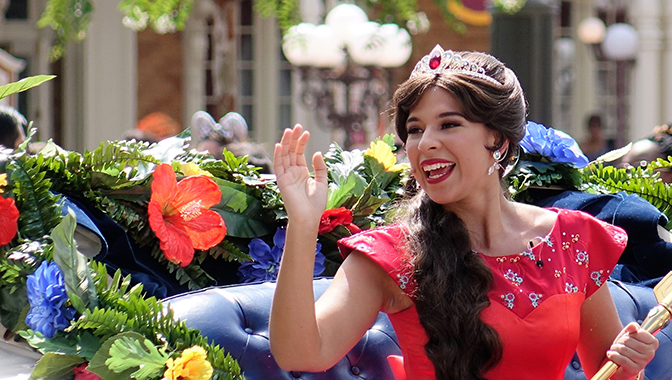 One little girl, standing near me in the beating sun near the Castle said, "It's great to see a Disney Princess who looks like me."  Disney World is a place of all cultures and I can see her point in wanting to see a live, human representation of her culture on stage.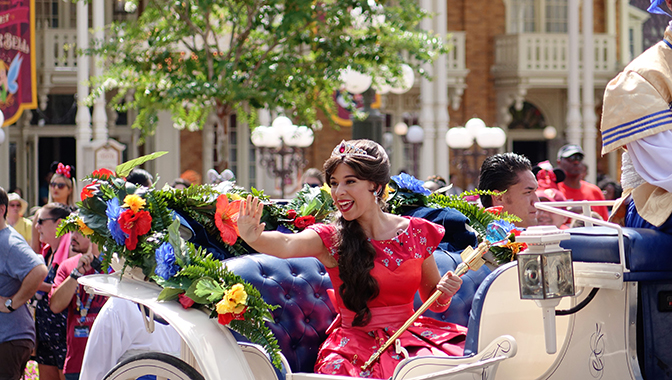 Elena seemed as happy to greet her new fans as the fans were to see her.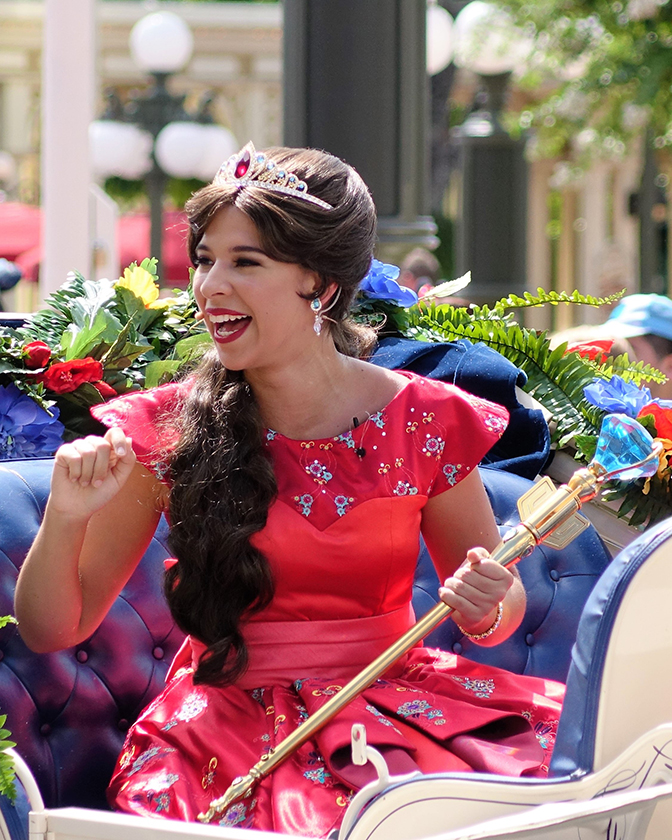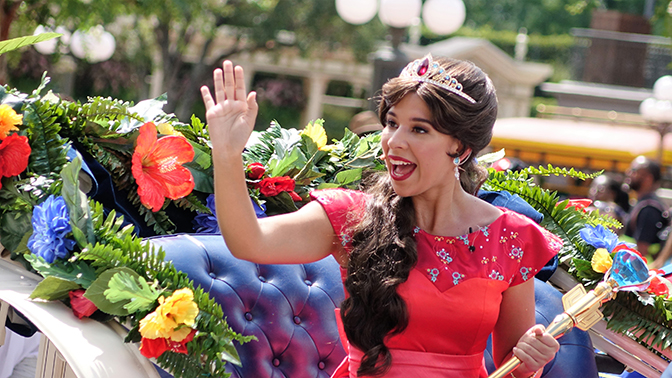 Someone asked me if I could capture a shot of her hair, so she can style her daughter's hair in a similar fashion.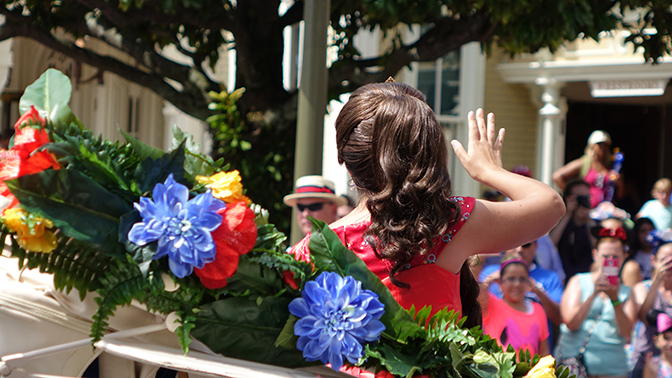 Okay, for the meet and greet rumor.  Remember, it's only a rumor!  I was told by several different people that Elena could be making her way into the Princess Fairytale Hall rotation very soon.  It could be by late August or early September.  I was told she could begin meeting with Cinderella.  If that is true, then Aurora would be back in Fantasyland for meet and greets.  It's all just chatter until we see something happen, but I know guests are clamoring to meet her.