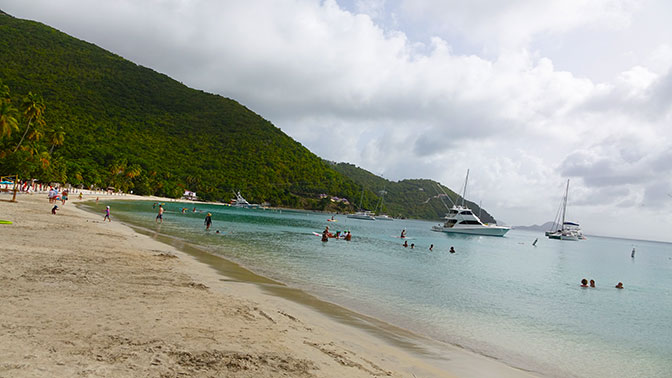 On Day 4 of our Disney Fantasy Eastern Caribbean Cruise, we thought it would be fun to try the "Forest and Beach" Port Adventure.  Here's our experience with some great photos and things we learned from the experience that may benefit you.
A few details before we jump into the photos and discussion:
On this adventure you will…
Take the high road during an eco hike of Sage Mountain National Park before returning to sea level and cooling off at beautiful Cane Garden Bay beach.
Board open-air safari or coaster buses for the ascent to Belle Vue on the Ridge Road, high above the harbor.  Drive along this scenic road to Sage Mountain National Park rising, 1716 feet above sea level, for a one-mile guided hike through the semi-tropical rainforest.
Enjoy the significantly cooler temperatures as your guide leads you along the trail pointing out a variety of flora and fauna. After your hike, enjoy a beverage at the Mountain View Restaurant before boarding the buses once more for the drive back the mountain.
After arriving at Cane Garden Bay, your guide will escort you to your reserved beach chair. Then, relax and unwind with 90 minutes to explore the white sand beach and swim in the stunning azure waters. Finally, take in the sights of Tortola one last time during the 30-minute drive back to the pier.
View important additional information to help you prepare for this exciting adventure.
Wheelchairs (collapsible or electric) are not permitted. 

This tour is not recommended for Guests with limited mobility. Guests must be able to walk along uneven natural trails. 

Guests must wear walking shoes. 

Guests are encouraged to wear swimming attire under clothing if wishing to swim at beach. 

One beverage (water, soda, fruit or rum punch) is included. 

Additional beverages and food can be purchased at Cane Garden Bay Beach. 

One beach chair is included per person at the beach. Umbrellas are not included; however, they can be rented at the beach. Please note that some beach vendors only accept cash.

Cost of the Adventure was $49 per person
Anytime you take a Port Adventure (Shore Excursion) on a Disney Cruise, they give you a ticket with a set location on the ship with a time to meet.  Don't be late, as they will only wait a short time before leaving without you.
After completing any paperwork and checking in they give you a Disney cartoon sticker that you wear for the adventure and a guide will walk in front of you with a matching paddle when your are outside the ship.  We were in the purple Pumba group.  We actually departed at about 1:15pm.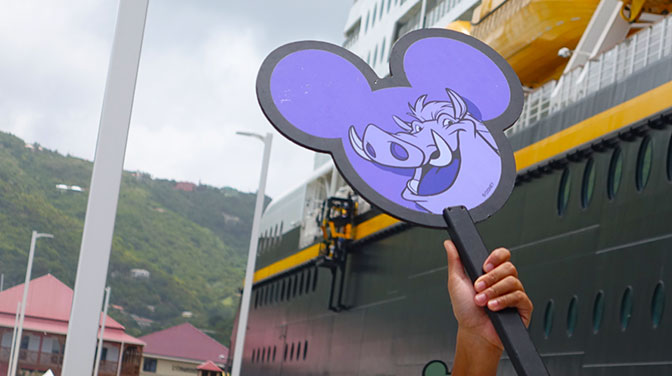 We walked a short distance and boarded one of these open air trucks.  It was an overcast, but hot July day, so the wind blowing through my hair was nice.  These are common transport vehicles and taxis in the Virgin Islands.  I sat in back to get some photos along the ride.  It's a less bumpy ride toward the front and middle.  In the Virgin Islands, the drivers drive on the left side of the road.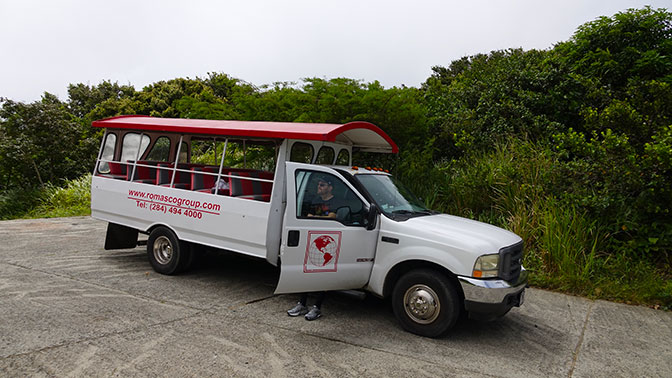 We enjoyed the ride to the top of Sage Mountain.  There were a number of beautiful vistas along the trip.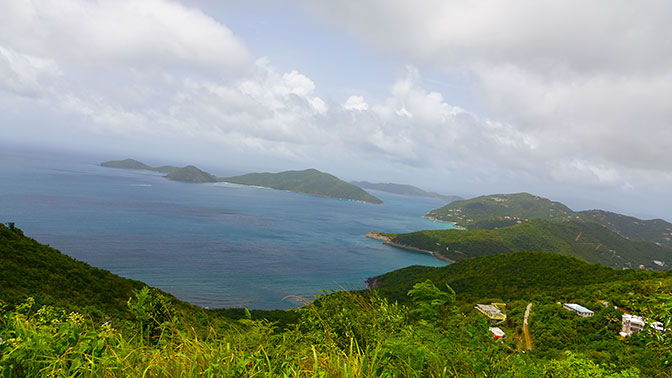 The driver stopped about half way up the mountain for a scenic view and photo stop.  We asked another member of the tour to snap our photo with the islands behind us.  I always look better standing beside my handsome son.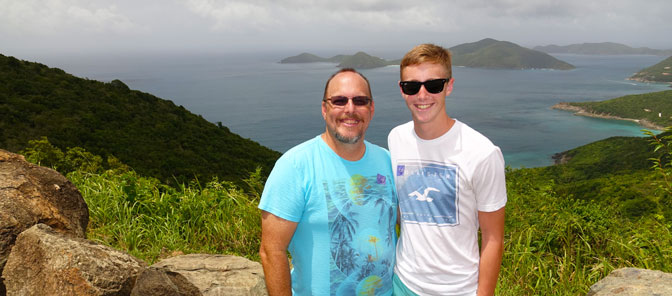 Along the way you can view the beautiful and enormous Disney Fantasy in the bay.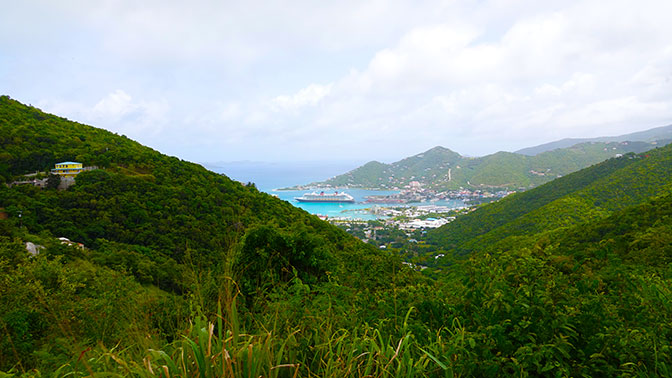 The guide pointed out this special mural wall that tells the story of Tortola with various scenes of daily life. He drove slowly enough to take photos of each scene.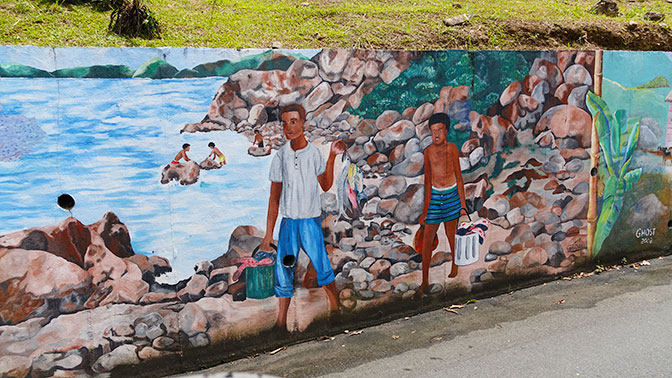 Once we arrived at Sage Mountain, we were given a couple of minutes to use the restroom, do some shopping in the small shop or grab a drink.  If you don't already have a bottle of water with you, get one here!!!  You're going to need it.
My son was fascinated with the Crocs style handbag.  He wondered why anyone would need one of these.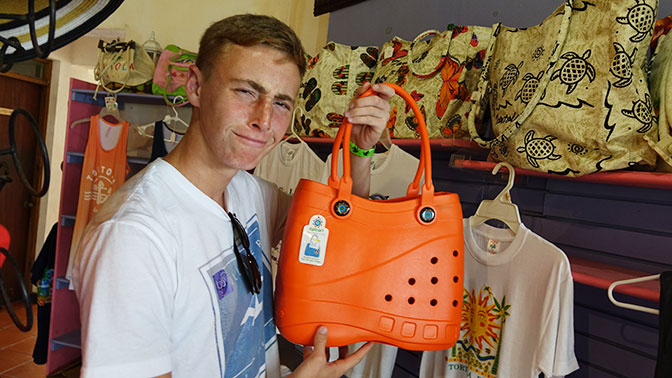 Sage Mountain is the tallest mountain in all the Virgin Islands.  There are several gates to keep the local cattle from roaming in and eating the foliage.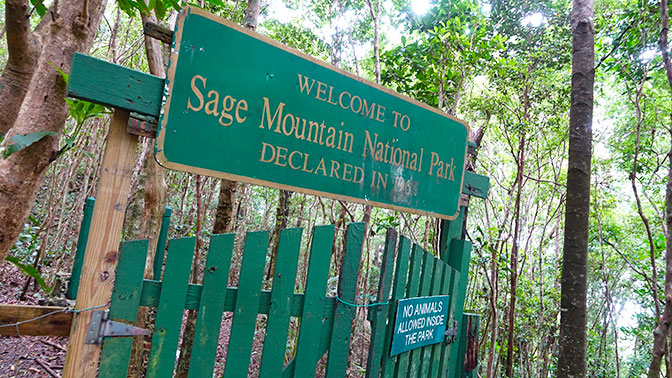 Top right says Car Park and it looks like the peak is just a short walk.  Notice you'll take "Slippery Trail" to get there.  You'll later pass the Mahogany Trail before going done the Main Trail in your loop.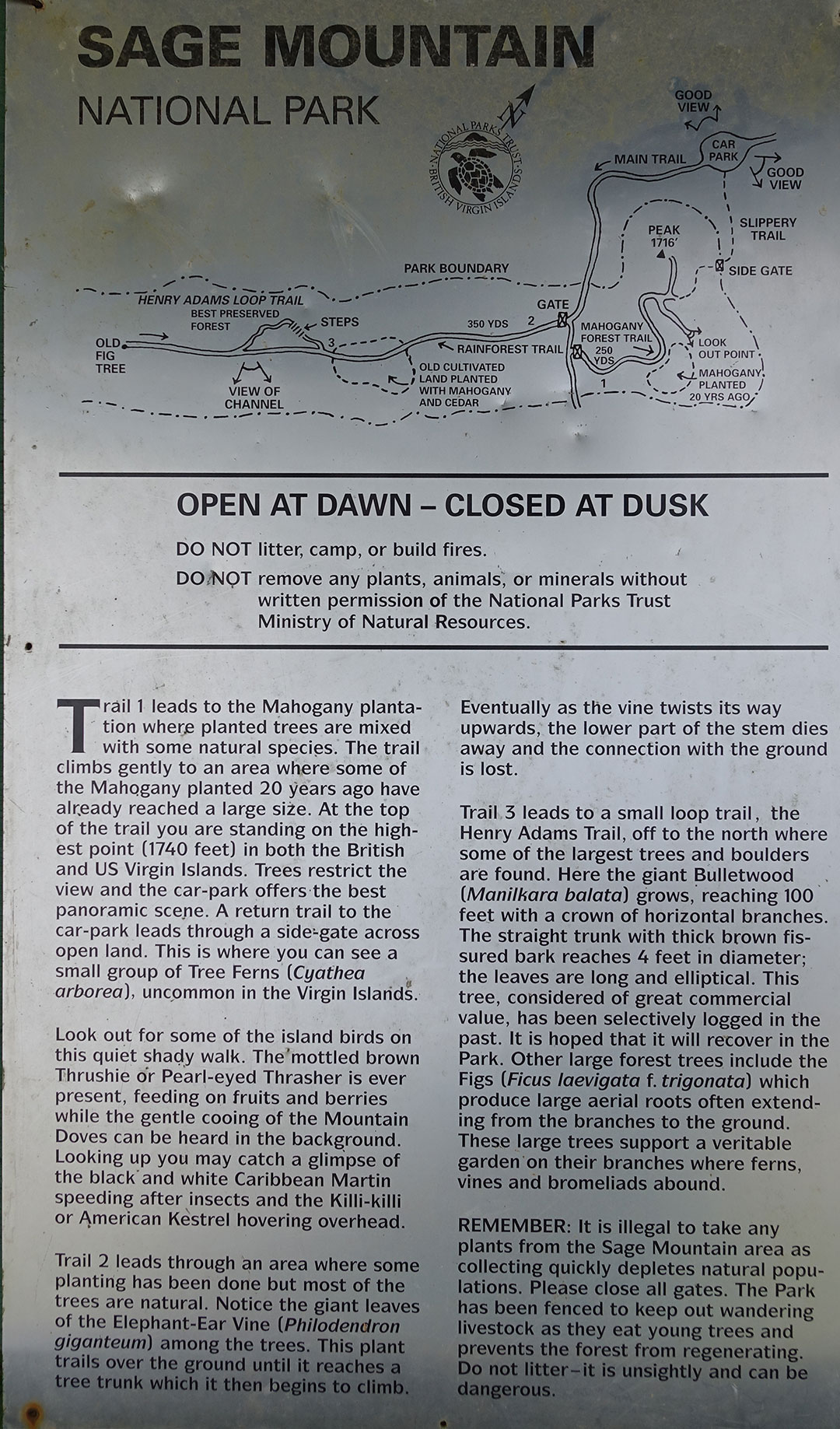 They weren't kidding when they named it Slippery Trail.  It's wet and muddy and slippery all the way up and all the way down the trail.  The description tells you to wear walking shoes, but climbing boots would be a better option.  After climbing to the top and back, my tennis shoes were basically ruined with mud.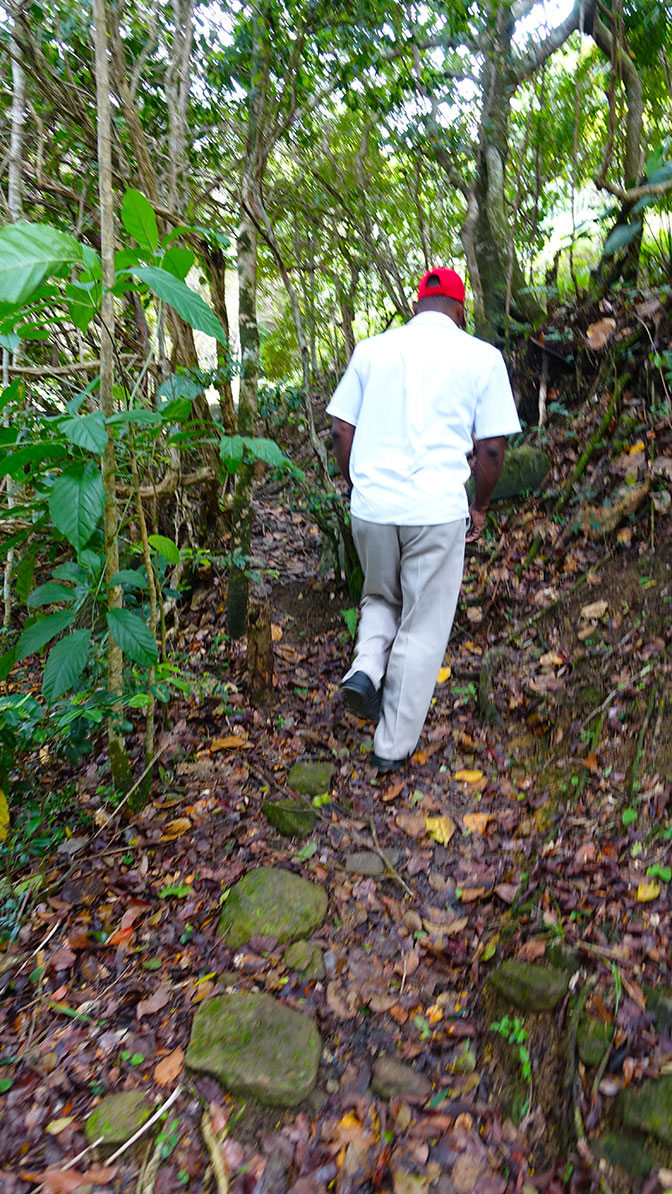 I don't really know what this was, but it looked cool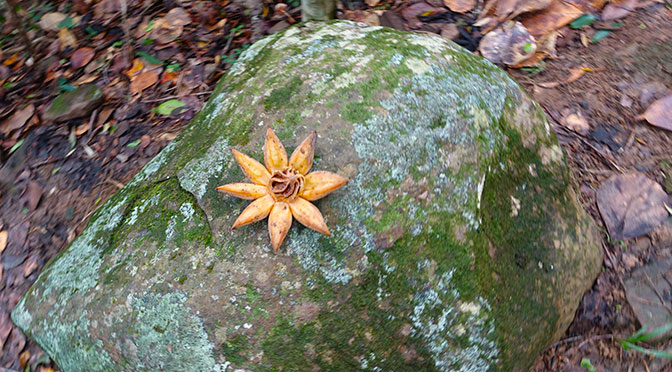 I envisioned a nice little walk through the forest with some discussion of the various plants and birds.  This photo would sell that nicely, right?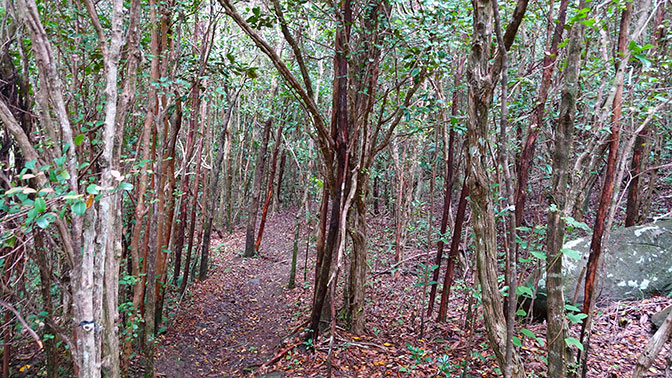 There was a little, very little, discussion of plant species.  The guide pulled off a leaf, broke it and smelled it.  He passed it to me and said, "smell and pass on."  I smelled but had no idea what I was smelling.  It smelled kind of minty.  My son said it smelled like shampoo.  After asking the guide said the locals call it "Cinnamon" and use it in cooking.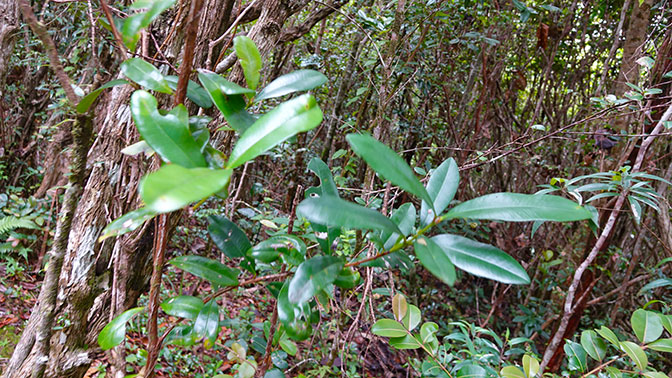 He then pointed out a large termite mound.  If you see one of these around your house, it's too late.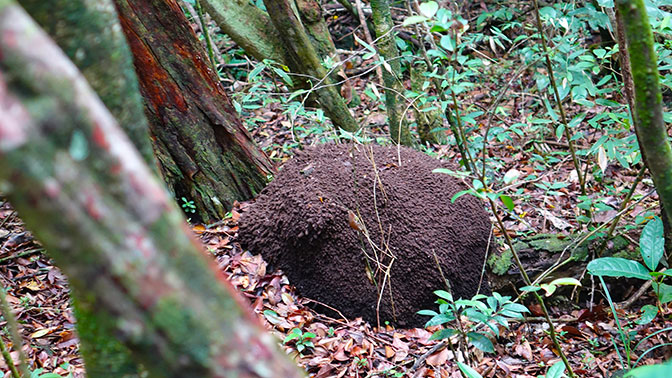 After a very strenuous hike to the peak of 1716 (Guide said 1760) feet to the top, you see this beautiful concrete pour with pipe hole.  Evidently they used to have a sign, but someone took it.  I was breathing very heavily as I tried to stay in step with the local guide.  It took other adults much longer to reach the peak.  From here there is no real view, except trees.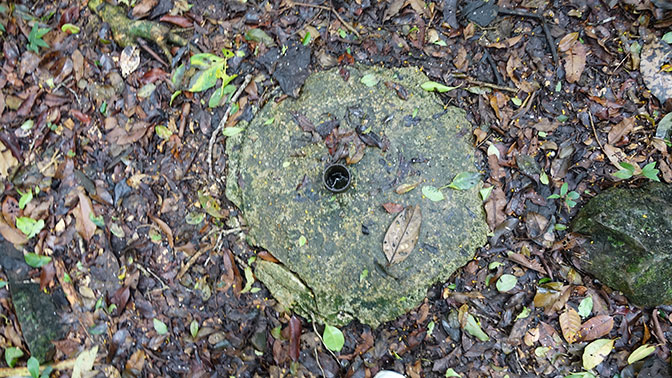 Be careful crossing these little bridges, they are not only slippery, but many boards aren't nailed down and some are breaking.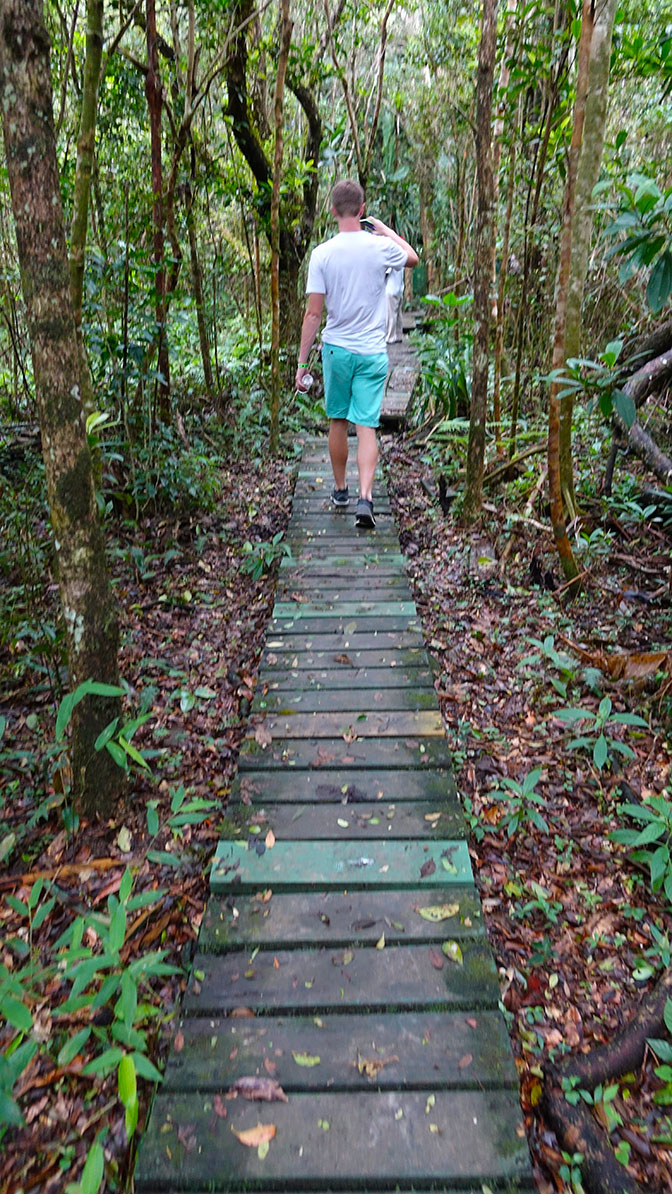 After a brief descent, we were allowed to take some photos from a viewing deck in the forest.  A little bit of a hazy day, but still a great view.  My son enjoyed the hike through the forest, but I would have been okay with the scenic truck ride and beach day.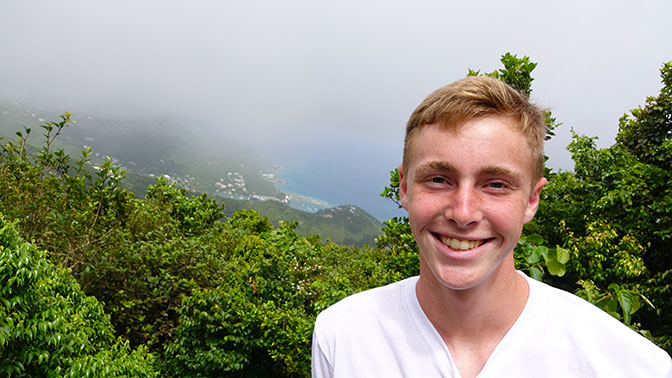 The only way I knew what trees I was looking at was because they were labeled :)  Fig tree.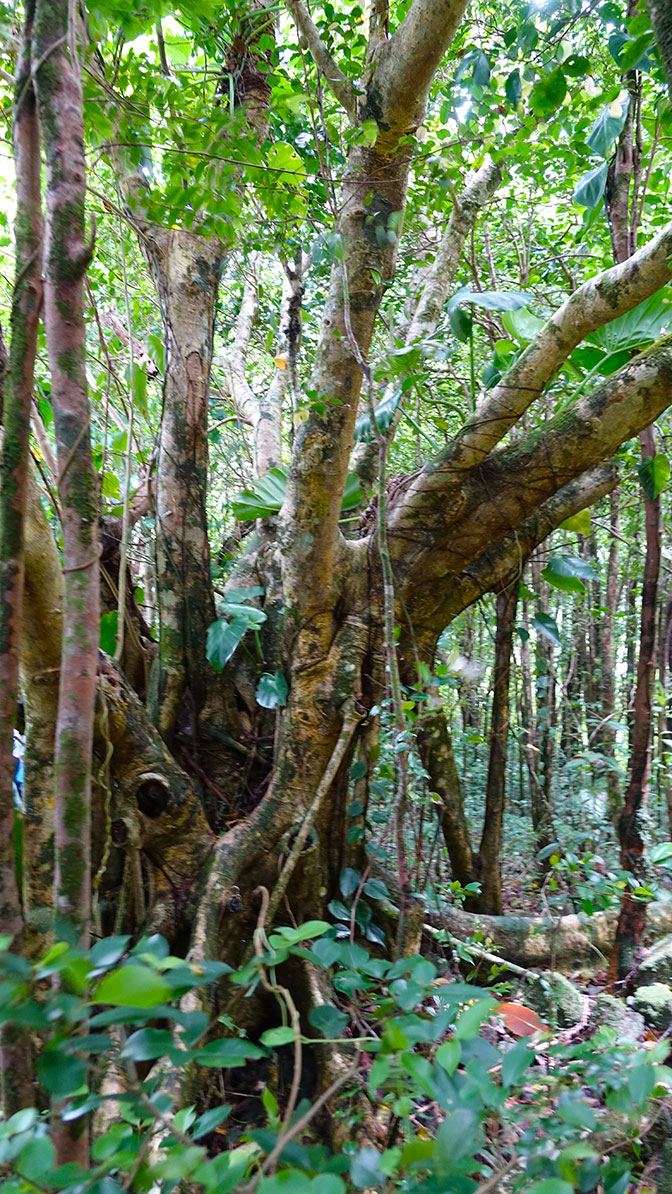 I have NO IDEA what this little guy was doing over 1700 feet up from the beach!  If it wasn't frowned upon, I would have carried him back to the beach.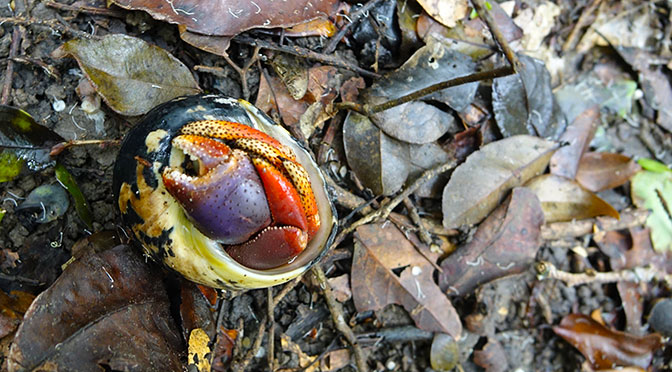 Mahogany trees.  These were planted here, they weren't a native species.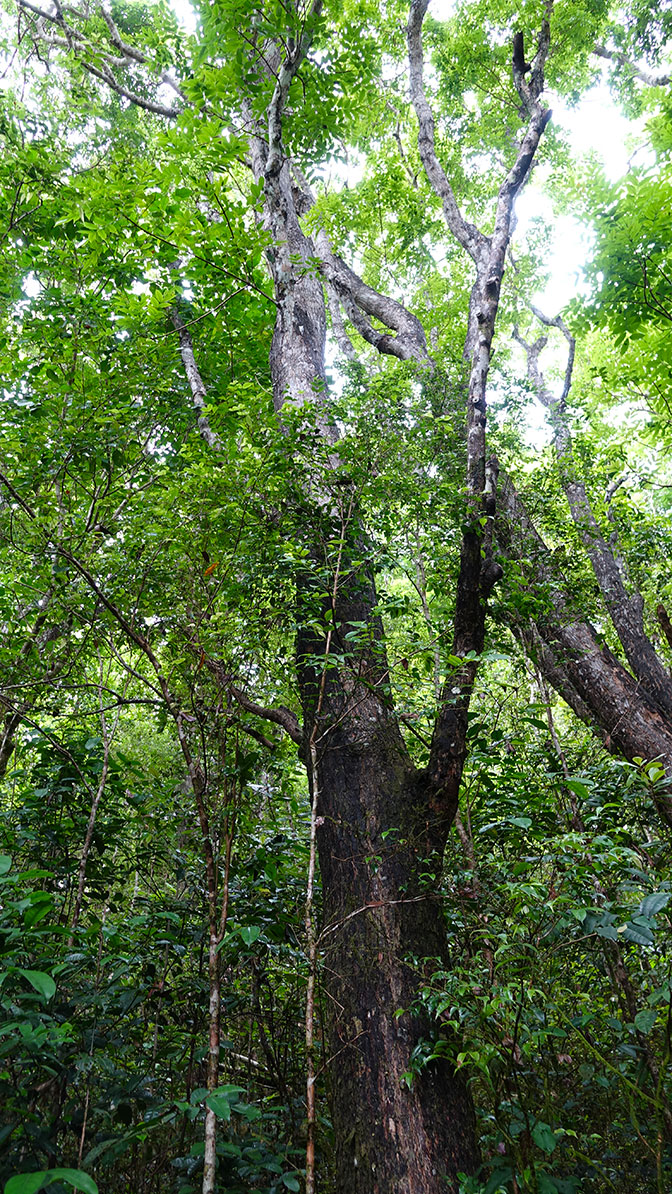 Silk Cotton trees.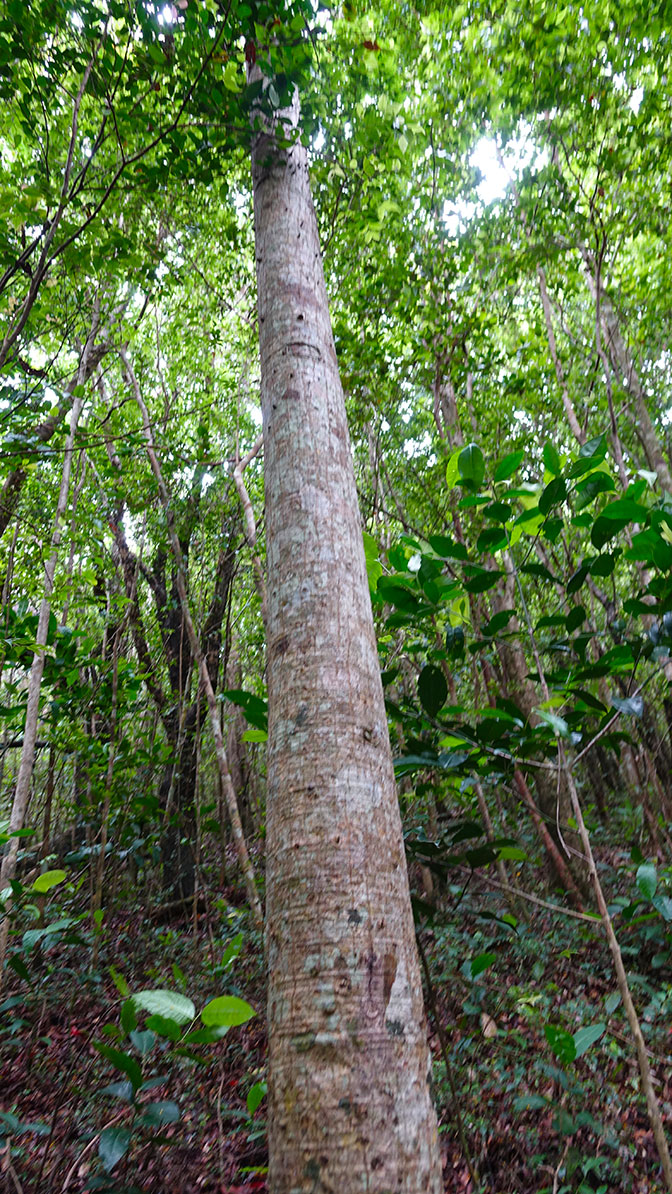 After a long walk back down the mountain we returned to our parking area.  We were given a ticket for a free drink at the little shop.  You could choose between Rum Punch, a local brand soda or bottle of water.
We then boarded the truck and made our way to the beach.  It was about 3:15pm when we boarded the truck.  We were brought to a beautiful beach know as Cane Garden Bay.  Next time on Tortola, I'll just take a cab to this beach :).  We were told we had to return to the truck by 4:30pm.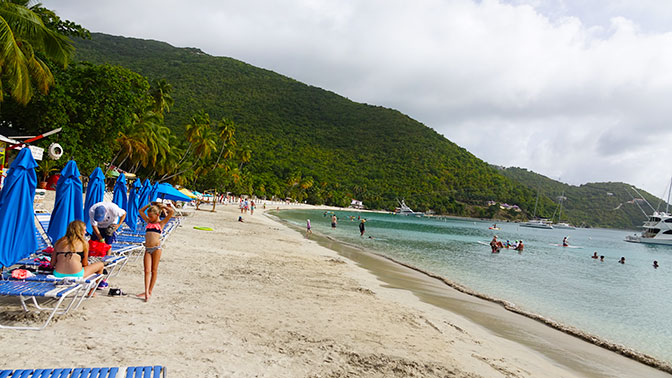 The outline called for 90 minutes at the beach, but we were allowed just over an hour.  The water was crystal clear and a bit cool, so it was refreshing to enter after sweating my way through the forest eco hike.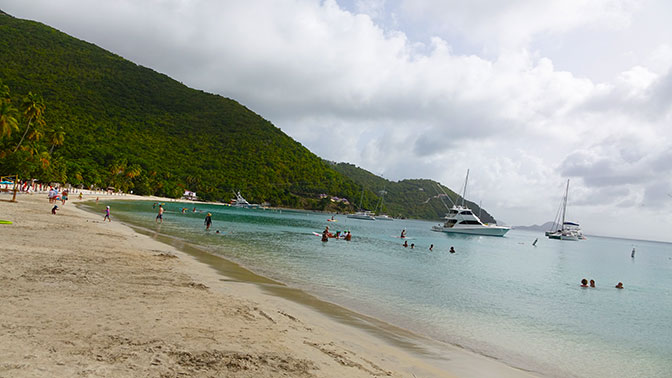 The use of a chair is included in your Port Adventure, but the umbrella is not.  It's another $5.00 US to open the umbrella, which is shared by 2 chairs.  I asked where the restroom was located and the locals seemed confused, even though everyone spoke English.  I asked where I could change and they pointed at a falling down shack.  I'm not joking, as you climbed into the shack there was a hole in the floor at the door entry.
Traveling to foreign countries can always be an adventure.  I never found the official changing room or shower area, so we just returned to the ship with our swimwear and sand.  There are a number of local bar and grill areas with a variety of food and drinks.  Some kids ordered chicken fingers.  My son and I just waited until we returned to the ship for the free food.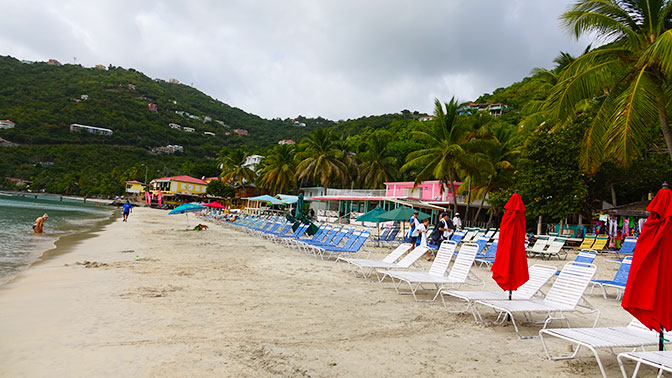 At 5:00pm we returned to the Disney Fantasy.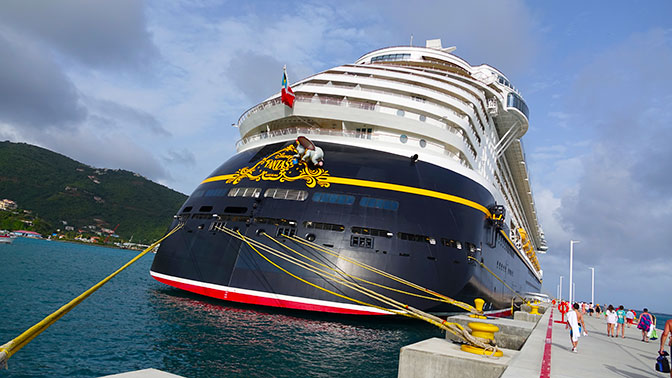 If you would like to get some exercise, then relax, then the Disney Fantasy Forest and Beach tour is for you.  If you want to relax, just take a cab to the beach.  Rent a chair for $3 and umbrella for $5 and you're set for the day!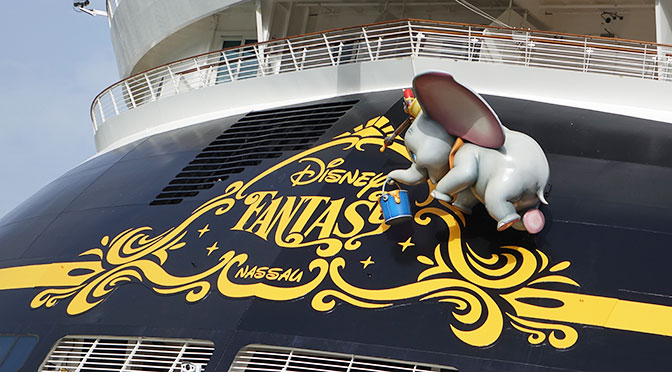 Another thing we learned the hard way…Don't book afternoon Port Adventures on Pirates night.  I had to skip the formal dinner and hustle a bit to meet all the Disney characters in their pirate gear.  I would try to return to the ship by 3:00pm in order to meet all the characters with no stress on this day.