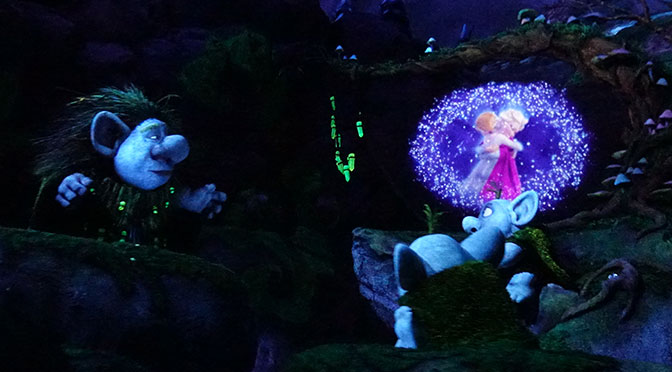 Frozen Ever After in Epcot's Norway pavilion is the newest ride available in Walt Disney World, which means it also has the longest lines.  Here's my review of the ride with photos and video as well as some tips you should consider for riding with the shortest waits.
First, let's deal with the elephant (Roll Tide) in the room.  Frozen Ever After is often referred to as a "re-skin" because it took the place of Maelstrom and uses the same boat course.  Many see World Showcase as a place of educating the culture of a particular nation.  They felt that Maelstrom's overly simplistic scenes portrayed Norwegian culture well.  It basically offered a cabin scene, a viking, a bright light, 3 trolls, a couple of polar bears, another large troll and an offshore oil platform.
My family and I found the ride boring and usually only visited if the wait time was low or during an ultimate tour.  When my children were younger they enjoyed some of the shows in World Showcase, but never really liked the rides or movies.  Some will see my thoughts as heresy, but I was glad they were doing something new.
I spoke to several Cast Members who are from Norway to ask their thoughts on the new attraction and they loved it and do feel that they new ride shows a bit of Norway culture and the original story the ride was based upon was popular in their childhood.  I don't see Frozen Ever After as a travelogue of Norway.  You're not going to see Samantha Brown or Anthony Bourdain visiting Arendelle, but the ride is fun and that's the main reason we always brought our children to Walt Disney World.  If you disagree, feel free to comment, but I don't allow comments that attack or insult me or any other reader, so I'll just press delete if you attack the person instead of address the point.  If you feel the World Showcase should only be a grouping of educational, cultural attractions, feel free to share that.
My Facebook posting of my Frozen Ever After ride video below received more than 200,000 views!   Many said it was the best version they saw.  Thanks!
On to the review!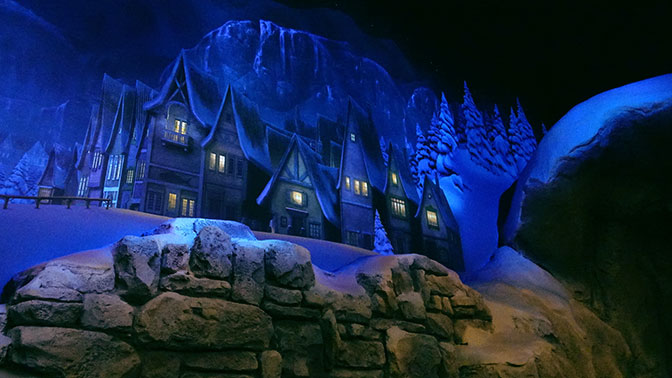 The ride load area begins with a sampling of the area Arendelle, then takes you on a 5.5 minute enjoyable adventure into the fictional land.  The ride is actually about 1.5 minutes longer than Maelstrom was for those who feel it's too short.
Here's a few rides that Frozen Ever After is longer:
Astro Orbitor
Barnstormer
Big Thunder Mountain
Buzz Lightyear's Space Ranger Spin
Dinosaur
Dumbo
Expedition Everest
Kali River Rapids
Mad Tea Party
Mission: Space
Peter Pan's Flight
Primeval Whirl
Prince Charming Carousel
Rock n Roller Coaster
Seas with Nemo and Friends
Seven Dwarfs Mine Train
Soarin'
Space Mountain
Star Tours
The Magic Carpets of Aladdin
The Many Adventures of Winnie the Pooh
Toy Story Midway Mania
Triceratop Spin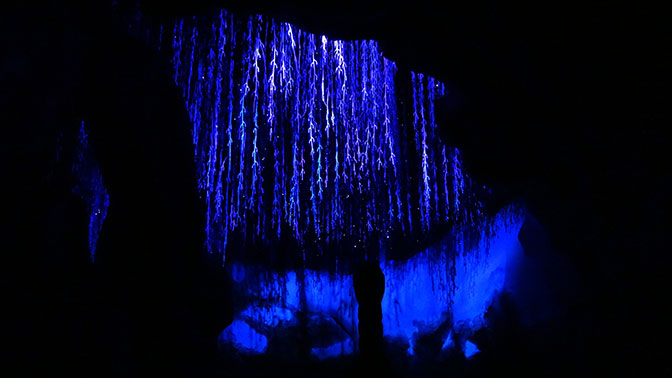 After passing through the snow curtain, you'll see Olaf and Sven in a winter wonderland.  The Olaf animatronic is very animated and fun to watch.  Sven wasn't moving on my first 2 rides, but on ride 3 on a different day he was moving.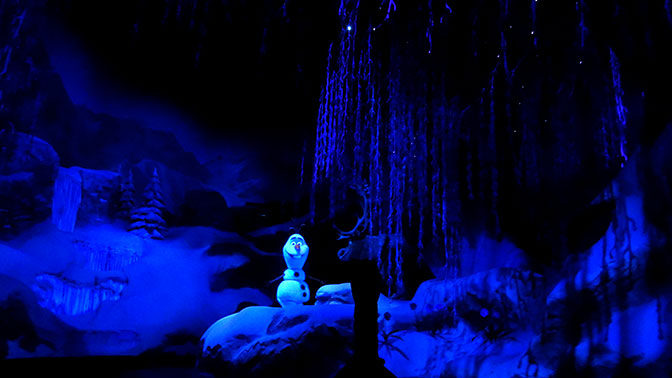 No skull, no bones.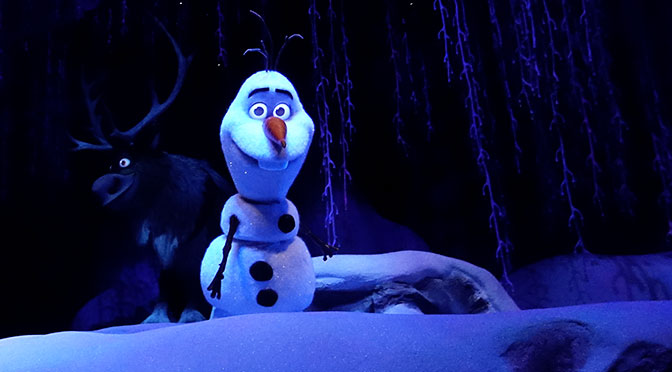 Another new scene area is the new trolls that resemble the ones from the movie.  If you wish to see a hint of the previous troll occupants, take a walk through the new Royal Sommerhus Anna and Elsa meet and greet.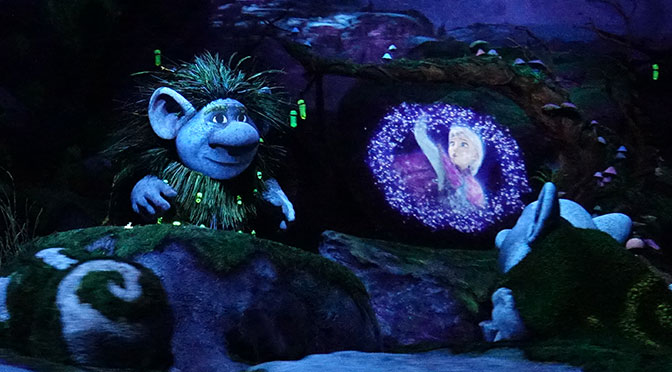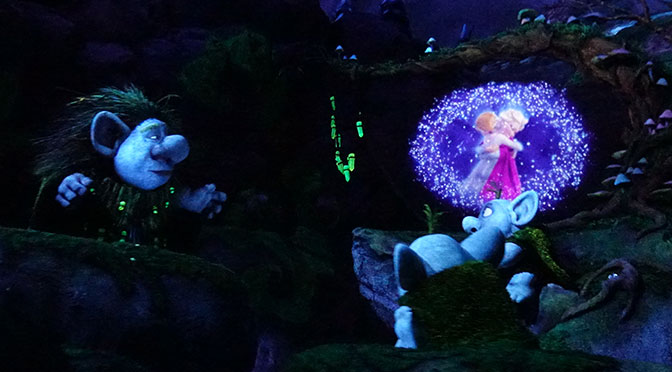 In Maelstrom you traveled up a hill here with a bright light in your face and a ominous voice that said, "You are not the first to pass this way, nor shall you be the last."  Now you're heading toward Elsa's ice palace.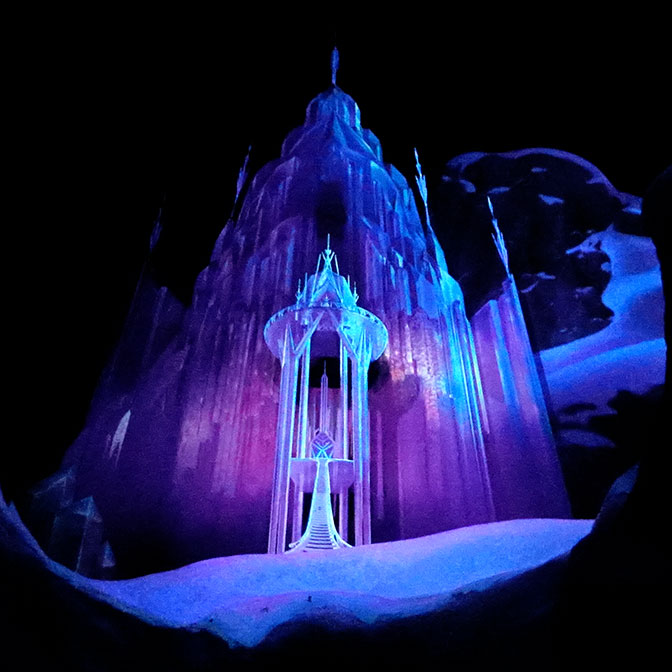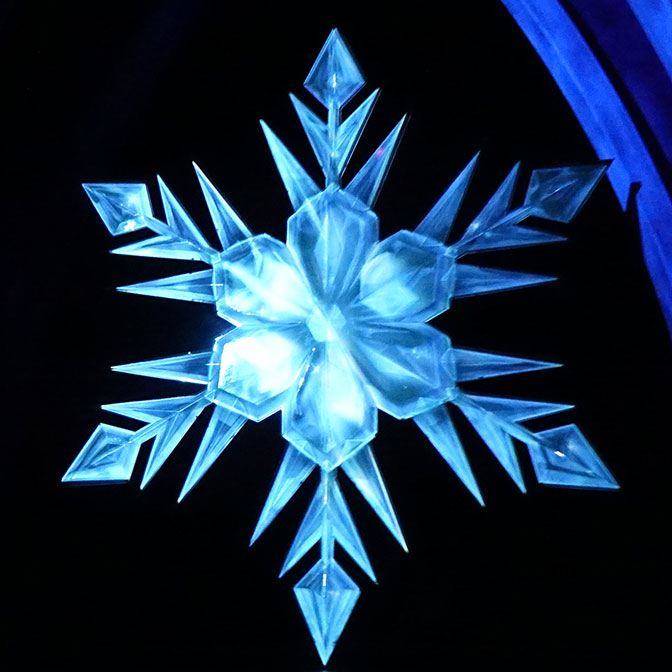 After topping the hill you'll see Olaf skating about.  This was the scene that once had the Norwegian family and log home.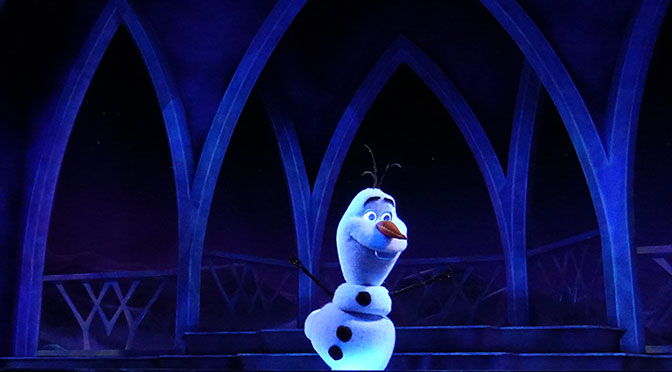 The next scene is Anna and Kristoff singing with Sven licking on ice.  This used to be a single viking.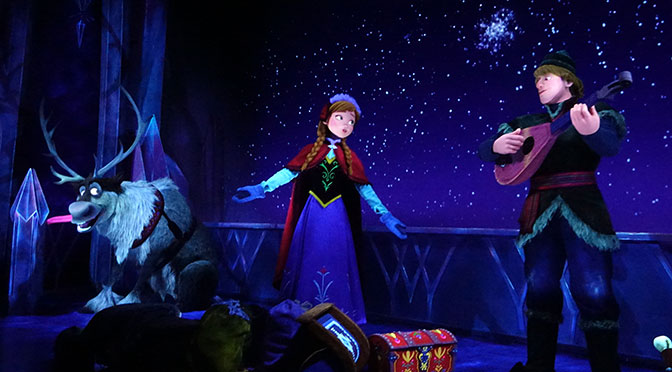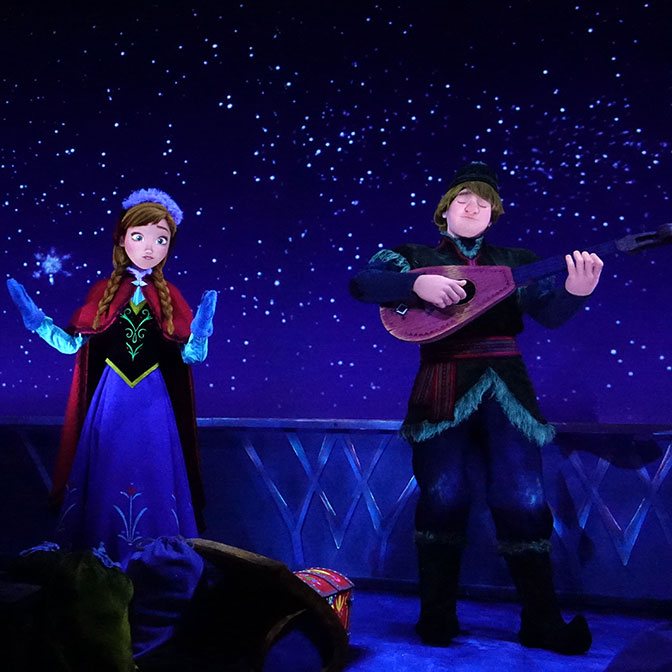 Sven is the best.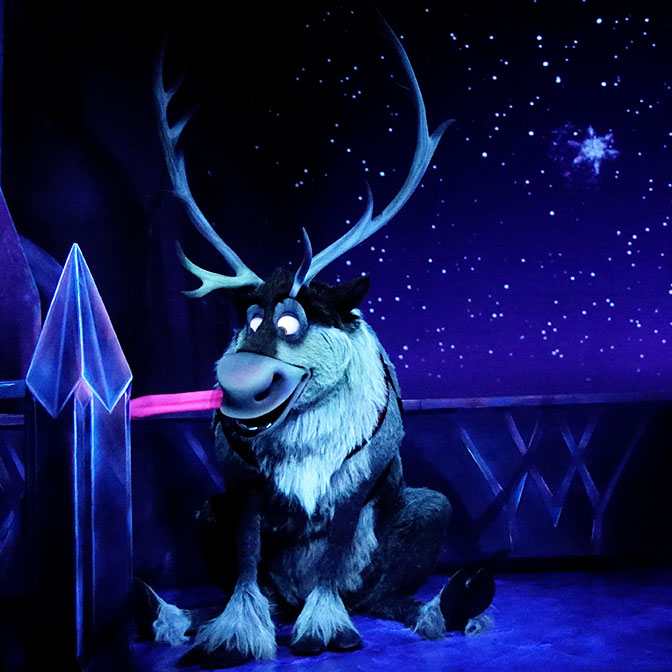 We are then invited in to see Elsa do her icy magic.  For those wondering she is an animatronic, but like the others has a projected face.  It can make photography a real challenge because it tends to make their faces pale, pink or purple.  I bet you can guess the song.
This scene used to contain the 3 trolls who told you to "Disappear, disappear!  Back, back, over the falls!"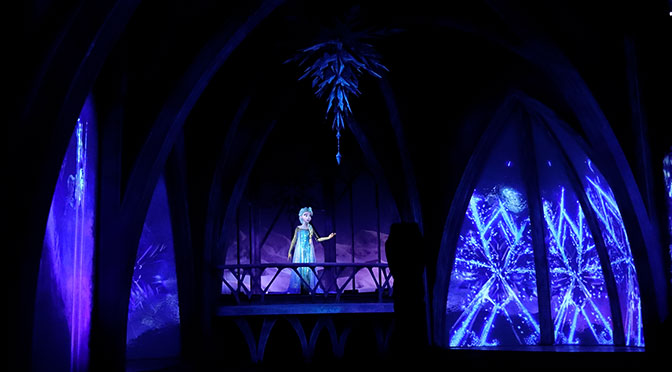 This shot didn't turn out too badly.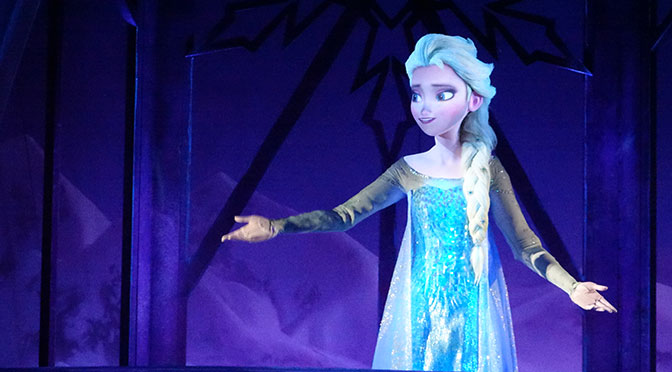 We used to see 3 polar bears along the left side of the ride as we went backwards.  Now it's a series of projected images.   You then come to the waterfall area that used to be occupied by another large troll who had a small twitter following but loved to bash Disney bloggers frequently.
Now we see this fun scene of the snowgies and Marshmallow.  Just before you go over the second small hill, he says, "I'm free!"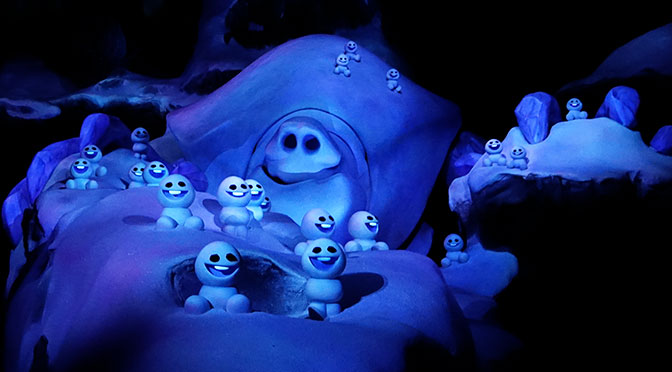 The area that used to be a big ugly oil platform on the North Sea now has the Arendelle castle on the left and some Puffins along the right side.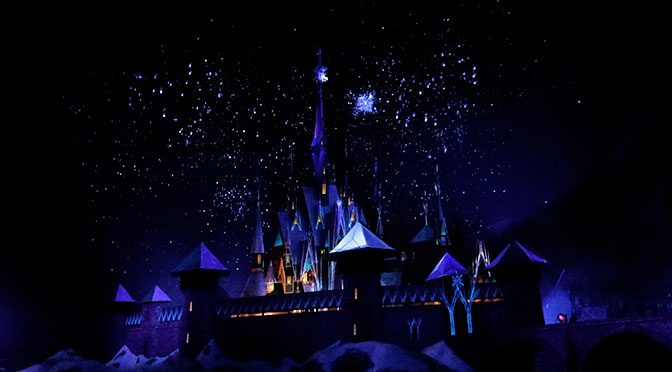 This final scene area was an open area that had a sailboat in it.  It now has Anna and Elsa holding hands and singing along with Olaf.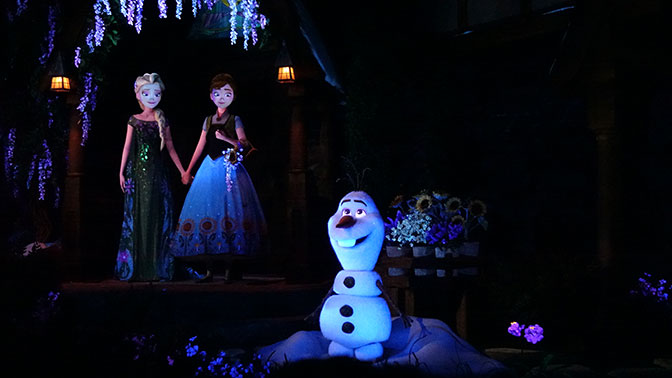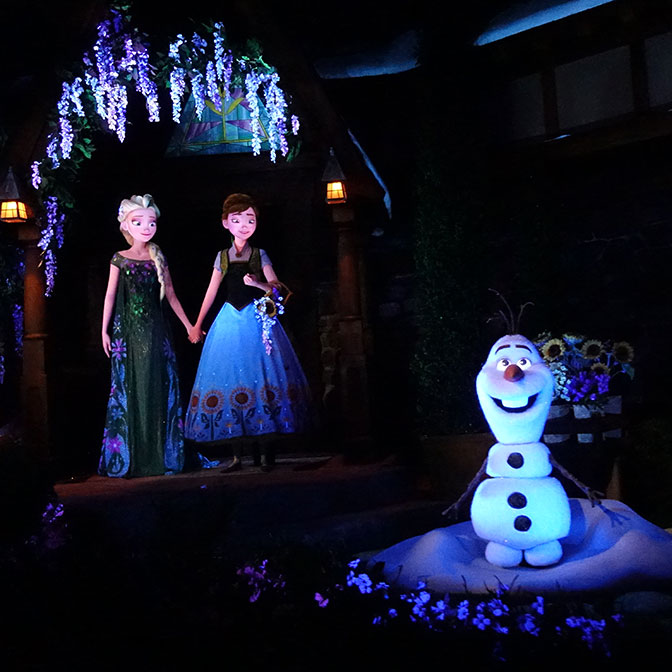 Kewt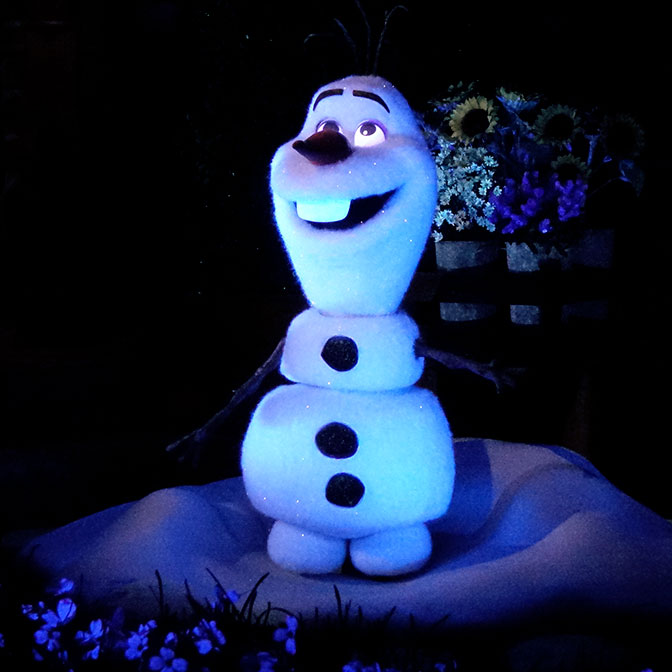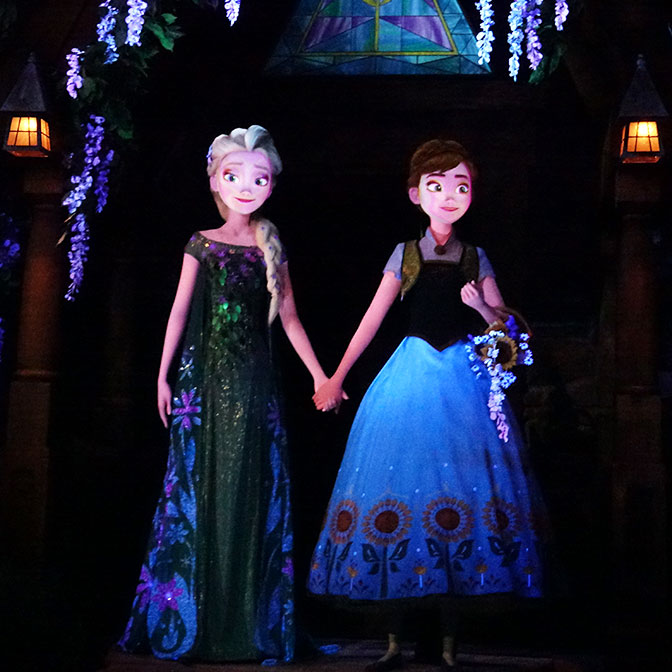 I really enjoy the ride, even though it seems like Frozen stuff pops up almost daily at Walt Disney World.  It's fun, whimsical and uses music that is identifiable from the film.  Children will enjoy the ride and the hills are very small, so anyone can ride.  There's no height restriction.  If you wish to engage your kids into the culture of Norway, have them engage with the Cast who work in the pavilion who would love to tell their stories.
How to experience this ride:
 Arrive 90 minutes before park opening and power walk for 5.5 minutes to the Mexico pavilion bridge, then stand around there for an additional 30 minutes.  WDW tends to open the main gates at 8:30, but doesn't start up the rides until 9am.  Thus the term "rope drop."  Don't try to take the shortcuts across the Future World bridges.  Go straight up the main promenade and turn left at the end.  Try to be among the first ones in line or you'll be facing waits up to 3 hours!  Do understand that a thousand other people want to do this and they will push, shove and hit you with strollers.  I still have a bruise from day one on my heel.
Use Fastpass+.  The absolute best and easiest way to experience this ride is to use Fastpass+.  If you are staying offsite, book those Fastpass+ 60 days in advance.  I like to choose a time from 10am to 11am.  I tend to head to Soarin' first, then use Single Rider for Test Track, then use my Fastpass for Frozen Ever After.   If the ride breaks down, you can use your Fastpass+ all day, but I've not had any problems using mine early in the day.
This ride has a really low capacity and is apt to break down frequently throughout the day, so Fastpass+ will alleviate your pain.  I haven't tested either Extra Magic Hours yet, but posted waits during Late Extra Magic Hours tend to be 45 to 60 minutes, but you won't be in the sun!
Get all the latest KennythePirate Disney news and planning advice in your inbox!
Feel free to SHARE!