Jungle Book: Alive with Magic is Walt Disney World's newest long-form night time presentation.  Here's all the details you'll need and my thoughts on the show.
How to find the show:
Jungle Book: Alive with Magic is found in the new Discovery Island Amphitheater in Disney's Animal Kingdom.  It offers 2 viewing primary areas.
One area is located in front of Expedition Everest and is for Fastpass+ viewing only.  You'll want to cross the bridge from the Oasis toward Asia to enter this area.  Fastpass+ says to enter 35 minutes early, but 60 minutes is highly recommended.
Another area is located in front of Finding Nemo: the Musical.  It is used for those with Dining Plans and regular stand by guests.  Stand by seating is VERY limited, so you'll want to arrive by 7:00pm for a 9:00pm if you are not using Fastpass+ or a Dining Package.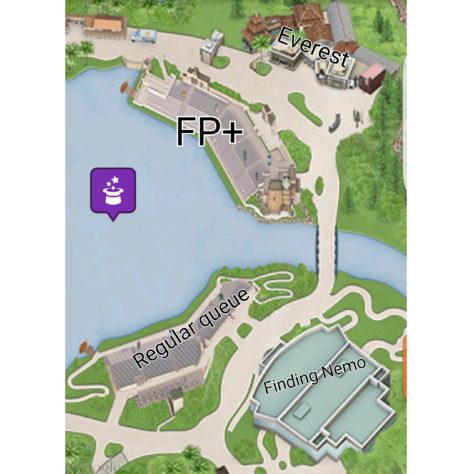 Each section has two long barges tied up along the front of the viewing area.  I highly recommend viewing right in front of one of these barges in order to see the dancing that takes place.  If you sit between rows 3 and 7, you get the best view of the Indian style dancing and musicians which is the majority of the show.
Another small viewing area is located on the bridge between the seating areas.
Check out this video for a full viewing of the show:
Expedition Everest does not close during the show, but Fastpass+ is cut off at 7:30pm.  Everest goes from no wait to mobbed following a show!
When are shows?
Shows are 9:00 and 10:30pm nightly through September 5, 2016.  Nothing beyond that date is currently provided
What you should expect:
Jungle Book:  Alive with Magic was created in about 30 days following some major issues with the production of Rivers of Light.  It is not the grand spectacular that one would expect from other Disney night time offerings like Fantasmic!, Illuminations, Wishes or World of Color.
Disney had already employed over 100 people to premier Rivers of Light and wanted to offer something during the busy summer season.  Here's some pros and cons of this show:
Pros:
Great live music and singing.  It is the only Disney night time, large-scale show to offer live music and signing.  It has many very talented individuals.
Songs from the recent movie are used in the production.  You'll hear several very familiar Jungle Book songs.
Nice, vibrant colors.  Show is filled with vibrant costuming and lighting.
Wolf pack.  A feature that kids love is the "Wolf pack" where everyone howls in unison a few times during the show.
You don't get wet.  Water screens are really far away, so you don't need to worry with getting soaked.
Cons:
You need to see the recent movie to fully understand it.  My oldest hadn't seen the movie, so many of the movie clips made her wonder what was going on.  It doesn't seem to tell a coherent story very well.
Westernized Indian style dancing.  Dancers are very talented, but after about 7 minutes you're left feeling like the show could be so much more.
Water screens are often unviewable and disconnected.  A center screen is supposed to be made from two giant water cannons rarely connects, so a lot of the projected images look broken or cut off.
Not enough action for a night spectacular.  If you are accustomed to lots of action, movement, colored water cannons, fireworks and characters, you won't see that.  All the action takes place on static barges with most action on the barge right down front.  2 barges on each side have 3 dancers each and a center one with singers.  I would have preferred more action than 3 flame twirlers and felt the show could be easily done in Finding Nemo's theater with some wall projections.
25 minutes is too long for this show.  I'd reduce this to 20 minutes or less so the same style of music and dance doesn't get boring.
Remove the large, ugly barges and install the dancing water lotuses!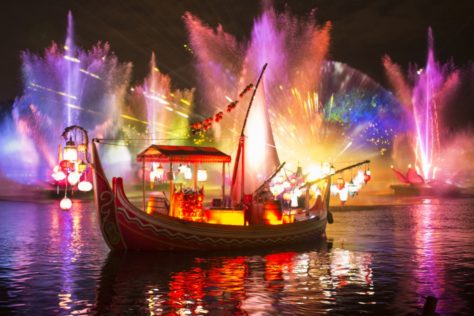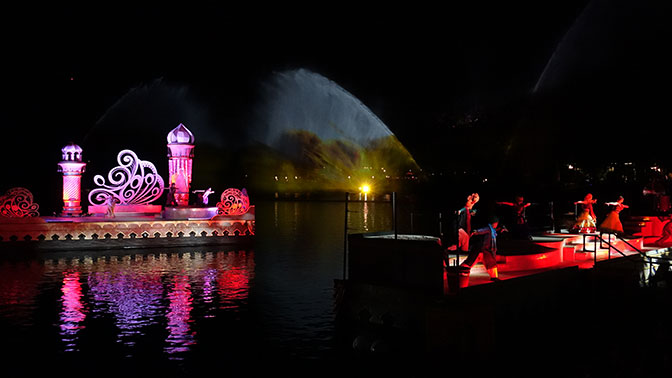 If you plan to see the show, I'd recommend getting a Fastpass+ and another one for the after dark Kilimanjaro Safari.  I'd use the other Fastpass+ for Kali River Rapids or Everest in the daytime.  I'd be disappointed to spend extra for a Dining Package, but using a Dining Plan credit at Tusker House seems reasonable.  Hopefully, they can fix Rivers of Light really quickly!
Feel free to ask questions and share this post and video!
Are you planning a vacation? Reach out to our trusted travel agency sponsor Authorized Disney Vacation Planner
Mouse Class Travel
!