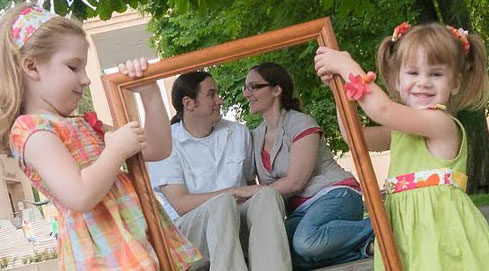 (A guest post from my friend Melissa who would like to walk you through the process of planning and executing her dream Disney wedding at the Grand Floridian Wedding pavilion.)
Step One:  DECIDING ON A DISNEY WEDDING
When we told our friends and family that we'd decided to do a Disney wedding, there were a lot of mixed responses:  from folks who didn't know that Disney offered a wedding service, to friends who had always wanted to attend one but never had the opportunity!
The one thing they all asked was how we had come to this point: it's a funny story, actually, and one I thought I'd share as it may be useful if you're considering doing a Disney Wedding, too.
First, a little background. My fiance and I have been together for almost 12 years. We became engaged in 2007, but with the economic meltdown happening we decided to postpone doing a wedding for a year while we waited for the economy to improve and for finances to feel more secure. A year turned into two and then five and then more! In the meantime, we went on with our lives: buying a home and starting a family. But we always regretted not having a formal wedding.
The thing with weddings, though, is that they're a lot of work! Every few years we'd discuss the idea and do a little research and always came to the same conclusion that it was too expensive and too hard. (There's a reason why most people get married before having a home, career, and kids!) Beyond the cost, we just simply didn't have the time or energy to take on something so huge and complex.
Around 2013 we became friends with a couple who are true Disney fanatics. We vacation to Disney often as a family, but I wouldn't have considered us to be Disney fanatics per se. Our new friends, however, had done a Disney engagement and a Disney wedding, a Theme Park photo shoot, and even took a trip so that their son could have his first haircut in the Magic Kingdom! When I mentioned to them how we'd always wanted to do a wedding but hadn't found the time, they started encouraging us to look into Disney weddings because they are very low-effort.
I was skeptical to say the least. We started evaluating venues in Michigan and also gave Disney weddings a call. I fully expected that they would be outside our budget, but we quickly found their price point was comparable to the venues we were looking at in Michigan. Where Disney really pulled ahead, though, was on travel and service. For our out-of-state guests (of which about 50% of our guest list would be travelling from out-of-state) the cost to fly to Orlando was significantly less expensive than travelling to Detroit. And the accommodations available with the wedding discount undercut anything local (with the wedding discount a room at the All Star Resort is around $90/night, whereas a sketchy motel in metro Detroit was going to cost guests $120-160 with no pool and questionable location!)
On the service side, Disney offered an all-inclusive service for weddings. They do all the planning, catering, and even provide a team on the day of the event — it would have been an extra cost of several thousand dollars to hire a comparable wedding planning team to handle all the details for a local event. The venues in Michigan wanted us to handle a lot ourselves: after paying thousands for a venue it would have been up to us to find and contract with all the individual vendors, a time consuming and anxiety-inducing prospect! And if we attempted to save money and be frugal, that would increase the risk of something going wrong on the day of.
With guests staying at Disney there is the added peace of mind of knowing that they're going to be picked up from the airport via Magical Express, their luggage handled, transportation handled within The World, and that they'd have access to plenty of activities before and after the wedding. If we'd done a wedding in Michigan it would have been up to us to arrange and execute all that, plus coming up with things to keep guests occupied.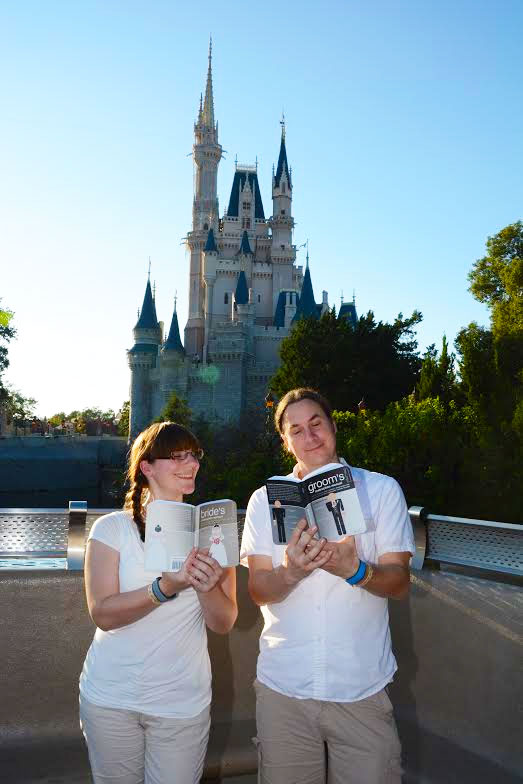 When we sat down with the hard numbers and a list of pros/cons and found that Disney vs. local was neck-n-neck. The final decision for us came down to trust: I felt confident that if I gave Disney a check for $$, I would get a pretty great wedding in return whereas for the same $$ I wasn't as confident about our local venues: there seemed to be a big opportunity for glitches and stress.
That, in a nutshell, is why we decided to do a Disney Wedding. We aren't huge Disney fans, and you won't be seeing us with a Mickey Mouse cake, but we appreciate the level of service that Disney provides for it's guests and for it's wedding couples.
The big day is in November 2016 and I'll be reporting back on our experience as we move through the planning process!