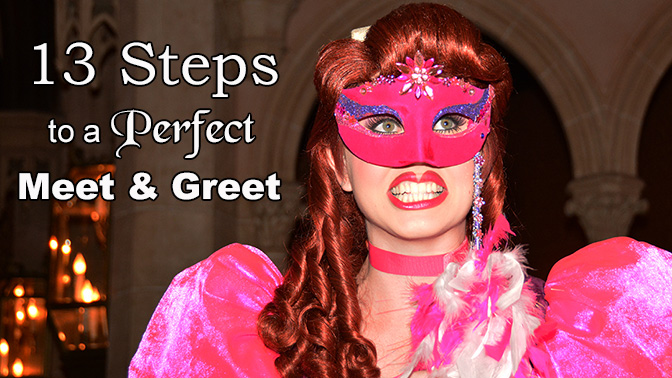 Planning your theme park trip can feel like a daunting task of military style tactical preparation.  You have so many details to plan out and prepare every hour of every day it seems.  I thought it might be helpful to create this guide to meeting characters for you.
1.  Know where to find them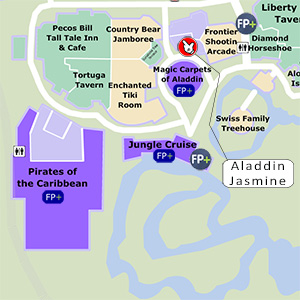 Most guests who visit a theme park follow what I call the "See em, meet em" rule.  A guest will see a favorite character on their way to a certain attraction and on the spot decide whether to meet the character.  You'll be way ahead of the game by knowing where the characters are located.  You can easily know where the characters are located by using my Characters tab above or subscribing to Character Locator.  My custom maps have the regular character meets pinpointed as well.
2.  Visit the ones with outside meets early or late
It gets hot in Florida, really hot!  Many guests from cooler climates may not be prepared for the heat combined with the incredible humidity.  April through October is basically summer here.  Who wants to be standing in the sun for 20 to 30 minutes pouring sweat.  Once you reach the character, you feel exhausted and you're all sweaty.  Your hair is frazzled and your nerves may not be far away.  Plan your meets so you visit the outdoor characters early in the day or late in the day, if they meet late.
3.  Consider some character meals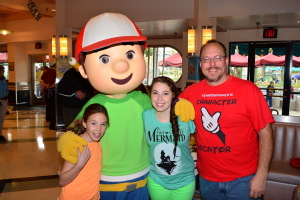 What could be better than meeting Mickey or Cinderella with no line in air conditioning with some delicious food?  Character meals can be pricey for those on a tight budget, but most of them are only 1 credit on the Disney Dining Plan with table service options.  You can arrange your schedule to plan the best times.  I prefer a late breakfast, lunch or dinner meal.  Some like to plan pre-park opening breakfasts, but that plan could go out the window if a park changes its hours to open earlier than planned.  My family loves character meals and there's a few characters than can only be met at Character Meals.
4. Use Fastpass+
If a character offers Fastpass+, you might consider using that as an option.  Meeting Anna & Elsa is far easier with Fastpass+ (unavailable after mid June until they open the new meet in Epcot in June 2016).  Why wait 60 minutes or more when you could be in and out in 15 minutes or less.  Downside for finding Fastpass+ for Anna & Elsa is the need to book them 60 days in advance of your trip, but it saves a lot of time.  Really popular characters that don't offer Fastpass+ like Joy and Sadness can be met at park opening or near closing time to avoid those long lines.
5.  Know when they could arrive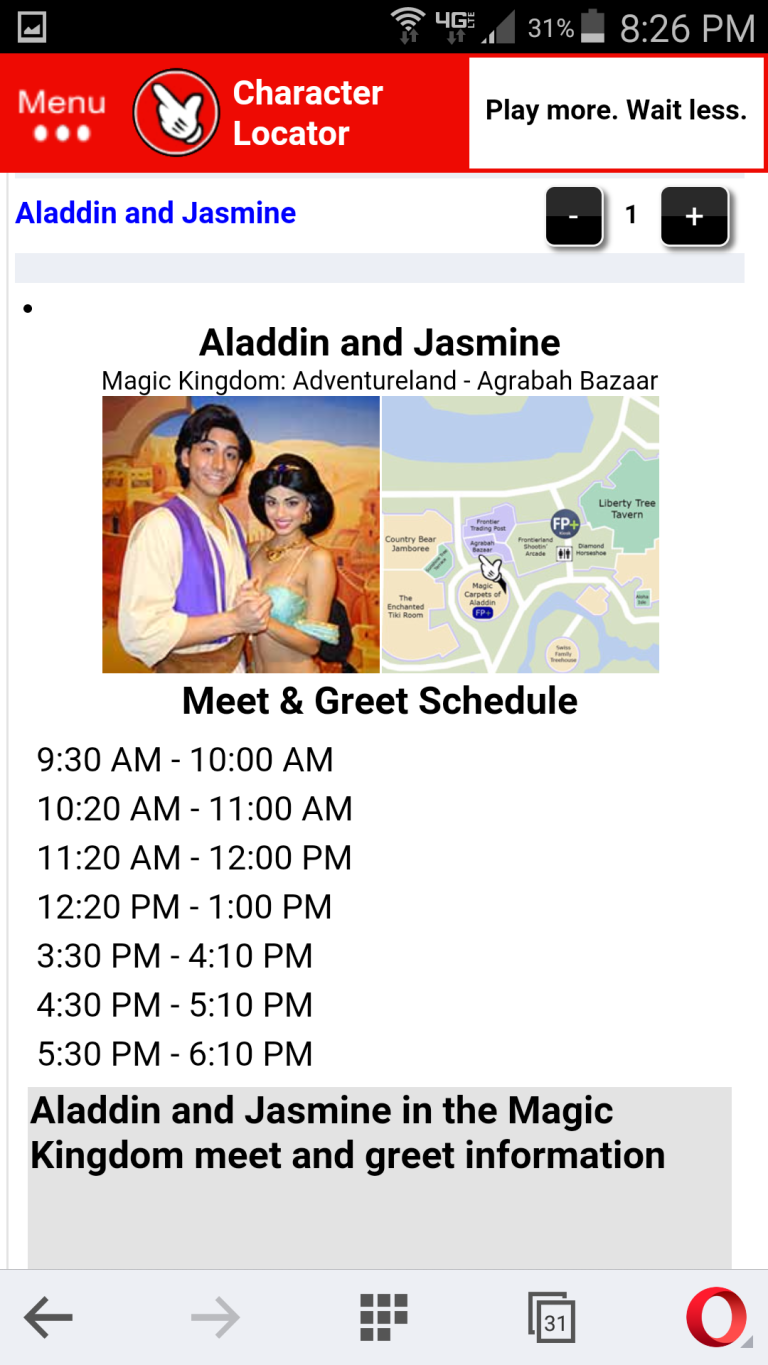 If you know when the characters arrive, you'll be able to get to their location a few minutes before the character arrives and shorten your wait.  Some characters like Gaston or Belle often cut their line as the character arrives or even well before the character arrives.  A few resources for finding times could include: Disney World times guides (usually has terms like "intermittently," Disney World website and My Disney Experience app (when it actually works), but the best planning resource for schedules is Character Locator.  You won't find a better planning resource for the theme parks than Character Locator.  You can include any scheduled item in the parks in your touring plan and just mark it "Completed" as you go!
6.  Understand that schedules can change.
Even though we plan our days in detail from 180 days out, characters may not be able to appear or a substitute character may take their place.  You may have planned the perfect outline only to hear that a character won't make that meet.  You may find an alternate character or no meet at all.  Guests often become frustrated when they hear that a character has been cut, but things change and we should be having fun on our vacation.  If you promise your little one a certain character meet and the character doesn't appear, perhaps you can use it as a teachable moment on adapting to the situation and find something else fun to do or just go grab a Mickey Ice Cream Bar and cry it out together.
Rain can also affect meets.  Characters may find a suitable location indoors near their meet or just cancel the meet entirely.
7.  Be Patient
Be patient with your family.  Know their needs.  Are they hot?  Are they tired?  Are they hungry?  Arriving before the park opens and staying until it closes daily is exhausting.  All the "Extra Magic" can wear them down.  Plan some breaks and plan at least one sleep in and pool day in the middle of the trip.  A refreshed family will have more fun.  You can also plan your afternoons for air conditioned theater attractions that usually have lower waits anyway.  Bring some fans too!
Lines get cut.  You arrive and find that the line for your favorite character has been cut.  A Cast Member lets you know if thy will have another meet and may suggest a time to return.  Be polite, they are merely doing their job.  Manners matter.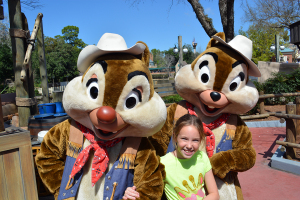 Characters may need a short break for heat, water or a snack.  Sometimes you're in line for characters like Chip n Dale and they need to "find some nuts" or Daisy may need a "quick swim," it may take an additional 5 or 10 minutes, but characters get hot and hungry, just like we do.  Be understanding and patient.
We've been in line for a character and a "Make a Wish" child was sent to the beginning of the line.  Please understand that these children have life threatening illnesses and for some it could be their life dream that gives them strength to continue fighting or, sadly, could be the final character they meet. It may delay your plan by a few minutes, but it will make lifetime memories for the child and family.  On the day my daughter and I did 100 attractions in a day, a Make a Wish child came along to one of our meets, we enthusiastically allowed the child to skip us and take as long as they needed.  Our goal of 100 things in a day was secondary to seeing the joy of the young child and really brightened our day.
8.  Hugs
Characters love to hug.  An appropriate and kind hug can make your day and even give a boost to the character themselves.  Photopass often gets some great photos of guests hugging their favorite character.
9.  Dealing with fear
Some young children are deathly afraid of characters.  A child could travel one trip and adore Mickey and another trip he doesn't want anything to do with the Big Cheese.  Let your child decide how close is okay.  Hold them while they reach out to appropriately touch the character.  Help them work through their fear.  Some people feel hurried because there is a line behind them, but taking a couple of minutes to acclimate your child to character meets could really affect your trip.  My little girl has always loved characters, but on one trip, she thought Rafiki was a "scary monkey."  We tried to let her acclimate to him, but wanted nothing to do with him.  We let her sit in her stroller while the remainder of the family met him.  Becoming angry with your child because they are afraid is the worst response.  Have some patience and, if necessary, change your plans.
10.  Autographs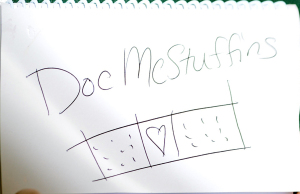 Character attendants or "Blueberries" as they are called spend a lot of their time trying to keep the line moving smoothly so the characters can meet as many of their fans as possible.  Have those autograph items ready to sign before stepping up.  Have them sign your item before interacting, so the autograph item can be handed off.
Characters will sign a multitude of items, but it cannot be inappropriate and cannot be currently worn by a guest.  Fat pens and markers help the costumed or "fur" characters to have a nice grip.  We love retractable sharpies.
Get all the latest KennythePirate Disney news and planning advice in your inbox!
11.  Interact
Most guests just act as paparazzi with a quick autograph and a photo and they are on their way, but it's okay to take a moment to speak with the character and get involved with them.  A few years ago I compiled this Interaction tips list
Know their films.  If you watch all the films that the characters appear in, you can be fully prepared to speak to them about the details.  Characters will often know about other characters in the Disney universe.  You might speak to Anna about Rapunzel or Gaston could talk about Peter Pan.  Disney characters won't know of anyone outside their universe though.
12.  Have some fun with poses
When you're getting ready to take that memorable photo, you may consider creating a fun pose like having tea with Alice or reading a book with Belle.  I've created a few pose ideas for some characters here and here, but perhaps you have some of your own ideas you'd like to share?
13.  Photo time
It's finally time for that memorable photo.  Photopass photographers will want to take some great shots of you and your family.  "Blueberries" are there to assist as well with photos from your camera or mobile device.  I always choose to do both because each person taking photos has a different perspective.
Be sure to share this post to help as many guests as possible!