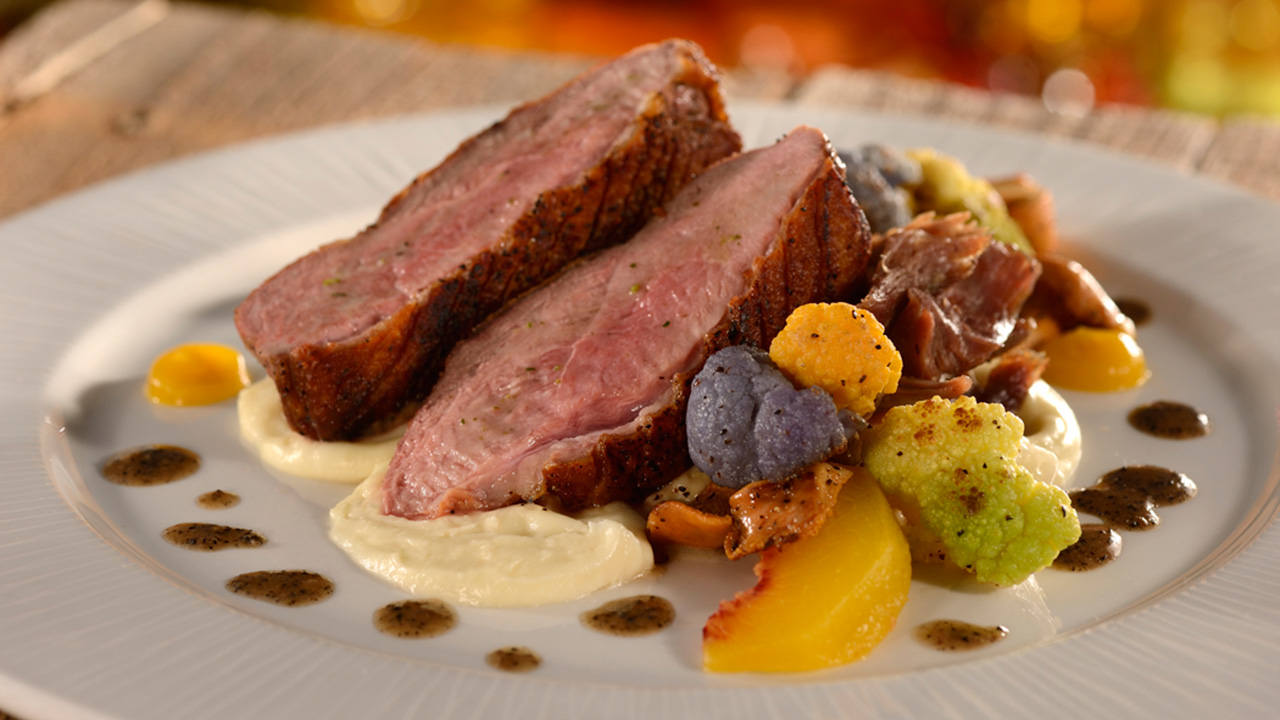 Disney Parks has just released some menu information for it's upcoming Tiffins Restaurant, which will be the newest restaurant in the Discovery Island area of Disney's Animal Kingdom.
Disney stated that the restaurant "opens this summer."  A bit curious since the restaurant had advertised an April 22 opening date.  I suppose it's running behind schedule.
Disney Parks – "From the familiar to something new, the menu offers something for everyone – from a berbere-spiced lamb chop to a New York strip steak or beef short rib with potatoes. Starters include a Lobster-Popcorn Thai Curry Soup with Basil and Peanuts (Asia/Africa) to marinated grilled octopus (Europe). Sustainable seasonal fish crudo (South America) and a salad of roasted baby beets and goat cheese with walnut granola and a sun-dried cherry vinaigrette Discovery Island (North America) round out international creations.
| | |
| --- | --- |
| | |

Entrées include Berber-Spiced Lamb Chop with Mustard Greens, Lentil Stew and Mint Chutney (Africa); Berkshire Pork Tenderloin with Huitlacoche Tamale, Hominy Succotash and Red Mole Sauce (South America); Miso-glazed Black Cod with Forbidden Rice in Steamed Bok Choy with Turmeric Sauce (Asia), and Grilled Head-on Shrimp with Tomatoes, Roasted Fennel, Olives and Sea Urchin Butter Sauce (Europe). For vegetarians, the Roasted Market Vegetable Curry with Quinoa, Zucchini and Lime Chutney brings a taste of Asia.

Beverages focus on Africa, Asia and South America, including handcrafted cocktails and beers. Non-alcoholic beverages include exotic-fruit- flavored lemonades, Asian and African premium loose-leaf teas and coffee beans from Columbia, Ethiopia, Indonesia and Tanzania.
"With a focus on South American and South African wines, the beverage program is very special – we don't have another one like it at Disney," said Master Sommelier Brian Koziol, Food & Beverage Concept and Development director for Disney Parks & Resorts. "The program will focus on environmentality: producers that focus on sustainability, organic wines, and bio-dynamic viticulture," he explained. "Environmentality is a core value at Disney's Animal Kingdom, and this beverage program is a great way to share that with our guests."
With 55 seats inside, and 46 seats in a covered outdoor area, Nomad Lounge offers a half- dozen small bites such as a vegetarian summer roll, a seared Wagyu beef skewer, honey-glazed coriander-spiced pork ribs, Indian butter-chicken wings, seasonal fish balls with shishito peppers and house-made head cheese and chicken liver pate with chutney.
Like Tiffins, the lounge offers handcrafted cocktails with African, Asian and South American flavors, imported beers and a South American and South African wine list. Non-alcoholic beverages include exotic-fruit- flavored lemonades, Asian and African premium loose-leaf teas and coffee beans from Columbia, Ethiopia, Indonesia and Tanzania."
All images copyright Disney