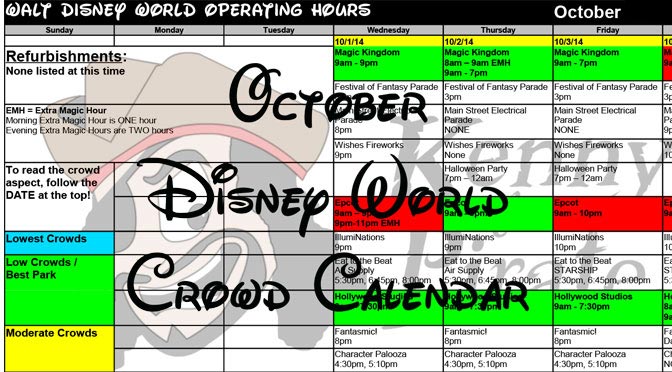 Earlier this morning I announced the October 2016 Mickey's Not So Scary Halloween Party dates on my Facebook wall.  I've got those dates included here as well as the October 2016 Disney World Crowd Calendar is ready!
Expected dates for October 2016 Halloween Parties are October 2, 4, 6, 7, 10, 11, 13, 14, 16, 18, 20, 21, 23, 25, 27, 28, 30, 31.  Each is marked on the Crowd Calendar along with Extra Magic Hours and such.
Halloween Party tickets went on sale April 8 last year, but they also announced dates for Halloween and Christmas Party were announced in February also.
Disney has not yet provided any Wishes or Main Street Electrical Parade info for Magic Kingdom and Animal Kingdom is showing 5pm closings with no info on Rivers of Light.  No need to worry!  All that stuff will come in later updates.  Basically, this info is just for people to be aware of 7PM Magic Kingdom closings (Parties) and Extra Magic Hours.  All the other stuff will get filled in later.  MSEP and regular WISHES are never performed on 7PM closing dates as parties have their own parade and fireworks.  Click on the Crowd Calendar info below for more details.