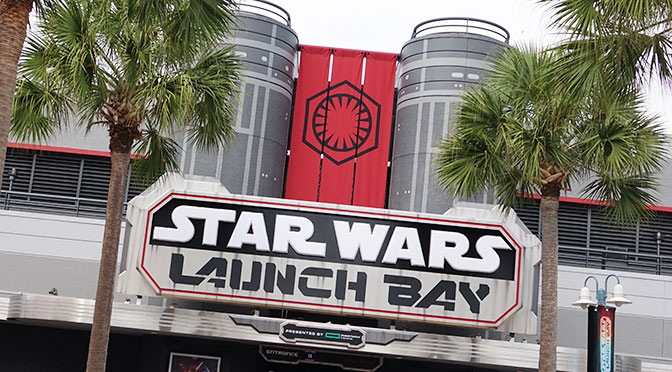 Star Wars Launch Bay full queue tour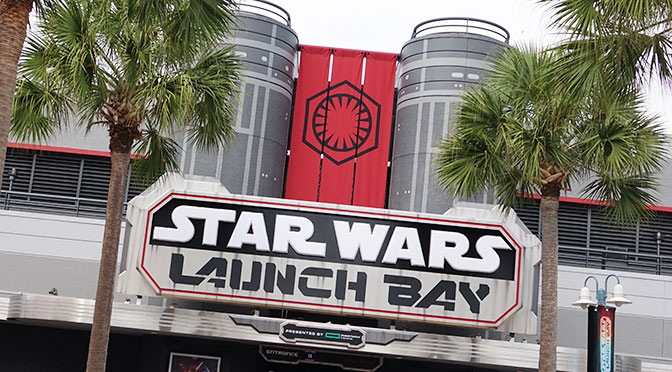 I'll break down my experiences at Star Wars Launch Bay into a series of posts that explain the details.  Launch Bay is a combination of Star Wars character meet and greet, museum, merchandising, snacks and a short film.  I had to enter the building multiple times to experience it all.
As I entered the queue area early in the morning the lovely merchandise ladies were demonstrating some of the new lightsabers that guests can build for themselves in the merchandise area inside.  We'll cover that in another post.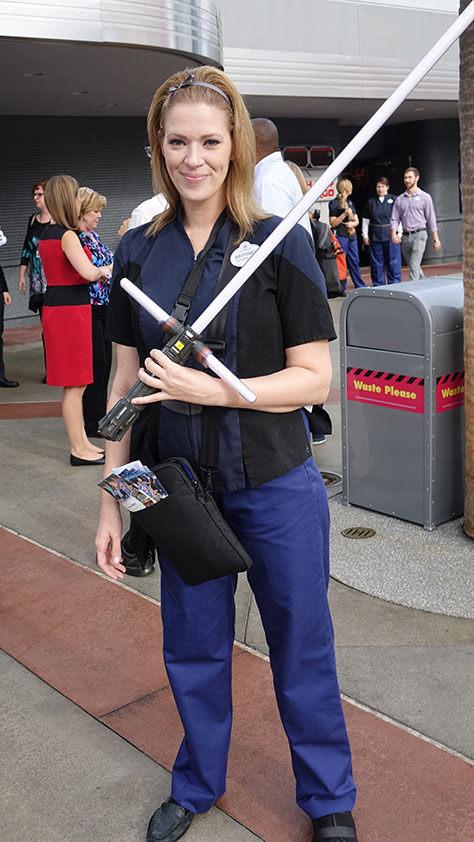 In addition to merchandise, you can purchase popcorn, rice crispy treats and drinks with BB-8 Souvenir sippers within the queue.  Queue sales only accepted cash, but these items can be purchased at various popcorn and pretzel stands within the park.  BB-8 sipper and the tie fighter popcorn bucket were HUGE hits with fans.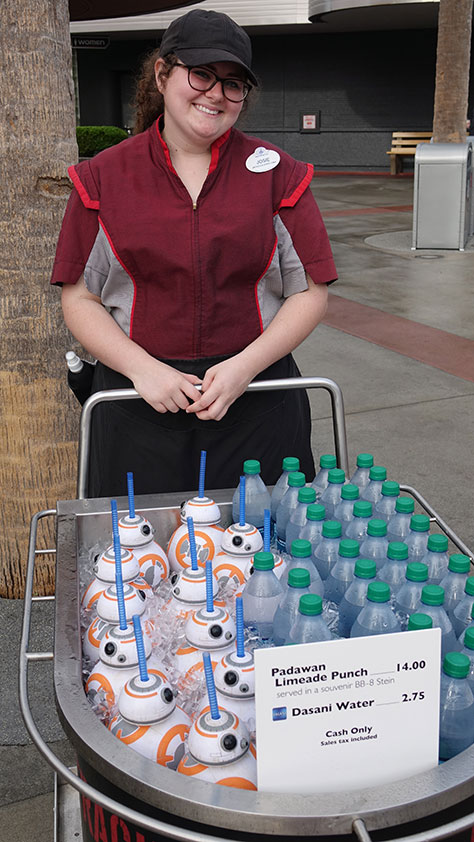 New First Order Stormtroopers were guarding the queue.  Sometimes I found them outdoors and sometimes they were under the covered area.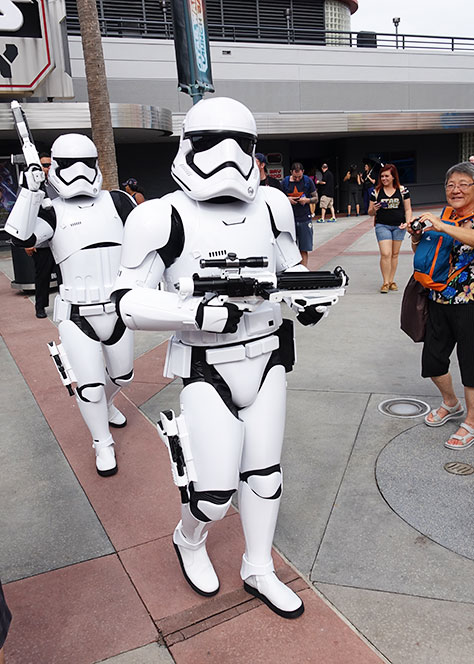 Say cheese!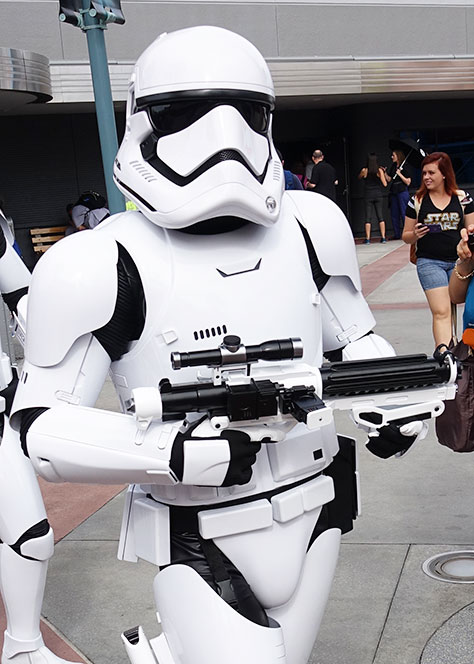 He didn't look very happy about that.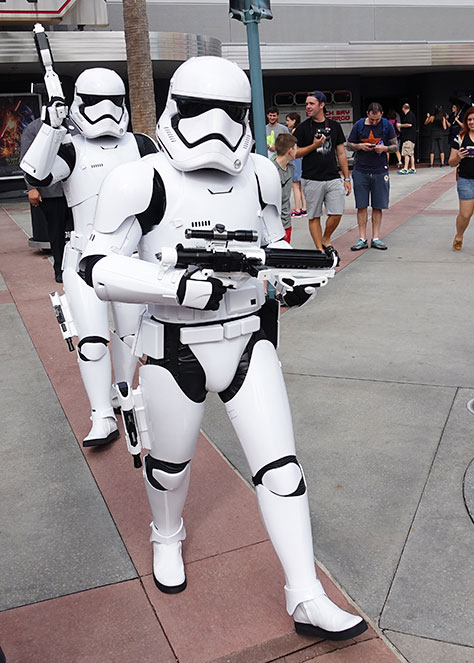 You'll notice a wait time sign as you are about to enter the actual queue area.  Wait time is the estimated time just to enter the building, not to meet the characters!  I'll cover the character meets and wait times soon, so hold tight and enjoy the queue tour.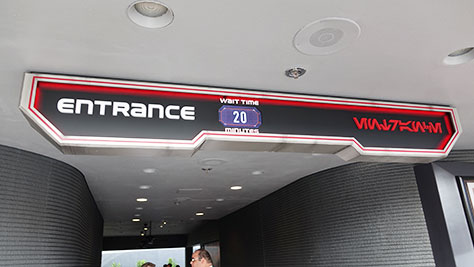 Beautiful artwork that represents the first 6 moves is along the right wall as you enter.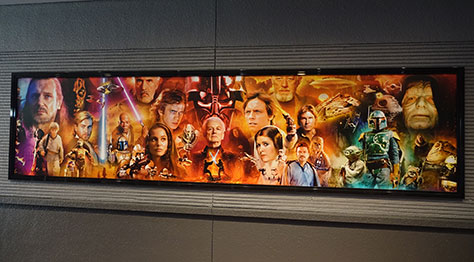 Backlit artwork fills the queue area.  All of this art comes from actual artist renderings from various movies that were used in directing the movies.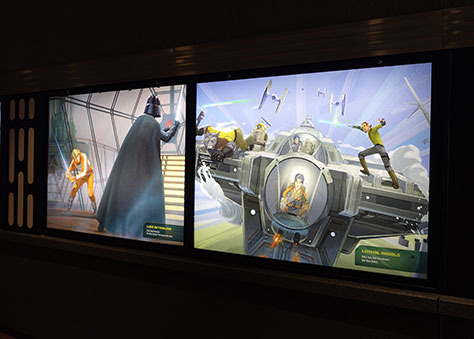 It's difficult to get a good photo, but here's the map of the Launch Bay that shows where various things are located inside the former Animation Building.  We'll cover this in more detail, but Chewie basically takes the space of the former Mickey and Minnie meets, Vader fills the space were Baymax met and Jawas are trading in the former Incredibles space.  Remaining space is filled with museum pieces and video games.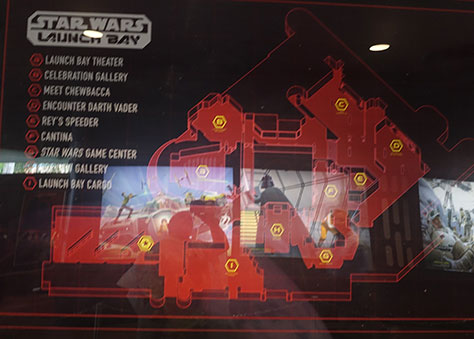 Wait times are usually over estimated.  It took me 15 minutes to traverse the full queue once I actually entered the queue area.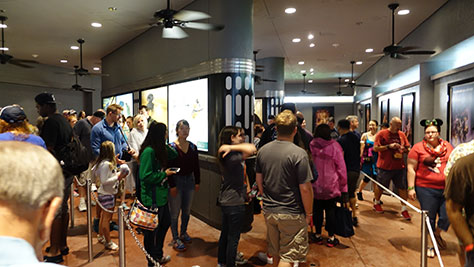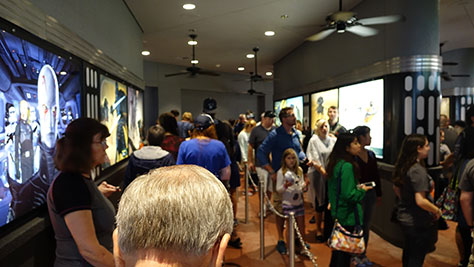 Fans filled the queue.  Not just the rabid movie ones that can describe every blaster in detail or tell you who worked as grip on Episode 5, but the kind that stir the air.  Listen here!  It was only about 80 degrees outside (cool weather in Florida) and it was Hot in the queue!  Bring along small fans for the kiddos.  Fans on the ceiling make little difference and the lack of airflow created by the walls added to the queue make it really hot with guests in the queue.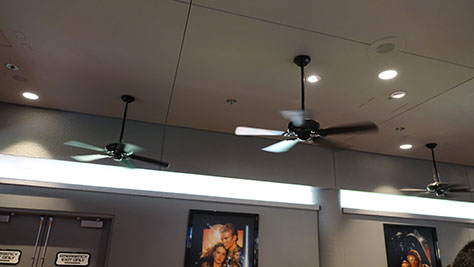 A bunch of artwork photos coming.  I think I got them all.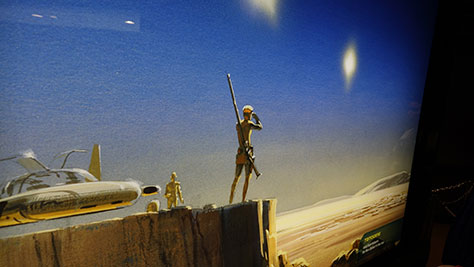 Artwork from the planet of North Dakota.  Brrrrrr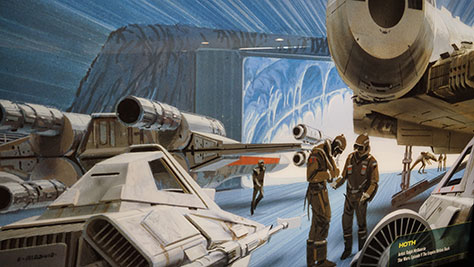 Luke, ride IN the plane, not ON the plane!  X-Wing Starfighter or something blah blah blah for those who like to correct any little Star Wars details in internet posts.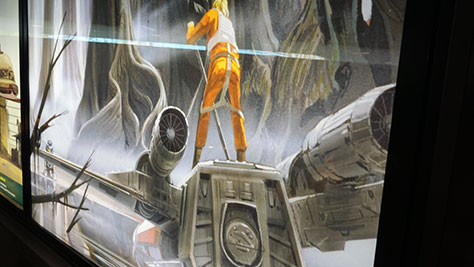 Planet of New Mexico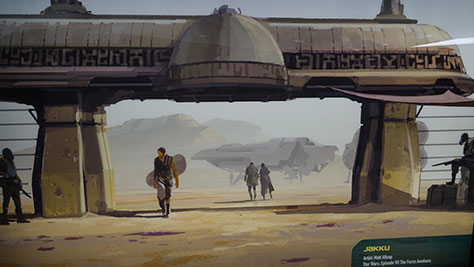 Actual photo of me when you try to serve me broccoli!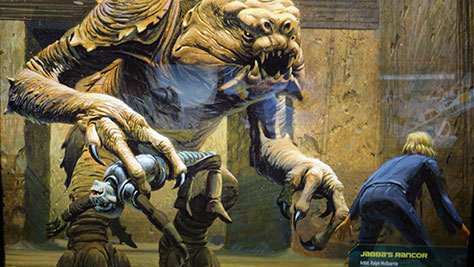 Sure am glad they contacted Jim Henson on that puppet!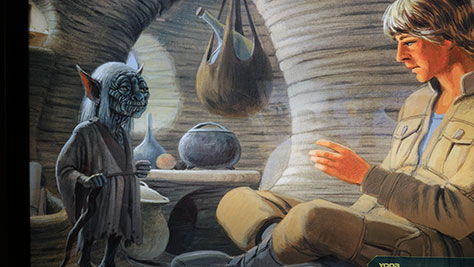 A long time ago…in a Clint Eastwood movie.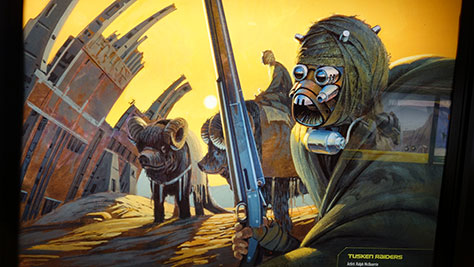 Mesa is the most hate character in the Star Wars Universesa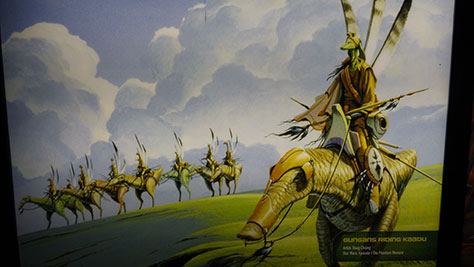 Pew. Pew.   Pew pew.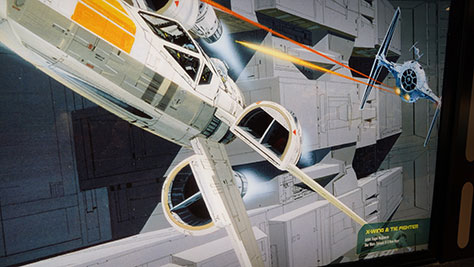 Will Kylo Ren be Luke Skywalker???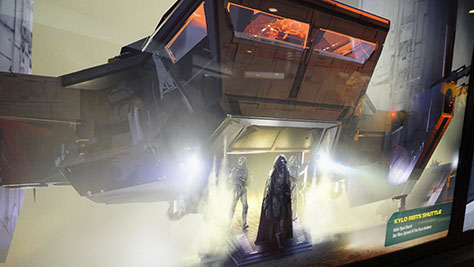 A view of some of the movie posters that line the final line of the queue.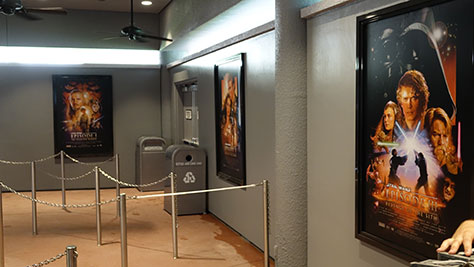 Cast Members were selling Star Wars treats along this final wall.  Hey sales tax IS included!!!
Poor Han Solo.  Not poor popcorn sales.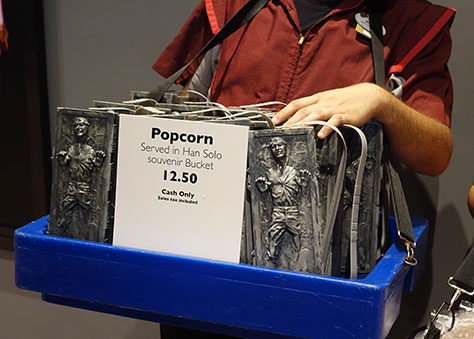 Kenny, take this post to light speed!!!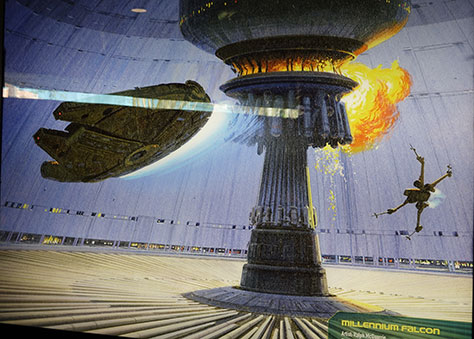 No broccoli!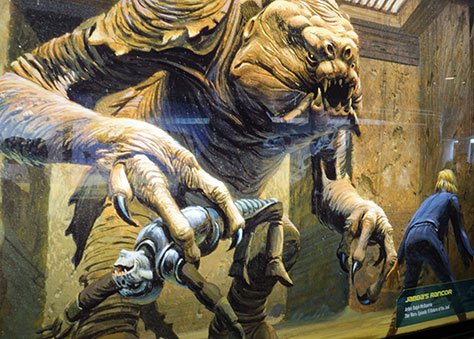 When I saw this scene in Episode one, I immediately thought, "this is here for a video game."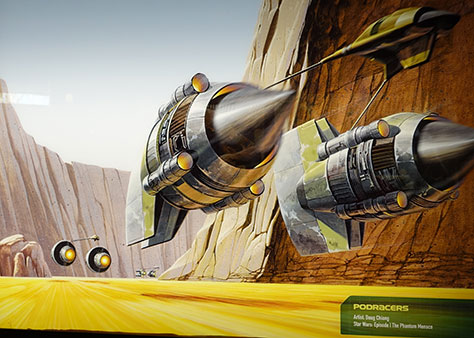 BB-8 is this generation's R2-D2.  His merchandise is flying off the shelves…and NO ONE has seen the movie.  Maybe he is actually an Imperial spy who destroys the Jedi as we know them?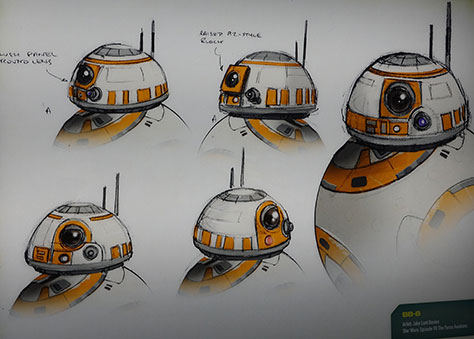 Flying Squids!  Maybe these will boost Sea World ticket sales?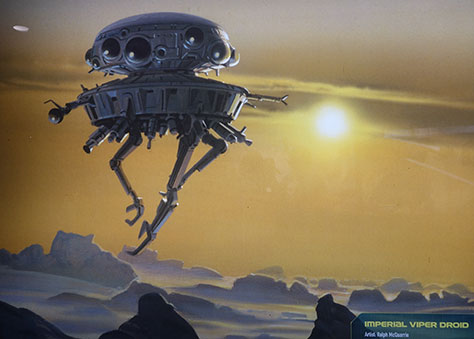 C3-PO before the big Extreme Makeover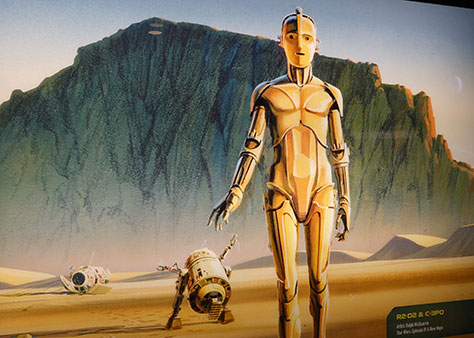 Hey, weren't you in that alien movie???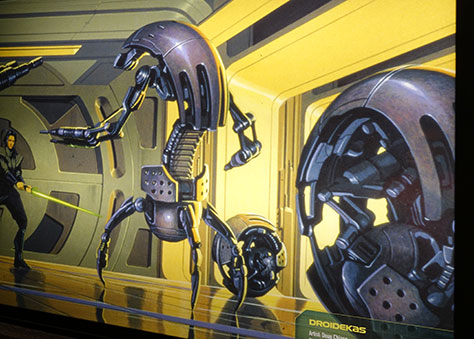 I will (cough, wheeze, cough) destroy (cough, cough) you!  Wheeeeeezzzzzzeeee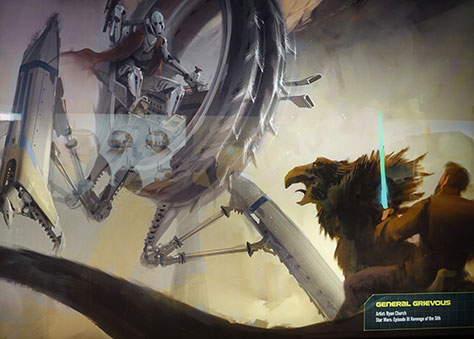 I'm you're daddy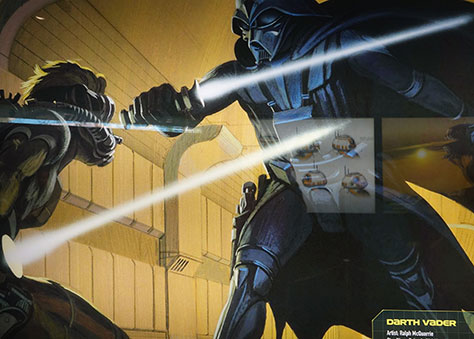 How come everyone can breathe inside the ship, except the Stormtroopers?  Inquisitors want to know.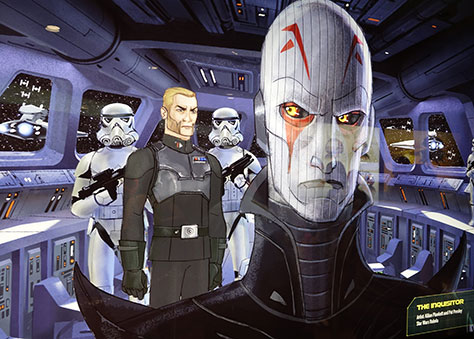 So, I was told Captain Phasma is a SHE.  But weren't Stormtroopers all clones of Jango Fett?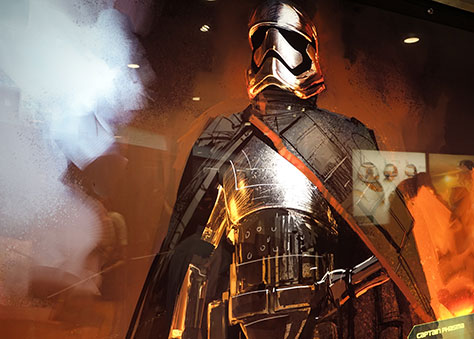 Here son, catch.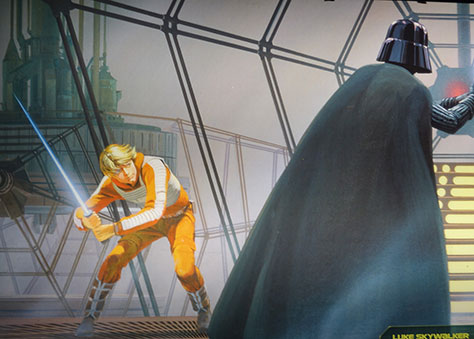 Arizona desert heat does this to everyone in August.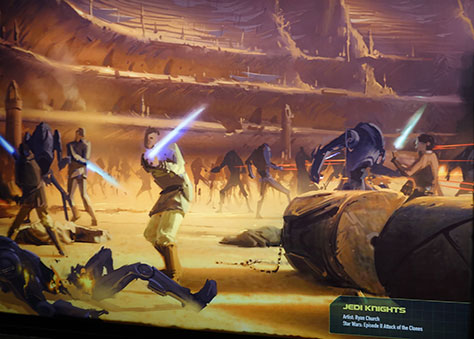 Back in North Dakota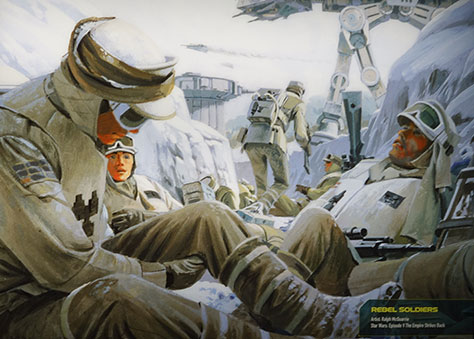 How about some movie posters?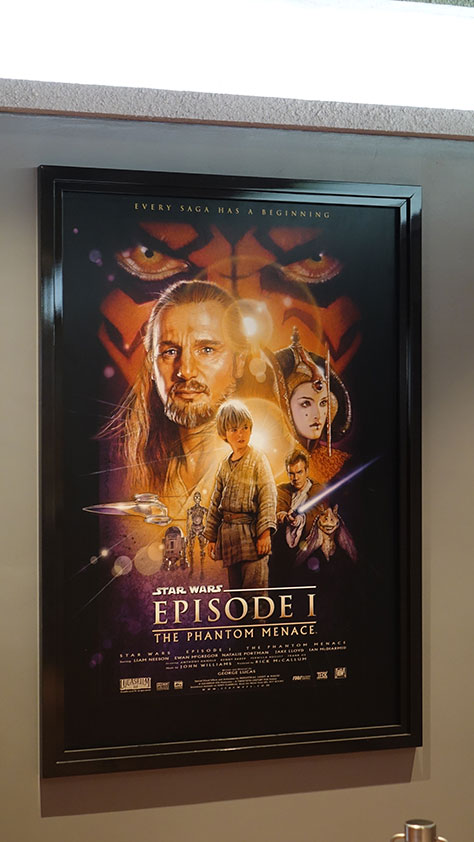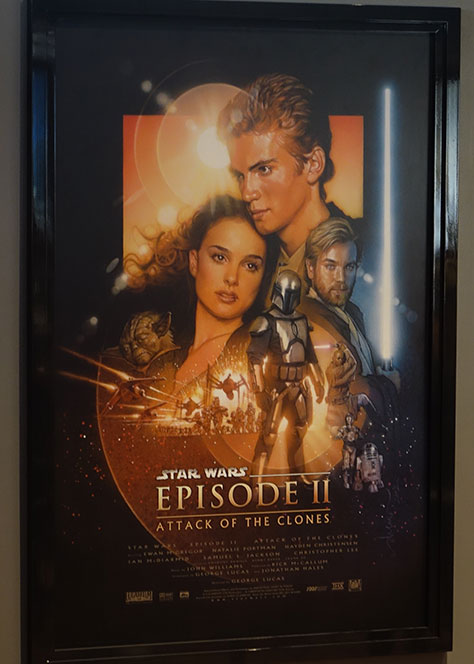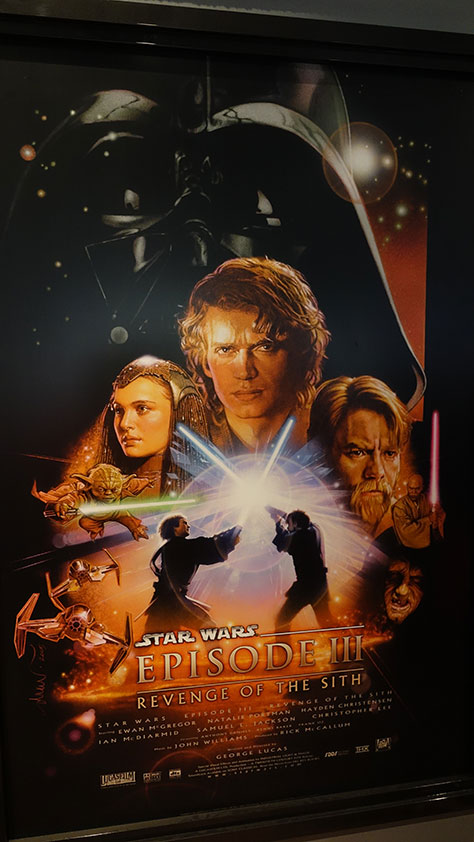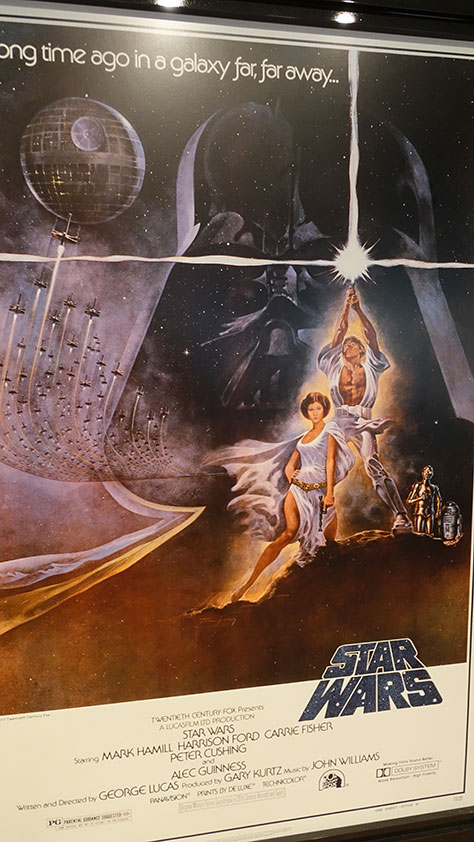 If you had this poster, you'd be a rich person.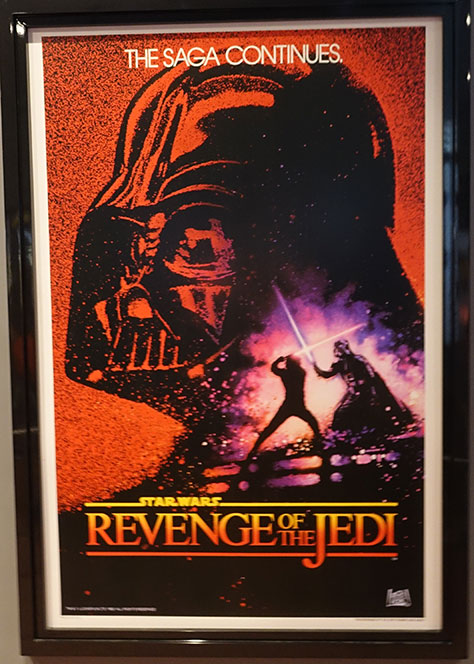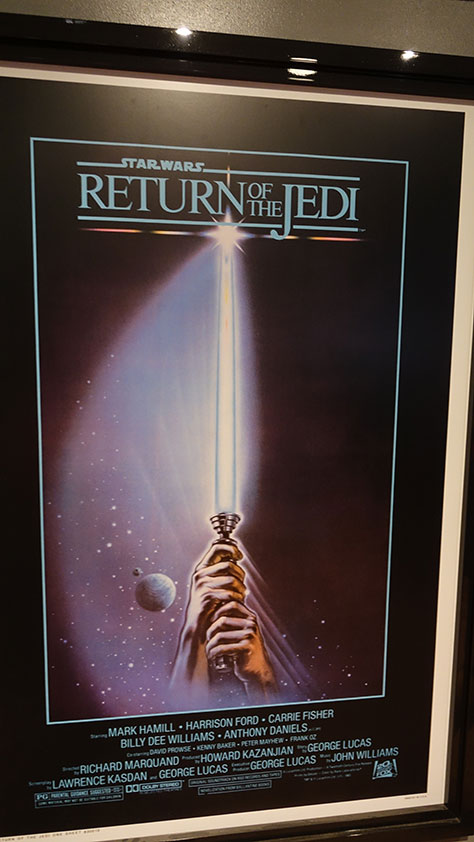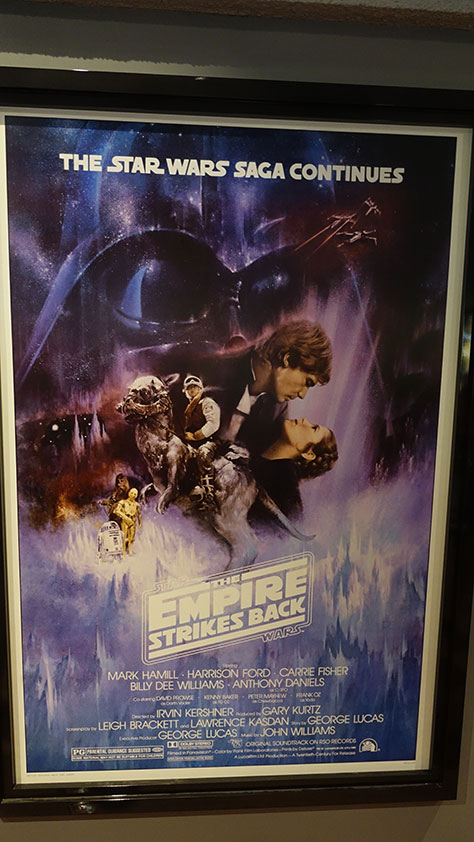 Star Wars does Not take place in the future.  It was in the past.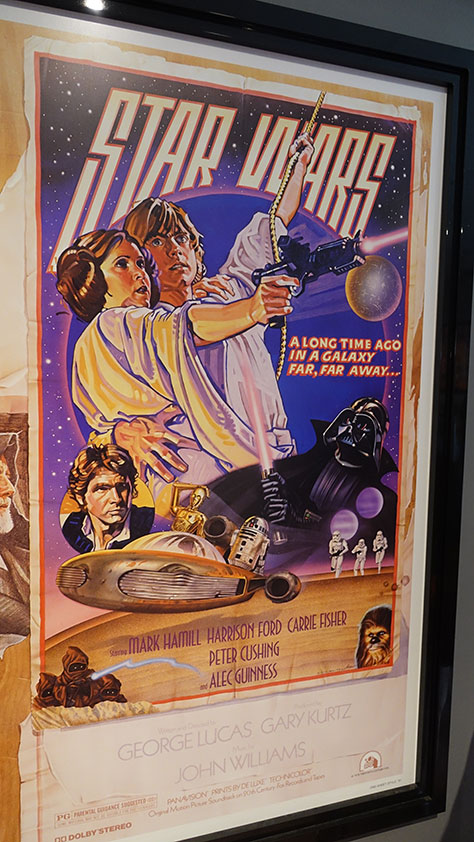 Stormtroopers appeared again at the hold point at the end of the queue.  Only a certain number of people were allowed in the building at a time, so you're held here until it's time to move 75 feet.  Give or take a meter.
I must say there were tons of smiles, but the little boy here was really overjoyed.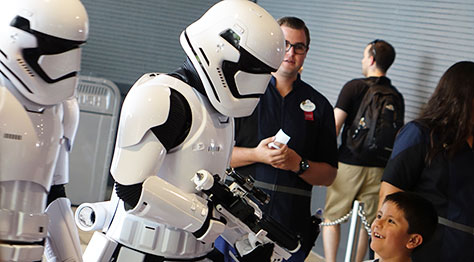 I wouldn't be any good at this blogging thing without a side view, right?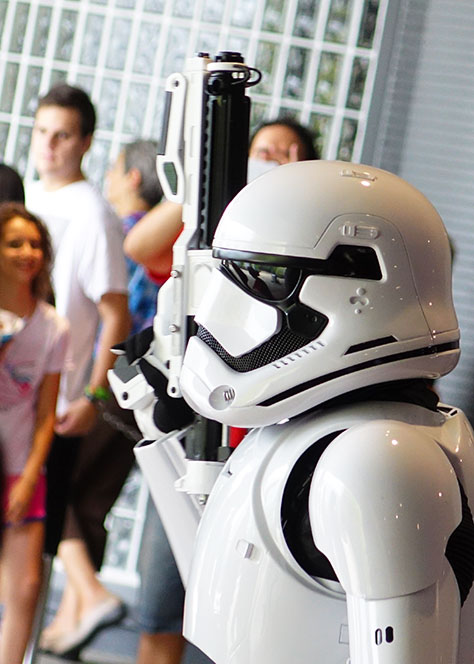 He's hold a mspek1002 Blaster or something.  Heck, who cares, it's a clumsy weapon  and they NEVER shoot any good guys with it anyway.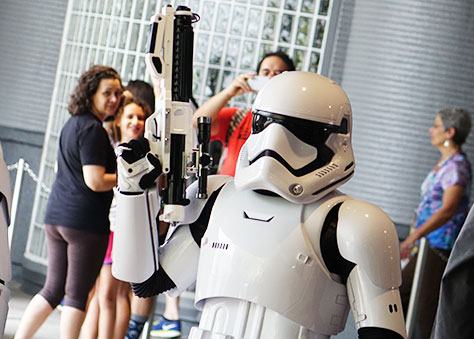 You turn left to enter the movie presentation.  You're forced to wait 20 to 40 minutes in the queue,  just to watch the movie in a half empty theater.  Don't go there first!  Go to Chewie or Vader.  I chose Vader first and then learned I had to exit the entire building and go back through an even longer line to meet Chewbacca.  Uggh.   Hopefully, they will let you bypass the line to see the 10 minute movie clip thing soon.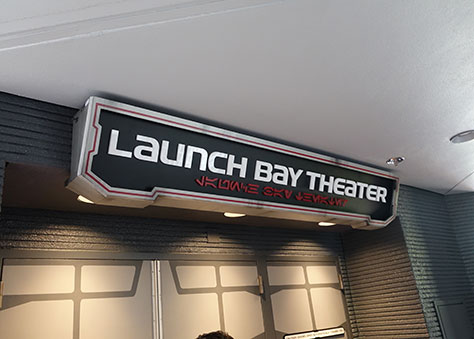 We are near the entrance to the building!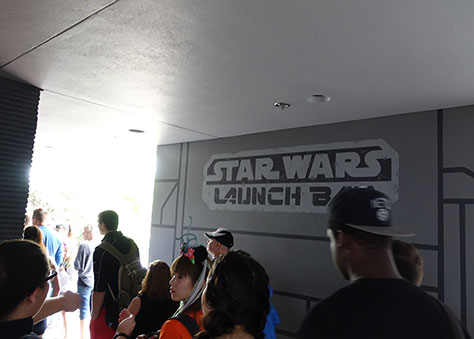 At 9:30, they were telling us "Right is light side."  "Left is dark side."  Well, the first line was rhythmic anyway.  Light side is Chewbacca.  Dark side is Darth Vader and there's some cool surprises for those in my next post!