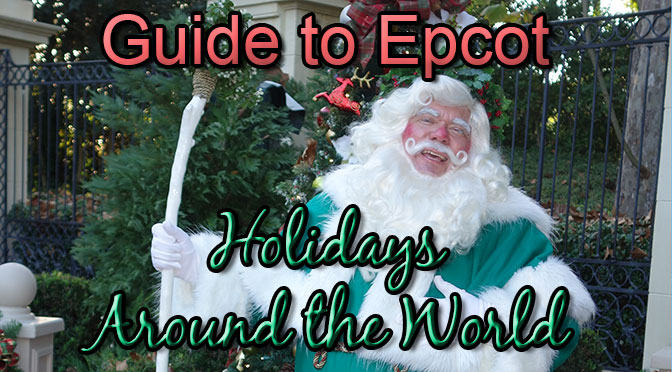 Complete Guide to Epcot's Holidays around the World 2016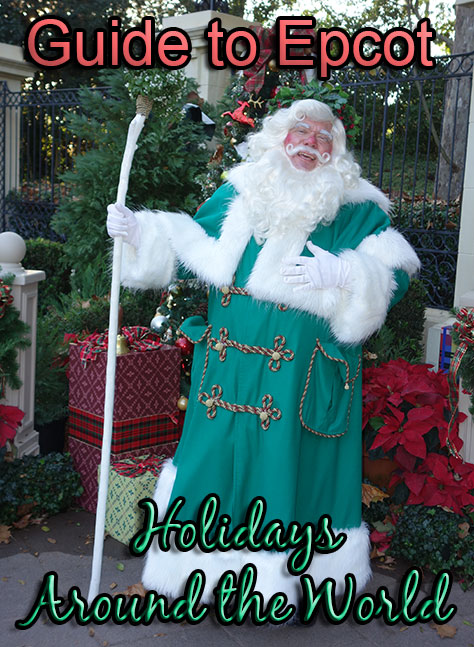 The Epcot Storytellers (many refer to them as Santas) will begin appearing Friday, November 25, 2016 and continue through December 31, 2016 as a part of "Holidays around the World" that also includes Joyful: A Gospel Celebration and the Candlelight Processional.   Most Storyteller presentations range from 10-15 minutes each.  The presenters are available for a few minutes following the presentation to sign autographs and take photos.  The Storytellers provide an excellent demonstration of holiday celebrations around the world.
Epcot Storytellers:
America – Hanukkah
Discover the traditions of Hanukkah, the story of the brave Maccabees and their revolution against the Roman ruler Antiochas and the miracle of the burning oil lamp.   Games have become an important part of teaching Jewish lessons, so the Dreidel toy and gifts help teach these lessons.
12:15 PM
1:00 PM
1:45 PM
2:30 PM
3:15 PM
4:00 PM
4:45 PM
America – Kwanzaa
Come hear about the wonderful celebration of Kwanzaa. This truly unique African-American holiday commemorates not only the harvest, but also traditional African values and unity of the family. Our Storyteller brings to light the rich heritage this cultural and spiritual celebration represents and highlights the seven principles of Kwanzaa.
12:00 PM
12:45 PM
1:30 PM
2:15 PM
3:00 PM
3:45 PM
4:30 PM
American Music Machine – Christmas Celebration
Fountain of Nations Stage
Hear your favorite Christmas songs performed acapella with some modern twists.
1:00 PM
2:00 PM
3:00 PM
4:00 PM
6:00 PM
Canadian Voyagers (Musical act)
Explore holiday customs from the various regions of Canadap on a musical tour ofjourney across the Great White North
12:25 PM
1:20 PM
2:15 PM
3:10 PM
4:25 PM
6:00 PM
China – Lion Dancers
The China pavilion bursts to life with the vibrant Chinese Lion Dance, bringing good fortune and happiness to all in honor of major holidays such as the Lunar New Year and Lantern Festival.
12:30 PM
1:30 PM
2:30 PM
4:00 PM
4:40 PM
France – Pere Noel
Pere Noel awaits your visit as he unfolds the story of little Babbette and her wishes at Christmastime. You can share your wishes with Pere Noel, too! Celebrate and enjoy the foods that make up le reveillon, our Christmas Eve feast.
11:20 AM
11:55 AM
12:30 PM
1:20 PM
2:10 PM
3:40 PM
4:25 PM
5:40 PM
Germany – Helga and Nutcracker
Did you know that many of our modern day holiday customs originated in Germany? Come hear about the very first Christmas tree, the first Nutcracker, and the Christmas pickle. You can help decorate our tree or listen as our band plays some of your favorite Christmas carols.
1:40 PM
2:40 PM
3:40 PM
4:40 PM
5:25 PM
6:35 PM
7:35 PM
8:30 PM
Italy – La Befana
La Befana is Italy's good Christmas witch! She comes down the chimney of the little bambinos, or children, and leaves them treats. Come hear her sweet story of how the Epiphany is the day we love to celebrate in Italia.
1:40 PM
2:35 PM
3:30 PM
4:25 PM
5:45 PM
6:25 PM
7:00 PM
7:30 PM
Japan – Daruma Vendor
Happy New Year! It's time to sweep away the old, a time for fresh starts and thanking our family and friends for sharing the year with us! Meet our engaging Daruma vendor and hear the story of the Daruma doll.
12:00 PM
12:45 PM
1:45 PM
3:00 PM
4:30 PM
5:15 PM
6:10 PM
6:45 PM
Joyful! A Gospel Celebration
Fountain of Nations Stage
D'Vine Voices uniquely blends the soulful expressiveness of Gospel and Inspirational music with the sounds of Jazz, R&B, and urban music. When this versatile ensemble of vocal and instrumental artists of Central Florida takes the stage, the results are simply…D'Vine! Their joyful voices will touch, uplift, and inspire you to celebrate the season!
1:25 PM
2:25 PM
3:25 PM
4:25 PM
Mexico – Mariachi Show
Mariachi Cobre is a classic Mexican Mariachi band that plays outside the Mexico pavilion.
12:30 PM
1:30 PM
2:30 PM
4:00 PM
5:00 PM
6:00 PM
Morocco – Spice of Life
A Moroccan storyteller invites guests to join her on a journey to experience the gaiety of festivals, holiday traditions, and celebrations that are like the "spice of life" across Morocco.
12:45 PM
2:00 PM
2:50 PM
3:25 PM
5:15 PM
6:10 PM
7:25 PM
Norway – Julenissen and Sigrid
Visit our storyteller Sigrid, a beautiful farm girl, who will give you all the details, and tell you of the mischievous Julenissen, or Christmas Gnome. Be forewarned though, Julenissen has been known to play a little trick or two on the storyteller herself. Julenissen's antics will delight and confound you. A true Norwegian Christmas experience.
11:15 AM
12:00 PM
1:15 PM
2:00 PM
3:00 PM
3:45 PM
4:45 PM
5:45 PM
United Kingdom – Father Christmas
Did you know that the custom of decorating with boughs of holly began in the United Kingdom? So did Christmas cards! Meet our jolly Father Christmas and hear his tales of Christmas past as you prepare for Christmas present.
1:05 PM
2:00 PM
2:55 PM
4:30 PM
5:30 PM
6:30 PM
7:30 PM
8:30 PM
Voices of Liberty "Dickens Carolers" at American Adventure Rotunda
The Voices of Liberty are an a capella group comprised of 8 or more singers. They wear date specific costuming from the late 1700s to early 1800s. They offer stirring renditions of treasured, historical songs from American history. The show is performed in an acoustically perfect rotunda that amplifies the sound of their amazing voices.
11:45 AM
12:30 PM
1:15 PM
2:00 PM
2:45 PM
3:30 PM
4:15 PM
Visit Santa and Mrs. Claus (Nov 27 – Dec 24)
Epcot is the only location in Disney World to Visit Santa and Mrs. Claus together!  Extremely popular meet, so arrive early!  I suggest arriving by 1:15 PM.
1:30 PM – 2:40 PM
3:30 PM – 4:40 PM
5:30 PM – 6:40 PM
7:30 PM – 8:40 PM
2016 Epcot Storyteller's touring plan is available for everyone on Character Locator!
The purpose of this plan is to hear every storyteller in Epcot with little back-tracking.  It involves a pretty casual walking pace.  It's sort of an "ultimate" Storytellers tour and I even allow time to take in some attractions, time for lunch and dinner.  You should even have time to meet Santa Claus in the American pavilion!  You could easily take in the the headliners in Future World and the boat ride in Mexico and some of the films.  If you intend to watch the Candlelight Processional without a dining package, try the last show of the day.
Illuminations: Reflections of Earth
Each year Illuminations adds on a special ending of holiday cheer that is narrated by Walter Cronkite with dozens of extra fireworks blasts.  Be sure to get a spot early or use Fastpass+!
Shows are 9:30pm nightly through December 31.
Epcot Candlelight Processional
Candlelight Processional is a dramatic reading of the birth of Jesus using a mass choir presenting traditional and contemporary Christmas songs accompanied by a full live orchestra.  It is a very popular event.
Stephen Curtis Chapman: November 25 to 27, 2016
Neil Patrick Harris: November 28 to December 1, 2016
Whoopi Goldberg: December 2 and 3, 2016
Edward James Olmos: December 4 to 6, 2016
Robby Benson: December 10 to 12, 2016
Meredith Vieira: December 13 to 15, 2016
Jim Caviezel: December 16 to 18, 2016
Joe Morton: December 19 to 21, 2016
Ming-Na Wen: December 22 to 24, 2016
Jodi Benson: December 25 to 27, 2016
Cal Ripken, Jr.: December 28 to 30, 2016
This year's event runs nightly at The America Gardens Theatre at Epcot from November 25 to December 31. It is presented three times per night — 5:00 p.m., 6:45 p.m. and 8:15 p.m.*
Dining packages include appetizer, entrée, dessert and non-alcoholic beverage at select Epcot full-service restaurants (or one full buffet where applicable), and guaranteed seating for the Candlelight Processional. Dining packages do not include park admission.
My touring recommendation is to either book a dining package or to attend the 3rd show of the night.
The Candlelight Processional is held at the American Gardens Theater in the America Pavilion and is included free of charge with your Epcot admission and is first come, first seated, unless you book the Candlelight Processional Dinner Package which allows you to receive a special pass that guarantees you a seat for a performance.
The Candlelight Processional Dining Package will provide you with a lunch or dinner meal at one of the Epcot restaurants below.  The meal includes a choice of appetizer, entree, dessert and non-alcoholic, non-speciality beverage or a full buffet at buffet restaurants.  Princes below do not include tax or gratuity and park admission is required.  You can use your Disney Dining Plan but they do not accept the Quick Service Plan.
Disney Dining Plan or Deluxe Dining Plan – 2 Credits per person
Premium Dining Plan and Platinum Dining Plan – 1 Credit per person
You can book online by following this link https://disneyworld.disney.go.com/dining/epcot/candlelight-dinner-packages/ or call 407-WDW-DINE.
*Biergarten lunch will be charged the dinner price on Christmas Day.
Season of Tastes Kiosks
Stop at Prost! in Germany for an artisan cheese plate or sauerbraten with red cabbage and spätzle. Drinks include alcoholic ciders, Williams Punch (hot), Caramel Kiss featuring Werther's Caramel and glüwein (house-made hot spiced wine).
German Artisan Cheese Plate $5.00
Sauerbraten $12.00
Stollen $4.25
Posmann Pure Hard Apple Cider $8.00
Possman Pure Hard Black Currant Apple Cider $8.00
Guhwein $8.50
Caramel Kiss $3.50
Bottled Water $3.00
American Holiday Table in the American Adventure Pavilion is serving Slow-roasted turkey with stuffing, mashed potatoes and cranberry sauce. And seared pork tenderloin with green bean casserole, roasted sweet potato wedges and a Champagne demi-glace. Drinks include Shipyard Eggnog White Porter Aged on Bourbon, Firenog (eggnog with Fireball Whisky), Great American Wine Company Red Blend and Chardonnay, hot chocolate, eggnog and Cocoa Candy Cane (hot chocolate with peppermint Schnapps).
Slow Roasted Turkey $11.25
Seared Pork Tenderloin $11.75
Holiday Cookies $2.75-4.75
Shipyard Eggnog White Porter Aged Bourbon $8.75
Blanc de Bleu Cuvee Mousseux Brut $9.00
Great Amerian Wine Comany Red Blend $8.50
Firenog – Eggnog and Whiskey $9.50
Cocoa Candy Cane – Hot cocoa and Peppermint Schnapps $8.00
Head to the Alpine Haus between Morocco and France for duck confit, dumplings and roasted Brussels sprouts with a fig reduction; cheese fondue in a bread bowl with fresh steamed vegetables, and sachertorte, a chocolate cake with apricot jam and dark chocolate glaze.. Drinks include Frozen Winter Spice Hot Chocolate featuring Twinings of London Tea (alcoholic and non-alcoholic version available) Weingut Stadt Krems Gruner Vetliner White Wine and Heinrich Red Blend.
Duck Confit $13.00
Cheese Fondue $8.00
Sachertorte $4.75
Weingut Stadt Krems Gruner Vetliner White Wine $9.50
Heinrich Red Blend $8.50
Chocolate Apple Shake with Liquer $10.75
Chocolate Apple Shake (non-alcoholic) $4.25
Bottled Water $3.00
Seasonal Southern Delights near World Showcase Plaza is offering hoppin' john (black-eyed peas, ham hocks and kale with rice and cornbread crumbles); blackened catfish with white cheddar grits with okra, tomato and onion stew, and chocolate pecan tart. Drinks include Frozen S'Mores and Central 28 beers.
Feast of the Three Kings Feast near World Showcase Plaza pays homage to Three Kings Day, widely celebrated in Spain, Latin America and the Caribbean. Look for a shredded beef tamale with avocado crema; roasted pork with mashed yucca and pickled green bananas, and Three Kings Bread (top image). Drinks will include a Coquito (coconut milk) and Coquito with rum floater.
Shredded Beef Tamale $12.00
Roasted Pork $10.75
Three Kings Bread $3.50
Presidente Pilsner $7.50
Coquito with Oak & Palm Spicd Rum Floater $9.00
Coquito (non-alcholic) $4.00
Bottled Water $3.00
Hot and cold drinks will be offered all around World Showcase, as well as holidays sweets such as the Mickey Santa Hat cupcake at Fountain View restaurant, chocolate honey baklava in Morocco, panettone (Italian Christmas cake) in Italy, gingerbread ice cream and buche de Noel au chocolat(Christmas cake shaped like a log) in France, pai cha (Beijing-style fried dough twist with sesame) in China and guava tamales in Mexico.
Enjoy Epcot's Holidays around the World.  Be sure to Pin and Share on Facebook below!