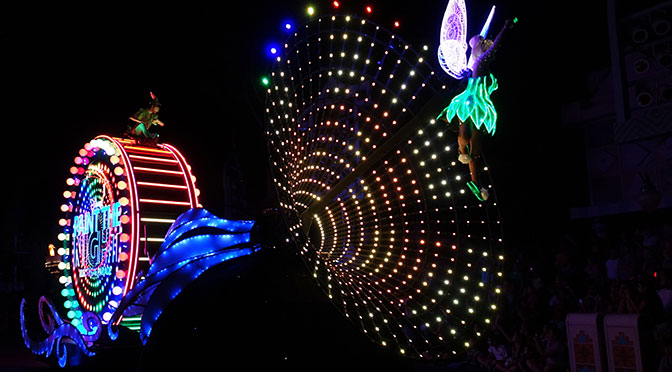 Disneyland Paint the Night Parade tips with video and photos

If you are a fan of Main Street Electrical Parade or the former Spectromagic Parade, you're going to LOVE this parade! I can say without question, that this is the best parade I've ever seen. While the video is pretty good and the photos are decent, seeing the parade live is real eye candy and the song is sure to become an ear worm like it's a small world.  It's really a dazzling experience.
All photos were shot using my new Sony RX10m2 camera and were taken at the same time I was filming the video below. Photos are unedited except one was cropped. I did this to demonstrate how well the camera does with low light photos and video.  All photos are linked to the full size image in my Flickr account.
I'll have some viewing tips at the bottom of the post.
Parade begins with Tinker Bell flying in front of a huge bass drum with Peter Pan atop.

It's really impossible to allow photos or video to show just how bright and colorful the parade is. Lights are dancing while the catchy tune plays along. Music even has some nods to the original Main Street Electrical Parade.
After the initial float you'll see Genie and Lumiere.
Next up was the Monsters Inc float.  You'll see Mike and Sulley on this float and the doors change and present video clips as well.
Following the Monsters Inc float is Lightning McQueen and some dancers.
Kind of looks like spacemen.
DJ is being transported by Mack
You can also see a great version of DJ at DJ's Dance and Drive in California Adventure where he appears with dancers and plays his favorite tunes.
Next up is the Ariel float which really captures the feeling of being under the sea.
If you need to cross the parade area, the only time you can do so is following this float.
Nemo and Marlin follow along with more colorful dancers.
I think one of the most visually appealing floats in the parade is the Slinky Dog float.  Jessie and cow girls escort the float forward with Woody riding Slinky and Buzz along on the back.
Kewt right?
Slinky looks like he's having a great time.
I liked the way the twirling lights featured Buzz's face here.
An adorable Green Alien float follows along.
Princesses follow along next with an enormous Belle leading the float.
Isn't Belle beautiful?
Window behind Belle shows little clips of Belle and Beast while you see a giant rose behind her glowing ball gown.
See how the windows change?
Other Princesses follow her in the processional.  It wouldn't be a Disney parade without Princesses, right?
Rapunzel says hi!
Cinderella greets her adoring fandom.
At this point every squealing child in North America, Asia and Australia went wild.  Kids are still enamored with Frozen.  I told my brother when I saw the movie that it would become this generation's Beauty and the Beast or Little Mermaid.
Snow magic from Elsa while Anna stands amazed.
It's a really pretty float with tones of blues and purples against the stark white.
Some snowman seemed to hitch a ride.  You can meet this dude in California Adventure.
Disney characters take the place of creepy Spectromagic guys atop the spinning balls.
Donald was having more fun than any character in the parade.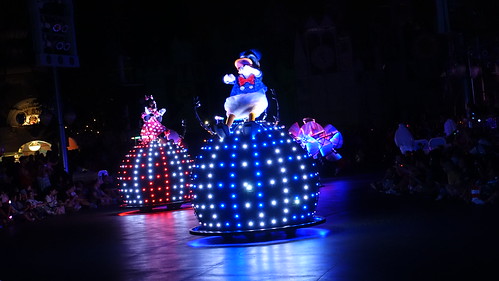 What's a parade without Mickey Mouse?  He appears at the end of the parade in his Sorcerer's Apprentice costume in Paint the Night glory.
Viewing tips:
 Find a spot 1 to 1 1/2 hours early.  Some people reserve spots 3 hours or more early
Bring along a comfy blanket to reserve your spot and keep from having to sit directly on the pavement.  At least one person must stay with the blanket or Disney will remove it.
Bring some fun things like bubbles or glow sticks for the kids to keep them busy.  Lots of people spend time playing Heads Up on their phone.  It keeps more than one person entertained at a time.  Many kids enjoyed the little LED light up paint brush that is sold in Disneyland stores.  Colors dance along with the parade.
Bring some snacks and drinks.
Have an adult take kids on rides while one holds down the spot.  You might consider rotating with one another occasionally.
If there's 2 parade, the first begins at it's a small world and the second begins on Main Street.  As always, the 2nd parade is a little easier to find a spot and you can easily watch the fireworks with no stress.
Main Street spots filled more quickly than Fantasyland/Matterhorn spots.  I was able to find spots near it's a small world about 30 minutes early, but the park wasn't crowded this day.
Best viewing spot in my opinion is at the Fantasyland restrooms beside Alice in Wonderland because the characters attention is solely focused on this area at this time. Other good locations include the Main Street parade gate area, as the parade enters the hub with the floats facing you and it's a small world as the parade bends like my video below.
You cannot follow the parade all the way down to the fireworks locations.  You are forced to divert through Fantasyland and cannot cut through the Castle area.  You'll have to walk all the way around through Frontierland.
Paint the Night and Disneyland Forever fireworks are performed nightly during the Disneyland 60th Anniversary through September 2016.
Do you have any tips I could add to the list?   What did you think about this parade?  If you haven't seen it, does it make you more excited to see it?