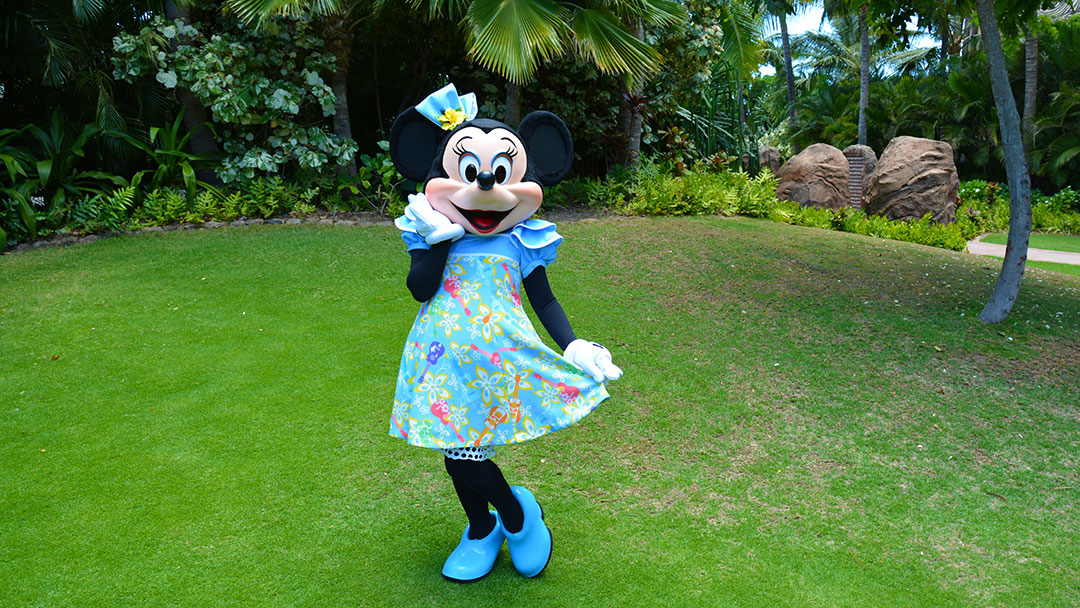 One of the things we wanted to do during our brief stay at Aulani was to meet all the Disney characters available at the beautiful Hawaiian resort in their special costumes.  Each day they distribute something called an 'Iwa that is a daily guide for the resort.  It lists 2 or 3 meets that will occur at the resort. 
Sometimes the 'Iwa lists only a location and sometimes it lists specific character meets.  We found that we could get a little bit more information by stopping by the Pau Hana community room.  The Cast Member offered us a view of the schedule scratched out on a sticky note.  That's island style :)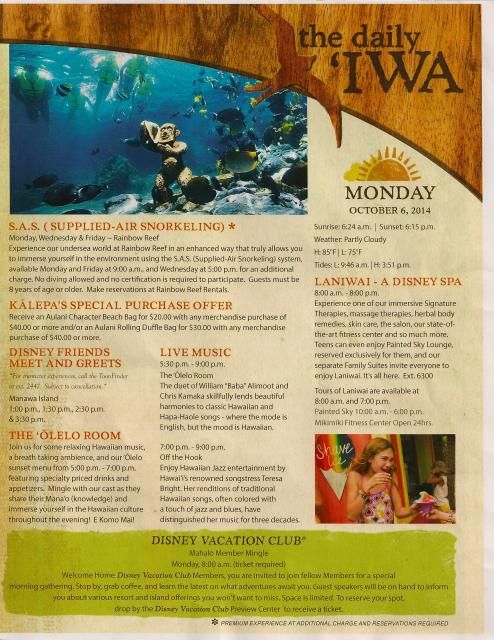 The information told us that Goofy would appear near the lazy river at a given time, so we popped over there about 5 minutes early.  He showed up on time and we chatted with him and took a few photos.  This location is right beside where you get your daily armbands that are necessary for resort guests to enjoy the pool, lazy river and child's water play area.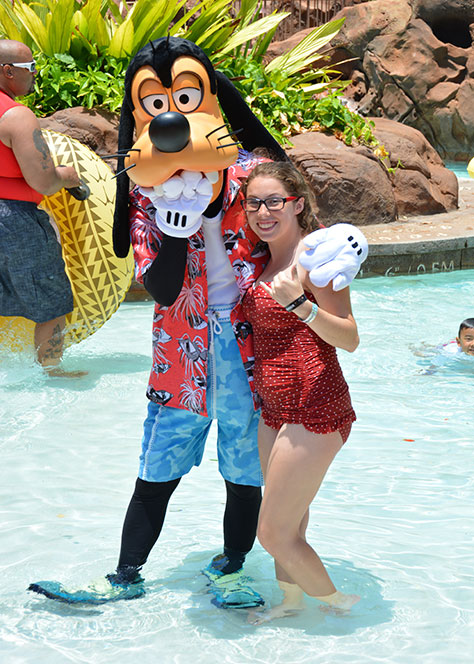 Goofy was wearing the same costume we had met him in earlier at the character breakfast.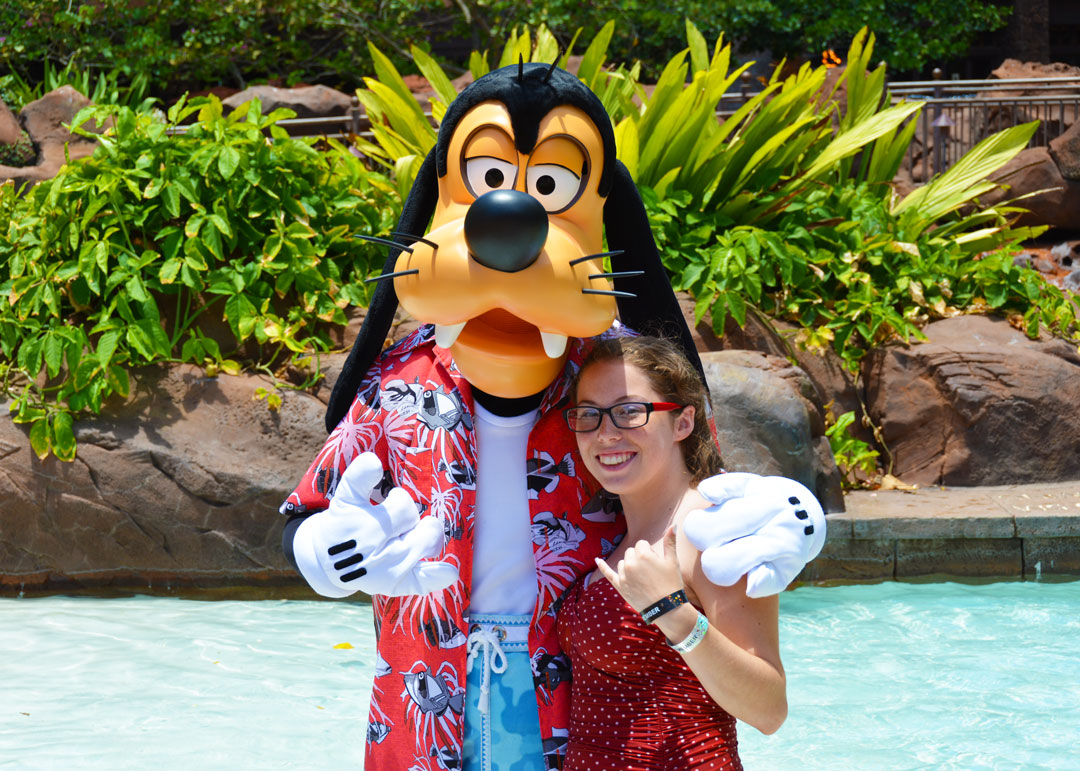 At the same time Minnie and Mickey were meeting separately on the Halawai Lawn area.  We found a small line for each character and noticed that non-resort guests were also allowed to take part in any of the meet and greets on the lawn.    Minnie was also in the same costume as the character breakfast.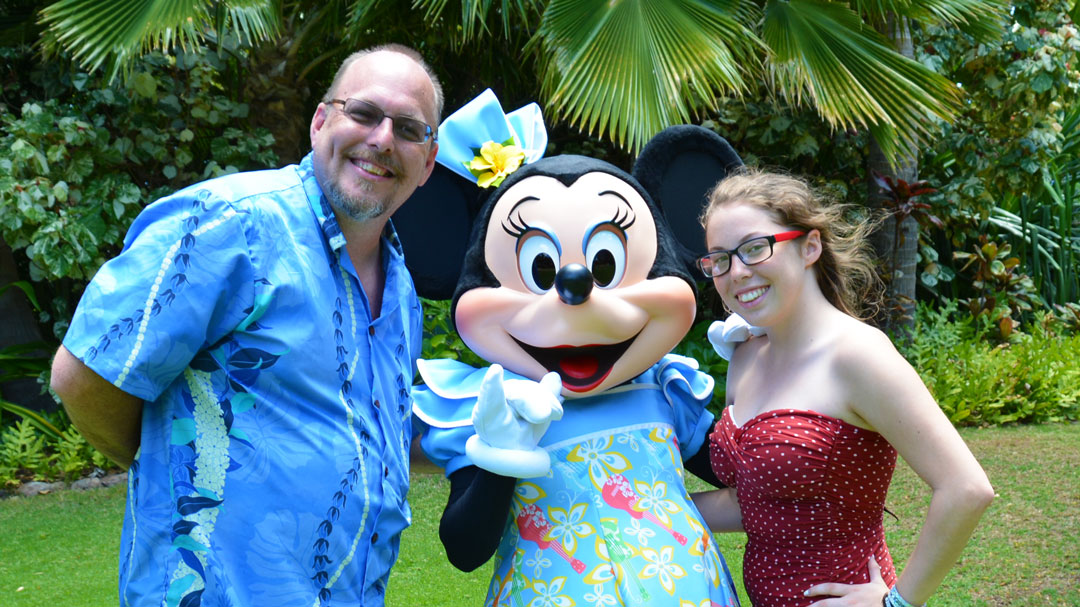 Minnie had a Photopass photographer.  These photos are presented for educational purposes only.  You can add a few special Aulani borders to character photos taken by Photopass photographers.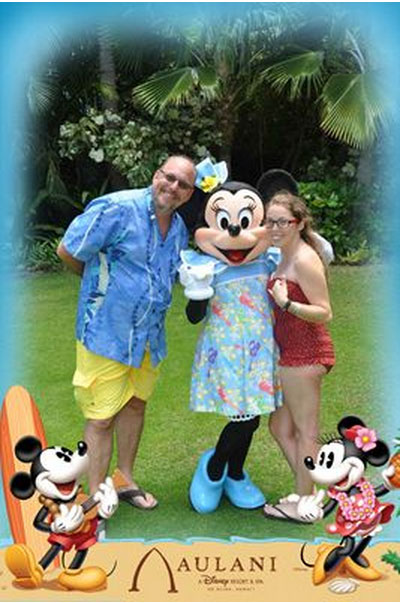 It's really easy to spot the characters on the lawn as it is a very open area.  Mickey was meeting in the shaded area.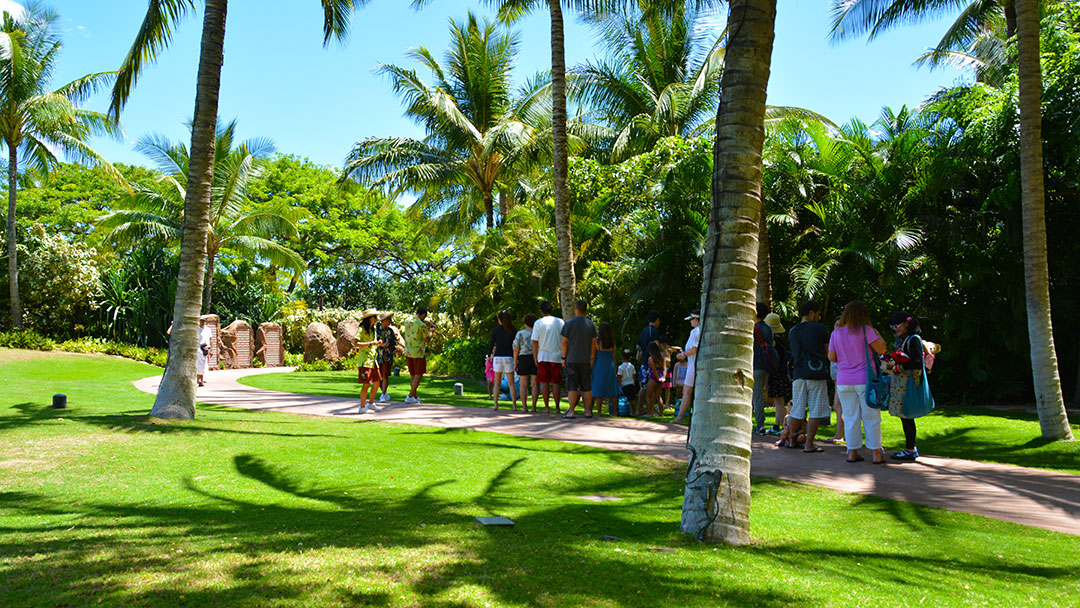 The line for Minnie was in the sun but the nice breeze off the beach made it feel really nice.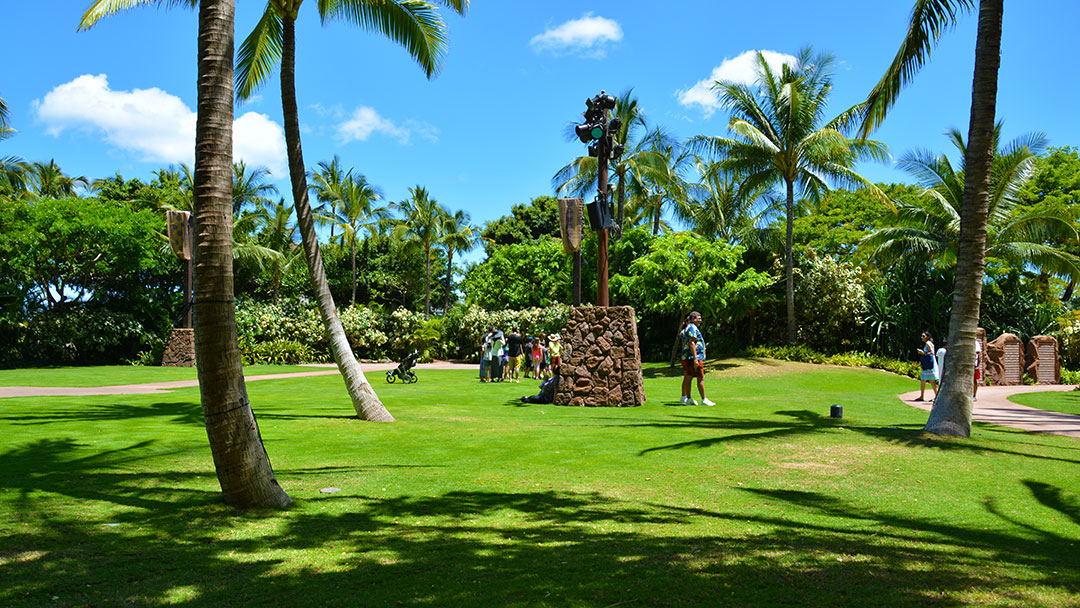 We just missed the cutoff for Mickey's first set, so we waited a few minutes for him to run back and grab some Macadamia infused cheese and quickly return.  Everything in Hawaii has Macademia nuts, coconut or pineapple it seems.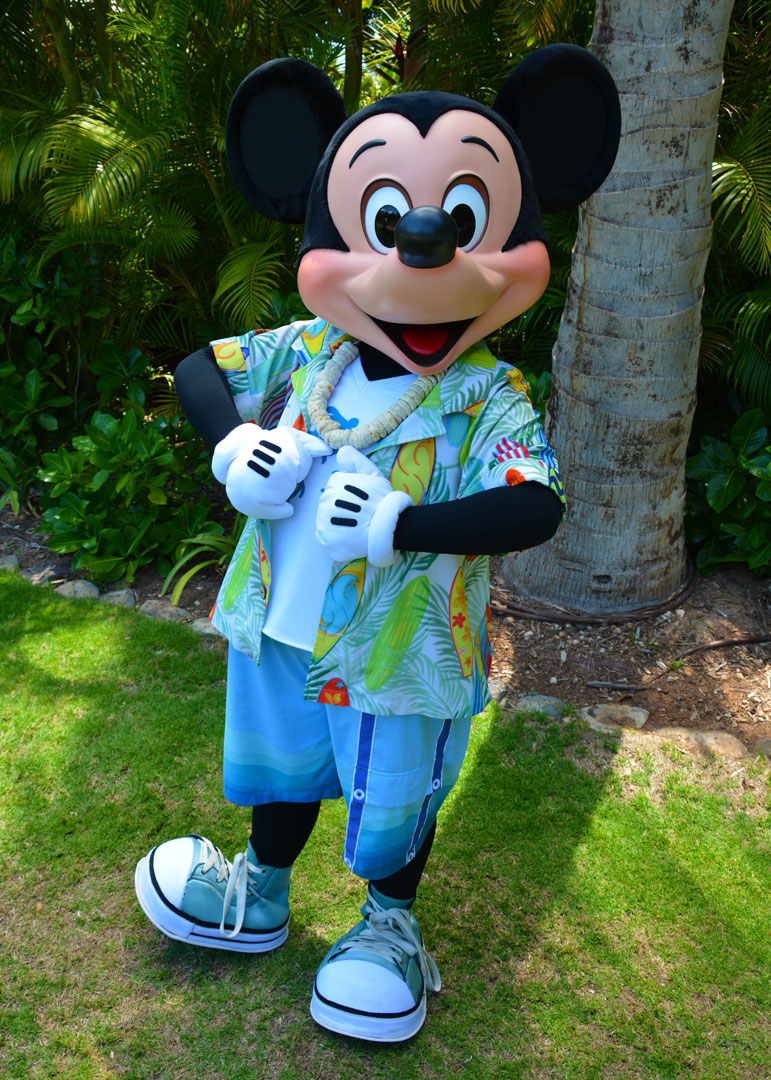 Mickey Mouse was in the same costume from the character breakfast.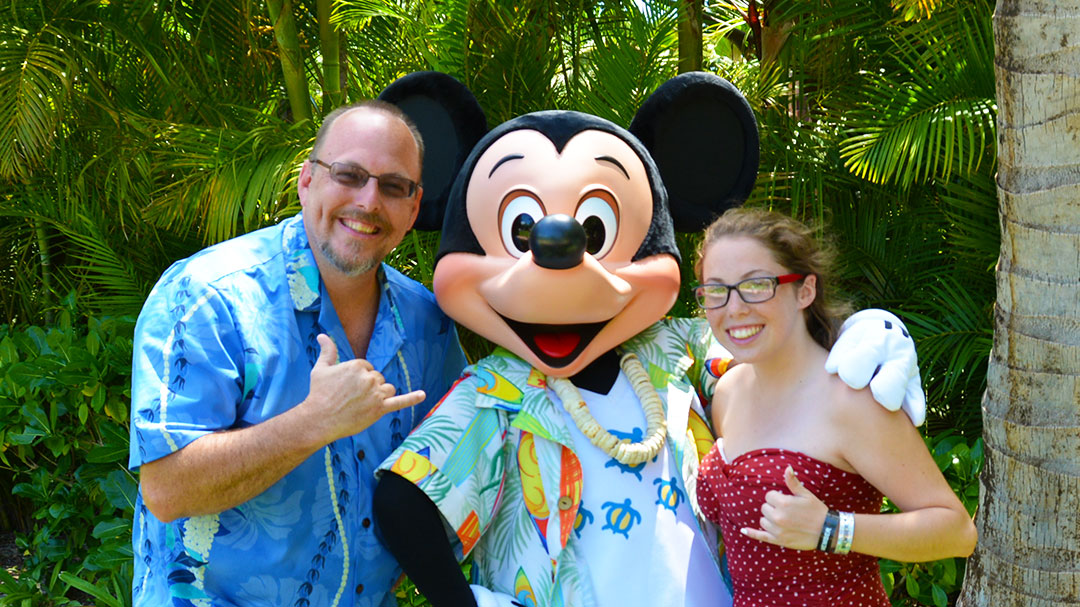 There was a Photopass photographer available at the Mickey Mouse meet.  These photos are presented for educational purposes only.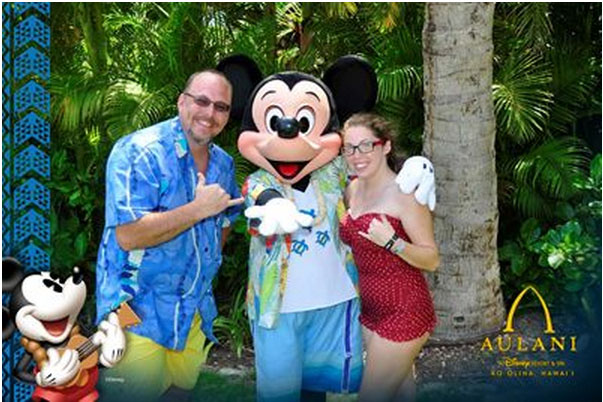 We noticed him wearing some cool shades when he appeared next to the pool, but the line was closed by the time we arrived.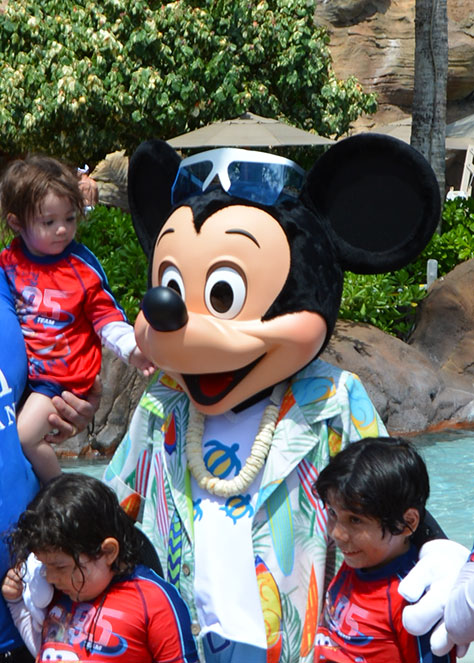 We waited about 30 minutes for Stitch to arrive for his set and we were first in line.  My son would love his bucket hat, I thought.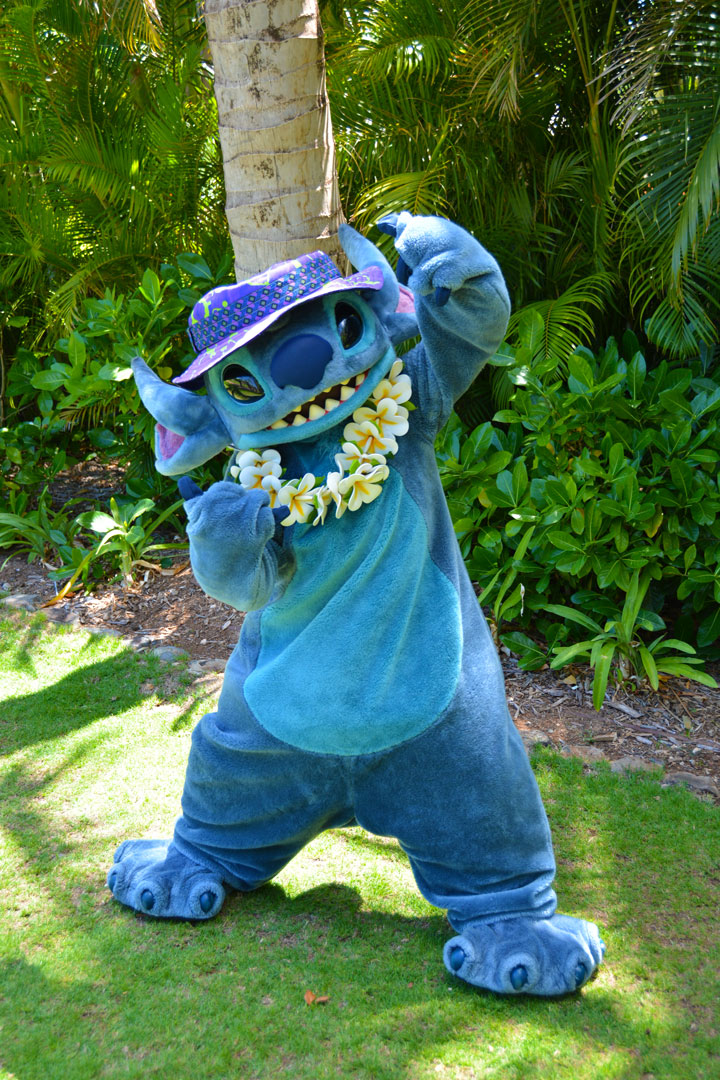 We asked where we could find Lilo and we were told she lives on Kuaai and doesn't come over to Oahu to visit.  I guess Stitch flew his space ship over???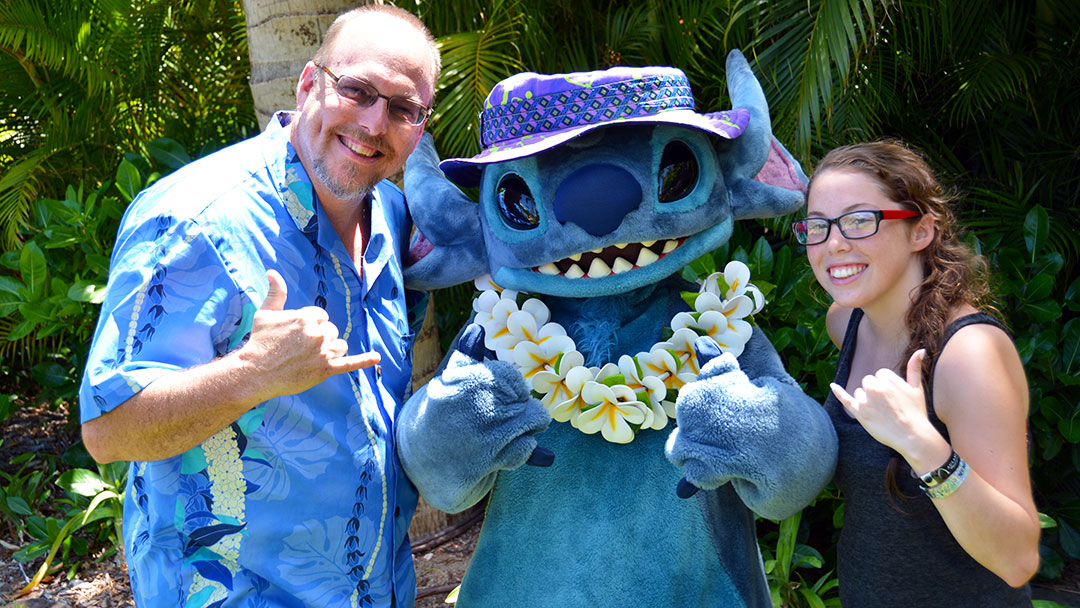 At the same time Stitch was meeting, Chip n Dale appeared.  In Hawaiian their names are Kipe and Kala.  They appear in a vibrant orange rash guard shirt (surfer shirt) and have a kukui nut lei around their necks.  Men receive this same type of lei when they check in at the resort, while women receive a genuine flower lei.  Mine lasts longer :)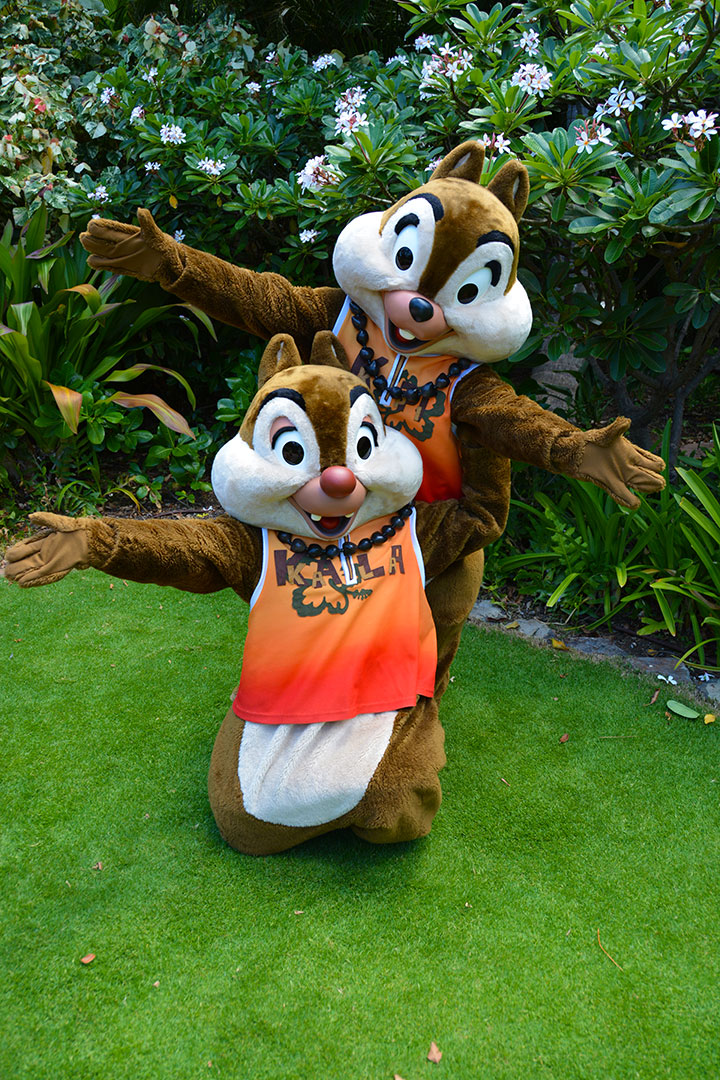 After getting Kala to calm down a bit, we all posed for a photo.  Kipe and Kala are always a great meet and greet, no matter where you find them in the world.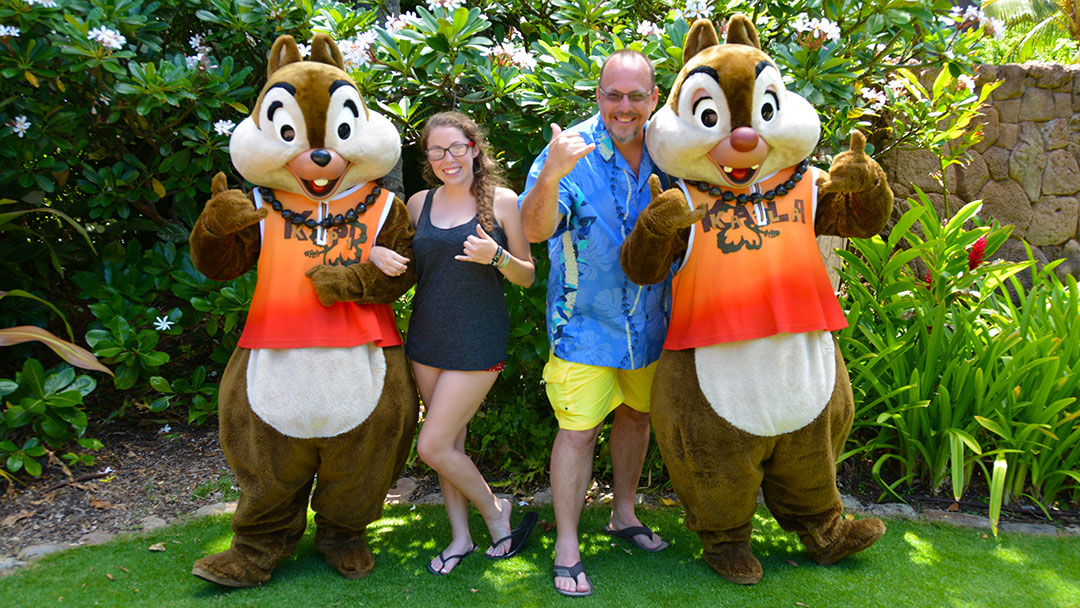 A little later our sticky note times guide pointed us to Donald Duck who was meeting "near the bridge."  We had no clue what bridge it meant as there are a few little bridges.  We found a photopass photographer and he pointed us to the little path near the Menehune Bridge or child's water play area.
I tried to talk Donald out of his hat, but he would have nothing of that plan.  The character meet and greet lines were typically short, but the line will still get cut at a certain time for breaks.  The meets were far more relaxed as there were no Cast Members screaming "Have your autograph books and cameras ready!"  We saw Mickey, Chip n Dale, Goofy and Donald several more times near the pool and lazy river through the afternoon as well.  I wouldn't travel all the way to Hawaii just to meet the characters, but they do add that special Disney touch to the resort and the tons of little kids loved meeting them.