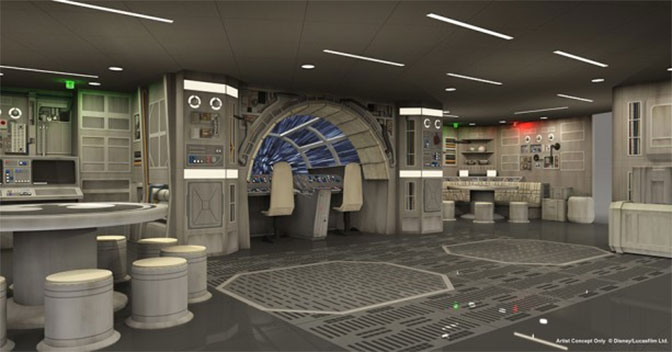 Disney Cruise Line announced today that they are bringing some great new experiences to the Disney Dream.  They are refurbishing many of their spaces and making some new enhancements.
They are creating two new interactive youth areas.  One will be themed to Star Wars and will take you onboard the Millenium Falcon and the other will take on elements of the Disney Infinity game series.
Star Wars: Millennium Falcon
The Disney's Oceaneer Club will receive an amazing Star Wars makeover that is sure to excite children and make adults wish they were kids again too!  Kids will join the Rebel Alliance and take part in navigating the ship through hyperspace.  Be sure to practice that Chewbacca gurgle!  The screen will take the kids to many the many far off locales that are familiar to Star Wars fans.
They will also offer Star Wars crafts, games and activities.  Kids can watch episodes of Star Wars Rebels while on board or play some fun Star Wars video games.
In addition to all that fun, kids can take part in a shipboard version of the Jedi Training Academy to help the young Padawan learn proper lightsaber movements from a trained Jedi Master and even battle against Darth Vader!
Disney Infinity Toy Box
The Oceaneer Club will also offer a Disney Infinity video game area for kids who enjoy playing the series at home.
"The complete set of Disney Infinity character figures will be on display for creative inspiration and available for gameplay. Kids visiting this special room – found only on the Disney Dream – will be able to unlock exclusiveDisney Cruise Line content that they can continue to enjoy when playing Disney Infinity at home.
Special activities will bring the virtual gameplay experience to life in the real world. For example, a life-sized Disney Infinity Base sets the stage where children take the place of character figures for a group gaming experience unlike any other. Lighting up in response to gameplay on a large screen, this interactive floor will allow kids to be immersed in the Toy Box."
Vanellope's Sweets & Treats
Want some handmade ice cream and gelato?  How about gobs of delicious candy?  Vanellope's Sweets and Treats will surely take care of that  sweet tooth in the family.  The room is themed to the Candy Land area of the video game Sugar Rush from Wreck-it Ralph.   I would venture to guess that there will be charges for sweets in this area, but Disney didn't confirm.
Bibbidi Bobbidi Boutique
Bibbidi Bobbidi Boutique will be added to Deck 5 midship.  It will offer the same makeover dreams that are offered at Walt Disney World with a special onboard salon for children 3 to 12 years of age.  On pirate night they will transform the area into the Pirates League where your junior buccaneer can live out their dreams.
Satellite Falls
They haven't forgotten the adults.  On Deck 13 they will offer a new water feature known as Satellite Falls.  It will be a circular splash pool with benches and a gentle rain curtain falls area.  This area is intended to help the adults relax while the kids burn off steam.  There are also loungers in the area.
The new enhancements will begin October 26, 2015.
The number one question:  How will you keep the adults out of the Millenium Falcon???