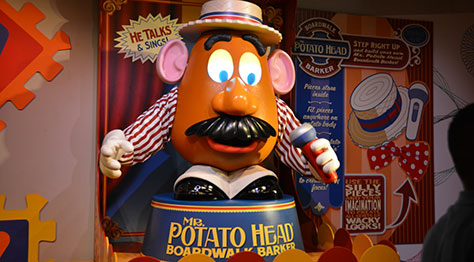 It's been long rumored on the internet that Soarin' at Epcot and Toy Story Midway Mania at Hollywood Studios were going to expand to offer more capacity.  Disney has confirmed these rumors.Soarin' will receive a third theater and will finally receive digital projection upgrades that will bring it into this decade and eliminate those annoying blotches that appear on the screen frequently.  Some have rumored that Soarin' could become a 3D experience, which seems perfect for this attraction in my opinion.  Once the upgrades are completed, we should also expect a NEW Soarin' film experience.  Rumors have pointed to Soarin' becoming a 3D experience, which seems like a perfect fit in my opinion.
Soundstage One in Disney's Hollywood Studios is currently being converted to increase capacity at Toy Story Midway Mania.  This will add a third track, but will offer the same attraction on all three tracks.  The refurbishment is said to be completed in late 2016. There's no word on any story changes.
Each of these attractions have among the highest wait times in Walt Disney World, so it appears that Disney wants to reduce wait times while improving the experience at Soarin in a highly digital world.  I wish that they would have created a new attraction in Soundstage One, because Hollywood Studios is desperate for quality rides, but we'll have to wait for like 2020 or something for that to happen with further expansion of the Toy Story and Star Wars franchises rumored to be heading our way, eventually.